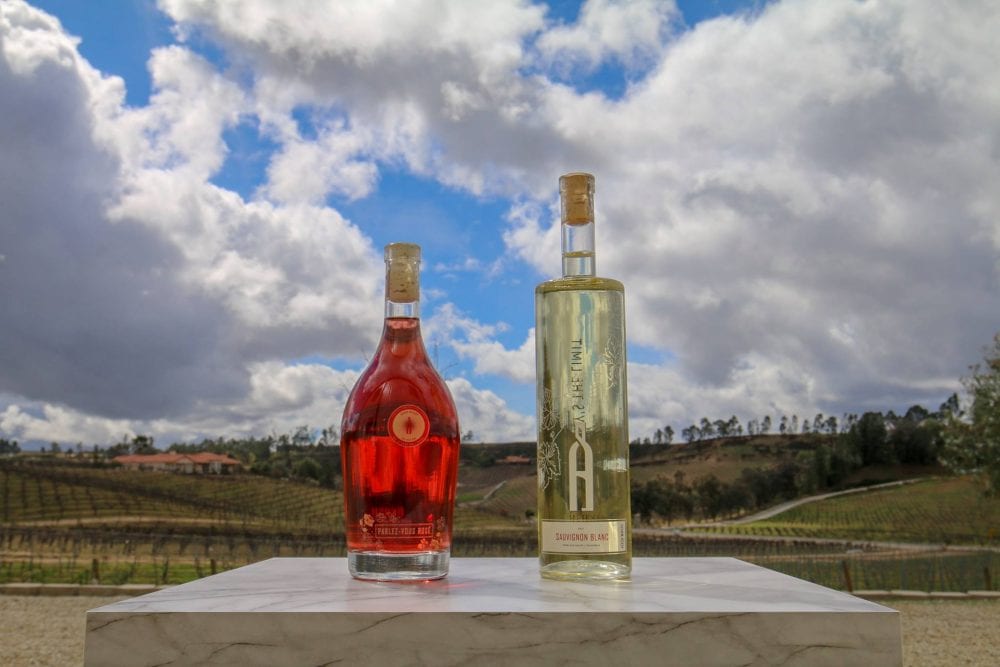 This virtual wine tasting features Akash Patel, owner of Akash Winery & Vineyards in Temecula, California. It's our celebration of Temecula Valley Wine Month and we hope it entices you to discover wines from the region in southern California.
I loved Akash's story of the family journey from New Mexico motel owner/operators to California winery owners – and it shows proof that visualization (having that picture on the wall of your dream) works.
Watch a replay of the live tasting below:
We also have the episode available in an audio format. You can listen directly from the player below. Or, we're also set up on the major podcast player platforms and you can listen and or subscribe to this virtual wine tasting series there.
We're currently on:
Akash gave us lots of tips for wine tasting in Temecula, along with sharing some of his favorite local businesses – restaurants, breweries, places to stay – and I know I'm ready to make the trip to Southern California.
Let's get on to the tasting!
2018 Parlez-Vous Sparkling Rose
Tasting Notes: Fragrantly fresh with fruit aromas of strawberry, peach, and hints of rose petals. Elegant bubbles on the palate with refreshing acidity offer flavors of delicate red berries and citrus fruits that linger through the finish. A deliciously easy drinking wine!
Our Thoughts: I really want to find a rose that I love – it's such a pretty wine, both in the bottle and the glass – and is especially refreshing during warm weather. We both enjoyed this rose. It was light and refreshing, but still had enough heft that we could appreciate what we were tasting. I'd love to order a few bottles to have on hand for nice afternoons on the deck, but alas, this limited edition is only available to wine club members. We'll be keeping an eye out for future releases.
Check out this Sparkling Rose here.
2018 Dreamville Syrah
Tasting Notes: Floral and black fruit aromas make way for blueberry and currant flavors, accented by eucalyptus and asparagus. With a round mouthfeel and a touch of sweetness, this wine finishes with lingering flavors of caramel fruit cake.
Our Thoughts: Tony said that this Syrah was more full-bodied than he was expecting and overall quite tasty. My palate didn't match up with any of the tasting notes. I though the aroma was impressive, with fruity flavors tempered with a dustiness that made a mellow finish.
Check out the 2018 Dreamville Syrah here. $39
2017 Cabernet Sauvignon
Tasting Notes: A luxurious and elegant wine perfumed with hints of cherry, caramel, green bell pepper, and mushroom. The palate is rich and vibrant with a fruity finish.
Our Thoughts: Tony noticed the cherry flavors right away. While Akash said that he chose this cabernet because it didn't need to be paired with anything to be enjoyed, Tony thought it would benefit greatly from a rare filet served right along side it. I also enjoyed this selection, although I am predisposed to enjoy cabernets. I agree with Akash that it was perfectly fine on its own and wasn't so bold that it required food to smooth it out. I'd like to see how it cellars over the next few years. I think that may bring out even more nuance in the wine.
Check out the 2017 Cabernet Sauvignon here. $65
About Akash Winery & Vineyard
Akash Winey is located in the heart of the Temecula Valley at 39730 Calle Contento in Temecula, California.
Like many businesses right now, Akash Winery is open, but operating with outdoor-only seating only and requirements for masks and social distancing. One fun thing they're doing right now is outdoor drive-in movies operating in an area that had been cleared for building a resort on the property. A great pivot while COVID interrupted other business expansion.
Check their website (here) and line up of movies (here).
Drink local – stay local!
More Virtual Wine Tasting
How does virtual wine tasting work?
Our guests provide us with the wines they have selected and we sip and taste in real-time during the virtual tasting. Quite often, participants joining us have ordered the wine selection so they can taste right along with us. Equally often, however, participants join the event to learn more about the wine, winery, geographic area, or wine tourism.
Everyone is welcome, you do not need to be experienced about wine. And it's free – although sign up is required. Find information about our upcoming virtual tastings, along with our past events here.
Pin to your favorite wine tasting Pinterest boards and plan a trip to Temecula soon!