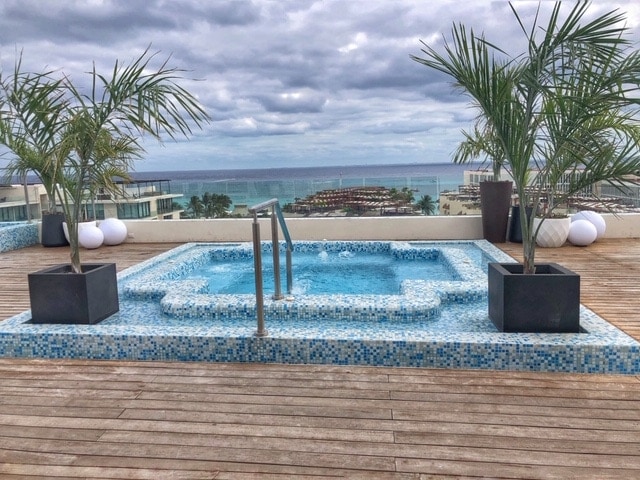 Mexico is an amazing place to head to for a girls-only vacation, and destinations don't come much better than Playa del Carmen. If you're looking for a Playa del Carmen all-inclusive vacation that combines a great location, unbeatable amenities, and top-notch dining, you can't go wrong with the adult-only Reef 28.
One of the best Playa del Carmen resorts, Reef 28 might have a reputation for being a romantic resort, but there are also many reasons why you should consider it for your next weekend getaway with your best gal pals.
Here's our guide to this amazing resort.
Getting to Reef 28
Located in the heart of the Riviera Maya, Reef 28's location combines the best of a beach getaway with the best of a city getaway. Most visitors from the U.S. will into Cancun (airport code CUN). You can get a cab at the airport to take you to Playa, but it's probably easier to arrange for a shuttle service at the time of booking your stay.
Playa del Carmen is about a 45-minute drive south of Cancun and is a charming and cosmopolitan coastal city with year-round sunshine, fantastic beaches, and well situated for easy day trips around the area.
Reef 28 is only one block from Mamita's Beach, considered by many to be party central of the Playa del Carmen beaches, and just one block from 5th Avenue, with plenty of options for shopping and nightlife.
And it's adult-only, all-suites, and all-inclusive as well!
The Sweet Suites
Whichever type of suite you decide to book for your Playa del Carmen vacation, you can rest assured that it will be chic, luxurious, and beautiful. There are 104 junior suites and 16 master suites, and every single one offers the essentials you need to enjoy a relaxing stay. Sweet!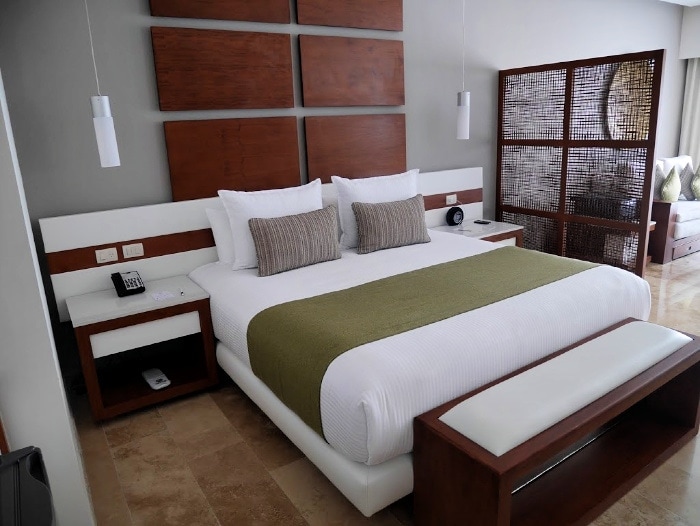 The junior suites come with one king-size or two queen-size beds and are equipped with a mini-bar which is restocked daily, air conditioning, USB charging stations and Bluetooth speaker, microwave and coffee machine, high-speed internet, personal safe, and bathrobes and slippers. The living room is separated by a screen creating the illusion of a separate area, although it is not a separate room.
The contemporary bathrooms feature rain-style showers – one of my favorite hotel amenities. We had a junior suite, and for two people this was spacious enough to relax without being on top of one another all the time.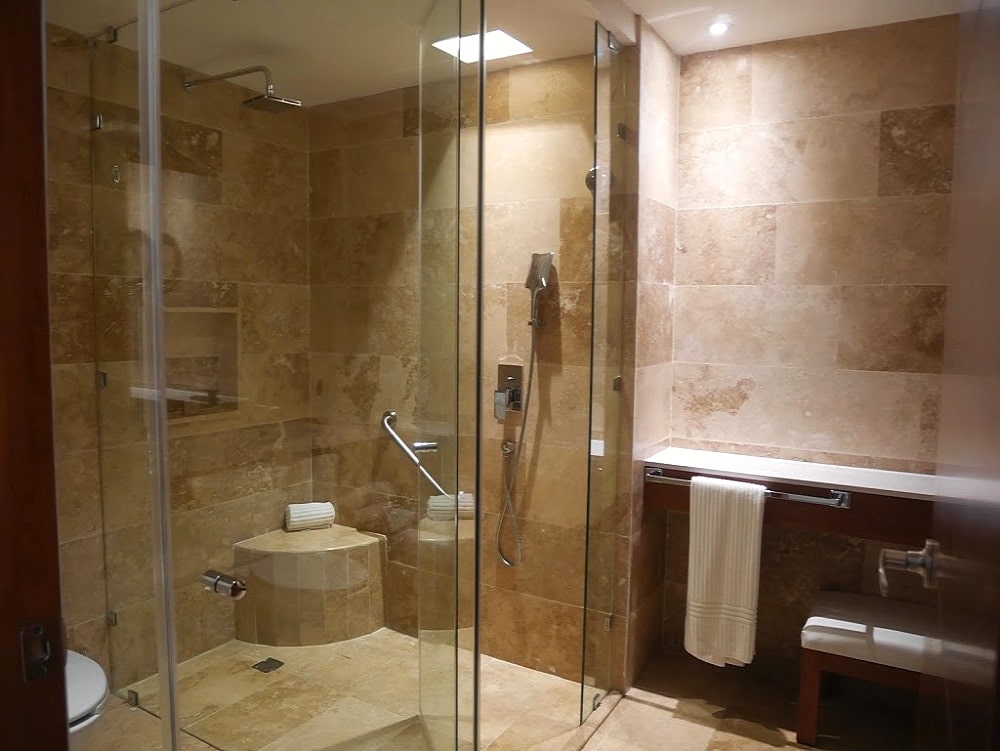 If you have a larger group of friends for your getaway week in Playa del Carmen, consider upgrading to a junior suite. These have all of the amenities of the junior suites but also come with an extra sofa bed, dining room, an extra bathroom, and a stove. Splash out a little bit more with an upgrade to a jacuzzi and a private terrace or balcony. Since room service is included in your all-inclusive rate, you may never want to leave your room.
The Amenities at Reef 28
Reef 28 is not your typical all-inclusive Mexican resort. Its restaurants, spa, and other amenities are open to the public as well as hotel guests, giving it a more vibrant atmosphere than other beach resorts. The facilities and amenities are included with your all-inclusive rate, and non-hotel guests pay a fee, it's handled smoothly. All you do is sign to your room to indicate you are a hotel guest, but no charges appear as it's included.
Whether your girl's getaway is designed for rest and relaxation or dancing the night away, this Playa del Carmen resort has all the amenities you will want on your vacation. On-site you'll find the following:
Rooftop infinity pool and indoor spa pool, both offering poolside dining and towel service
Rooftop lounge bar with a small food menu
High-class dining in the resort's restaurants, serving a variety of local and international cuisine
Full-service spa
Fully-equipped, state-of-the-art gym
Exclusive rates at the most popular Beach Clubs, all within a very short walking distance from the resort
Recreational activities
Day trips around the Riviera Maya
The Restaurants at Reef 28
My biggest complaint about all-inclusive resorts is that the food is lousy. And just because you can have all you want of it doesn't make it any better. More lousy is still lousy.
This is where Reef 28 shines!
Reef 28 has five dining establishments, all of them offering individual and chic surroundings as well as being some of the best food experiences in Playa del Carmen. Bar some exceptions, all food and drinks at all the restaurants are included in the price of your Playa del Carmen all-inclusive package.
Lobby 28 – Lobby 28 is the perfect welcome to Reef 28 – they'll be providing the welcome cocktail that is brought to you at check-in. We also found it a great spot for a casual drink while waiting for one another, as well as an easy place for a nightcap before turning in. Drinks here are included with your all-inclusive rate.
Veinti8cho – The name is a play on veinte ocho – which is the number 28 in Spanish – and you'll find it on the ground floor of the atrium. This is where you'll find the breakfast buffet, or an ala carte menu if you prefer. The buffet is plentiful, with lots of traditional breakfast items along with Mexican specialties. I loved the chilaquiles, always my favorite Mexican breakfast option, and all the fresh juices. As further evidence of how popular the breakfast is a Reef 28, we noticed several tables of non-hotel guests enjoying the buffet. Breakfast and beverages here are included with your all-inclusive rate.
Cachito – This was my favorite spot for dinner! Cachito is Reef 28's signature restaurant and it specializes in traditional Mexican cuisine. The menu has been designed by Margarita Carrillo, an internationally renowned Chef de Cuisine and recognized by the Mexican government as the Culinary Ambassador of Mexico. The menu changes seasonally as Carrillo focuses on preparing dishes which make the most of what produce the country has to offer at different times of the year. Although the dishes are traditional, Carrillo also aims to bring innovation and creativity to her dishes. There were so many great choices on the menu that it was difficult to make decisions, so we relied on our waiter to help us narrow it down and make the best choices. Delicious!
Arriba – Arriba is Reef 28's rooftop dining experience set up on the deck and also providing pool service. This was my least favorite restaurant on the property. The views were of the city and ocean were stunning, no argument there, but the menu was limited (mostly bar-type food) and wasn't of the same high quality as the rest of the restaurants. It's fine for a quick nosh while enjoying the sun, and definitely is worthwhile for a drink in the sun, but I'd make a different choice for a full meal.
Asiatico – At Reef 28's Asian restaurant, you can sample a variety of Asian flavors in a sophisticated setting. Dishes served are from Thailand, Vietnam, and Japan, providing great options for every palate. There are also vegan options, something often unavailable due to the many sauces involved. This was the only restaurant we weren't able to try during our visit, but the aromas emanating from the kitchen made our mouths water.
If these restaurants don't provide enough choices for you, it's also possible to use the complimentary shuttle to take you to the other hotels in the Reef resort group. Check with the activities desk in the hotel lobby to make a reservation and schedule a shuttle. For the return, contact the front desk at the hotel you are leaving.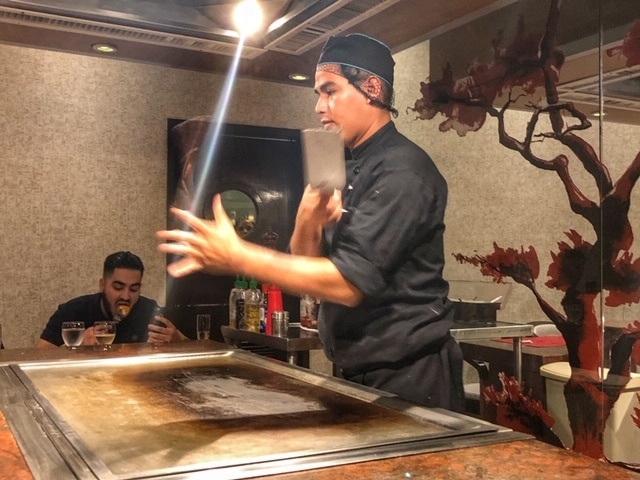 One evening we went to Samurai, a Japanese steakhouse located at Reef Coco Beach. If you've been to a Japanese steakhouse before you know that it's part cooking theatrics and part dinner preparation. The steak and chicken entree options are included with your all-inclusive package. There is an additional charge for adding shrimp and lobster. I went with the steak and added the lobster and thought it was well worth the upcharge.
If you want to dine outside the hotel, nearby 5th Avenue offers lots of restaurants and bars. The food is diverse and delicious enough that you don't need to go offsite, although stopping for a beer and some chips and guacamole during shopping time won't break the bank.
Okam Spa at Reef 28
Ahhh, the spa!
I never pass up a spa opportunity on my getaway weekends, especially if it's time away with my best friends. Reef 28's Okam Spa has plenty of choices when it comes to pampering, indulgence, and relaxation. The diverse treatments, therapies, and rituals are inspired by the ancient healing practices of the Riviera Maya.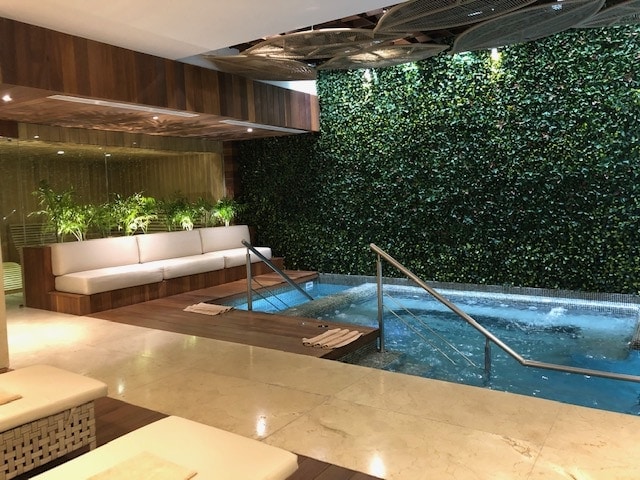 Although I didn't know what to expect, the Hydrotherapy Circuit was a surprising treat.
Hydrotherapy is known to be extremely beneficial to the body. Basically, there are a variety of pools, jets, and streams of varying temperatures to stimulate blood circulation. You start off in the sauna before being led to the plunge pool, where the cold water will help close up your pores. You'll then go through a series of water treatments, including waterfalls, water jets, and soaking areas. Best of all, you can enjoy the hydrotherapy circuit with a glass of champagne in your hand.
I found this to be a crazy blend of relaxing and stimulating. It's a fun activity for a girls getaway – think bridal shower, bachelorette party, or weekend away – but it is equally enjoyable for a couples treat.
Tip: Allow plenty of time, this isn't a treatment you'll want to rush. You can combine the Hydrotherapy Circuit with other treatments, but I think it shines as a stand-alone experience.
Other spa treatments at Okan Spa include:
Massages – Nothing beats a good massage and you'll be spoiled in your choices. From traditional Shiatsu to Reflexology, there's a massage treatment to meet your needs and personal preferences.
Facials – Spending a lot of time in water and the sun can dehydrate and dry the skin on the face, no matter how many precautions you take. With a facial, you can rejuvenate and replenish your skin with treatments to soothe, hydrate, and deep cleanse.
Spa Rituals – These are specialized combination treatments that rely on traditional Mayan products and therapies.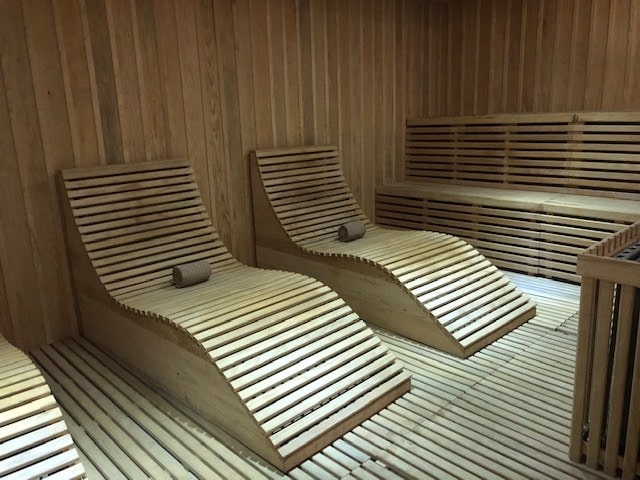 Okam Spa also has a full-service beauty salon offering hair services, manicures, and pedicures. Whether you've got a special night out planned or just want to head for home looking your very best, the staff will take care of you.
Activities
Despite all the all-inclusive amenities, there may be times when you want to leave the property.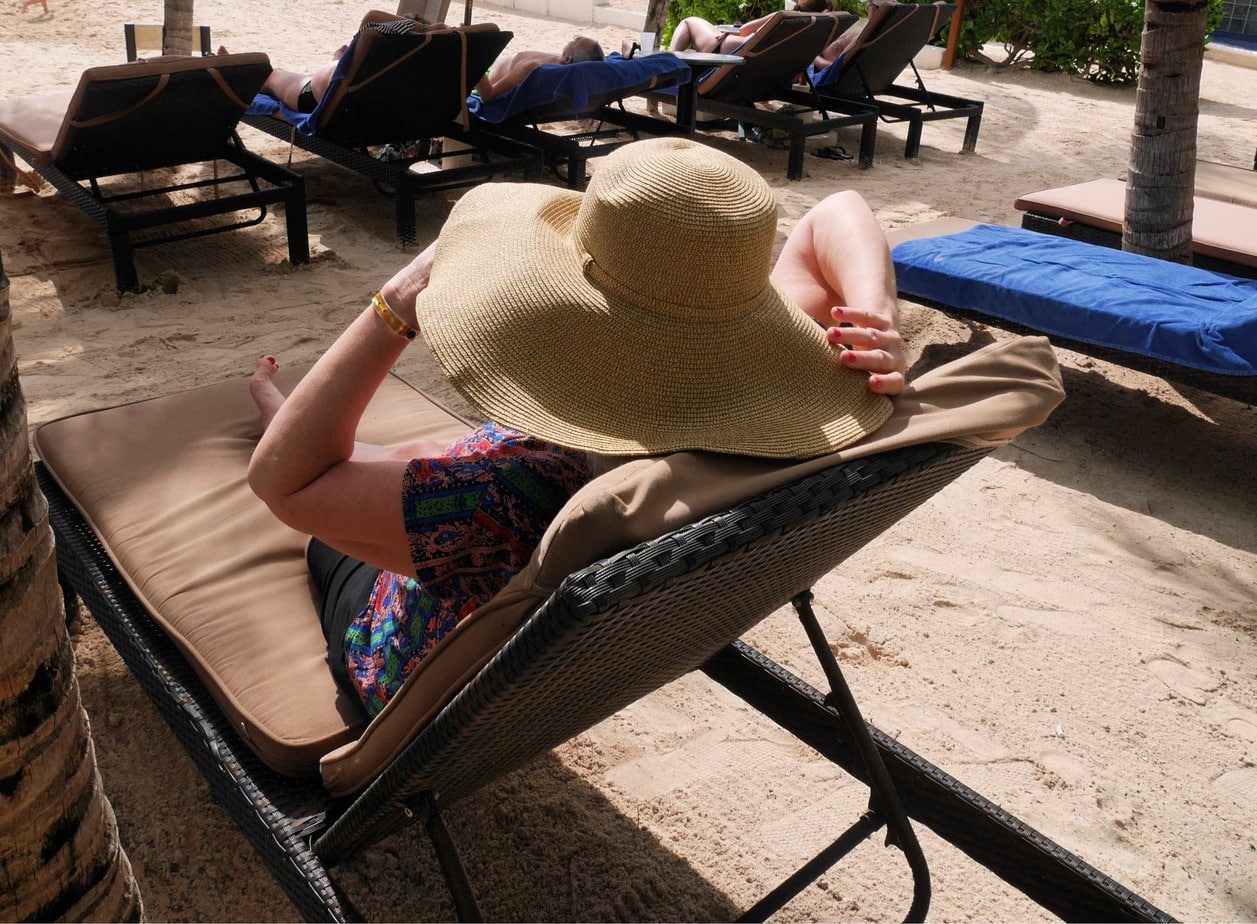 You can opt for a visit to one of the other two Reef properties – I'd recommend the Reef Playacar for a lie about on a sandy beach, kayak, paddleboard, or some other watersports. And don't forget, you can also enjoy the restaurants and bars at these sister properties.
For shopping, check out Playa del Carmen's 5th Avenue, just a couple of blocks away. Although it's a bit touristy, I found competitive pricing on clothing, souvenirs, and tequila. I thought the jewelry was a little over-priced, but if you find something that you love, I always recommend buying it instead of shopping around and being disappointed. If you want to dine or drink off property, you'll find dozens of restaurants and bars along 5th Avenue as well. We stopped off for guacamole and a beer; shopping can work up a thirst.
If you want to get a bit further afield, perhaps enjoying some Maya culture, the activities desk will be happy to arrange outings for you. Two highly recommended day trips are a visit to Chichen Itza, a complex of Maya ruins and a UNESCO World Heritage Site and Xenses, a sort of theme park that has a series of caves and caverns. If you're more adventurous than a group excursion, ask about spending an afternoon at one of the nearby cenotes.
Buying Guide
Reef 28 is located at 1 Avenida Nte & Calle 28 Nte in Playa del Carmen, Quintana Roo, Mexico. The nearest international airport in Cancun (airport code CUN) with service from the United States offered by Alaska, American, Delta, Frontier, Jet Blue, Southwest, Spirit, Sun Country, and United, with numerous international flights and carrier also represented.
Check out rates at Reef 28 using the search box below:
Pajamas – Pajamas are one of my favorite clothing options! From cozy flannel to lightweight cotton, and everything in between, I have about a dozen sets from Pajamagram. They are comfortable and cute and, if I'm honest, I've been known to put on a fresh pair and spend all day lounging in them.
For a girls getaway weekend, I like the brushed cotton Breakfast at Tiffany's set. They're cozy to lounge around in with your gal pals while channeling your inner Holly Golightly/Audrey Hepburn. You can also find them on Amazon.
Guidebook – Guidebooks are one of the few types of books that I still buy in hardback. I love them. I read them for factual information (and yes, I know a quick Google search is probably easier and quicker), but I also like reading about the history and culture of where I'm visiting, learning about the cuisine and geography of the destination, and passing the book around to my travel companions.
For the Riviera Maya, I think Moon does the best job of capturing what I think makes the destination special, giving practical information to use on your trip.
Sun protection – Escaping rainy Seattle means I have to consciously think about sun protection. Be sure to pack some reef safe sunscreen. You can protect your skin without damaging our precious oceans and seal life.
A hat is also an important part of your sun protection strategy. I have this packable wide brim hat from TravelSmith. With UPF 50+ sun protection, it has a 7-inch brim that can be worn up or down for a look that is stylish and practical. It folds up for easy packing in your luggage so there's no excuse for not taking it with you. I wore it by the beach and pool and prevented sunburn.
Sandals – You've got to protect your feet, too – from hot sand, pool decks, etc., – and all the other guck that litters our environment. I'm not a big flip-flop gal, except at the spa, and I generally want a sandal that gives me a little more support when I'm walking around. These Flossie Sandals from TravelSmith fit my requirements. I have them in white, which is probably a little impractical – they'd look chic in red.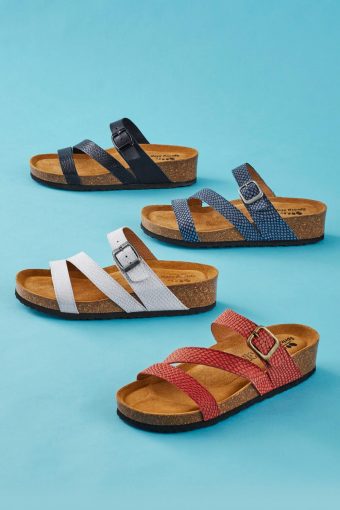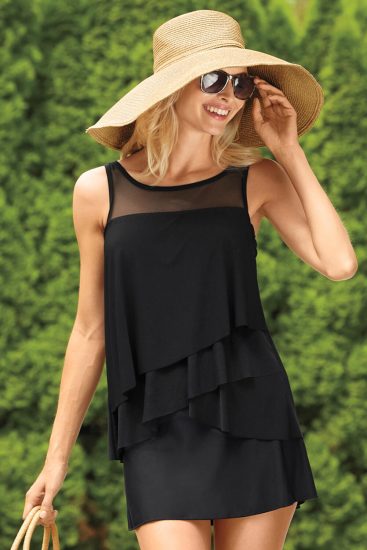 Reef 28 offers everything you could possibly need for your girls getaway Playa del Carmen vacation – beautiful rooms, restaurants with exquisite cuisine, fun activities, and the perfect combination of beach and city break. So if you're still wondering where to head to on your next vacation, wonder no more, and get yourselves on the next plane to Playa del Carmen, Mexico.
Save this to your favorite vacation Pinterest boards and refer back to it for all your planning.