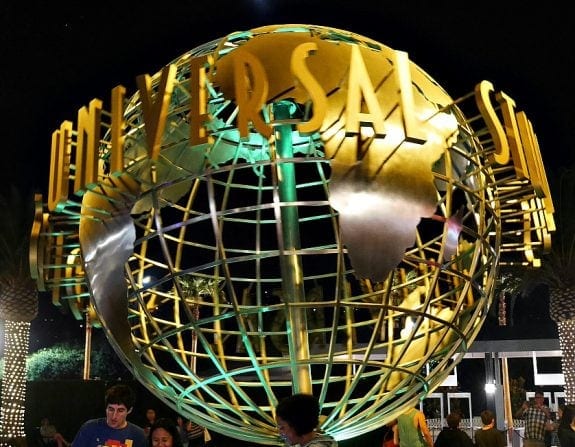 Heading to Universal Studios Hollywood during summer vacation was a frightening idea. The crowds, the lines, the mass of humanity crowded together pushing and shoving! But summer was the only time I could schedule a getaway to celebrate the 13th birthday for a family member. I set out to find a way to make it work both for the new teenager and for me.
Here's what I did as well as tips and recommendations for your own trip.
Note: This article was written in collaboration with Expedia.com who asked me to share my personal getaway guide to Universal Studios.
Choosing Your Dates
Summer is vacation time, so there are a lot more people at Universal, and my top recommendation for timing is to go off-season, during the week while kids are in school, and to avoid weekends and holiday seasons. That type of planning gives you the best odds of the least crowded experience.
I couldn't avoid the summer, so I planned for a 3-night stay in the area, and visiting the park for one day, a Wednesday. I don't know that Wednesday is the least crowded day, but I knew I could only allocate one full day to the theme park and that was the day that we'd be most rested, still excited, and ready to tackle the day with gusto.
Tickets
A variety of tickets are available, each offering different options, and it's worth your time to figure out how much you can accomplish in a visit and the price point you're willing to pay for convenience.
One-day and two-day general admission tickets are purchased for a specific date and are valid on those dates only. One-day anytime admission can be purchased for use on any date, allowing flexibility for travelers who might want more flexibility in making a decision after arrival. Front of Line and VIP Experience tickets are for specific dates and come with additional benefits and features. Prices are cheaper when booked online.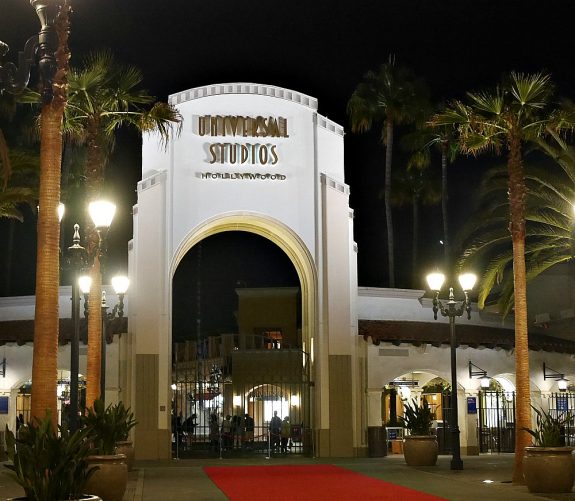 Since I was allocating one day to see as much as we could, I splurged on the Front of Line one- day admission. This ticket included early park admission (one hour before the theme park opens) one-time Front of Line access to each attraction, and priority seating at each of the shows and tours. Current pricing for this ticket is $194-244 per person (as compared to a one-day general admission which ranges $99-110 per person). This is not an inexpensive proposition, but we weighed out the advantage of spending one day and seeing everything against needing two days to see things because of the lines. Add in avoiding the aggravation factor of one to three-hour lines, and it was a winning decision.
Save time and money by purchasing the tickets online. Print out a paper ticket and bring it to the admission turnstile to enter the park ground. From there, you'll be directed to an office where you will exchange your paper tickets for a badge on a lanyard. The badge will be screened as you enter each attraction, show, or tour.
We spent a full day at the park – 8 a.m. to 8 p.m. – and visited every ride, attraction, show, and tour (with the exception of the things for toddlers and small children), and went on some of them multiple times. We were tired, but not exhausted, and we both agreed that it had been a great day.
Here are our recommendations and suggestions.
Things to Do
This is a theme park, so you know what to expect, right? Well, maybe not. While everyone's preferences will be colored by their own likes and dislikes, here are our top things to do at Universal Studios Hollywood.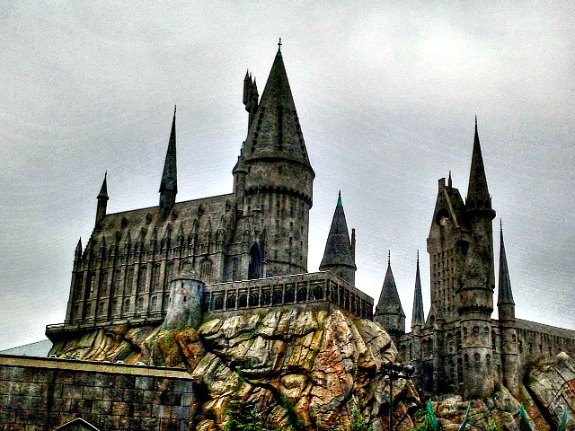 Get there early – If your ticket includes the option, you can arrive up to one hour early before the rest of the park officially opens to visit the Wizarding World of Harry Potter. The lines here can often exceed two hours, and during midday, I saw waits as long as three hours, so getting here early gives you an hour to go on the two rides and then spend the rest of the day seeing the balance of the park. Don't waste the early hours on walking around and exploring, come back and do that later, just leap in the lines and get the heart thumping.
Wizarding World of Harry Potter – Harry Potter and the Forbidden Journey is a fast paced race through Harry's life, including scenes of Hogwarts, a Quidditch match, spells, characters, and, of course, he who must not be named. Riders must be 48 inches tall. Flight of the Hippogriff is an outdoor roller coaster of the more traditional type, with none of the elaborate plot, scenery, or features. Riders must be 39 inches tall. There is no comparison between the two rides, and it feels like Hippogriff was created to provide an option for kids who aren't quite tall enough. We took the regular line for Hippogriff (there was no wait) and used our Front of Line badge for Forbidden Journey, avoiding a 45-minute wait.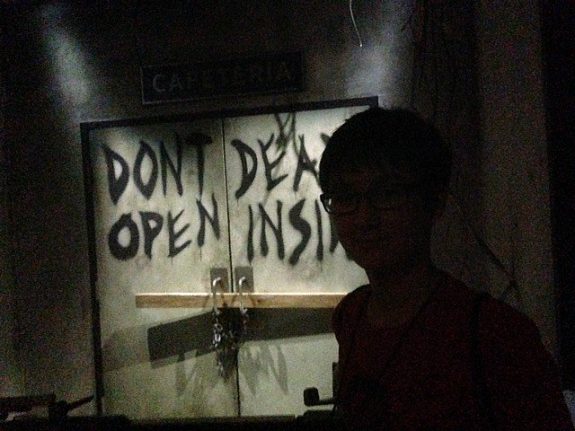 Walking Dead – Based on the television series of the same name, this is a walk-through attraction rather than a ride. We used our Front of Line pass to go through the first time and went through a second time later in the day when the line was short. This got thumbs up from the teen who noted details from many of the television series' plot lines as we walked through.
Jurassic Park – This was probably our favorite ride. We used the Front of Line badge to go through the first time and went back on it many additional times. It's a water ride with elements of a roller coast and, as the signs say, you will get wet. While the Front of Line badge is only good for one use on each ride, we were directed to the priority line multiple times (despite advising that we had already used it). When I was worn out, the teen went on it again using the "single" line, a line for people who are not part of a group that wants to be seated and go on the ride together. Wait time in the single line was about five minutes.
Go on the Studio Tour – Adjacent to the theme park, there are working studios and staging, and the tour takes you for a behind-the-scenes look at making movies. The exact tour will vary based on what might be filming the day of your visit (it was a busy day of filming when we were there), but it's a chance to look at some of the memorable facades and staging from television and the movies. We drove down Wisteria Lane (from Desperate Housewives), saw Bruce (the shark) when we visited Amityville (Jaws), drove by the Bates Motel (Psycho), and saw street scenes while they were filming The Mindy Show. A night time studio tour is also available. We used the Front of Line badge for the tour as the wait time was in excess of an hour.
Oooh and Aaah at Special Effects – They lit a man on fire and he walked around the stage for about 8 seconds. Yes, they explained how it happens and the precautions and techniques involved. But this was a real man and real fire and seeing it up close was amazing. While that was probably the highlight of the show, other things demonstrated included music and sound, and how other special effects were created. I recommend mixing up the rides and the shows, opting for the latter when you want to beat the heat or just sit down for awhile. We used the Front of Line pass to avoid a wait in excess of an hour.
Waterworld – I have mixed feelings about this one. The movie for which it was named was a bust, but don't write off the show for that reason. Most of the show involved water stunts and getting the audience wet, but the airplane landing was so impressive that it makes up for any other shortcomings. Areas are designated where you are certain to get wet, so if that's an issue, choose something out of the green zone. It was fun. We used the Front of Line pass to avoid a wait in excess of an hour. Plus, priority entrance meant we could avoid the green zone and getting soaked.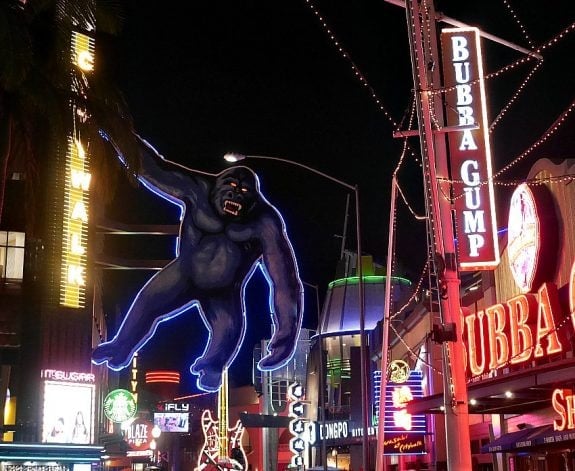 Spend time at Universal CityWalk – Universal CityWalk is outside of the theme park but is integrated in such a way as to extend the experience. There are dozens of restaurants (fast food and sit-down dining), shops, multi-screen movie theater, entertainment, nightclubs, and more. We generally had dinner here, trying out a few different spots. Also, for Pokemon Go fans, there are plenty of Pokestops and Gyms here, and you should be able to add to your Pokedex.
Where to Stay
If you want to avoid renting a car and driving, and in L.A. those are often things to avoid, there are two hotels within walking distance of Universal Studios Hollywood.
We stayed at the Sheraton Universal. Midweek pricing was upwards of $300/night, and even though it cancels out the need for a car, parking, and gas, that's a rate that may cause you to think twice. We used points for two of the three nights, helping to keep our budget in check. You might find lower rates in shoulder season. The hotel offers a shuttle service to the park; we took it once and found that it was easier for us to walk. However, at the end of a long day on your feet, you might find it a welcome relief.
The Hilton Los Angeles/Universal City is a little bit closer to the theme park. Since I was using points for part of the stay, I didn't consider this option, but you can't beat it for convenience.
Of course, there are lots of hotels, motels, private residences, and other lodging options in the area. Considerations for staying farther out include costs of getting back and forth to the park (some do offer complimentary shuttles, others will require some type of paid transportation) and the convenience of the commute (how long, are you forced onto a time schedule). If you're with a large family or group and will need multiple rooms, it may be more cost effective to rent a private residence. For two people, I think staying close comes out a winner in the balance.
What & Where to Eat and Drink
These recommendations are all located at Universal Studios Hollywood or at Citywalk Hollywood. If you have a car or are willing to relocate for a meal, there are hundreds of options, but if you want to stick on property, here's what we think.
Jamba Juice – Start the day with something healthy instead of a quick jolt of caffeine. You'll need your stamina. The juices taste good, too.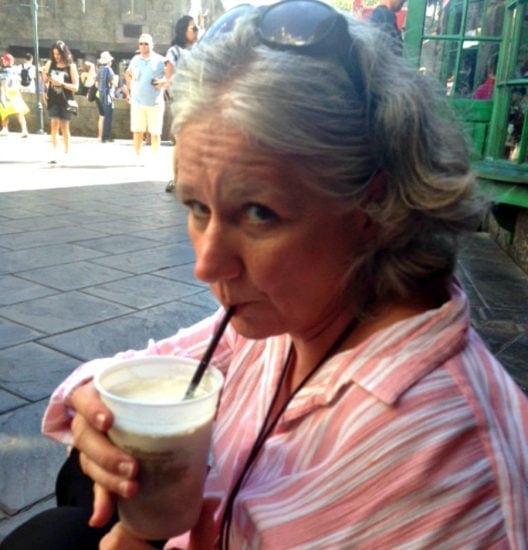 Have a Butterbeer – When I needed to beat the heat, I headed back to Wizarding World for a frozen butterbeer. This non-alcoholic frozen drink tastes like a rich cream soda mixed with butterscotch cream, then frozen and slurped up. The non-frozen version has the soda on the bottom with the whipped cream floating on top like the head on a glass of beer. It's sugary sweet, and the frozen one can give you a brain freeze, but worth the time and calories to enjoy. (Note, the teen is not a fan of butterscotch, so this is more my recommendation than his.) Most of the gift shops offer bottles of butterbeer to take home.
Donuts at Lard Lad – Located in the Springfield section of the theme park, these donuts are Homer-sized helpings about the size of a frisbee. The traditional choice is the Big Pink, pink icing with sprinkles. The teen opted for chocolate, and I went with the maple bacon. We took it back to the hotel intending to have it for breakfast the next day. It wound up as a combination dessert and midnight snack.
Chow down on a Krusty burger – While the lines were too long for us to make a stop on this visit, the teen loved this on a previous visit.
Sample Steak at Samba Brazilian – This all you can eat meat fest includes a salad bar (poor), a hot bar (adequate), and fire-roasted meat carved at your table. Side by side tastings caused the teen to remark that he liked the flavor of sirloin over new york strip, and filet even better still. This is an expensive price tag for adults ($49), but a good value for a growing and hungry kid ($16).
Takeout – If you're really all spent for the day, pick up to-go and head back to the hotel. Lots of fast food options from Panda Express to Subway to KFC. (Note that this is a recommendation from the teen, not from me.)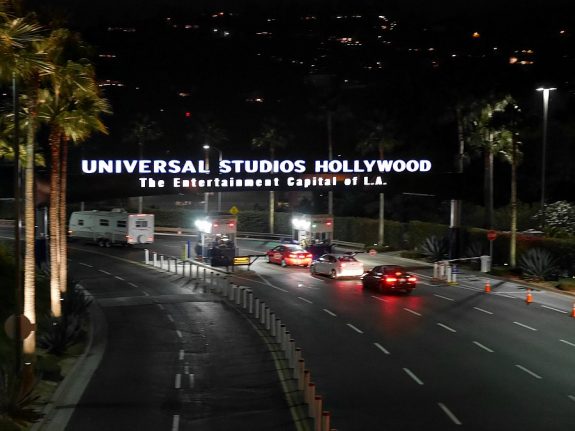 Getting There
The closest airport is Burbank Airport, which is where we flew into. It's about a 15-minute ride from the airport to the Sheraton Universal Hotel. There is no hotel shuttle. We opted for Uber, which was under $10.
LAX is about 30 minutes away, Long Beach Airport about 40 minutes. These are kind estimates, as traffic can be brutal and actual travel time can easily double. Ontario and John Wayne/Orange County (two airport choices for travelers to Disney and Knotts Berry Farm) are over an hour away.
The closest Metro stop is Universal on the Red Line. A complimentary shuttle operates on a schedule from the metro station.
Pin this to your favorite Pinterest Boards.