It was hot and filling, and best of all – it wasn't fish! I slurped up that bowl of Yoshida Udon like there was no tomorrow.
I had been in Japan for a couple of days and had been treated to gourmet meals aplenty. Breakfast, lunch, and dinner were beautiful works of art, masterpieces of flavor, and were eagerly devoured by my traveling companions. I, alone, appeared to be the one person who couldn't face fish, often uncooked, for three meals a day.
I felt bad as I pushed things around my plate, trying to be polite and look like I was both eating and enjoying this impressive presentation. This was beautiful food; it was expertly prepared and presented, but I just couldn't face it.
In that fleeting moment, I realized that I was more gourmand than gourmet.
What I really longed for was some Japanese comfort food. An everyday dish, nothing fancy, just something simple to enjoy and put a smile on my face. I found that comfort in Udon in Fujiyoshida.
Fujiyoshida is a city at the base of Mt. Fuji in Yamanashi Prefecture. It's probably best known for its proximity to Mt. Fuji which, just this past summer, was added to the list of World Heritage sites, and the crystal freshwater that springs up from under the mountain. These two attributes are bound together in history and food, creating opportunities for visitors today to hunker down with some delicious Japanese comfort food.
Let's first take a look at the history.
The Kitaguchi Hongu Fuji Sengen Jinja Shrine is a Shinto shrine in the middle of a substantial complex surrounded by dense forest. The forest includes a few trees around the main shrine that are believed to be about 1,000 years old.
The complex is wrapped up in the spirituality of the mountain volcano and is home to Otorii, a gate on the west side of the complex that is the starting trailhead for the traditional Mt. Fuji northern pilgrimage. The traditional pilgrimage began with purification and prayer at the shrine, then passing through the Otorii, for a solemn and mindful ascent of the sacred mountain. I think of it like the pilgrimage of the Camino of Santiago de Compostela in Spain, and today you'll find adventurous couples making this pilgrimage.
While today most climbers drive to the 5th station (about halfway up the mountain), originally this Shinto gate was the only place to start the mountain climb. The journey would take about 15-20 hours (round trip), depending on conditions, and would require an overnight on the mountain. Before such an arduous trek, the climbers would need serious sustenance.
That's where the next part of history molds the story.
The volcanic soil around Mt. Fuji was not conducive to farming, despite the clean spring water found beneath the soil. While the men continued to work the family farms, the women went off to work in the textile industries as a way of bringing greater prosperity to their families.
As a result of the women heading for work in the factories, there was no one at home to make lunch for the rest of the family at home. And even when the women were at home, working with delicate fabric required them to protect their fingers from cuts to keep from snagging the fabrics. Men were called in for lunch making service, using leftover miso soup from the previous day.
Today Fujiyoshida is well known for both of those things – artisan textiles and that lunch dish made from leftovers.
This is where history meets food – a blending of floor noodles and broth to create Udon – a hearty dish that could feed a family and provide ample sustenance for pilgrims making the ascent up Mt. Fuji.
While Udon noodles are made in different ways, Fujiyoshida is known for the Yoshida Udon. The noodles are made by hand, and usually still by men, out of flour, water, and salt.
Traditional Udon shops make the noodles entirely by hand, from mixing the dough, rolling it out, cutting the noodles, cooking the noodles and then covering with them with broth to create a delicious soupy noodle dish. Yoshida Udon noodles are thick and chewy, almost tough. There's real texture to them. You chew them, rather than slurp them down, and there's a comfort to eating them.
Yoshida Udon broth is miso or soy sauce-based, occasionally a combination of the two. After boiling, the noodles are drained, placed in a bowl, then the broth is poured over them creating a soup. The dish is topped with cabbage and carrots, and occasionally meat, tofu, or tempura.
On the table, you'll find a jar of blended spices that can add a little heat to the soup. And, it's been said, adding lots of spices to your bowl of Udon is a great way to clear your sinuses or cure a hangover. Fortunately, I never had to put it to that test. Whether you consider Udon soup or noodles, I'll leave to you, I just call it soupy noodle goodness.
Finding Udon in Fujiyoshida isn't hard – there are over 60 noodle shops in this city of about 50,000 people – but they are typically set inside of regular looking homes. Often the only way to find them is by the "Yoshida Udon" flag hanging over the entrance door or by noren (Japanese fabric) hanging down over the entryway. Keep an eye out and you'll find them.
If you want to be more methodical in choosing your noodle shop, you can pick up a Yoshida Udon Map from the City Hall or the Tourist Information Center.
My noodle stop was at Shirasu Udon (Fujiyoshida Kamiyoshida 3269-1; Open Monday-Saturday, 11:30 am-2 pm). Shirasu could easily be missed if you weren't looking for it as it looks like a private home. But the Udon flag flying over the door, and perhaps the waiting queue of patrons, are clues that you're at the right place. Shirasu Masami is the owner and a second-generation master noodle maker.
Walk into Shirasu Udon and your choices become simple. Find a seat at the communal table in the converted living room, sitting on the tatami mats, and order warm or cold. Those are your two menu choices.
The warm offering is the noodles with a soy sauce and bonito sardine based broth covering them. It's topped with locally sourced fresh carrots and cabbage. This was my choice and a very wise selection.
The cold offering is chilled noodles served on a plate with cabbage alongside. The broth is served in a separate bowl.
Both warm and cold are priced at 350 yen per bowl. That converts to a crazy low price of around $3.60 for a big bowl of delicious Yoshida Udon goodness.
Good to Know
In addition to visiting the Kitaguchi Hongu Fuji Sengen Jinja Shrine and climbing Mt. Fuji, here are some other recommended things to do in and around Yamanashi Prefecture:
Enjoy Lake Yamanaka, part of the UNESCO Mt. Fuji designation. Boat rides on the lake, and bus tours around it, are available. Keep your fingers crossed for a clear day and those postcard views of Mt. Fuji.
Try some sake. Numerous sake breweries can be found, most offering a tour as well as a tasting room. The sake here earns its reputation from using the spring water beneath Mt. Fuji. Try the Ide Sake Brewery.
Enjoy a Japanese barbecue. This cook it yourself meal is as great for conversation as it is for food, with guests sitting around a sunken hearth. Put your meat (fish, shrimp, beef, pork, duck, scallops) and vegetables on skewers, baste with a little sauce, and cook to your preferred doneness. Eat up!
Relax in an onsen. The bath ritual in Japan is as complex as it is relaxing, and something that should be on your to-do list. Many hotels will have an onsen on-site and this is an easy way to introduce yourself to this cultural experience.
Getting to Fujiyoshida
Fujiyoshida is accessible from Tokyo by car, bus, or train. By car or bus (Chuo Highway Bus from Shinjuku to Fujiyoshida ) should take under two hours. A train from Shinjuku to the Mt. Fuji Station, via Otsuki, will take a little over two hours.
If you want to visit the Mt. Fuji area, there is a 3-day Train Pass that provides substantial value. The pass covers three days of train travel that includes JR East Shinkansen, Express Service, and the local Fujikyu Line. It also provides service to both Narita and Haneda Airport, making it easy to visit the Mt. Fuji area as part of a visit to Tokyo. The pass, available only to foreign passport holders, is value priced at around $82.
A variety of tour companies offer programs that include a visit to this area as well.
Pin to your favorite Pinterest boards: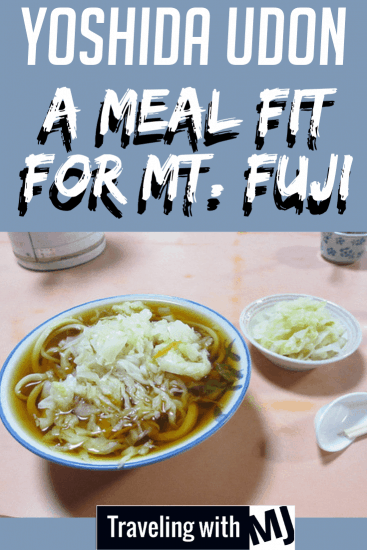 Photo credit: personal collection
Disclosure Notice: My trip to Japan was a part of "The Visit Japan Project," a part of the country's efforts to promote International tourism and visitors to the Kanagawa, Yamanashi and Shizuoka prefectures. Arrangements for the trip were handled by JTB and their partners. While my expenses were covered, my participation in this trip was with the understanding that I was free to create the editorial content of my choosing, specifically that which I most enjoyed and would be of most interest to you, my readers.