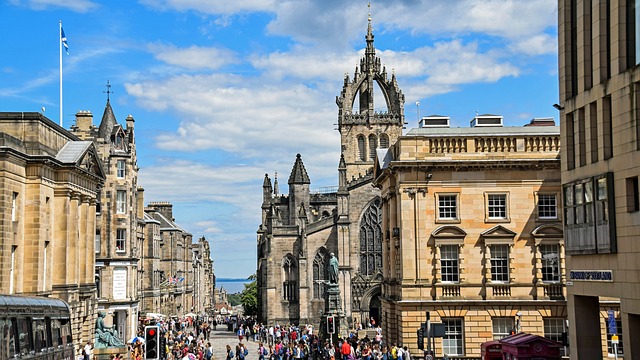 Edinburgh, the capital city of [amazon_textlink asin='1612389783′ text='Scotland' template='ProductLink' store='travelingwithmj-20′ marketplace='US' link_id='ca65b8ba-6a63-11e7-8485-e971cc4915d6′], is the second largest city in the country, making it a popular vacation spot for travelers from the U.K. and around the world.  In fact, it's the second most visited city in the UK for international travelers (no surprise that [amazon_textlink asin='1631215612′ text='London' template='ProductLink' store='travelingwithmj-20′ marketplace='US' link_id='d9adec6b-6a63-11e7-8762-ad95567d7f04′] is first), and there are lots of reasons to visit Edinburgh.
From the United States, you can reach Edinburgh direct from Newark (Continental) and Atlanta (Delta), along with many airlines that make connections.  Another option is flying into Glasgow International Airport, about an hour away.
Here 10 reasons to visit Edinburg for your next vacation.
It's a picturesque city.  Located along the Firth of Forth (love that name!), Edinburgh sports a rugged coastline mixed with interesting architecture.  There are plenty of beautiful beaches, charming country side, quaint little villages, and thriving urban life, combining to make an interesting mix of landscape and culture.
It's a [amazon_textlink asin='1770850236′ text='UNESCO World Heritage Site' template='ProductLink' store='travelingwithmj-20′ marketplace='US' link_id='57037e7c-6a64-11e7-ae90-8ff2ab798641′].  The city core combines the medieval Old Town, the Georgian New Town, and award winning modern architecture.
It has castles and palaces. Edinburgh Castle is in the city center, and that a good place to start your castle viewing, but there's plenty more as you venture a little further about.
It's a capital city.  Students of government, history, and politics know how interesting a capital city can be, giving you the opportunity to check out the Scottish Parliament, conduct your business, and soak up the local business culture.
It's a literate city.  Edinburgh is the first UNESCO City of Literature.
It's got festivals.  The city boasts so many festivals that it's hard to keep track, but is probably best known for the Edinburgh Festival.  It starts in August, and lasts for four weeks, and is a collection of mini-festivals that includes the Fringe festival, the International Festival, the International Book Festival, and plenty more.
It's a city that celebrates.  From ushering in the New Year with Hogmanay (December 31st) to Burns Night (January 25th). to the Beltane Fire Festival (April 30th), this is a city that can make a celebration out of almost anything.
It has museums.  Sure, most large cities do have museums, but you'll find some of the best in the country in Edinburgh.
It has nightlife.  With demographics decidedly on the younger side, it's not surprising that Edinburgh has lots of restaurants, club, and pubs that should appeal to nearly every night-out preference.
It's a little bit different.  While all your friends are boasting about one of the usual European destinations, mentioning Edinburgh will make your plans stand out a bit.  Why go with the usual, when there's a unique choice to be made instead.
For hotel reviews and information, we recommend TripAdvisor. When you're ready to book your room, we like the comparisons and pricing transparency on Hotels Combined.
For Pinterest: 10 reasons to visit Edinburgh on your next vacation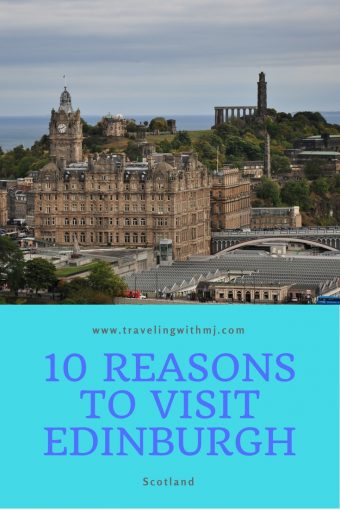 Disclosure:  This post contains affiliate links. Clicking through for additional information or to make a purchase may result in a small commission being paid. By doing so, you help support this site and its authors, and we thank you.