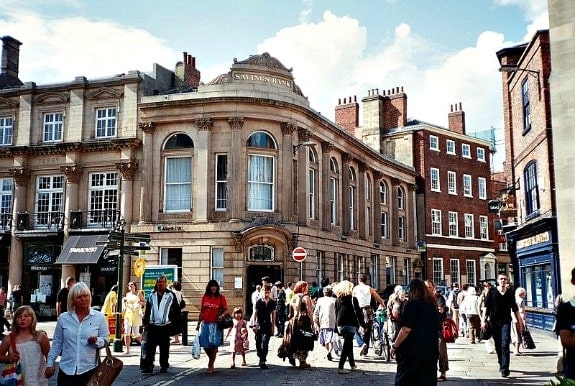 The reasons why people head for York (England) are extremely diverse – after all, this beautiful city offers so much, including a rich heritage, medieval cobbled streets, ghost stories and of course, the towering basilica that is York Minster. But what about the shopping opportunities? Sure, it has its fair share of high street stores, but what if you want something a little different, a little retro? Spend a day in this superb city, have a look at some of the cheap hotels in York that are available, and explore some of the amazing vintage and retro-inspired shops on offer.
The retro and vintage style has made a massive comeback over recent years, so it's no wonder the volume of stores that cater to the attire have increased too. York provides its fair share of retro offerings – you just need to know where to look. From old clothes to antiquities, the stores that line the cobbled streets will call to you.
The Vintage Emporium, found on Fishergate, specializes in clothing and accessories from the 30s to the 60s,  and offers an incredible array of inspiring items, usually of excellent quality. Whether you're looking for a 1950s dress or some bright 60s earrings, you'll likely find it in the Emporium. You can also find plenty of wear for men too. Prices are ideally set, so you won't even be paying through the nose to get a pristine article from times gone by.
Later decades of the latter century can be found in Purple Haze – a unique store that offers fantastic accessories as well as a well stocked menswear section. You can find some fabulous bargains in here, but you'll have to look hard for them.
If you are hoping to find something for that special occasion, and want to dress to impress as well as stand out from the masses, head for Priestley's during your travels. With a plethora of cocktail dresses and evening wear available, you could find a truly beautiful piece – but be warned, it'll cost you more than your average, thrifty vintage store.
Are you or someone you know, planning a vintage wedding? With its boom in popularity, a vintage wedding is all the craze at the moment, so why not go truly authentic and purchase a nostalgic wedding dress? A visit to York could be a perfect treat for the bride-to-be, particularly with stores like Glory Days to peruse. The store, found on Walmgate, focuses on vintage wedding dresses throughout the decades, and you may just find the perfect addition to the big day.
Rooting through rails upon rails of jumble can be many a bargain hunter's dream. If you're willing to take time rummaging to find a great item or two, York's Antique Centre could provide you with some great deals.
Similarly, if you head over to Piccadilly, you will come across the Banana Warehouse. If you're willing to root through the house clearance goods, you could come across some fabulous kitsch finds from past decades.
The city of York is full of surprises – you may need to rummage for some of them, but amongs all the tourist attractions there are some real retro finds. Spend a weekend in the city and see for yourself.
Photo credit:  public domain via wikipedia