Dublin has been home to some of the most influential writers in history, many of whom have helped shape the literary world as we know it today.
Iconic novelists such as James Joyce, Oscar Wilde, Jonathan Swift, and Bram Stoker once called this Irish capital home. Literary Dublin was also home to Samuel Beckett, known for his theatrical work, and poet William Butler Yates, one of the most prominent figures in 20th-century literature.
Dublin is, unsurprisingly, full of literary attractions, from world-renowned museums to former literary hangouts tucked away in the backstreets.
Green with Envy
On my recent trip to Dublin, part of a paid partnership with Globus Journeys, I had the opportunity to learn and experience literary Dublin as part of their Choice Touring program. Choice Touring has been designed to provide a general group framework, and within that, options for individual customization, independence, and flexibility. It's almost like having your own specialized tour. Choice Touring is a premium product for only slightly more than regular group tours.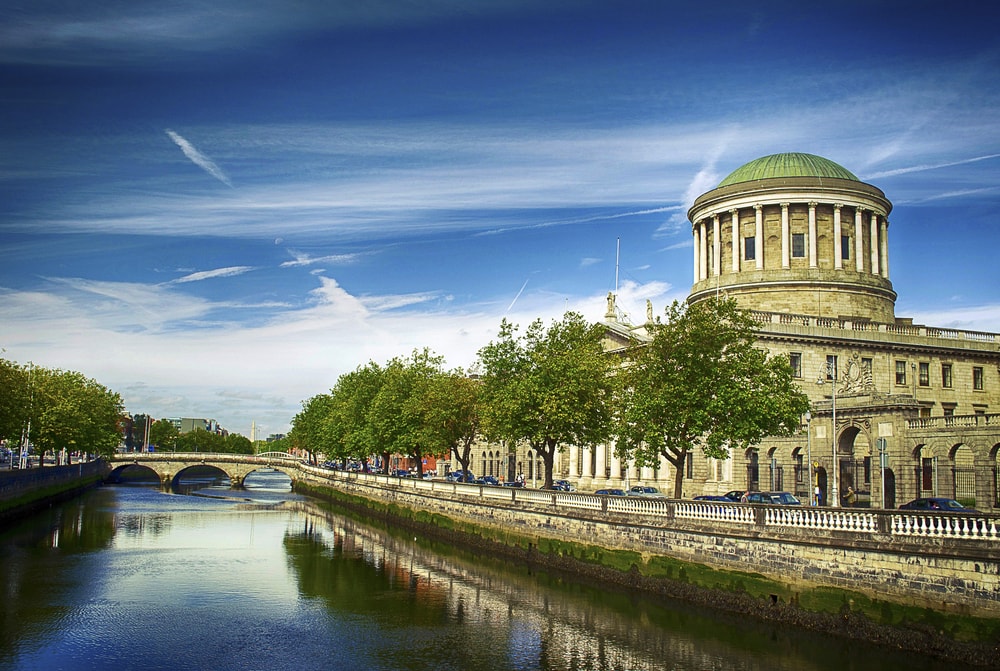 Our tour was Green with Envy: Ireland by Design. You can find the 2023 tour details here. One of the things we did on the tour was to provide Globus with feedback on the various tour activities. The company cares about keeping its tours fresh and relevant; feedback matters. I will be writing about the details of the tour, and the choices I made (which were great) in an upcoming post.
You might not realize why a tour adds so much to the Irish experience, but it does. We learned about many of Ireland's great writers throughout our entire tour, not just in Dublin, as our guide Helen wove literary magic into her stories. I was regularly making notes about writers and their works, many now placed on my TBR (to be read) list, and an Ireland theme may well find its way into my 2023 travel reading challenge (next year will be the 6th annual).
Till then, though, let's talk about literary Dublin. I was able to visit some of these spots on my trip, and have made a list of ones to get to on my next visit.
Who Were Dublin's Writers?
Dublin has been a center of literary activity for centuries, producing some of Ireland's most famous writers. This dates as far back as the 1600s, when Jonathan Swift (1667-1745), writer of the novel, Gulliver's Travels, rose to fame as a satirist, author, essayist, and poet.
Then there were Oscar Wilde (1854-1900) and William Butler Yeats (1865-1939), both renowned poets who were well-known for their craft in the 20th century.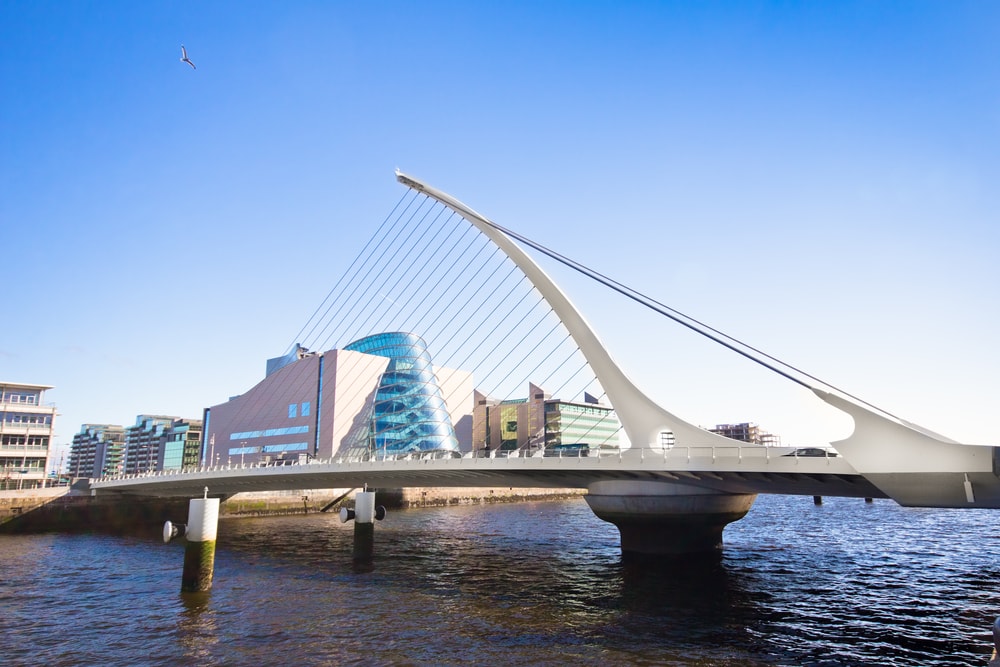 Perhaps the most famous and beloved writer in Dublin is James Joyce (1882-1941). He is considered one of the most influential writers of the 20th century, best known for his groundbreaking work, Ulysses. The book is an Irish version of Homer's Odyssey, and it's no small feat to get through it. It was widely considered one of the most important novels of the modern era and is said to have been written as a love letter to the city of Dublin. Another one of his major works, Dubliners, is a series of fifteen short stories about the life of the middle class in Dublin.
But it wasn't just James Joyce who bought attention to Dublin's writers. The city is home to four Nobel Laureates in Literature; George Bernard Shaw (1856–1950), Seamus Heaney (1939–2013), Samuel Beckett (1906-1989), and William Butler Yates (1865-1939).
Becoming Literary Dublin: The City of Literature
It was because of all of these writers' work, and the city's ethos and hard work at preserving their literacy and legacy, that drew the attention of UNESCO.
In 2010, the UNESCO organization and the Creative Cities Network made Dublin a UNESCO City of Literature to commemorate its preservation and growth of literature of all forms in the city. It became colloquially known as Literary Dublin and is one of seven Cities of Literature in the world.
Fun Fact: Seattle was named a City of Literature in 2017.
Whether you're looking to explore the homes of your favorite authors or simply soak up the atmosphere of one of the world's most literary cities, Dublin has lots to offer book lovers.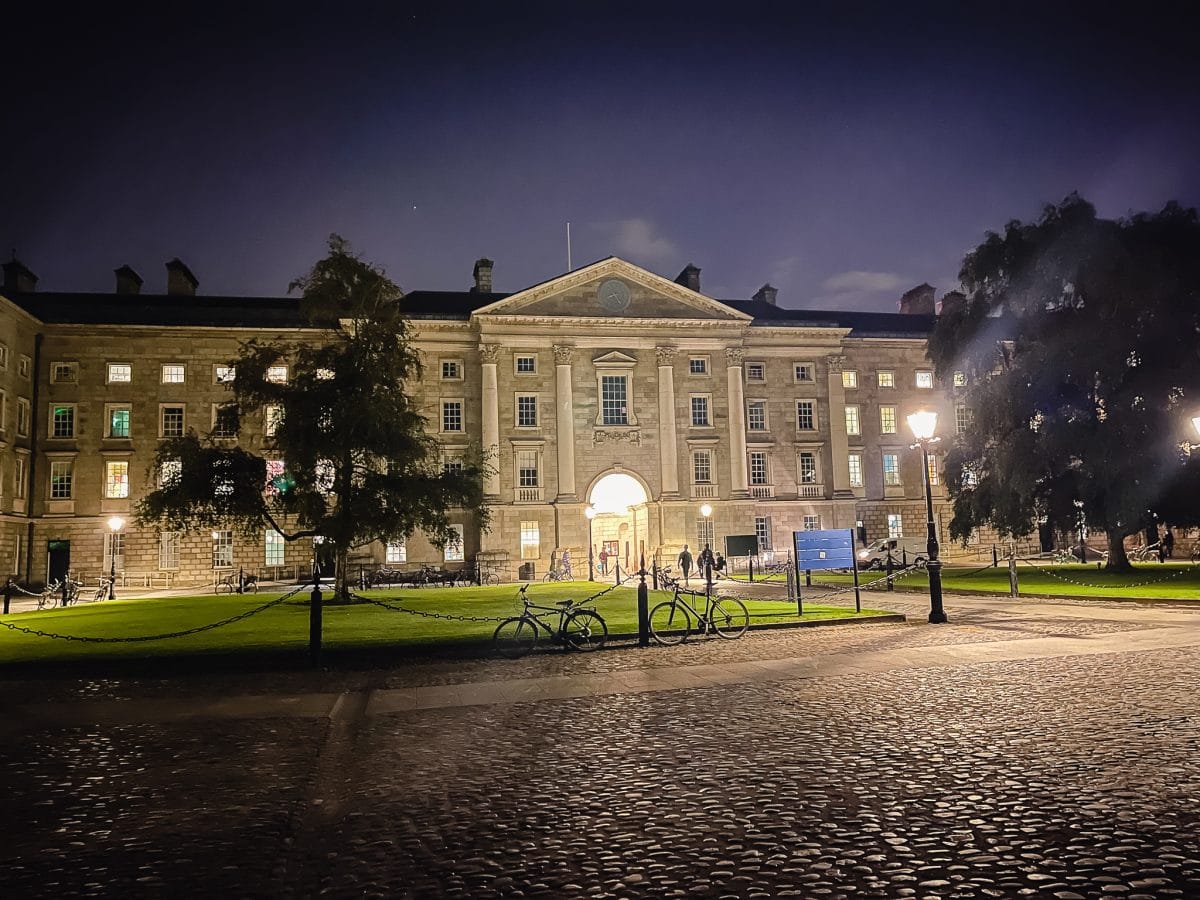 The Top Literary Attractions in Dublin: Museums
In a city full of literary attractions, it's hard to select the best museums and sites. I love the quirky and unusual as much as the classic and expected. One of my favorites, the Dublin Writers Museum is permanently closed, a victim of Covid and the changing standards for modern museums.
Here are some Dublin literary museums worth a visit.
Museum of Literature Ireland (MoLI)
The Museum of Literature Ireland is located in the heart of Dublin's cultural quarter. The museum brings Dublin's literary history to life, from the city's early days as a center of learning to its more recent reputation as a breeding ground for talented writers.
With interactive displays and information, it makes for an interesting way for visitors to learn about Dublin's literary history. The museum is the brainchild of the National Library of Ireland and UCD who in 2010 formed a creative alliance to showcase their most treasured assets.
The NLI's collection of James Joyce memorabilia was their biggest asset, and UCD had a historic Victorian property, Newman House, for which to show the collection. After many years of gathering funding and renovating the space, the Museum of Literature Ireland opened in September 2019.
James Joyce Centre and Martello Tower (James Joyce Tower)
James Joyce was a highly experimental writer who pushed the boundaries of literary conventions in his time. His work has been characterized as "intricate wordplay", a "stream-of-consciousness narration", and often "opaque symbolism." Joyce's writing style was hugely influential and has inspired subsequent generations of writers across the globe. Even today, he has quite a following of fans who adore his work and writing style.
For anyone interested in seeing the true literary Dublin, the James Joyce Centre is a must-see attraction. The center is located in a stunning Georgian townhouse, which gives visitors a biographical view of James Joyce's life and the influences on his literature. Visitors can see the famous door of No 7 Eccles Street that is featured in his novel Ulysses, as well as a recreation of his living quarters in Paris. Each room is filled with exhibits that bring the author's work to life.
Another homage to James Joyce is the historic Martello Tower, built to defend Dublin Bay from Napoleon's invading forces. James Joyce spent six nights in the tower in 1906, and it is also the setting of his opening scenes in Ulysses. Today, the Tower is a museum dedicated to Joyce. It displays some of his possessions and items related to Ulysses, such as Plumtree's Potted Meat pot.
Each year on Bloomsday, held on the 16th of June, the tower becomes a pilgrimage spot for James Joyce fans.
Literary Landmarks and Iconic Places
It seems like you can't walk down a street or turn a corner without running into some literary landmark rooted in Irish history. It's easy to walk by without paying attention, which is why a great guide brings so much richness to the experience.
Statue of George Bernard Shaw at The National Gallery
Dublin has always been a literary city, but it also celebrates the art of literature in all its forms.
The National Gallery celebrates Irish artists, but for literary fans, the reason to visit the National Gallery is not for what's inside the museum, but for what stands at the entrance.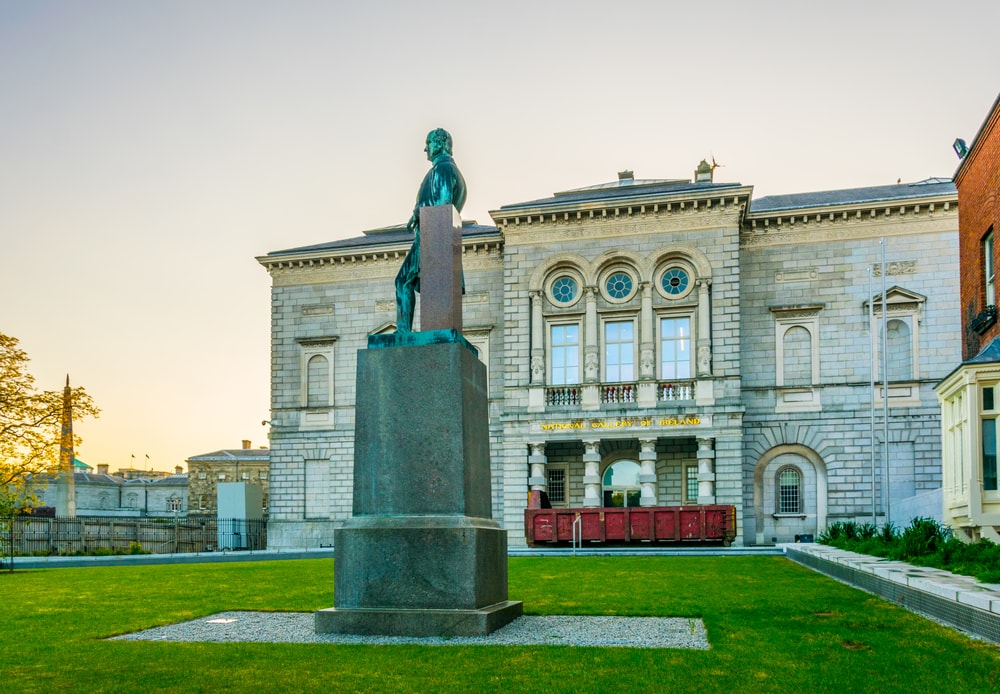 Outside the museum's Gallery's Clare Street entrance, there is a life-size bronze statue of George Bernard Shaw created by Russian artist, Paolo Troubetzkoy. George Bernard Shaw was an Irish playwright and political activist, who wrote more than 60 plays and was awarded the Nobel Prize in Literature in 1925. He is known for writing the screenplay for the film, Pygmalion, for which he received an Academy Award.
Bram Stoker Park (Marino Crescent Park)
Bram Stoker is most celebrated for his gothic-horror novel, Dracula. He lived at number 15 Marino Crescent during his childhood, and his future wife lived down the road at number 1.
Across the road from the row of houses is an open green space, known as Marino Crescent Park. This garden used to be private but has been open to the public as a garden square since the 1980s. It was officially named Bram Stoker Park in the 2010s. It doesn't feature anything worth noting about Bram Stoker but gives you a view of his home and the place where he spent his childhood.
The Oscar Wilde Statue at Merrion Square
Visitors to Dublin can also see the former home of Oscar Wilde, the iconic poet, and playwright known for his novel The Picture of Dorian Gray and his play, The Importance of Being Ernest.
It's located at No. 1 Merrion Square, and while the house is not open to the public, you can see a statue of him in the Georgian square across the road from the house. The statue is very different from the statue of George Bernard Shaw. The statue of Oscar Wilde is made from multi-colored marble that was sourced from three continents. Created by Danny Osborne, this landmark was unveiled in 1997 to commemorate 97 years since the poet died.
Merrion Square was also home to other famous Dublin writers, including poet William Butler Yeats who lived at No. 82, and Daniel O'Connell (1775-1847) who lived at No. 58.
33 Synge Street
No. 33 Synge Street is the birthplace of George Bernard Shaw. The house belongs to the Dublin City Council and has been lovingly restored to look like a traditional Victorian home.
The house is now a museum but it has been closed for some time with no indication of reopening. Visitors can only see the outside of the house, but there is a mural dedicated to Shaw across the road from the house.
George Bernard Shaw was born in July 1856 and left Dublin in 1876. Although this native of Dublin was only a resident for 20 years, he's proudly claimed as a native son. Shaw won the Nobel Prize for Literature in 1925 and is best known for his humorous writing style and political commentary.
The Abbey Theater
For many playwrights in Ireland, the Abbey Theater is where it all began. The theater, also known as The National Theater of Ireland, was one of the first theaters in Dublin to showcase plays written by Irish writers.
One of the first directors of the Abbey Theatre was Irish dramatist, Lady Gregory (1852–1932), who was connected with playwrights William B. Yeats and J.M. Synge (1871-1909). They helped her get the theater up and running. Many of the city's top authors were also former members of the board and helped get favorable reviews and publicized the theater.
Some of the performances at the theater caused political upheaval, such as The Playboy of the Western World by J.M. Synge, because of its perceived controversial themes (adultery). George Bernard Shaw's play The Shewing-Up of Blanco Posnet also led to protests.
The theater entered financial troubles after WWI and the Irish Rebellion, and so Yeats and Lady Gregory decided to donate the Abbey to the government of the Free State as a gift to the Irish people. However, it was purchased by the Minister of Finance, Ernest Blythe, who made it the first state-supported theatre in the English-speaking world.
The theatre was a project and passion for many of the city's beloved authors.
Sweny's Pharmacy
While James Joyce fans can learn a lot from the James Joyce Center and the Martello Tower, Sweny's Pharmacy offers a different experience. The pharmacy was featured prominently in James Joyce's Ulysses and is the only shop in the city with an intact Victorian interior.
In 2009, the business was turned into a bookstore run entirely by volunteers. The volunteers hold several reading groups throughout the week, where you can hear the tongue-twisting words of James Joyce come to life, in several languages. Take a look at the website to see when the next dramatic reading will take place.
The Shelbourne Hotel
If you're looking for a place to stay in Dublin that has a literary history, consider staying at the Shelbourne hotel. The hotel was mentioned in the Dubliners by James Joyce, and its Horseshoe Bar was a drinking hole for many of the city's most distinguished authors and poets.
It is said that Brendan Behan (1923-1964), Brian Friel (1929 – 2015), Seamus Heaney, and many more notable writers used to drink here.
The Grand Canal
The Grand Canal was the inspiration for many writers in Dublin, from appearing in Ulysses to being the inspiration for poet Patrick Kavanagh (1904-1967). Patrick Kavanagh is known for his novel Tarry Flynn, and his poems On Raglan Road and The Great Hunger. His writing conveys his experience in Irish life by referring to everyday and commonplace occurrences.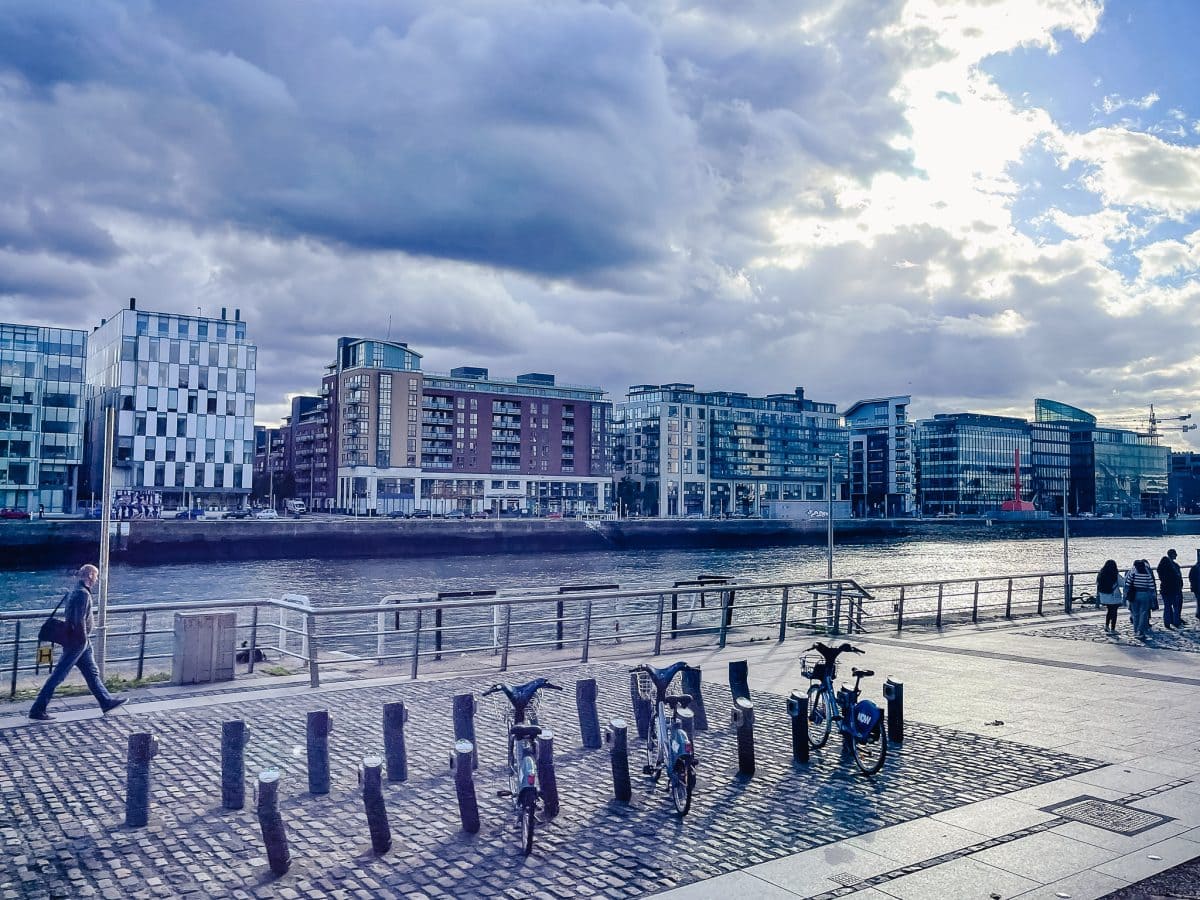 Standing in a leafy area near the Baggot Street Bridge is a statue of Patrick Kavanagh. The bronze statue was inspired by his poem, Lines written on a Seat on the Grand Canal, Dublin, and features Kavanagh sitting on a bench overlooking the canal. It was created by John Coll and unveiled in 1991 as part of the European City of Culture celebrations.
St. Patrick's Cathedral
Jonathan Swift, the author of Gulliver's Travels, was also the Dean of St. Patrick's Cathedral from 1713-45. Inside the cathedral, you can find copies of his work as well as the desk where he wrote. Somewhat morbidly, you can see a death mask (a kind of wax mold of his face) and a copy of his skull.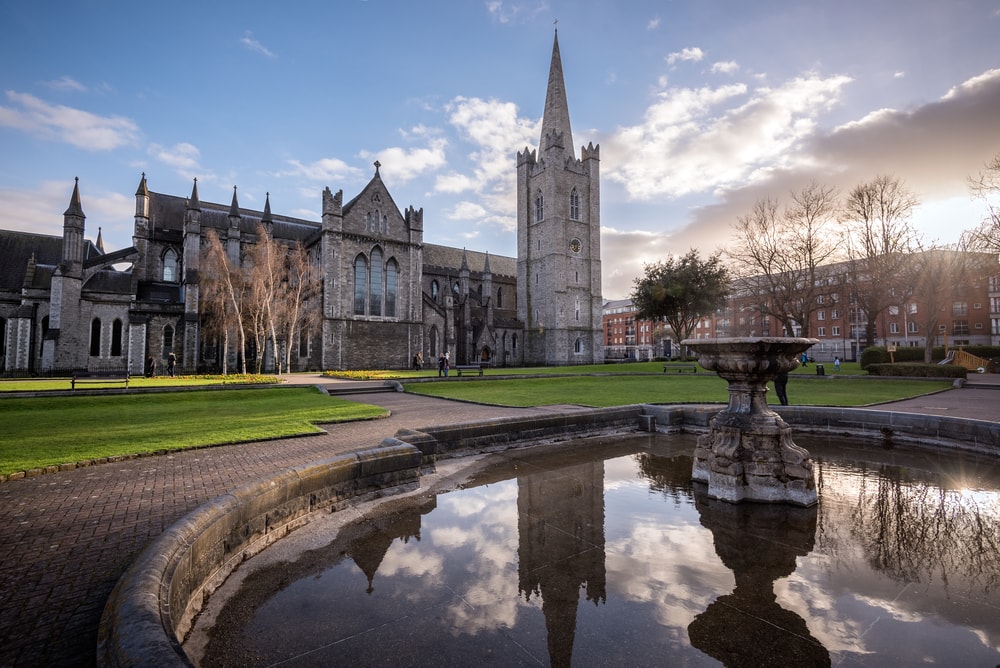 St. Patrick's is the national cathedral of the Church of Ireland. The Church of Ireland is both Protestant and Catholic. While a seeming oxymoron, and perhaps a heresy to many, the cathedral appears to incorporate doctrines and practices from both into a working doctrine of faith.
Trinity College Long Room and Book of Kells
Trinity College Dublin is the oldest and most prestigious university in Ireland. Located in Dublin's city center, its 18,000 students are enrolled in undergraduate and graduate programs spanning the major disciplines. The university has had many notable literary attendees, including Jonathan Swift, Samuel Beckett, Bram Stocker, and Oscar Wilde.
The university's Long Room library houses the largest collection of Ireland's historic manuscripts, early printed texts, and rare books. The entire collection features over five million books, increasing annually by about 100,000 new items. Many of the most prestigious Dublin writers and scholars have studied in this hall. If only these walls could talk and share with us some of the memorable stories from the literary history of Dublin.
But it's not just classic writers that have helped imbue Trinity College with its literary credibility. Modern writers like novelists Sebastian Barry, John Boyne, and Sally Rooney have attended Trinity.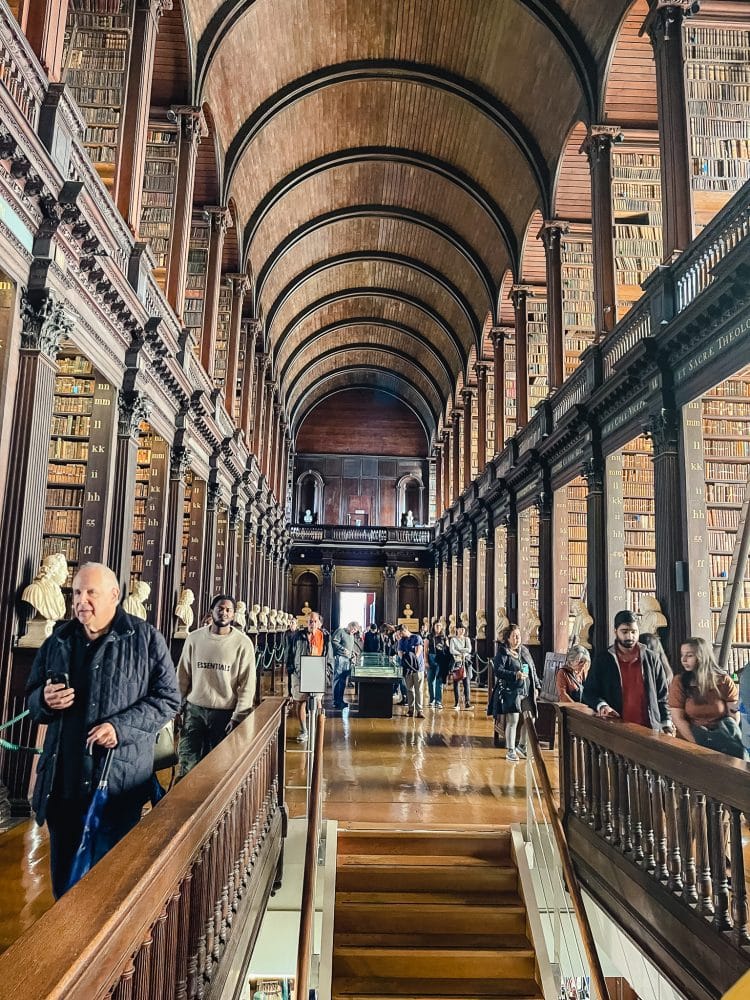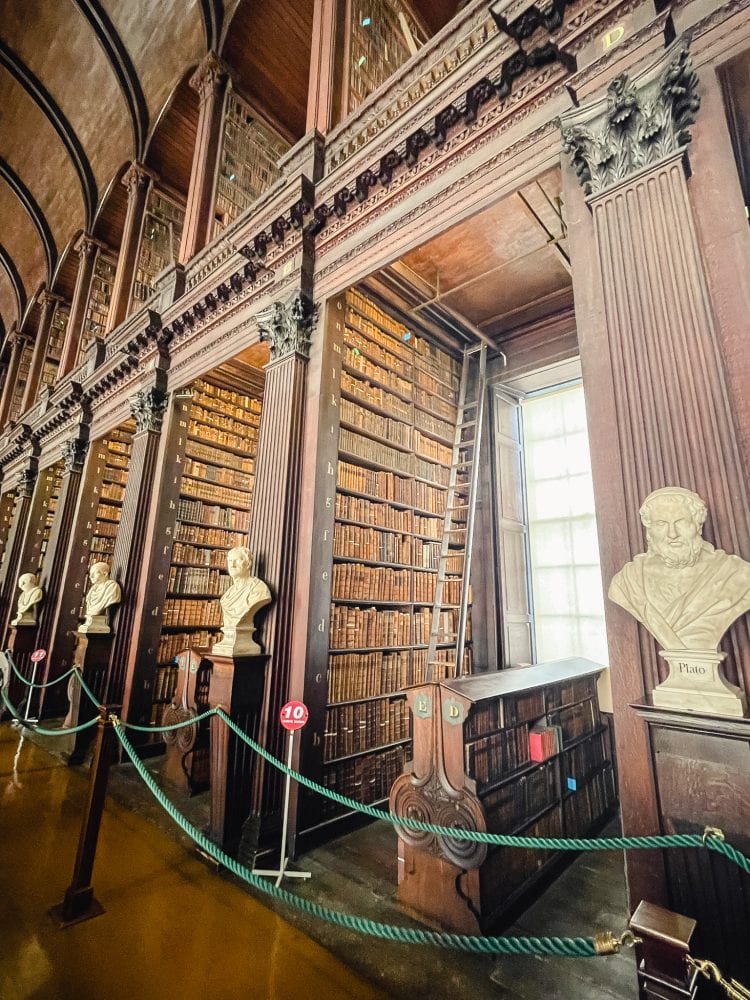 The Long Room's most famous manuscript is the Book of Kells. The Book of Kells, housed in a special room separate from the Long Room, is a group of manuscripts that contain the four gospels of the New Testament (Matthew, Mark, Luke, and John), and are bound into four volumes (one or two are on display in the library). It's one of the most celebrated manuscripts in the world and its rich history is full of competing interpretations. Regardless of your religious beliefs (or non-beliefs), you'll likely still be awed by its ornate script and decorations.
Bewley's (Grafton Street Cafe)
Bewley's is a historic coffee house located on the only street in Dublin without a pub, Grafton Street. Bewley's opened for business in 1896, then closed and re-opened as the Grafton Street Cafe in 1927. It later re-opened as a coffee and tea shop with the Bewley name. Joyce, Beckett, and Kavanagh were frequent patrons, as were scores of Irish musicians, politicians, locals, and visitors.
The cafe closed in 2020, presumably a victim of Covid, but has reopened. Look around at the other patrons and see if you can spot the next Nobel Prize winners, or maybe just an Irish literature fan writing the next famous novel.
Literary Pubs in Dublin
A pub – which stands for public house – is a local gathering spot that serves alcohol and food. In Ireland, pubs have the reputation for a casual and friendly atmosphere, with hearty food and drink on offer, and often sports on the television or traditional Irish music performers. The pubs listed here attract Dublin visitors, but don't overlook the smaller establishments throughout the country that also boast stories of local literary legends.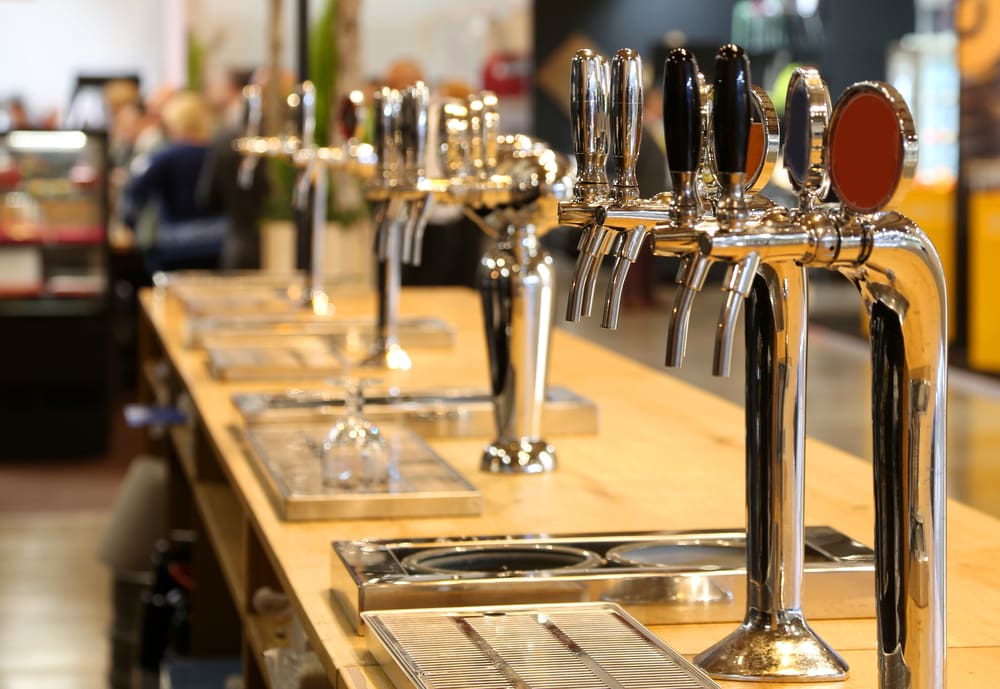 I visited several notable pubs on Dublin literary pub crawl, one of my choice selections on the tour. The walking tour was led by a duo of actors who acted out scenes from various literary works and told stories about writers and locations as we went along. During free time in Dublin, stopping off at one of these pubs for a quaff would be a delightful way to spend the afternoon. And, worth arriving in Dublin early or staying on post-tour.
Davy Byrnes
Named for barkeep Davy Byrne, this is one of the oldest pubs in the city. Though the pub has been renovated a few times, it still retains the original Victorian-era charm and charisma that would have existed in the time of Davy Byrne and James Joyce.
The pub is nearly synonymous with James Joyce, who was a regular at this watering hole. He featured the pub in both the Dubliners and Ulysses. In Ulysses, the character Leopold Bloom orders a Gorgonzola sandwich and a glass of burgundy at Davy Byrnes.
Every year on Bloomsday, celebrated on June 16th, the date Ulysses takes place, Joycean fans come to the Davy Byrnes to pay homage to Joyce. And to order themselves a Gorgonzola sandwich and a glass of Burgundy.
The Duke Pub
Another Dublin pub frequented by writers is The Duke Pub. The pub has been operating since 1822 and was remodeled in the Victorian era. Regulars included James Stephens (1880 – 1950), James Joyce, Oliver St. John Gogarty (1878 – 1957), and Arthur Griffith (1871 – 1922).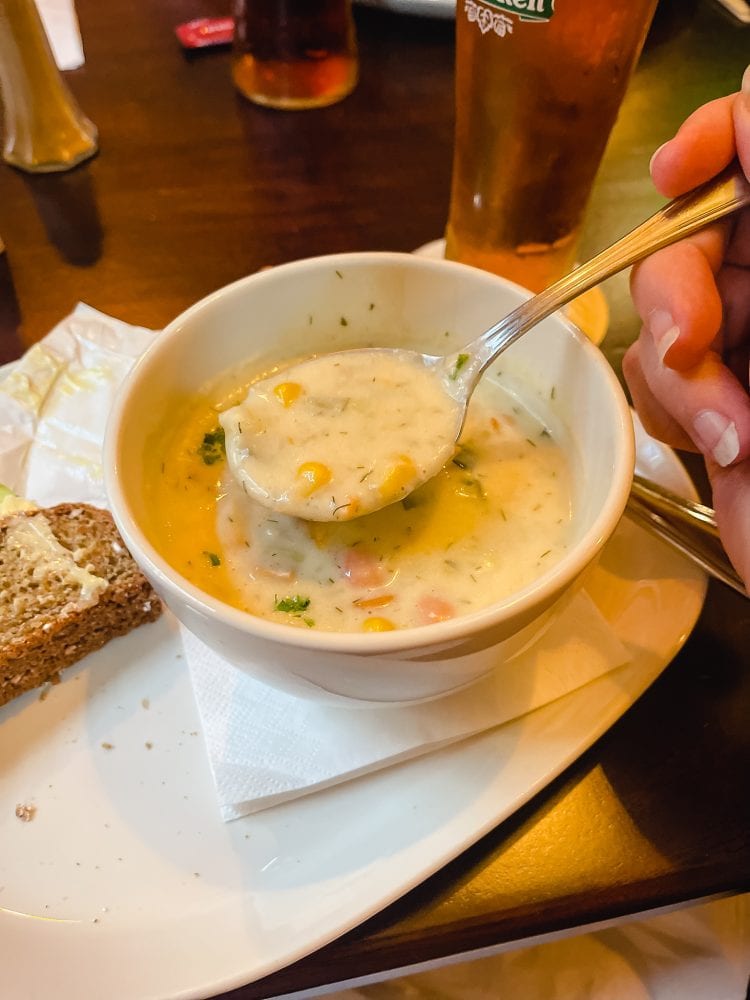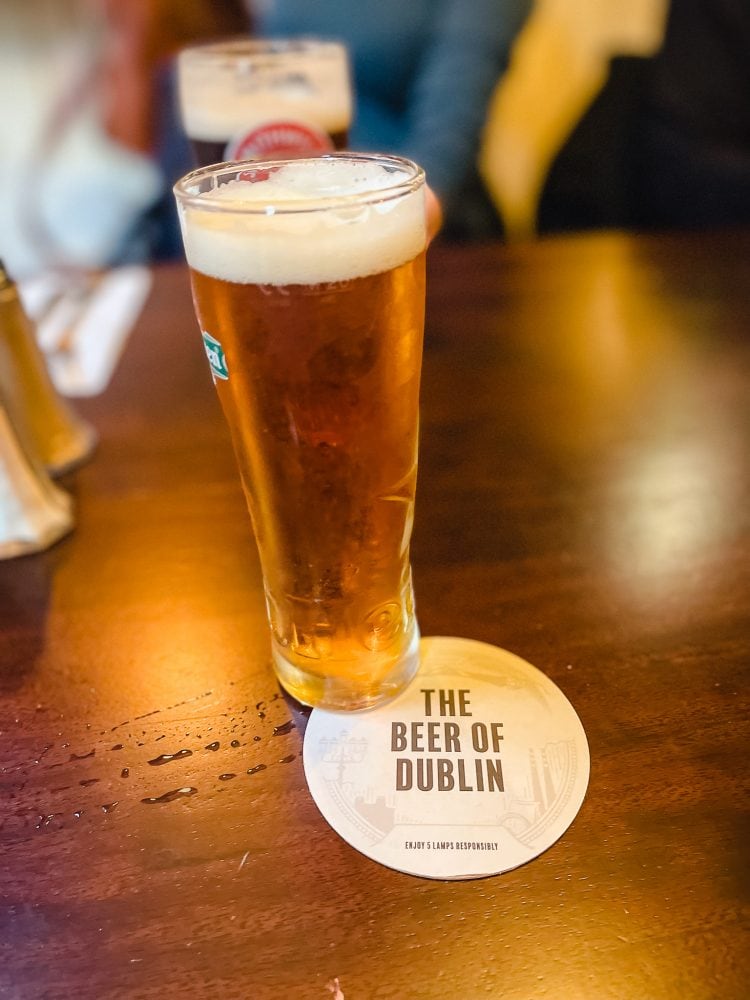 It was also a regular spot for the three great Irish literary musketeers, Brendan Behan, Patrick Kavanagh, and Flann O'Brien (1911-1966), who also loved drinking here. Rumor has it that these three Dublin writers were not fond of each other's company, so never drank at the Duke at the same time.
Neary's
Neary's is another pub that can be traced back to 1887. Brendan Behan and Flann O'Brien were regulars in the 1950s.
The bar is perhaps most famous for being a drinking house for performing artists, having its back entrance opposite the Gaiety Theatre stage door.
Toner's
Toner's was the only pub that William B. Yates would drink at. Talk about loyal!
Perhaps it was liquid refreshment, but even today Toner's vibrant atmosphere, with lots of snugs, creates a perfect setting to sit and enjoy a good book. And liquid refreshment too, of course.
For Pinterest
Save to your favorite travel and vacation planning Pinterest boards. You'll want to be visiting Ireland soon.