Adventure travel doesn't have to mean roughing it, and there's probably no better example than  Galapagos cruises, which mash up education, adventure, and luxury into vacations of a lifetime.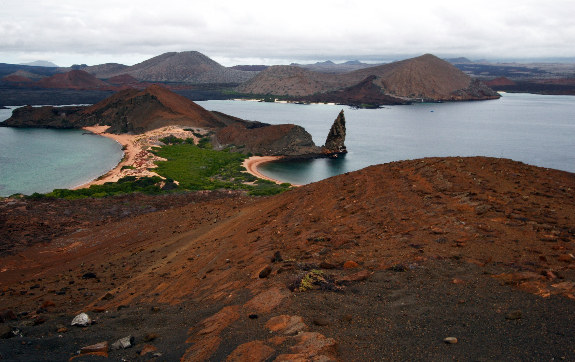 The Galapagos Islands are located about 525 miles west of [amazon_textlink asin='1742207855′ text='Ecuador' template='ProductLink' store='travelingwithmj-20′ marketplace='US' link_id='8e8ec20e-3836-11e8-bd8d-395d4538e8e2′] and are a volcanic archipelago hovering around the equator.  The islands are home to a national park, a whale sanctuary, and biological marine reserve, and are a part of a UNESCO World Heritage site.  The Galapagos are home to about 23,000 people and far more wildlife species.
There are 18 main islands offering a variety of experiences and leisure activity:  swimming, snorkeling, hiking, kayaking, and explore.  This is also an amazing spot for photographers with postcard-perfect island scenes as well as unique native life.  But a visit to the islands also offers far greater opportunities for viewing wildlife, flora and fauna, and learning about an eco-system that sustains it all.
The wildlife is amazing, from both a scientific and environmental viewpoint, as well as offering compelling opportunities for photographers.  Here are just a few things you'll see:
Various types of iguana, including the marine iguana, the only one known to feed in the water
Turtles and tortoises, including aggressive recovery and repatriation programs to ensure the continued existence of species.
Unique tropical species, including an albatross and penguin, the only ones of their kind living in the tropics.
Galapagos Sea Lions, kind of the larger California Sea Lions.
Usual and unusual birds, including the flightless cormorant and the Blue-footed Booby, the latter of which really does have large blue feet.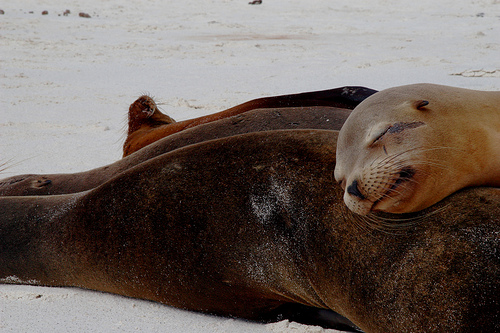 While it sounds like a little slice of heaven, the [amazon_textlink asin='1895176409′ text='Galapago' template='ProductLink' store='travelingwithmj-20′ marketplace='US' link_id='a6452a12-3836-11e8-a9b1-c9d836d51b56′]s are not without their challenges.  From problems surrounding the development of the islands to illegal fishing and poaching to dangerous oil spills, many Galapagos species are facing extinction.  Fortunately, most of the businesses operating in the islands are responsible and forward thinking, looking for ways to give visitors a glimpse of the islands as well as finding ways to preserve and maintain this unique haven.
Tempted by this exotic destination?  You'll need a passport, although a visa is not required.  You'll need to fly into Quito or Guayaquil and arrange for transfers for tours and/or luxury cruises from there.  Although Spanish is the official language of the country, you'll find English spoken in most tourist locations.  One handy little thing – you won't need to worry about exchanging money – the official monetary unit of Ecuador is the US Dollar!
There are so many experiences of a lifetime to be found in the Galapagos that it's hard to know what tempts me the most.  The opportunity to photograph incredible scenery, habitat, and scenery, for certain, but there's also something very intriguing about being in the area where Charles Darwin found scientific discoveries that led to his theory of evolution that was eventually written up in the classic, The Origin of the Species.
There's no other place like it on earth!
Photo credit:  Mark Rowland @flickr (Bartholomew Island)