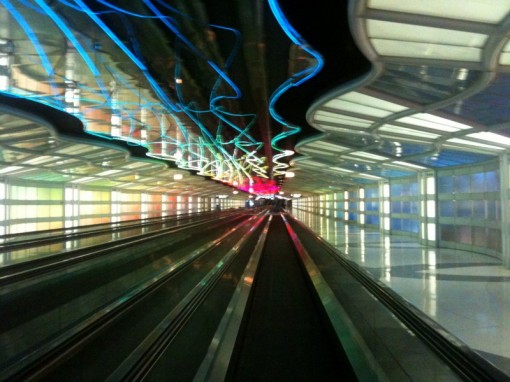 I spend an inordinate amount of times in airports.  Some weeks it's near daily.  I have my favorites (Portland, San Jose, Vancouver BC) and those that I'd just as soon avoid (Atlanta, LAX, San Francisco).  For most travelers, airports are a hot mess of crowds, frustration, and stress.  I see it as an office environment.  Much like the elevator that the office worker must be navigated to get to the cubicle, I see the airport as a means to an end, the route to my office – the airplane.
During the day time, and the busy morning and evening bank of flights, the airport is a crazy place.  But other times of day, the afternoon lull, the very early and late hours, and the middle of the night, you may find that you have it all to yourself.  And that's true even at very busy airports.
Chicago O'Hare (ORD) is the third busiest airport in the world (based on takeoffs and landings), right behind Atlanta and Beijing (based on 2010 numbers).  London Heathrow may push it down a notch in the rankings for 2011, but make no doubt about it, O'Hare is a seriously busy airport.  If you've traveled internationally, chances are that you've passed through O'Hare as it's the fourth busiest international gateway in the U.S.  The airport has 4 terminals (all numbered) and nine concourses (all lettered), that lay out roughly like this:
Terminal 1 – Concourse B and C (primarily United Airlines and some partner carriers)
Terminal 2 – Concourse E and F (US Airways, Delta Air Lines, and United Express)
Terminal 3 – Concourses G, H, K, and L (American Airlines and some partner carriers, American Eagle, and domestic low-cost carriers)
Terminal 5 – Concourse M.  This is the international terminal for both arrivals and departures.
This photo was taken in the wee hours of the morning, probably around 4 am, as I was walking from concourse K to concourse C.  The walk takes you downstairs to a people mover that helps transport you to the other concourse and terminal.  Only a couple of other travelers were walking about, the neon lights gave off a weird sort of glow, and for the first time ever, I saw the quiet calm of O'Hare.  Of course, an hour or so later it was a crazy bundle of nerves once again, but I'll always remember the other side of it.
How did the airport come to be called O'Hare?  It was named after Edward O'Hare, the US Navy's first flying ace and Medal of Honor recipient during World War II.
Do you have a favorite spot at O'Hare?  Share it with others in the comments.
Photo credit:  personal collection