Sun, sea, and world-class service are just three reasons to embark on a cruise on the Celebrity Apex, the newest addition to the Edge class ships. The Apex is a 129,500-ton giant that boasts 16 decks, 1,467 staterooms, and revolutionary services and amenities, making it one of the most affordable luxury ocean-liner experiences on the market right now. Read on for a review of Celebrity Apex.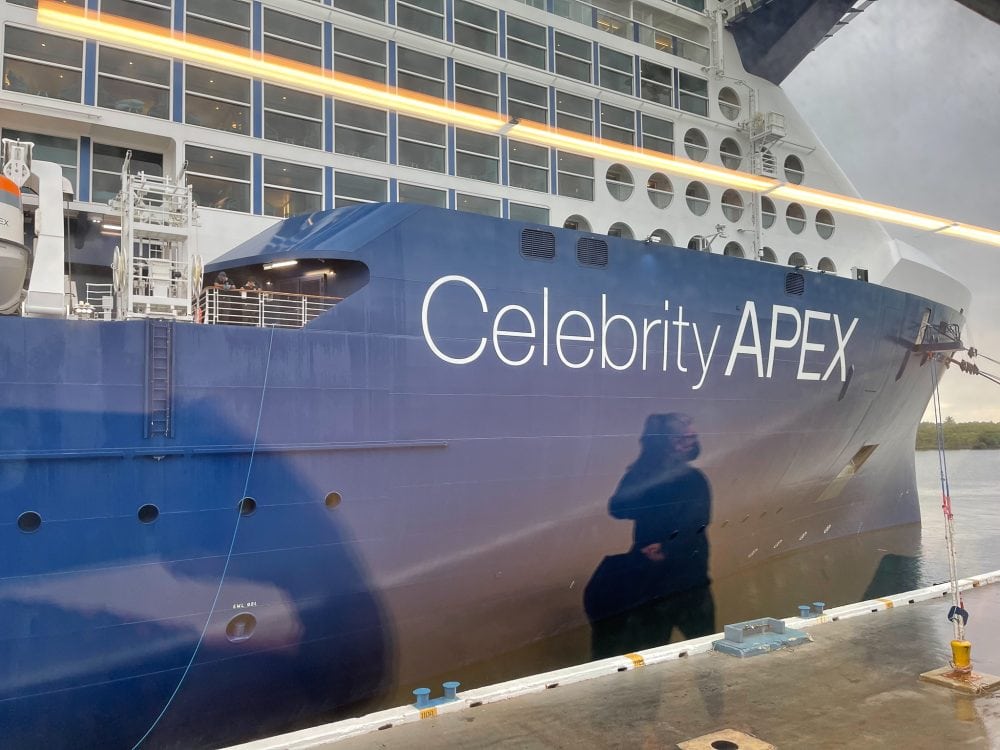 So, what can you expect from a Celebrity Apex Cruise?
I sailed on the Apex on a mini-cruise in early November. This was an industry sailing, with about 1800 employees, travel agents, media, and other travel industry representatives, and their guests. The sailing was complimentary for invited media and their guest as a way to explore the Celebrity Apex.
I traveled with my niece, Audrey, who hadn't been on a cruise since her daughter was young. We did not sail on an itinerary that is available to the general public. Instead, it was a three-day/two-nights sailing out of Fort Lauderdale and we spent the entire time at sea. It was a real treat to have girls' time at sea.
The Apex was originally set to launch in 2020 – and we all know what happened to the cruise industry then. This ship has been sailing in Europe on some limited itineraries before crossing the Atlantic for its modified US inaugural sailing. Staff and passengers were all in high spirits as we got underway, and while this short time at sea cannot provide a substitute for a full personal review, I have tapped into some additional sources to complement the information and experiences I had.
The Ship: Celebrity Apex
The Celebrity Apex is the second ship in the cruise lines Edge-class series and features state-of-the-art, luxury amenities across the 1004-foot ship. Its sister ship, Celebrity Edge, has received over 50 awards, including Overall Best New Cruise Ship at Travel Weekly's 17th Annual Readers Choice Awards, 2020.
While Edge is impressive (and hey, it often has Captain Kate and her cat Bug Naked onboard), Apex is bound to see some awards in its future. While the ship is nearly the same, there have been some additional tweaks with additional restaurants, new offerings in beauty and wellness, and a larger fitness center. These enhancements may seem small but are sure to make Apex a favorite with passengers.
Let's look at some notable venues onboard:
The Magic Carpet
One of the most impressive features of the Celebrity Apex is its magic carpet – an orange platform that suspends along the starboard side of the ship, and moves vertically between the 16 decks.
This feature was originally designed by British architect, Tom Wright, as a faster tender service and to make tender-loading more accessible for mobility-challenged passengers. It's become more than that, though, and depending on where the Magic Carpet is positioned on the ship, it can serve as an extension of the Raw on 5 restaurant, a cocktail lounge for happy hour or late-night partying, and is also available for exclusive events and parties.
Fun Fact: Tom Wright's enthusiasm for architectural challenges isn't limited to cruise ships. He may be best known as the designer for the impressive Burj Al Arab in Dubai, United Arab Emirates.
Eden is a three-floor dining and performance venue that also has an outdoor patio on the top deck. Eden has a lot of open space and tons of windows bringing in natural light, so it's calm and relaxing in the daytime and vibrant and uplifting at night during events. There is lush vegetation all around, on the walls, hanging from the ceiling, and as art pieces, simulating a garden.
I wasn't able to dine at Eden on this short trip, and it will be top of my list for on a future sailing, but friends who've sailed recently said it was their favorite dining venue. Perhaps it had something to do with the specialty-themed cocktails.
The Grand Plaza
This three-story venue is located in the heart of the ship and is the main gathering place on the Celebrity Apex.
Inspired by the piazzas of Italy, which are not only architecturally beautiful but also serve as a place where people can sit and relax and watch the world go by – that's exactly what the Grand Plaza is for. As well as an easy meeting spot and a comfortable place to people watch, the open atrium spans three decks and serves as the hub for the specialty restaurants, Martini Bar, and Cafe al Bacio.
Resort Deck
The best place to be on a warm sunny day at sea is the resort deck. With 80 degree-plus weather while onboard (and 40 degrees at home), I confess to spending quite a bit of time here accompanied by some day-drinking of Caribbean-inspired cocktails.
The outward-facing space was also designed by Tom Wright, envisioning a space that provided different ways to connect the outdoors with the sea. Featuring an asymmetrical pool deck with a poolside art gallery full of oversized art installations, high-ceiling cabanas that overlook the ocean, and a two-story martini-glass-shaped hot tub, this was a hit with passengers.
The Rooftop Garden is a calming place to catch a movie or relax under the stars with a nightcap. Trees and shrubbery are strategically placed to give it a walled-off feeling, almost like a pocket or urban park.
If you want your fitness outdoors, there is a jogging track that spans two decks and laps the Rooftop Garden and the terraced pool area.
Since Apex is currently focused on Caribbean itineraries, the resort deck will be popular and well-visited. I'm curious, though, when itineraries include destinations less tropical how the area will convert or evolve. Because knowing Celebrity, there's sure to be a twist on this favorite.
The Spa
With over 120 rejuvenating treatments on its menu, if you can't find something that interests you, I'd guess you're not really trying. At the heart of the spa is the SEA Thermal Suite, which has eight distinct spaces that each offer something different. Guests at the spa can experience any of the amenities, from a modern Turkish bath to a healing amethyst crystal room, a rejuvenating salt cave, steam room, sauna room, float room, waterfall therapy room, and even just a space to sit on a heated tile lounger.
We did a walk-through of the spa and it looked amazing. On a longer sailing, I'd schedule a spa day on one of the sea days or when stopped at a port that I've visited numerous times before. Bliss!
The Retreat
The Retreat refers to an exclusive access experience for suite guests onboard Celebrity Apex.
Guests of the Retreat have access to exclusive perks, including a private restaurant (Luminae) and an exclusive outdoor lounging area. The Retreat Sundeck is an outdoor sanctuary that features plush, stylish furniture grouped into lounging and conversation groupings. There is a pool with hanging eats and an adjacent hot tub. The Retreat has a dedicated staff to help with towels, food and beverage, and anything else you might need. And in the Retreat Lounge, you'll find complimentary beverages and snacks, along with a concierge to help with any of your planning onboard or onshore.
Food and Beverage on Apex
The Celebrity Apex has 29 restaurants, bars, and lounges to explore. Each restaurant comes with a globally-inspired menu that was designed and crafted by Michelin-star chefs. No matter what you are in the mood for, whether it's fresh lobster or Mac 'N' Cheese, you can find likely find whatever you're looking for on the Celebrity Apex.
After dinner, you can wind down at one of the fantastic bars and lounges. The Martini Bar in the Grand Plaza serves exquisite cocktails under the gorgeous LED chandelier, or perhaps you want an after-dinner coffee at the Italian-designed Café al Bacio, located along the Grand Plaza. Or if the night is still young, the Craft Social Bar (debuting on the Apex) features wines by the glass, an array of cocktails, and more than 50 craft beers served by a cicerone (a certification indicating proficiency with beer).
There are four main dining rooms (included with your cruise fare): Normandie, Tuscan, Cypress, and Cosmopolitan Restaurants. These venues have a rotating menu that is consistent in all the venues, along with a specialty menu themed for the specific restaurant. Guests can choose early or late dining, with an assigned restaurant, table, and waiter for the entire cruise. Dining in the other three restaurants is available upon request. The other alternative, which was what we had, is the Dining Anytime option, which maximizes dining flexibility, but does put the onus on the guest to make dinner arrangements.
Although I peeked into all the main dining venues, we had dinner at the Normandie. The specialty portion of the menu is contemporary French, with lots of delicious options. I started with an asparagus frissee (salad), tenderloin in puff pastry as an entree, and finished with chocolate cake with ice cream. These were all delicious choices that I'd order again. Audrey chose halibut for an entree and pecan pie with ice cream for dessert. Again, delicious choices.
Other dining venues that are included with your cruise fare include Eden Cafe, Spa Cafe, Oceanview Cafe, and Mast Grill. Regrettably, we didn't have time to check these out. Friends who recently sailed said they were regulars at Mast Grill for a late lunch.
Apex shines with its specialty dining: Fine Cut Steakhouse, Le Grand Bistro, Le Petit Chef and Family, Raw on 5, The Magic Carpet, Rooftop Garden Grill, and Eden Restaurant. These restaurants are available by reservation and come with an additional surcharge.
We ate at Raw of 5. If you're not a sushi lover, don't worry – there are plenty of other options on the menu. We dined late and shared the Chateau, a seafood plate that included all the highlights, lobster tail, lobster salad, shrimp, oysters, King crab leg, crab claws. It was great for sharing. We rounded that out with some hot bites (mini-plates of side dishes, sort of like tapas). It was a great choice after a warm day at sea. Friends gave the steakhouse good reviews (and you know that would be Tony's first choice).
Two additional dining options are available and exclusive for suite guests in The Retreat or AquaClass. After getting onboard, we headed to Luminae at The Retreat for lunch. This restaurant is exclusive for guests in Sky Suites (where we were) and the other suite categories. We were in a festive spirit and started off with a festive cocktail, moved into a sumptuous meal, ending with dessert before heading off to explore the ship. Delish! Blu offers similar exclusivity to AquaClass guests.
Tip: When sailing on a new ship (new to me anyway), I like to start at the top of the ship and work my way down, learning what's on each deck and starting the familiarization process.
And if you are too pooped to make it to a dining room, there's always room service. We ordered a cheese and cracker plate as an appetizer while we were getting ready for a late dinner. It was promptly delivered by our stateroom concierge (a revised term for butler). It had a nice selection but needed a little work on the presentation.
You can't walk far without running into a bar or lounge. Most of our choices were outdoors – the Pool & Mast Bar and Rooftop Terrace – when we wanted a refreshing drink for the sun. So many choices left unexplored for a future sailing. Drinks are an additional cost (cocktails, wines, beer, premium coffee drinks, and bottled water). This can be charged to your shipboard account at the time of ordering, or opt for a beverage package that can be pre-paid. The Classic Package includes beer, spirits, cocktails, liqueurs, frozen drinks, and wine by the glass (up to a $9 value per serving). The Premium Package expands the classic package and includes specialty coffee and tea, craft beer, soda, premium bottled water (up to a $15 value per serving). Non-alcoholic beverage packages are also available.
Entertainment on Apex
There are plenty of entertainment options on Celebrity Apex. Although I've emphasized mostly outdoor entertainment (the pools, loungers, outdoor bars, etc.), I'd be remiss not to mention the indoor options. From performances to art, from the casino to shopping, you can find something that fits your mood. And, if you're traveling with kids, there are options for them as well (closed during out sailing).
Casino
Are you feeling lucky? The Apex Casino provides Vegas-styled gambling in a non-smoking environment. Slot machines and tables games are available. The Blue Chip Club, the frequent player card, rewards casino regulars. The casino is open while the ship is at sea, but not when in port.
Theater
The Apex has a circular-designed theater that offers great views of performances from any seat in the house. The theater offers exclusive production shows and programming, which is brought to life by the 20-ft high 4K LED screen that curves the entire 110-foot stage. It's a successful merger of high-end productions and technology.
Shopping
It seems like I always buy something on a cruise. Whether it's a simple souvenir (I collect coffee mugs from my travels) or something I've forgotten, I usually want to browse the gift shop(s). I'm curious.
Shopping on the Celebrity Apex has been elevated to an art form and features some of the top brand names from around the world – Mont Blanc, Bulova, Cartier. All gift shops and boutiques feature an assortment of top brands and Celebrity branded items.
Staterooms on Celebrity Apex
Celebrity Apex can house up to 2,910 people in its 1,467 staterooms. No matter whether you are staying in a balcony room or inside a suite, guest comfort is a top priority.
Each stateroom on the Apex comes with living areas and bathrooms, plush bedding, and a Cashmere Mattress, somewhat larger than what's found on other Celebrity ships. In 99% of rooms, there is a king-size bed that can be kept as king-size or broken down into two double beds. 81% of the staterooms feature a balcony (many with the infinite veranda option that has a window that opens with a push of the button, rather than a walk-out balcony), 10% have an ocean view (with no balcony) and 9% are inside cabins. There's lots of luxury to choose from.
Guests opting for Retreat accommodations have even more luxury to choose from. These staterooms have an infinite veranda, a design style that creates a nearly seamless blend between the outdoor living space and the indoor space. Retreat stateroom options include:
Penthouse suite- Multiple bedrooms, two bathrooms with a whirlpool tub with ocean views, walk-in closets, and a large outdoor terrace make this akin to an apartment at sea. It's a complete home-away-from-home experience offering a spacious living area and a dining area that seats up to eight guests. A perfect choice for a family or group of couples traveling together.
Iconic suite – With two bedrooms and two bathrooms, this is the largest and most luxurious suite on the ship with panoramic views from atop the captain's bridge.
Edge villa – the two-story villa comes with one bedroom and two bathrooms, as well private terrace with your very own plunge pool.
Royal suite – the royal suite has one bedroom, one bathroom, a separate living area, and a dining area. This is the perfect suite for travelers who want to spread out and need more room. Or, perhaps, if it's a working vacation and an area can be set up as an office at sea.
Celebrity suite – this one bedroom and one bathroom suite has one bedroom, a separate lounge area, plus a small outdoor terrace.
Sunset suite – the sunset suite comes with one bedroom, one bathroom, a separate living area, and an outdoor terrace that is perfect for sunset views (hence the name, sunset suite).
Sky suite – this is a one-bedroom luxury studio with a double king-size bed and a balcony and ensuite bathroom.
AquaClass Sky Suite – these one-bedroom, one-bathroom studios are designed to combine expansive views and intimate luxury. They have an outdoor veranda and spacious living area.
We stayed in stateroom #11-198, one of the Sky Suites, set up in a two-bed configuration. It's hard to give a full evaluation of the functionality and spaciousness of the room as this was only a two-night cruise. It's longer times at sea where the functionality of a room is really put through its paces.
With that caveat, Audrey and I thought the cabin was perfect for our needs. Here are a few of the reasons why.
The arrangement of the room provided a defined sleeping and sitting area. There was plenty of room to sit and enjoy a glass of wine on the couch (or better yet, on the balcony); no need to eat or drink from bed. Although… if you wanted to have morning coffee from bed, it was delightful to do so, as the beds faced the window and we had a great view, while still having privacy.
Plug-ins were located by both beds and on the vanity. We had lots of devices to charge and there was no issue getting them all done overnight.
Storage space was ample. Even if we had packed for a week or two, there were adequate drawers and closet space.
Equally important, there was space in the bathroom for toiletries, makeup, a hairdryer (although one is provided in the cabin), and all the lotions and potions two women can travel with.
The shower featured multi-level spray options, an overhead rain shower, side spray, or both. And it was a shower/tub combination. Although I didn't take a bath, there's just something about the combo that feels more spacious.
Comfy robes, perfect for that early morning room service that you thought was a great idea (even though you stayed up into the wee hours having a glass of wine and talking), but didn't get dressed for.
A cabin concierge, previously called a butler, to take care of pretty much anything you needed. Since it was a short cruise, and we didn't stop in any ports, we didn't have a chance to fully utilize what I'm sure would have been the exceptional service provided by Dino. Nonetheless, he was very helpful in sharing information, answering our questions, giving us insider tips, and talking about life onboard.
We loved having access to the special access areas of The Retreat for quiet reading, napping, and enjoyment.
Morning coffee and sundown wine tasted perfect on the balcony.
The Godmother of The Apex Cruise
The Godmother of the ship is the CEO of Girls Who Code and best-selling author of Brave, Not Perfect, Reshma Saujani. Reshma, who is also a lawyer, is known for her advocacy for educational opportunities for girls all around the world.
---
By choosing bravery over perfection, we can find the power to claim our voice, to leave behind what makes us unhappy, and to go for the things we genuinely, passionately want. Perfection may set us on a path that feels safe, but bravery leads us to the one we're authentically meant to follow.
---
She was chosen by the cruise line because she is "leading the charge to challenge stereotypes and inspire a whole new generation of girls and women to bravely pursue tech jobs" according
to Celebrity Cruises President and CEO Lisa Lutoff-Perlo. Celebrity wants to close the gender gap at sea by increasing the number of women serving as bridge officers to 30%, in an industry where the average is 2%. While many cruisers have heard of Captain Kate (Kate McCue, currently captain of the Celebrity Edge), it will be nice to reach the point where we don't have to use the female modifier in connection with the title Captain.
Inspired by Reshma, Celebrity Apex will offer interactive, beginner coding activities from the Girls Who Code curriculum as part of their Camp at Sea youth program.
The Itinerary
We didn't have an itinerary, so I can't provide recommendations on what to do in each port.
Apex is currently sailing 7-night itineraries in the Caribbean. Ports of call vary but include San Juan, St. Thomas, St. Kitts, Roatan, Belize City, Costa Maya, Cozumel, and Nassau. The ship will
cross the Atlantic back to Europe in late April, and will then sail itineraries that include the British Isles, Scandinavia, Russia, Ireland, Iceland, Portugal, Spain, and France. Some great-looking itineraries there, longer (ranging 10-14 nights), with interesting ports.
The Price
If you've purchased any travel lately, from a hotel room to a cruise, you already know that prices are all over the board. Cruise pricing right now includes special fare discounts, numerous inclusions (like gratuities and drink packages), onboard account credits, etc. It can be hard to keep up with them, so I recommend checking the cruise website regularly, signing up for their promotional newsletters (emails), and/or using a reputable travel agent skilled at cruise booking.
Taking a quick look at prices for the Caribbean sailings, I found a range starting at $840 for an inside cabin to $2,250 for suites. Note that these are "starting from" prices, not available on every sail date, and have too many variables to explain in a paragraph. Exact pricing can only be determined upon closer inspection of dates, special options, and inclusions – don't make the mistake of comparing apples to oranges.
Current Celebrity pricing includes drinks, Wi-Fi, and tips on every sailing, in every room, every time. Enhanced drink and wifi packages are available for upgrade. With careful planning, you won't have much additional out-of-pocket expense and can budget and pre-pay for your cruise before arrival in your port. The most likely onboard charges with the current pricing model would be restaurant service charges, casino gambling, upgrade cocktails, and shopping.
A note about tipping. While not required, I personally believe in going beyond the included gratuities. Your hotel and dining staff work hard for you every single day. You've enjoyed a freshened stateroom and attentive service from your room steward and suite concierge. The wait staff is not only busy filling water and wine glasses, but busboys are clearing and cleaning, servers running out meals as quickly as possible, all the while accommodating special requests and helping you have a great time. They deserve as generous of a tip as you can manage.
What About Covid?
It's the elephant in the room, so let's address it.
I felt safer onboard Celebrity Apex than I do pretty much anywhere else outside my own home. Proof of vaccination is required (and checked multiple times). A negative COVID test is required (again, checked multiple times). Once onboard, wearing masks was a personal choice for passengers. Crew members are all vaccinated and subject to regular testing; they wear masks onboard. Since we never got off the ship, it remained a bubble and I felt safe not wearing a mask (although I did skip crowded elevators).
With regular sailing and ports of call, that bubble will not exist. The various countries visited will all have their own set of regulations and requirements to follow. With the new information about the Omicron variant, there may be a period of change (and more change), as things continue to evolve.
In making a decision about going on a cruise, you have to work safety into your analysis right along with the destination, pricing, and cruise line. While I felt safe and comfortable cruising, I can't make that decision for you. Consult your personal health care professionals, stay up to date on required protocols, and make an informed decision.
Is a Celebrity Apex Cruise Right for You?
I'd slot Celebrity in the upper-middle range on my personal luxury scale. They are upscale (especially on the Edge class ships), with lots of luxuries that are more typically associated with the luxury lines. I found the ship elegant and sophisticated, without becoming pretentious, and it offered lots of little touches that I appreciated.
For Pinterest
Save and share to your favorite Pinterest cruise and travel boards.
Disclosure: I received complimentary sailing as part of the media covering this new ship. This post also contains affiliate links.
Looking for more cruise information to help make a booking decision. You'll find more of my cruise recommendations and information here.