The Rhine is one of the largest rivers in Europe, connecting six countries from its source in Switzerland to the North Sea. It was the main trading hub for many of the towns and cities that connected to it, creating thriving, wealthy economies along the river. As a result, communities along the Rhine are often an example of stunning architecture and historical landmarks.
A river cruise on the Rhine is a relaxing way to explore historical sites, taking in the sights in a slow-paced relaxing way.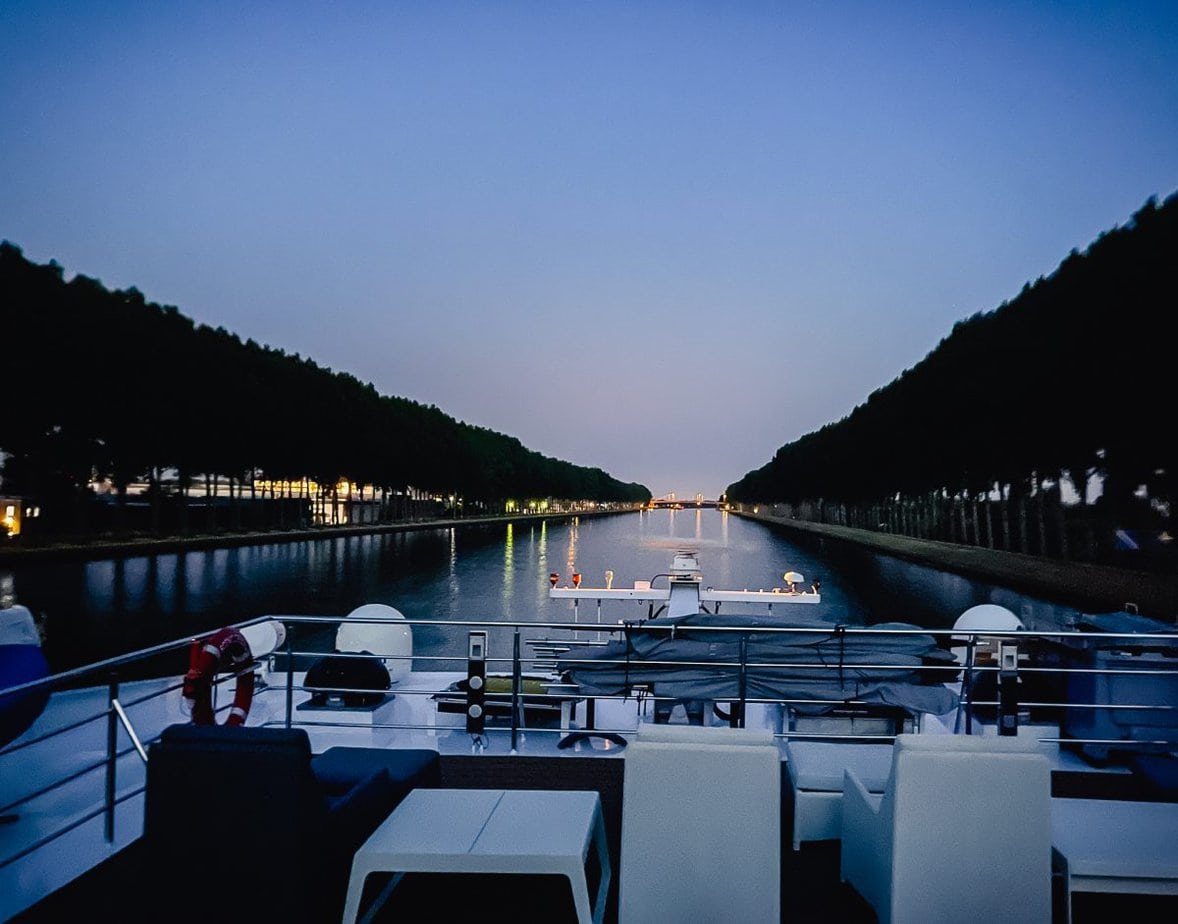 That was why we chose the Dutch Sites and Belgian Delights itinerary on Scenic Luxury Cruises & Tours. Our particular sailing had an extra day at Floriade, the once-every-decade eco-horticulture expo. That's not on the schedule for future sailings. The itinerary is now called Windmills, Tulips, and Belgian Delights, but still shows off some of the smaller towns in the Netherlands.
We are unapologetically cruise lovers. Big ships, small ships, and ships in between. Oceans, rivers, canals. We enjoy them all for different reasons. We believe there's that's right for you! It's just a matter of considering your interests and preferences and matching them up with a cruise line that targets them.
Knowing where to start, and the questions to ask may seem complicated. That's why we continue to write about different types of cruising, different ships, different cruise lines, and different itineraries. And we go indepth, all in one story, so you don't have to hop around looking for everything. You'll find everything you need to know right here – suites, food and beverage, pricing, itineraries, what we did, and all of our recommendations.
Our goal is to help you make an informed cruise choice.
One of the reasons we find cruising the European rivers appealing is that it takes us to smaller towns that we might otherwise not discover on our own. The ships are smaller, the pace is slower, and there's usually an emphasis on local cuisine, entertainment, and events. The ship often docks right in the heart of town, making it easy to walk (or bike) independently. We enjoy the freedom to come and go on our own.
What attracted us to Scenic River Cruises was a combination of visiting these small towns and their all-inclusive luxury. In an industry that has moved away from what an all-inclusive cruise experience should be, Scenic hasn't. Butler service? Included. Wine and cocktails (in the minibar as well)? Included (with the exception of some rare vintages). Shore excursions? Included. Gratuities, airport transportation, specialty restaurants? The price includes all of these.
Unless you do a little shopping in the small gift shop or opt for a salon or spa treatment, you'll walk off the ship without owing an additional penny. Planning your vacation budget, and knowing it doesn't change, is a real value luxury experience.
Best of all, Scenic provides this level of luxury without being fussy or too full of itself.
We received a complimentary sailing as media covering the ship and the itinerary. When a family member heard our enthusiasm for the cruise, she decided to book a cabin and flight, and sail along with us. We've incorporated some of her feedback into this piece.
The Ship: Scenic Crystal
The Scenic Crystal was the sixth ship to join the Scenic fleet (2012). The ship was designed to offer sailing luxury, with spacious suites, well-thought-out common areas, and butler service for every guest. The Scenic Crystal measures 443 feet and can carry 163 passengers. That 3:1 crew-guest ratio makes for a more intimate experience while still delivering exceptional service.
Though the ship is small with only four decks, every detail of the ship has been carefully thought out to give the illusion of space. The Crystal is one of Scenic's "space ships," a nod to the suite design that incorporates the balcony into the cabin. It's hard to explain, but enjoyable to experience, and has had an additional iteration in subsequent Scenic ships.
Sun Deck and Riverview Terrace
Located at the front of the Sun Deck, the highest deck on the ship, the Riverview Terrace offers a panoramic view of the sites along the river. There are deck chairs and games available, but we enjoyed it as a place to sit and relax. Or to enjoy the scenic when docked.
The weather was warm during our mid-July sailing, so the Sun Deck was our go-to spot for a refreshing beverage and conversation. There were tables and chairs in the shade (placed beneath tents) and loungers for those who preferred full sun. A combination of both worked for us.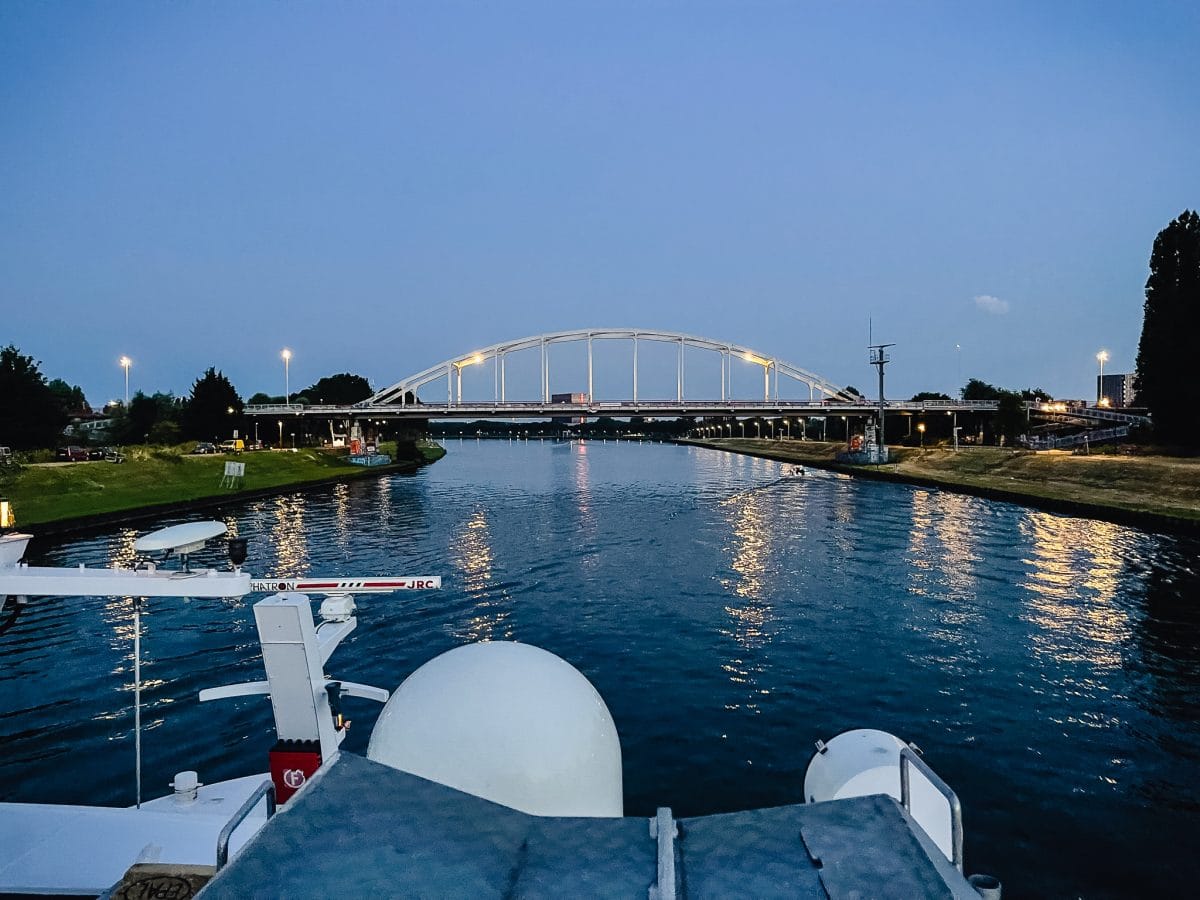 We also liked going up top at night – for a look at the stars, the light along the bank of the river, and perhaps my favorite, watching as we sailed under the various bridges.
The Wheelhouse, where the crew pilot the ship, is also located on the Sun Deck.
Diamond Deck
During embarkation, you'll board on the Diamond deck, located one deck below the Sun Deck. This is where you'll find guest services, a small gift shop,
Also on the Diamond Deck is an outdoor seating area, Portobellos Restaurant, River Cafe, and the Lounge and Bar. The Lounge was the primary meeting space, not only for general conversations and drinks, but it's also where excursion information, menu and wine updates, entertainment, and general information were shared. The lounge had floor-to-ceiling windows on both sides, making it bright and appealing.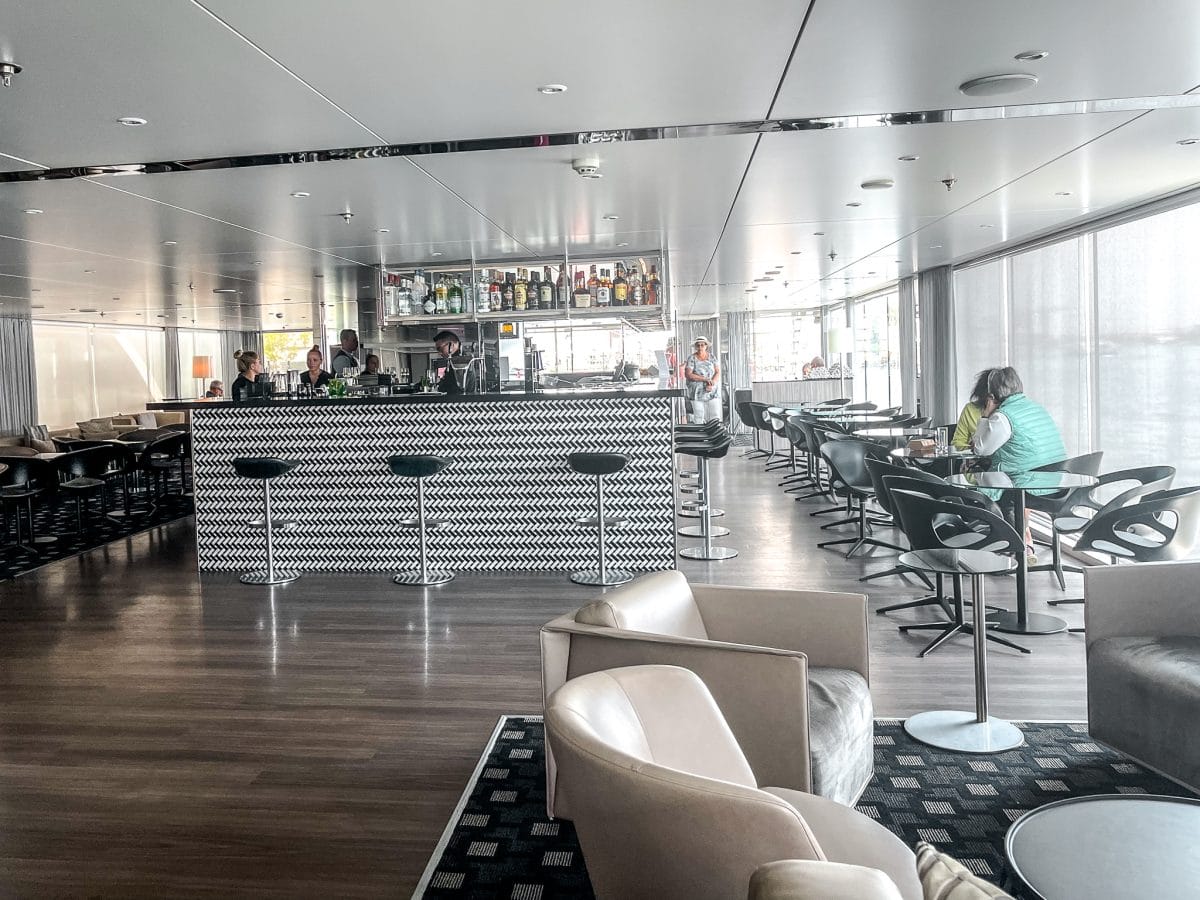 During the day, it was fairly empty and quiet. When I had work to do, it was convenient to spread out and get things done. Having a beverage handy didn't hurt either.
In the evenings, it was busy and noisy. You'd generally find us there enjoying lively conversation, trying to win a trivia contest, and talking travel.
Suites are located on the Diamond Deck, with cabins here providing a couple of extra perks.
Sapphire Deck
The Crystal Dining Room and Table La Rive are located on the Sapphire Deck. The galley (ship-speak for kitchen) is located forward of the dining areas.
Suites occupy the remainder of this deck.
Jewel Deck
The wellness center (spa), fitness center, and salt therapy lounge are located on the Jewel Deck.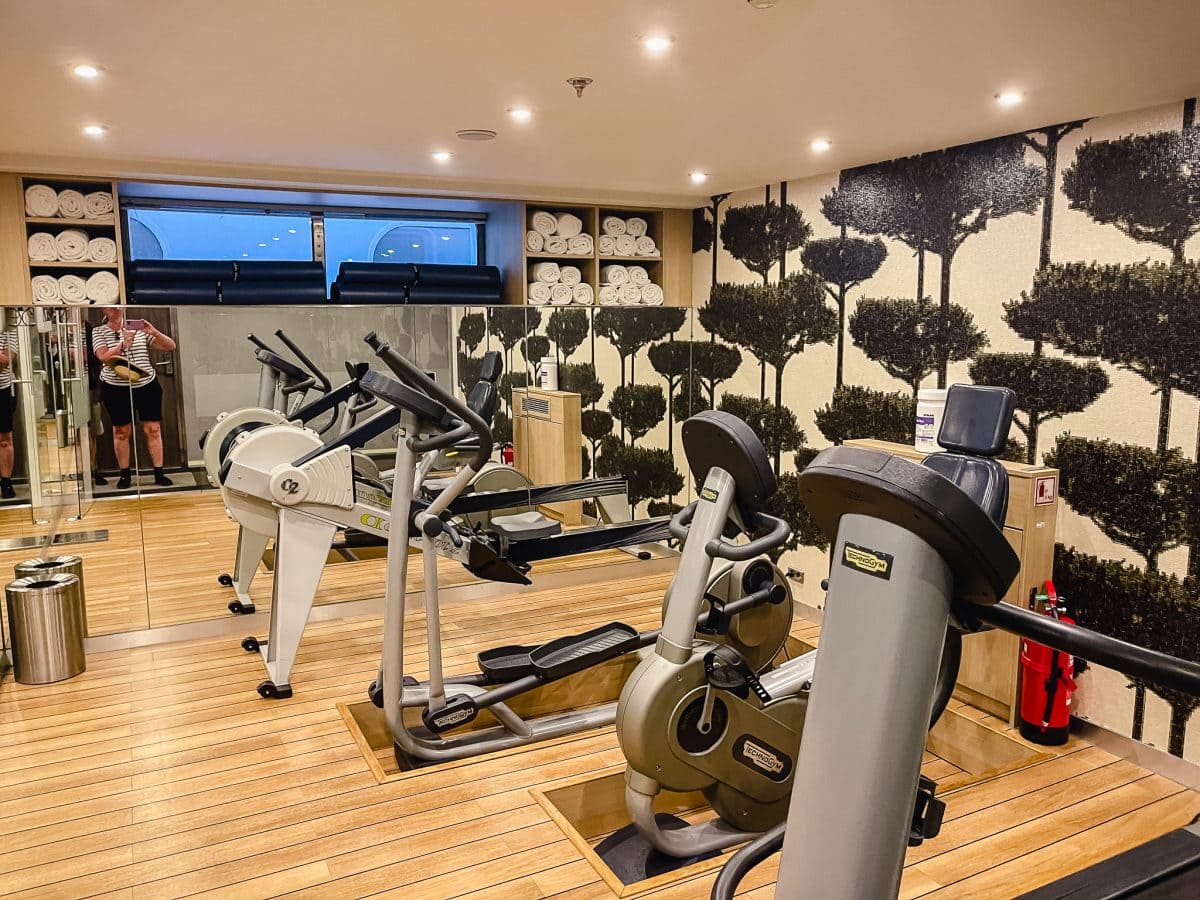 While I didn't use the fitness center or make a spa appointment (regrets on that one), I did spend a little time in the salt therapy lounge. There were three loungers, separated by a gauzy curtain, giving privacy without creating a dark and depressing room. Himalayan salt lined the walls, and crushed salt was on the floor.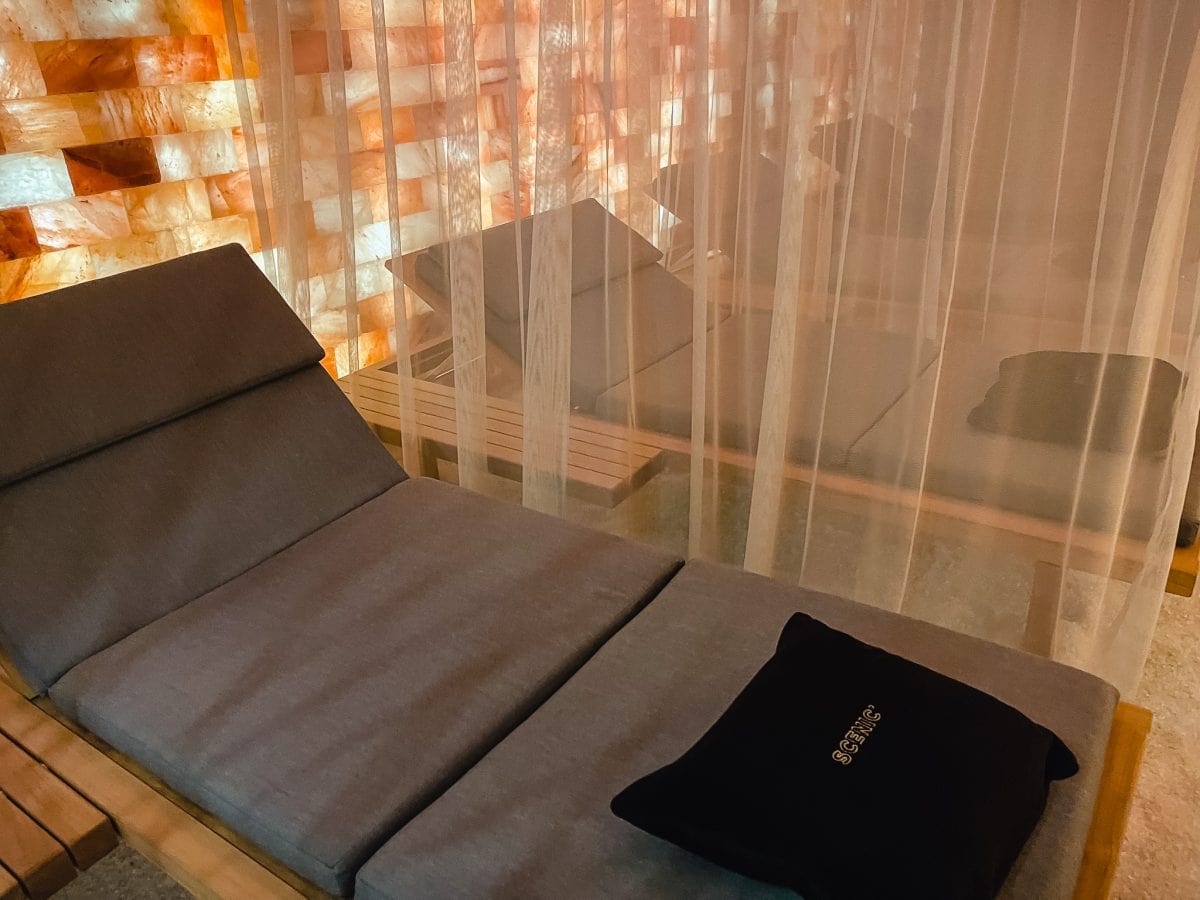 It's debatable whether salt therapy, also called halotherapy, has medical benefits. My use has been for relaxation, and I've enjoyed it. Obviously, consult a medical professional with any health concerns or questions.
The remainder of the deck is suites.
Restaurants and Dining
In general, we found the dining options and venues were great. Food preferences vary widely, even in (perhaps, especially) my own home. We not gourmet foodies, so our comments are fairly general. I loved something, Tony did not. We tried new things, some were hits and others misses.
Our expectations for food are reasonably basic. Fresh, flavorful, not too weird, and satisfying. Extra points for creativity, but we are not looking for Michelin-star meals every night.
It takes a lot of hard work to serve a dining room full of cruisers who signed on for an all-inclusive luxury experience. I'm sure there were hiccups. Crew members are, after all, getting back into their routine after a rather extended period of time off. They genuinely appeared happy to have us onboard and eager for us to have a wonderful time. They work hard.
We found service in the Lounge and on the Sun Deck was fairly slow, and on occasion, there was confusion over cocktails ordered. It will shake out, I'm sure. The service in the dining venues was terrific.
Our additional thoughts are below.
River Cafe
The River Cafe serves an early riser breakfast (6-9 am), along with light lunches for those who don't want a heavy meal in the middle of the day. It's located between the Lounge and Portobellos restaurant, so spans the vibe from both of those. On a nice day, you may want to take your breakfast or lunch to one of the outdoor tables. This is primarily self-serve, except for beverages.
Portobellos Restaurant
Next to the River Cafe, is Portobellos Restaurant. Portobellos serves a late-riser breakfast, lunch, and an invitation-only five-course wine-paired dinner. Guests are given information about Portobellos and can sign up for the night they prefer once onboard (our reservations were handled differently as we were part of a group).
We both loved the Italian menu, which offered two or three choices for each course. Tony is often more selective in his menu choices than I am, and he commented that the ravioli was one of the best he has had. That's high praise indeed. Service was attentive, staff explained menu options in a friendly, helpful way, and wine was explained when presented. This dining experience was a real treat!
Every guest on board is given the opportunity to dine at Portobellos. Take advantage of it!
Crystal Dining
The Crystal Dining room's menu changes daily. It's the main restaurant on the Scenic Crystal and is located on Sapphire Deck. Meal times are listed in the daily calendar, in the app, and posted around the ship. Dining is self-seating, allowing you to choose a table for two, four, six, or eight.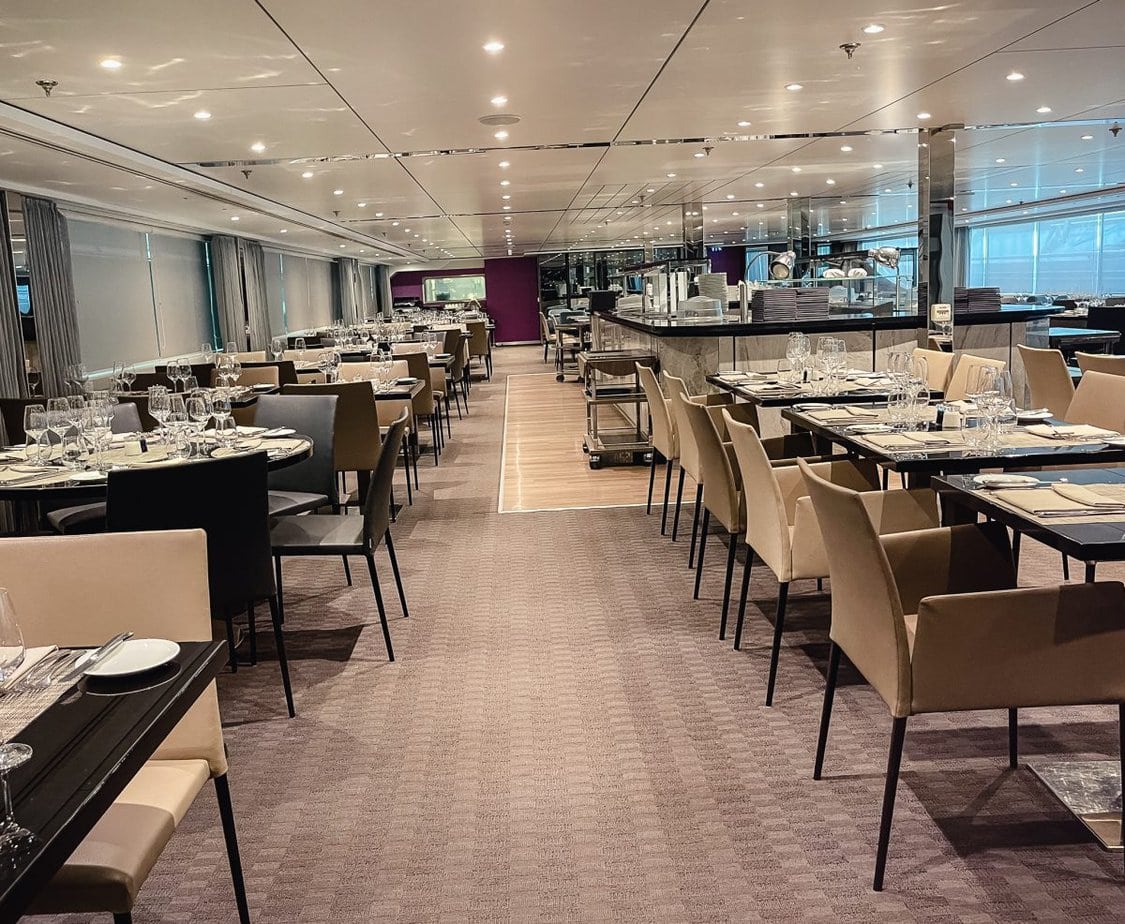 Breakfast and lunch are served buffet-style, with a few items available to order from the menu.
Dinner is a seated service. The menu featured dishes inspired by local cuisines, with a selection of three offered. It was usually easy to make a choice, but if nothing struck our fancy, there were always a few traditional favorites to fall back on (steak, grilled chicken, etc.). Service was consistently good, with friendly waitstaff quick to learn our preferences – why yes, I would like more red wine, thank you.
Table La Rive
Table La Rive is a sophisticated dining table with a set menu that operates on an "invite-only" basis. It is located at the back of the Crystal dining room and is reserved for guests staying on the Diamond Deck and in Junior Suites. This version of a chef's table operates sufficient nights to accommodate all of the VIP guests. (We were able to snag an invitation as we were part of a group. Otherwise, we'd be looking sadly on.)
Chef Tables often get a bad rep among non-foodies as being pretentious or weird. That was not the case. Sure, we tried some things that we might not otherwise have ordered, but that's a good thing. The menu was accessible for all palates and food sensibilities, encouraged exploration, and a quick accommodation could be made if there was a real issue. With us, there was not.
Our menu included tapenade and caviar, tuna tatiki, a vegetable cream soup, beef short ribs, lime mousse, and a plate of pralines and petit fours. Deliciousness!
In-Suite Service
We often opted for a continental breakfast room service in our suite. We place our order on the door hangar the night before. It was always delivered on time. I liked this option as I could sit on my balcony and ease into the day. Tony liked it as it allowed him to sleep in just a little bit longer.
The presentation was attractive, food and drink were hot and cold as appropriate, and it was a real treat to have warm milk (for coffee) as an option. Just a little thing, but noticeable.
Suite Options on Scenic Crystal
Scenic Cruises are all about luxury, so no matter which cabin category you choose, you can expect sophisticated interiors and polished finishes. Each suite has a spacious and clever layout to maximize space, which when you're on a ship, is essential. While space is always at a premium on a ship, we appreciated that there was ample space to stow empty luggage (under the bed), hang clothes in a well-sized closet, and put folded things away in a closet and bedside drawers. We were comfortable in the suite, never felt like we tripping over one another, and it was a pleasant place to be for relaxing and sleeping.
We loved the "space ship" area. While it's hard to explain, the best analogy I have is that it's like a sunroom that extends your cabin with floor-to-ceiling windows. The top window can be raised or lowered by a switch in the cabin. I liked sitting here and enjoying my morning coffee. It was also a perfect spot for a nightcap and some fresh nighttime air. When lowered, the air conditioning automatically turns off, so keep that in mind as you enjoy the fresh air.
Selecting a cabin on a ship always stirs up a lively debate. Some cruise fans assert the best value is to buy the least expensive cabin because you won't spend any time in it. Other cruise fans assert that if you have a great cabin, you'll want to spend time enjoying it and upgrade whenever you can. While we generally agree with that latter position, we know that every traveler's value proposition and budget are different.
We set out the various cabin options on the Scenic Crystal, all butler suites, and leave it to you to determine the choice that's best for you.
The entry-level cabin is the Standard Suite. It's 160-square feet in size, with a small picture window to let natural light in. The window is at the top of the wall, and you can only look out if you are standing (unlike the other suites that have larger windows). These cabins are located on the Jewel Deck, the lowest deck on the ship, so offer a limited view from the windows.
One step up from the standard suites is a balcony suite. They are around 205-square feet and come with the addition of the "space saver" balcony. These suites are located on Sapphire and Diamond Decks. We stayed in a Balcony Suite (220) on the Sapphire deck.
A slightly larger cabin is the Junior Suite, similarly laid out to the Balcony Suite with a little more space. With 250-square feet, there's room to add a small seating area. These suites are located on Sapphire and Diamond Decks.
The Deluxe Balcony Suites are the same size as the Junior Suites and are distinguishable by location. They are located mid-ship on the Sapphire and Diamond Decks, a location believed to offer a slightly better view.
The Royal Balcony Suite offers a generous amount of space at 315-square feet and has a separate bedroom and living area, with an oversized bathroom. These suites are located on the Diamond Deck and also have loungers on the space ships balcony.
The Royal Panorama Suites are 325-square feet in size and have a spacious lounge area and a high-end luxury bathroom with a bathtub. They are located aft on Diamond Deck and also have a private balcony. There are only two of these suites on board.
For the ultimate luxury experience, the Royal Owner's Suite is the biggest and most extravagant suite on the ship (520-square feet). It comes with a separate bedroom, walk-in closet, large living area with a bar, and a spacious balcony. There is also a deep soak tub in the bathroom, which has a glass wall so you can see out over the balcony and watch the views go by as you relax in the bath. The owner's suite is located on the Diamond Deck.
Dutch Sites & Belgian Delights Itinerary
The Rhine was a prominent trade route during the reign of the Roman Empire. It connected tradesmen not just in Europe, but as far as India. It also inspired poets such as ​​Heinrich Heine, Clemens Brentano, and Joseph von Eichendorf who found beauty in its natural surroundings. With so much activity on and about the Rhine, it's easy to see what it's a popular choice for river cruise lines and river cruise fans.
On this scenic river cruise, we start on the Rhine, before moving onto the River Scheldt which connects The Netherlands and Belgium.
Every time we talk with people who are new to cruising the most common question we get is "What's there to do on the cruise?"
With experienced cruisers, we can talk using shorthand cruise and ship talk, pointing out how ocean cruises and river cruises differ, ship differences, and itinerary highlights with shore excursion recommendations. For those new to cruising, a little more detail is often needed to help make a booking decision – whether that's a decision to book a cruise (and on which cruise line), choose an itinerary, select a cabin, review an itinerary and make an excursion selection.
You can choose to be as active or inactive on a cruise as you wish. Go to all the port talks, socialize in the Lounge, join a large table at meal times, and meet new friends on each excursion. You can also choose a less extroverted option, dining at a small table or in your suite, touring independently, and spending time in your suite or quieter areas of the ship and avoiding crowds.
We have done and enjoyed both – it's all about the experience you're looking for. On this cruise we were traveling with a group of friends, so much of our meal and socializing time was spent as a group. We still managed to find alone time to get some work done (me) or nap (Tony).
We try to provide lots of information about cruise choices, but remember, you get to define your perfect cruise vacation!
Here are the specifics about our itinerary, what we did in each port, and our recommendations.
Day 1 – Amsterdam
The cruise begins in Amsterdam, the capital of the Netherlands. Amsterdam has been dubbed the Venice of the North because of its iconic winding canals that meander through its cobbled streets, connected by low arched bridges. Amsterdam is also well known for its architecture, with narrow townhouses featuring ornate gabled facades. Some of the narrowest houses in the world are in Amsterdam, including some just a couple of meters (around seven feet) wide.
We recommend arriving in Amsterdam at least one day early (as we did) and taking time to see a bit of the city as well as recover from any jetlag. I can normally shake off the time zone changes, but would never trust the vagaries of the airlines to trust arriving on the day of sailing.
There's plenty to do in Amsterdam!
Amsterdam has world-class museums, including the Rijksmuseum, Van Gogh Museum (one of my favorites), and Stedelijk Museum of Modern Art. Notable historic sites are Anne Frank House, Rembrandt House, and De Waag on Nieuwmarkt.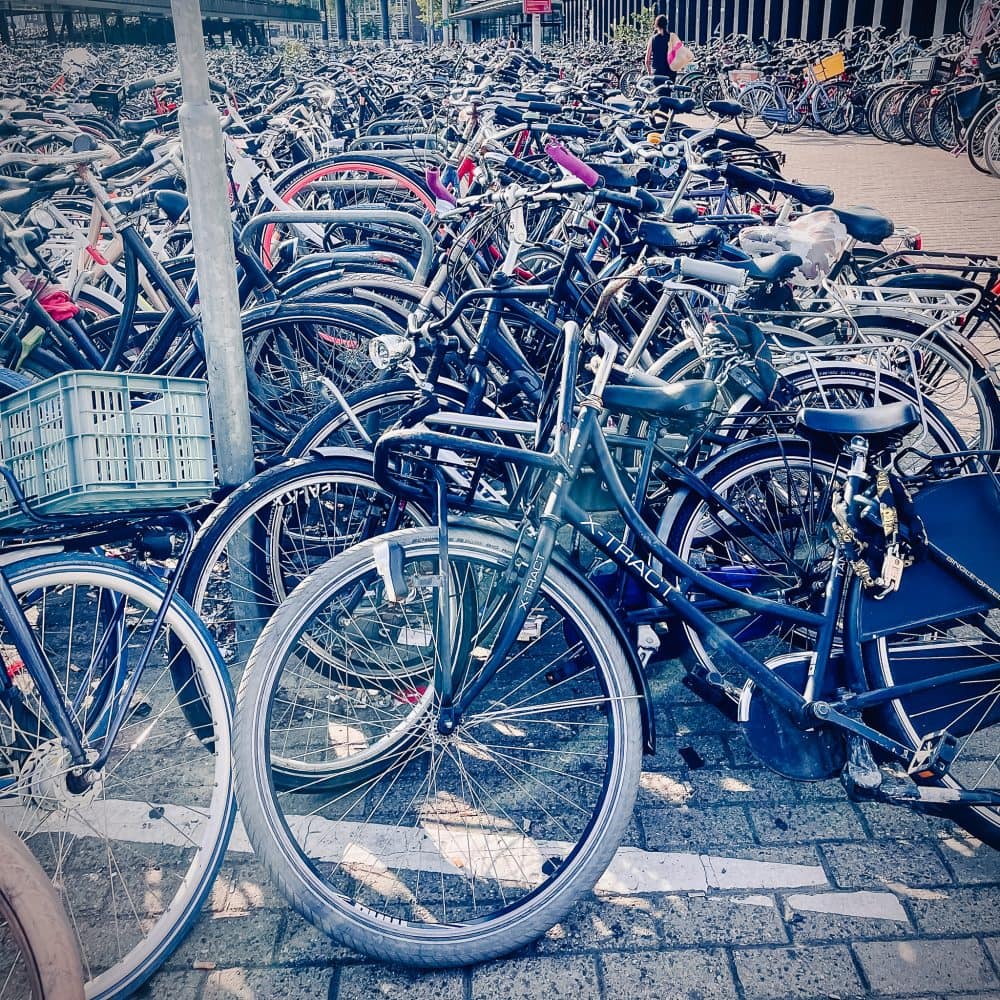 There are bikes everywhere, and in almost all situations they have the right of way (over pedestrians and motor vehicles). Bike rentals are available at most hotels.
Or, you can do as we did, wandered through a local neighborhood and then went on a canal cruise. We saw more neighborhoods as we wended through the city, had a chance to get photos while still relaxing, and got into cruise mode a little early.
We overnighted at the Doubletree by the Amsterdam Central Station, a hotel recommended by Scenic. On the morning the cruise began, a Scenic representative staffed a cruise desk in the hotel lobby. She was cheerful and helpful, advising us of the shuttle to the ship. Since we wanted a little bit of exercise before boarding, we opted to drop off our bags, have breakfast, and then walk to the ship. It's an easy walk, about 20 minutes, by the Central Station and then along the water.
We were warmly greeted at reception, left our personal items in our suite, and celebrated our embarkation with a sparkling beverage in the Lounge. Then off to explore the ship (one of the first things that I like to do on an unfamiliar ship), then back to the cabin to put things away.
Before we knew it, it was time for safety briefings, sail away, and dinner. A week of river cruising was off to a great start.
Day 2 – Dordrecht
Our first stop was Dordrecht, the oldest city in the Netherlands. It's predominantly known as a trading city, with several huge warehouses in its historic inner city port area. There's a similar vibe to Amsterdam, with winding streets lined with canals and low-hanging bridges.
It was a tough excursion choice for us. So many great options, including visits to Rotterdam, Delft, Gouda, and Leiden. We opted for an excursion to Kinderdijk, a small village known for its 18th-century windmills.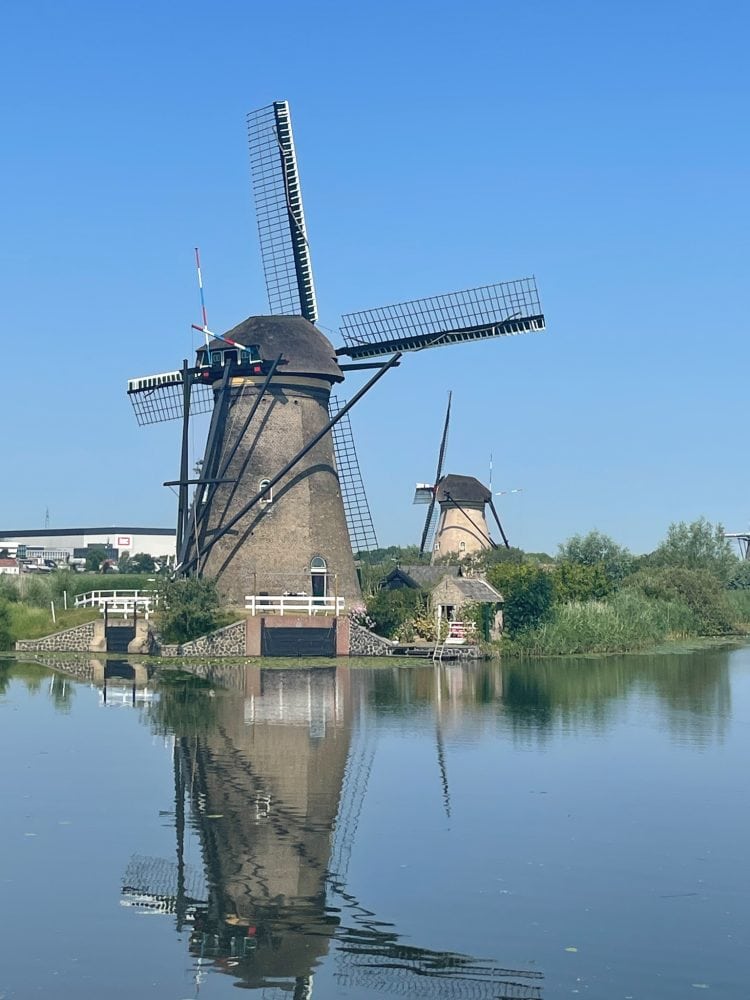 Kinderdijk, which means children dike, is home to 19 windmills that survived from the mid-1700s. They were originally built to pump water as part of a water management system to prevent flooding in the area. They have become an iconic Dutch symbol and in 1997 received UNESCO World Heritage status. We had a local guide to accompany us who provided historical and cultural information during our drive and then helped us navigate the site upon arrival.
Fun fact: The population of Kinderdijk is 60 people and 19 windmills.
I loved it here! And even if you've seen one windmill, there is still so much to see and learn. We went up in one of the windmills open for display, wandered the grounds (and wished we had more time to wander), and took lots of photos. I returned inspired to learn more; that often happens when I visit historic landmarks. Look for an upcoming article specifically explaining more about Kinderdijk.
We made a great choice.
Day 3 – Veere
Veere is a small historic town in the Zeeland province of the Netherlands. Veere means "ferry." The town was so named because it was the primary wool trading port between the Netherlands and Scotland during the 16th century. The town welcomes over four million tourists annually, not only from river cruising, but also for its beaches, sailing, and marinas.
Three excursions were offered: a food-related excursion that featured a trip to an oyster farm, a biking trip around town, and a visit to the Delta Works. We opted for the Delta Works excursion because we knew nothing about it and it sounded fascinating.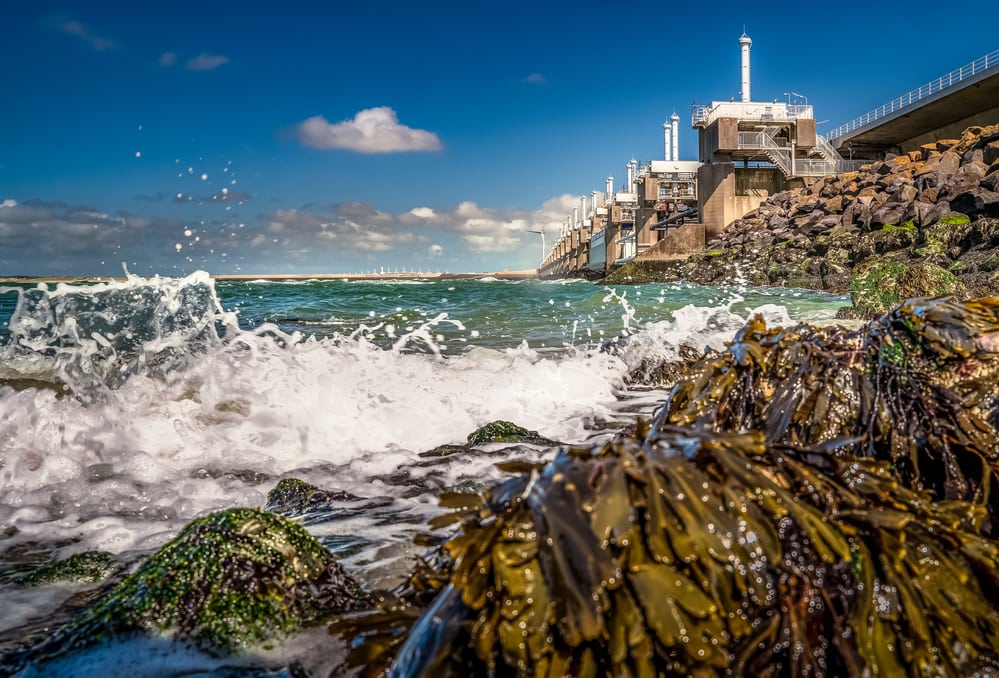 Delta Works is a massive flood protection project launched after the North Sea flood of 1953. I do mean massive – there are three locks, six dams, and four storm surge barriers that constitute this flood defense system – protecting the Netherlands from the North Sea. The American Society of Civil Engineers has named it one of the Seven Wonders of the Modern World.
Our excursion took us to Neeltje Jans, an artificial island that was constructed as part of the project. We toured the museum, which included a movie, exhibits, and a close-up look at the storm barrier. A theme and water park are also on the island.
We return to the ship in plenty of time to walk around Veere. It was everything my mind conjured up in thinking about a small Dutch town.
Not so fun fact: Climate change will necessitate raising the Delta Works barriers in the not too distant future.
This was a good excursion choice for us, but it won't be for everyone. We like geeky stuff like this – history, engineering, climate change, geography, topography, etc. If that's not you, one of the other choices would fit you better. E-bikes were available as part of the biking tour or for independent use. Since the topography is flat and there's great biking infrastructure, this is a great opportunity for a bike ride.
Day 4 – Antwerp
Antwerp is the largest city in Belgium and quite a contrast from the sleepy town of Veere. Known as the Diamond Capital of the World, it's a prime spot to shop for, well, diamonds. If your budget doesn't quite stretch that far, you can stock up n some Belgian chocolates. We did. Opt for the artisanal over the mass market.
We chose a walking tour of Antwerp for our excursion. It was Tony's first visit to Belgium and I think a walking tour is a great way to see a city for the first time. Our guide was lively, animated, and fun. He brought history to life through storytelling, relating historical facts and modern-day details in an engaging manner. How I wish we all could learn history in a way that was this fun and engaging.
Our visit to Antwerp coincided with Belgian National Day, marking the anniversary of Leopold I as the country's first king. This is a major public holiday in the country, so many of the shops and businesses were closed.
Also mid-tour, the heavens opened up and rain poured down, requiring some adjustments in our time outdoors. Were it not for those two external factors, we would probably have stayed and explored more of the city. We would like to have visited the beautiful train station, wandered the diamond quarter, and stopped off for frites and a beer.
Instead, we chose to walk back to the ship and call it a day. We've left Antwerp (and the rest of Belgium) on our list for a future visit.
Fun fact: 84% of all rough diamonds pass through Antwerp.
Day 5 – Arnhem
Back in the Netherlands, the next port of call is the city of Arnhem. Famous for its WWII battle, the Battle of Arnhem, the city is now a popular tourist destination and we looked forward to this stop. Excursion choices included the Netherlands Open Air Museum, a cycling tour of Nijmegen, a visit to the Gardens of Appelltern, and our choice, a visit to the Arnhem Airborne Museum. We're big history buffs, so this was a no-brainer choice for us.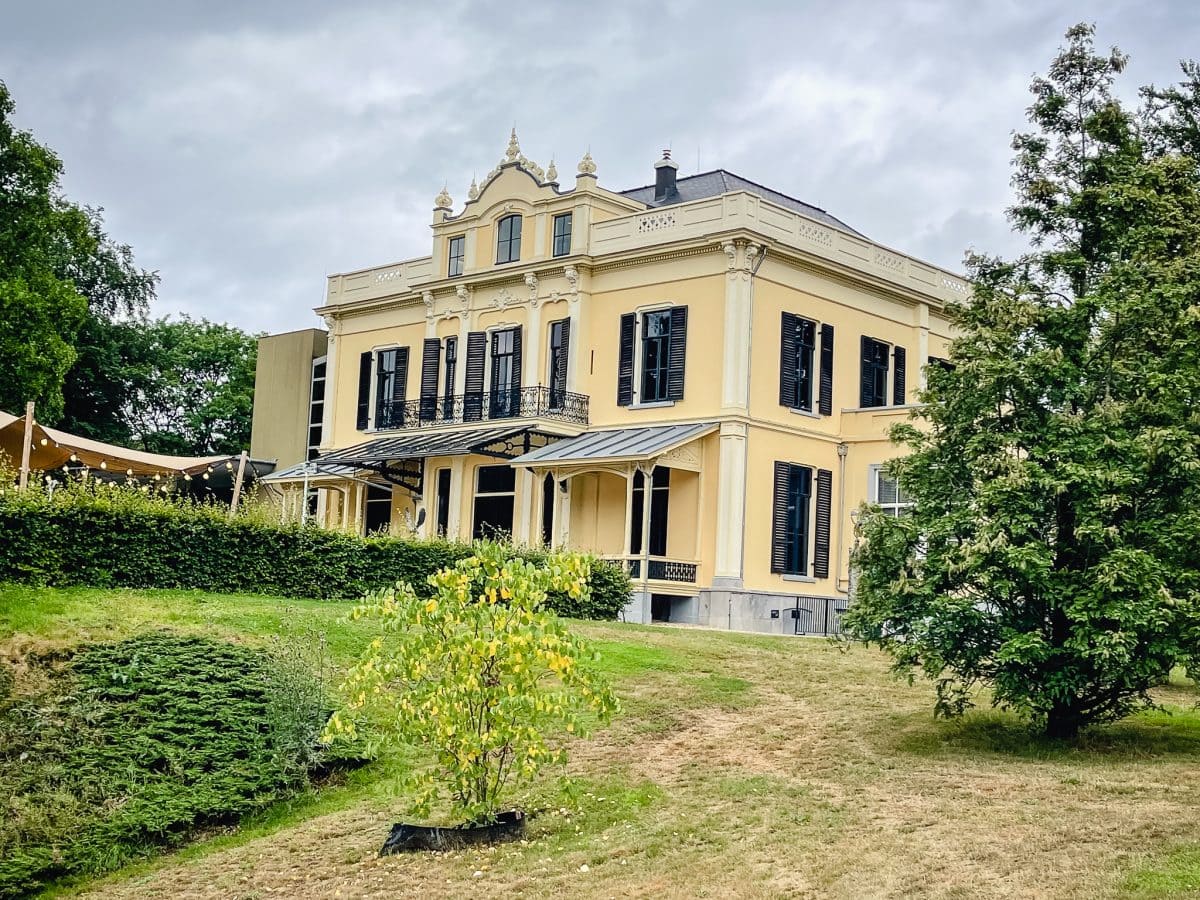 The Museum provided a personal look at the 1944 Battle of Arnhem through the eyes and footsteps of British parachutists and local residents. There were photos, written and audio stories, quotes, artifacts, and interactive multimedia included in the experience explaining the story of how the British attempted to cross the Rhine and liberate Arnhem from the Germans. Unfortunately, they ran out of ammunition and were eventually captured, setting off a full withdrawal of troops from the area. Arnhem was finally liberated from the Germans in a second battle of Arnhem in 1945. Local residents returned months later to begin the reconstruction process.
Fun Fact: The Battle of Arnhem was depicted in the movie A Bridge Too Far, with Dirk Bogarde, Sean Connery, Michael Caine, James Caan, Ryan O'Neal, Robert, Redford, Maximilian Schnell, Laurence Olivier, Gene Hackman, Elliott Gould, and Anthony Hopkins.
The grounds surrounding the Airborne Museum are beautiful with numerous trails. We had time to do a short walk, but if we had longer, we would have opted to walk the perimeter, a trail that followed the front line of the allied forces.
Following our time at the Museum, we stopped at Arnhem Oosterbeek War Cemetery. It's a somber visit moving among the 1,764 military graves, reading headstones, and wondering more about the stories of the men buried here.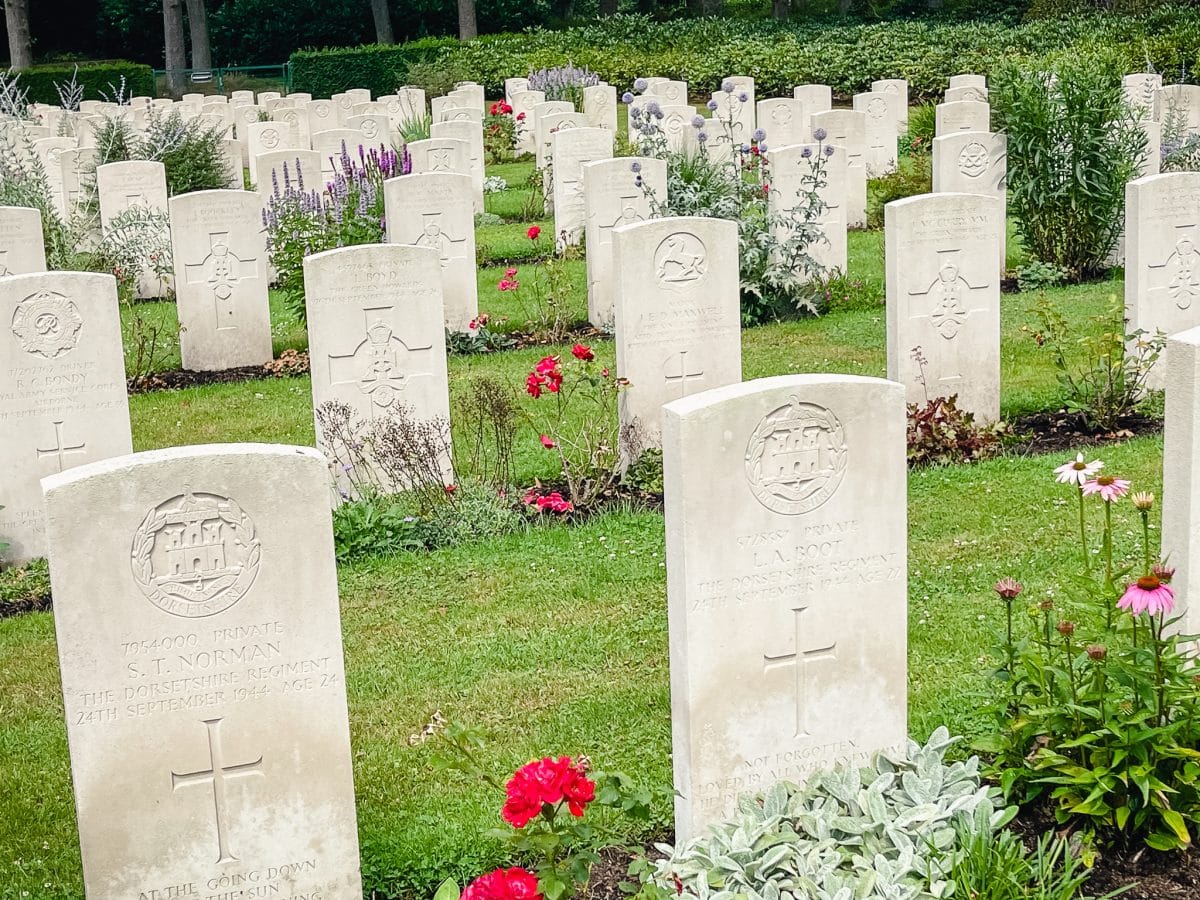 We made an excellent choice with this tour and highly recommend it to anyone interested in history. Once back at the ship and comparing notes with friends, the Open Air Museum received high praise as well. It's an outdoor attraction that spans a couple of centuries in its depiction of Dutch life.
Day 6 – Hoorn
With its lively canals and centuries-old buildings, Hoorn is another Dutch town with deep trading roots. In the 17th century, it was the main hub for the Dutch East India Company, which traded pepper, spices, textiles, and yarn. Today, though, it is remarkably undiscovered by tourists, and primarily visited by locals and river cruise guests.
Excursion choices in Hoorn included a visit to a cheese farm, a cooking class, a bike tour, and a Tall Ship sailing experience. Another day of tough choices, so Tony and I decided to split up and each make a different choice.
I opted for the cooking class, along with a few other friends on the cruise, where we made a traditional Dutch apple pie and gingerbread. It was loosely structured, which meant that at times it was like herding cats, and I'm not sure that recipe was all that traditional. The end results, however, turned out well and were surprisingly tasting for a largely unsupervised baking session. We had one of the pies for dessert at dinner.
Tony opted for the Tall Ship excursion. There were several tall ships near where the Crystal was docked and they are beautiful vessels. The excursion familiarized participants with the ship, and the role the tall ships played in history. I'm sure there was a pirate comment or two. They hoisted sails, were ready to sail out, and Mother Nature intervened. No wind!
Instead of heading out into open waters, the intrepid sailors went nowhere. Still, Tony said it was fun looking around the ship, getting photos, and swilling grog. Ok, drinking Dutch beer, but your imagination runs amok on one of these old ships.
Our excursions ended, giving us time to explore downtown Hoorn. There was a street market where we made some souvenir purchases, looked at some shops, walked the town, and soaked up the local atmosphere. It's a shame that this town gets overlooked as it's wonderfully charming and worth the visit (and it's only about 28 miles from Amsterdam).
Evening in Hoorn brought a special treat – a performance from a sea shanty chorale. One of the features of Scenic ships is working some time of enrichment experience into the itinerary and all-inclusive experience. It may be a private concert, an opera selection, or some type of musical or cultural performance. We got sea shanties!
With songs in English and Dutch, the Shantymen Kaap Hoorn kept us entertained and clapping. During an intermission we had a chance to talk to some of the singers and wow, did they have stories to tell. What a great evening!
Day 7 – Floriade
Floriade will not be on your itinerary. The event occurs once every 10 years, and its future is not certain, perhaps a victim of disinterest caused by the pandemic. We had a great time at Floriade, it was a pleasant day strolling the grounds, and we got lots of ideas of things for our yard at home.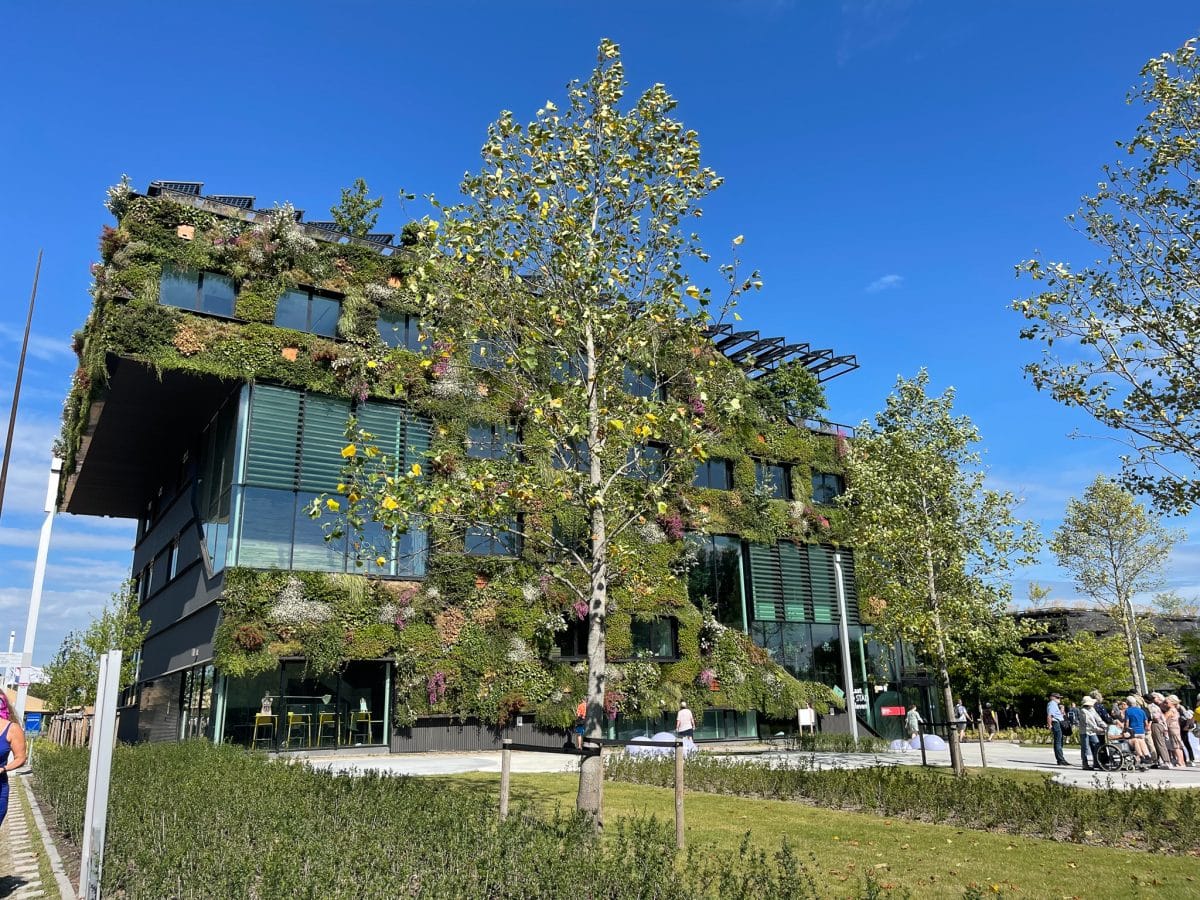 Day 8 – Amsterdam
And just like that, we were back to where we started in Amsterdam and heading for home.
The Price
Cruise pricing is full of special offers. You'll find lots of bundling, two-for-ones, and airfare deals. Keeping up with cruise pricing can be a full-time job. You'll need to do your own personal research to evaluate what's important to you on a river cruise. Armed with that information and knowledge, you can book directly with a cruise line or use travel agents with good cruise knowledge.
A quick look at pricing for 2023 sailings shows an itinerary similar to our operating in April and May 2023. There were a variety of special offers (an early bird fare and a second guest sails free offer). It looks like pricing starts around $3,545 per person, plus port fees.
As you evaluate the value proposition of cruising on a Scenic river cruise ship, remember that these are all-inclusive fares. The price includes the cabin with butler service, meals, excursions, complimentary beverages, cultural enrichment experiences, ground transportation, laundry concierge service, gratuities, and probably more than I've forgotten about because I quickly took it for granted.
A word (or more) about gratuities.
I believe that people should be well paid for providing good service. It is a cost of doing business for a company and a cost of travel for the cruiser. I love that gratuities are included on Scenic because it lets me see the full price right up front. Transparency is important to me. Creating artificially low prices that don't really exist makes me crazy. I love knowing that everyone is fairly compensated, it suits my travel ethos. And I love knowing that I won't be nickel-and-dimed on board. Constant upselling is tedious.
While not required, I personally believe in adding on a little extra for crew members who have gone above and beyond, I'm told this is neither necessary nor expected. I'd guess it's greatly appreciated though.
What About Covid
At the time of our sailing, no Covid testing was required for entry into the Netherlands from the U.S., but proof of full vaccination and booster was required. Scenic requires proof of vaccination but does not require a Covid test. So if you are vaccinated and boosted, you're good to go.
Masks were not required on board the Crystal, although it was not uncommon to see passengers choosing to use one. We were comfortable without masks onboard, knowing the vaccination protocol, but did opt to occasionally don a mask when in close quarters with people (on a bus, in a small shop, or in an elevator).
It's likely that health protocols may change by the time you sail. The Scenic website does a good job of updating information, so check it frequently.
Are Scenic All-Inclusive River Cruises Right for You
If you're eager to discover the benefits of small ship river cruising, Scenic is an excellent choice. If you want more people, more activity, casinos, nightclubs, kids clubs, etc., then stick with Ocean cruising.
With a variety of European river itineraries that include sailing on the Danube, Main, Rhine, Moselle, Rhone, Douro, Seine, and the Garonne (and on the Mekong in Asia), you'll be able to find an itinerary and sailing date that works for you.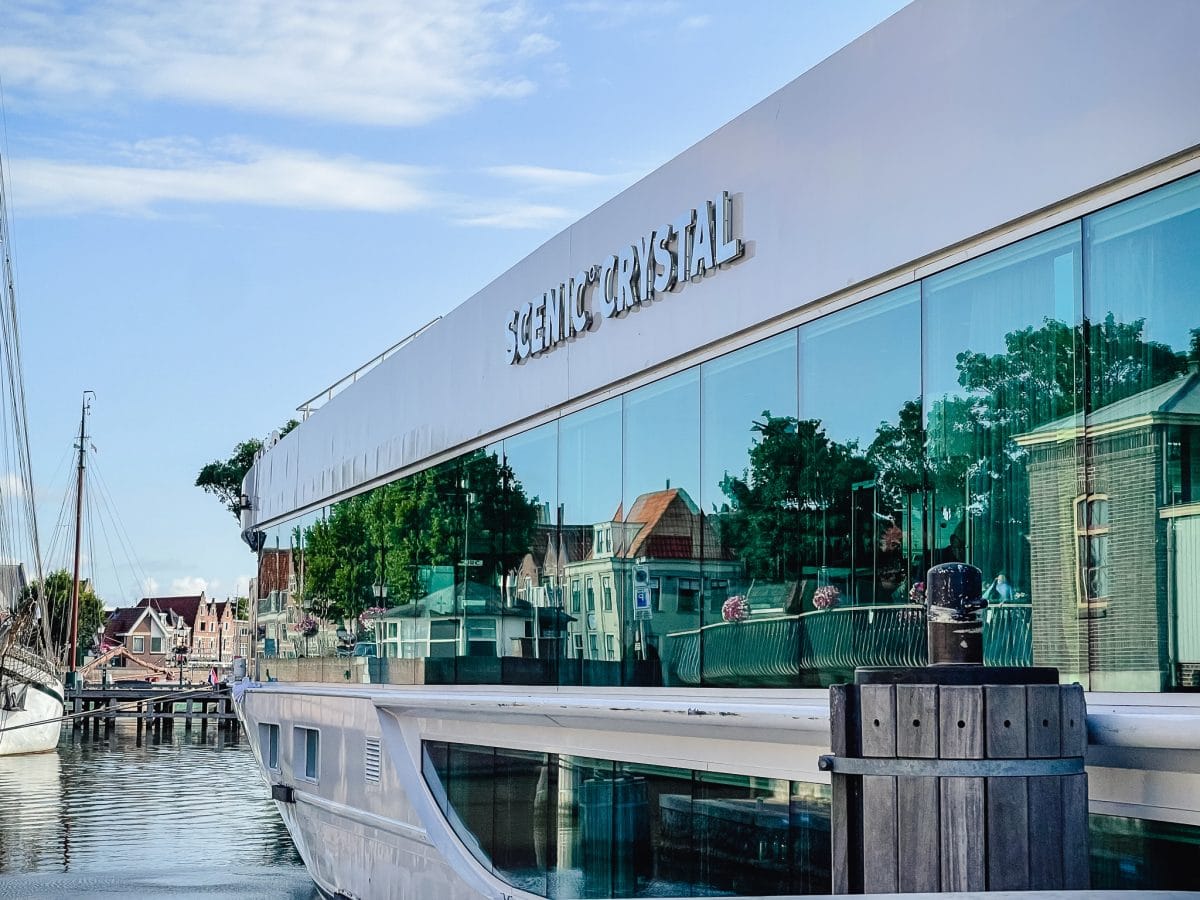 The transparent, all-inclusive pricing will be appreciated by everyone wanting to know what the cruise is going to cost all-in and who wants to avoid constant upselling. And the intimate experience with non-pretentious luxury (you don't need to pack a tuxedo), helps Scenic win new fans.
We're not alone in making this assessment. We spent time talking with a lot of passengers outside of our small group. Everyone we talked with had sailed on Scenic before, usually more than a handful of times. The consistent response to "why?" was that they appreciated the luxurious touches, the all-in fair pricing, and the casual fun they had on board. We think they're on to something!
For Pinterest
Save to your favorite travel and cruise boards and refer back when you are planning your next river cruise vacation.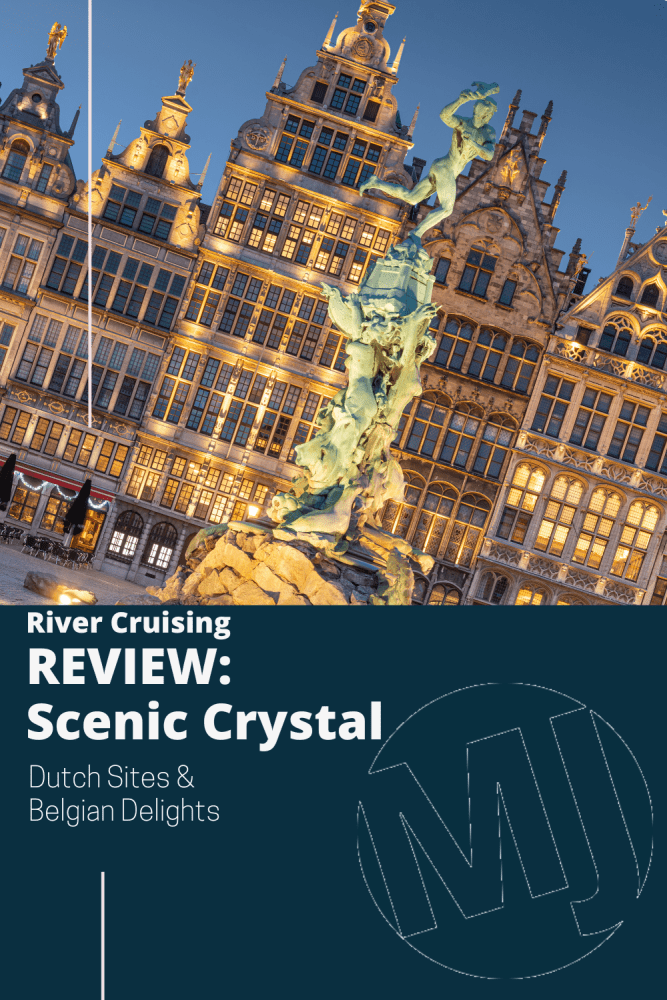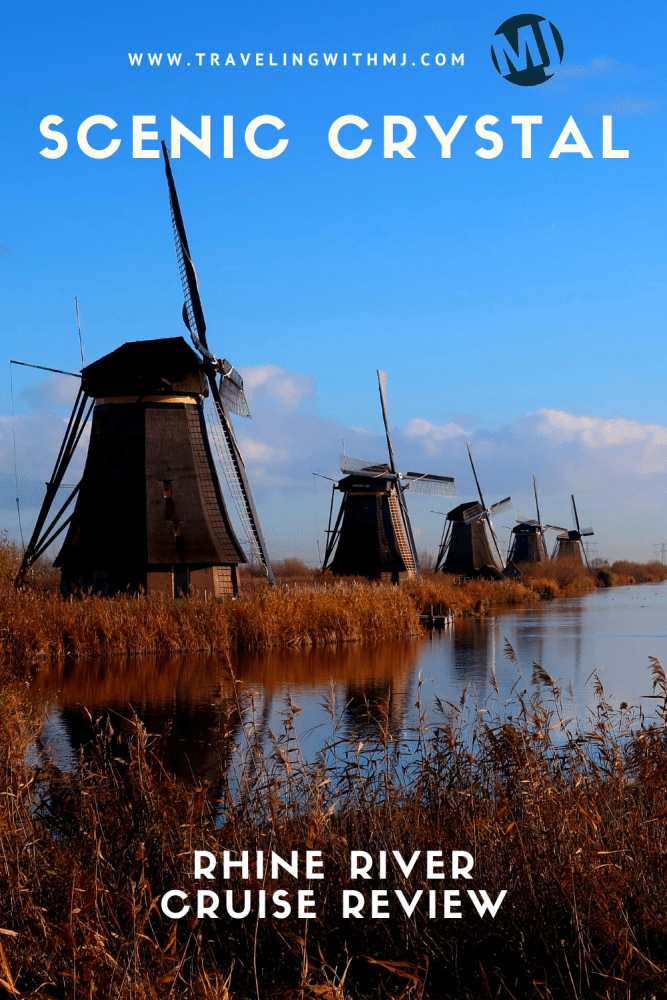 Disclosure: We received a complimentary cruise for purposes of reviewing the Scenic Crystal and this river cruise itinerary.