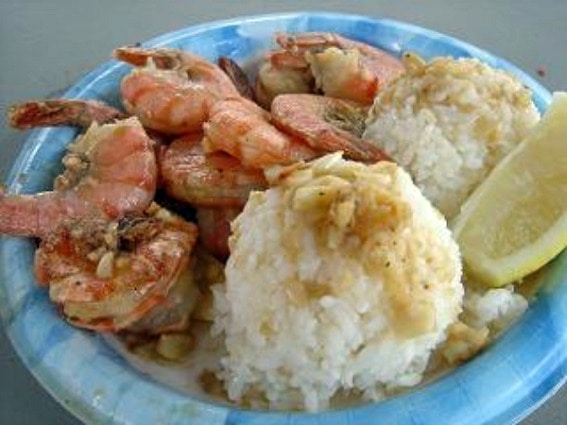 Lunch wagons have long been a part of the Hawaiian culture, feeding workers as well as hungry surfers.  Lately, though, it seems these 4-wheeled eateries have started providing more upscale, dare I say gourmet friendly cuisine, responding, in large part, to the mobile restaurant trend that's hot all across the country. Choose from among these eclectic choices on your next Hawaii vacation for a fun, local dining option:
Haili's Hawaiian Foods – This small, family run business has been a favorite with locals for over 60 years, serving up traditional and contemporary Hawaiian food.  They've recently expanding to a lunch wagon that they've located in an open parking lot across from Ward Entertainment Center.  Food choices:  Hawaiian and local plate lunches, stews, wraps, and rice bowls.
Ige's Lunchwagon – Located in the Harbor Court, this lunch wagon serves up savory local comfort foods according to a weekly menu.  Find your favorite dish and become a regular.  Food choices:  meatloaf, shoyu chicken, lau lau, pork tofu, chicken katsu, and hamburger steak.
Simply Ono – With two locations, downtown and at the University of Hawaii, this lunch wagon combines the gourmet element with popular local dishes with great success.  Food choices:  hamburger steak, garlic chicken, Hawaiian plates, fresh caught furikake ahi, pork and squash soup, miniature quiche Lorraine, and crab and mushroom baked macaroni and cheese.
Gogi Korean Tacos – Combining two fave food choices to come up with Korean-style Mexican food, this lunch wagon is popular for its $2 tacos.  Food choices:  short rib, chicken, spicy pork, or tofu tacos, burritos, Gogi Quesadilla, Gogi Sliders, The Gogi Dog, and Creamy Kimchee Fries.
Jawaiian Irie Jerk – Serves authentic Jamaican cuisine from a parking lot across from the Hawaii Convention Center.  Food choices:  jerk chicken and pork, roast fish, Caribbean curry chicken, and stew.
Melt – This might be the ultimate in comfort food, with a menu designed around the grilled cheese sandwich.  Food choices:  Melt of Shame (beef patty between two grilled cheese sandwiches), Harissa Melt (gouda cheese, pear and homemade harissa), and Triple Melt (gruyere, cheddar and gouda cheese), tomato soup, and a daily special.
Opal Thai Food – Authentic Thai cuisine served in Haleiwa.  Food choices:  pad thai, spring rolls, drunken noodles, and curries.
Shogunai Tacos – A global-inspired taco and quesadilla menu reflects the diverse background of the owners.  Food choices:  Zeus's Glory Greek Taco, Osaka Jo Japanese Taco, Mardi Gras Shrimp Taco, Baja Rally Mexican Quesadilla, and Moroccan Pomme Frites.
Soul Patrol – Healthy and affordable soul food, locally sourced when possible, this lunch wagon can be found downtown on the 2nd and 4th Tuesday of each month, and the Hawaii State Art Museum on the 1st Friday, and at various special events.  Food choices:  black-eyed pea vegetarian chili, buttermilk fried chicken, corn bread, and collard greens.
Zaratez Mexicatessen – Located off Kapahulu Avenue, this lunch wagon features all sorts of Mexican favorites.  Food choices:  made-to-order tacos, burritos, quesadillas, and mulitas, using locally-made corn tortillas, homemade salsa and a choice of carne asada, carnitas, pollo asada, or chorizo.
Shrimp Trucks – If you're on the North Shore, take advantage of the several shrimp trucks in the area.  Most serve similarly styled fare – shrimp, cooked in a variety of styles and sauces, served ala carte or a plated lunch (with rice and/or salad).  Go back often to pick a favorite:  hot and spicy, buttery, garlicky, coconut-breaded, tempura, lemon pepper, and plenty more.  Some lunch wagons sell other seafood as well.  Try:  Giovanni's Original White Shrimp Truck, Famous Kahuku Shrimp Truck, Macky's Sweet Shrimp Truck.
Hawaii may not be known as a destination for cheap holidays, but with delicious food choices like this, you'll find a way to stretch your budget to allow you a few extra days in paradise.
Photo credit:  ayako via flickr