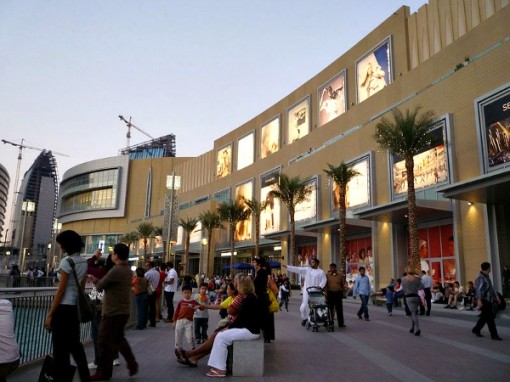 Sure there's a lot of historical sites, intriguing architecture, refreshing beaches, and a panoply of culture in Dubai, but still, the primary tourism draw is centered around shopping.  Dubai is the most populated of the United Arab Emirates (there are seven emirates) and is the emirate most focused on tourism.  With over 70 shopping malls, as well as an impressive souk district, Dubai has rightly earned the moniker of the "Shopping Capital of the Middle East."   Your Dubai holidays will give you a chance to sample both modern and traditional types of shopping.
For modern day shopping, the Dubai Mall has everything you could possibly want.  It is the world's largest shopping mall (based on total area) and attracts over a million visitors per week.  That's more people than visit any of the U.S. theme parks, Times Square, or Niagara Falls.  Within the mall are 10-15 sub-divisions  – sort of a mall within a mall – creating themed shopping and lifestyle districts.
It's worth checking out, and offers a lot more than just shopping, so let's take a look at some of what you'll find at the Dubai Mall:
Shopping:  The obvious reason to go to a mall is for shopping, and the Dubai Mall doesn't disappoint in that department.  Here you'll find the world's largest Gold Souk, 70 haute couture shops, a supermarket, organic food store, and the usual – and unusual assortment of stores.  You can browse a variety of international stores, from Galeries Lafayette of Paris to Hamley's from London to Bloomingdale's from the United States.  And if you have a sweet tooth, head to Candylicious, reportedly the worlds largest candy store.  The mall has over 1,200 shops, so if you can't find what you're looking for, you're just not trying hard enough.
Dubai Aquarium and Underwater Zoo:  Stand in front of the World's Largest Acrylic Panel (according to Guinness World Records) and take a look at the denizens of the sea.  Over 33,000 marine animals are on display.  The walk through shark tunnel is a visitor favorite.
Ice Rink:  In the middle of a desert?  Yes, this Olympic sized ice rink hosts hockey matches and offers programming that includes open skate sessions as well as lessons.  When those summer temperatures are soaring, a turn around the ice is a nice way to cool off.
Movie Theater:  A 22-screen movieplex can be found on the second floor of the mall.
Theme Park:  SEGA Republic, themed around the brand's iconic Sonic the Hedgehog, offers plenty of gaming options that are suitable for all ages.  It's located on the second floor of the mall.
Eat:  All that activity is going to make you hungry and tired, so grab something to eat at one of the over 160 restaurants and cafes.
Hotel:  You can sleep where you shop if you book at this 250-room luxury hotel.
More:  KidZania, Oasis Fountain Waterfall, The Grove (an outdoor streetscape with retractable roof), and more!
Photo credit:  public domain via wikimedia