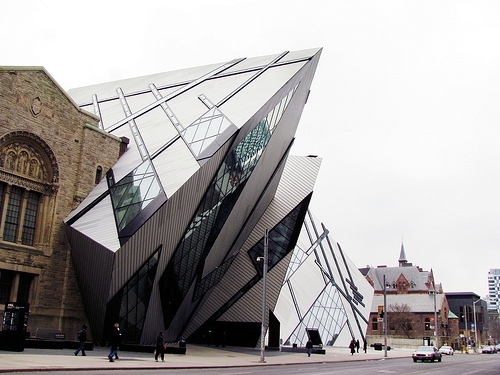 Museum lovers who visit Toronto will want to get their history and culture fix at the Royal Ontario Museum with its engaging galleries of art, archaeology, and natural science from around the world.  With over 40 galleries spread out over four floors, the museums is just one more reasons that a visit to Ontario will be both educational, culturally enriching, and fun.
The Royal Ontario Museum is a great destination for families, with lots of kid friendly exhibits.  Some exhibits that kids might enjoy include:
The current exhibit, Water! The Exhibition, has been a big hit with 17 interactive hands-on activities.  Where there's water there's usually fun, and this exhibit uses real water along with immersive displays, natural artifacts, videos and animals to explain why water is important to Canada and the world.
ROM Live! has been a big hit with kids as it takes them on a journey back in time to take a look at ancient civilizations, the medieval era, and to learn about the ever popular dinosaurs.
Nature loving kids might enjoy the Bring Back the Wild program that combines live animals with a natural history lesson.  Kids will have the opportunity to learn how they, too, can become animal ambassadors and help to keep nature in its delicate balance.
The museum offers organized lessons and self-guided tours of the exhibits and collection, and they make it fun too.  You can download a scavenger hunt plan for use at the museum and have fun discovering just what's inside those walls.  With these educational activities as well as curriculum-based programming, a visit to the museum is a popular home schooling activity, school field trip, or fun vacation stop.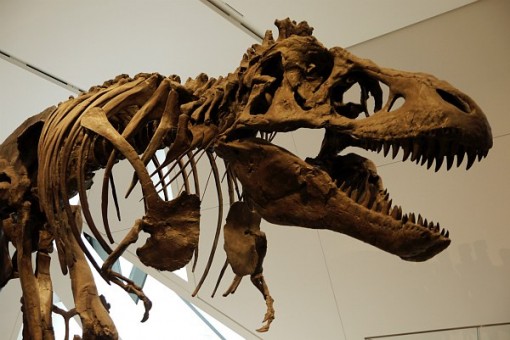 After a busy day at the museum, you'll be up for a break and some sustenance, and Toronto delivers in the food department as well.  The city has a burgeoning restaurant scene, and whether you opt for fine dining, one of the many ethnic choices, or family friendly dining, there's plenty to choose from.  Plan a simple brunch and a day exploring, or start off early and finish up with a simple dinner, either way the Royal Ontario Museum and the surrounding neighborhood provide great family fun.
Location:  100 Queen's Park, Toronto
Hours:  Sunday-Thursday 10 am-5:30 pm; Friday till 8:30 pm
Admission:  $24 adults; $21 seniors and students; $16 children, infants are FREE.  There is a supplement charge for Water! The Exhibit.  The Royal Ontario Museum is also part of the CityPass ticket.
Photo credit:  Exterior (via flickr); dinosaur (via flickr)
NOTE: This post is sponsored by My Destination Info; the opinions expressed are those of the author.