One of my favorite parts of traveling is finding a new discovery.  Sometimes that's a quirky little restaurant, a fabulous museum, a neighborhood hang out, or some place fun for a little shopping.  Sometimes the spots is something everyone knows about, and I'm late to the discovery, and sometimes it's something special all for me.
One of my favorite NYC discoveries was C.O. Bigelow in Greenwich Village.  Oh sure, I'd seen their products sold in other stores across the country, but there's nothing like visiting the original store.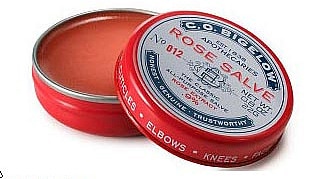 Founded in 1838, C.O.Bigelow's is the oldest continually operating apothecary-pharmacy in the country.  That's 170 years!  The store still fills prescriptions at the back of the store, but as you work you way back there you'll pass through goodies galore.  There's a focus on homeopathic products and remedies, along with hard-to-find and specialty cosmetic lines.  You can find something for your body here, whether that's inside or out, and they have a great assortment of products perfect to pack for your travels.
Here is a sampling of what you'll find:  hair and body products, shaving creams and accessories, fragrances, specialized toothpastes, baby care, and all sorts of wonderful accessories and gifts.  C.O. Bigelow's also has their own product line, many made from recipes that are generations old.  Their Rose Salve (pictured above) is one of the store's best selling items, and it's touted as a remedy for everything from chapped lips to diaper rash.  Priced at $5.50 it's a real bargain!
C.O. Bigelow's is located at 414 Avenue of the Americas (between 8th & 9th Street) in Greenwich Village (map).  It's  accessible by subway (West 4th or Christopher stop) and the PATH (9th Street).
You can find a sampling of their specialized products available for purchase online, and while that's nice – it's nothing like spending quality time milling about the store.
Photo credit:  C.O. Bigelow's