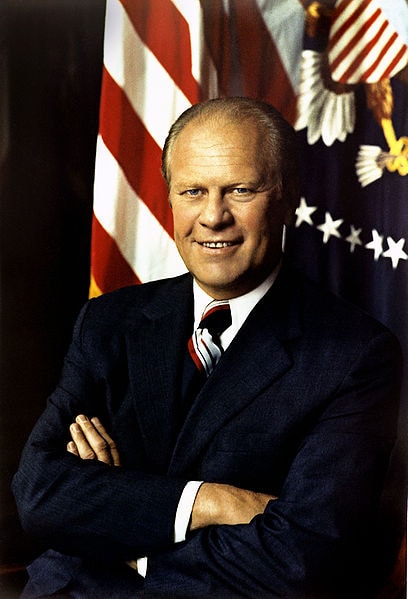 Gerald R. Ford was the 38th President of the United States, and when he in 2006, politicians from both parties lauded the legacy left by the man who was elected to Congress from the State of Michigan, and while he served as both Vice President and eventually President, he was elected to neither position.  He will likely be best known for pardoning former President Richard Nixon, for which he was eventually awarded the John F. Kennedy Profiles in Courage Award.
Ford, like all Presidents, amassed volumes of "stuff" during his term of office, even though he spent less time in the White House than many other Presidents.  Presidential "stuff" takes on a life of its own, resulting in volumes and volumes of documents, schedules, casual notes, and even scraps of paper.  All these items are collected, cataloged and filed away.   In addition, there are additional documents and "stuff" that detail a life of public service before and after the time in the White House.  Some of the information must be kept private, obviously, but much will be collected together and put on display in a Presidential Library, providing an incredible look at the life of at the man (and hopefully eventually woman) who held this nation's highest office.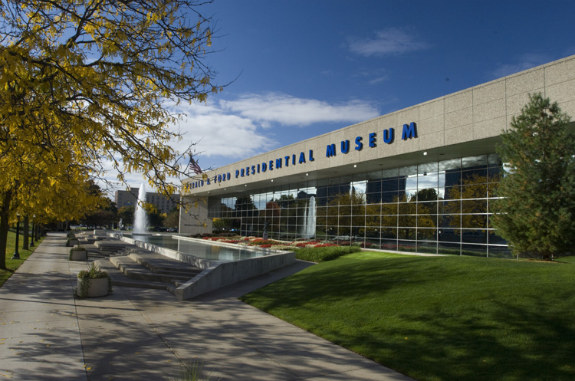 The Gerald R. Ford Presidential Museum is located in Grand Rapids, Michigan, and the Presidential Library is located in Ann Arbor, Michigan, on the campus of Ford's alma mater, the University of Michigan.  His is the only library/museum to be located in two geographically separate buildings.
The Ford Museum, which opened in September 1981, has permanent exhibits that allow visitors to review political history, as well as to take a look into the life of a President and the personal things that he held dear:  his wife, family, and his love of sports.  It's a personal and emotional look at the responsibilities and privileges of citizenship and democracy.  President Ford's burial site is located on the grounds.
Special events at the museum include naturalization ceremonies for new citizens, community festivities (including fireworks) on Independence Day, and a variety of other celebrations.
Location: 303 Pearl Street NW, Grand Rapids, Michigan (map)

Hours: Daily, 9 am – 5 pm., closed New Year's Day, Thanksgiving, and Christmas.

Admission: $7 adults, $6 seniors and military, $5 college students, $3 youth ages 6-18, and free for children under five years of age.  Parking is free.

Parking:  FREE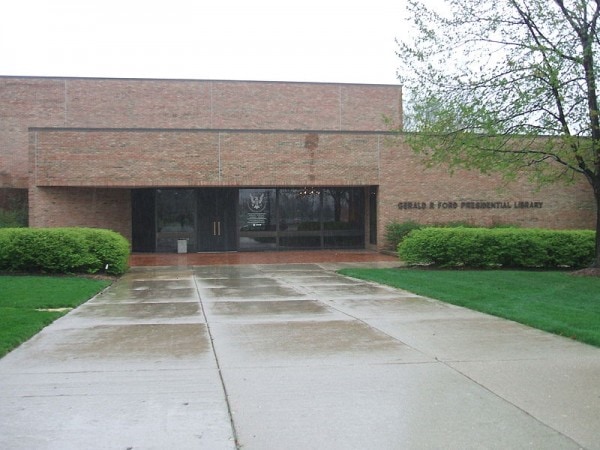 The Ford Presidential Library houses documents and audio-visual materials that follow Ford's life, career, and presidency.  The Library, administered by the National Archives, was dedicated in April 1981.  At the Library you'll find archival materials on both domestic issues and foreign relations during the Cold War era.  To give you an idea about the in-depth nature of what's collected, the Library's current holdings include over 22 million pages of memos, letters, meeting notes, reports, and other historical documents, and over 325,000 still photographs, plus extensive AV material.
Location: 1000 Beal Avenue, Ann Arbor, Michigan, University of Michigan North Campus (map)

Hours: Monday – Friday, 8:45 am – 4:45 pm.  Closed on Federal Holidays.
The museum and library would be a great visiting spots for anyone interested in history or politics.  While it is suitable for all ages, younger kids may be easily bored.  This would make a great vacation stop for families with teenagers who might be looking for ways to make history and current events come to life.
Photo credits:  Presidential portrait and museum photo, public domain.  Library photo via wikimedia.