Lucca is a walled city in the Tuscany region of Italy. The walls, built in the 16th century, are a popular option for walking or biking around the city. It's a convenient getaway destination for travelers visiting Florence (about an hour an a half drive) when they want to escape the busyness of the city.
We visited Lucca on a day trip while on a Mediterranean cruise, and enjoyed the time we spent there. We had the better part of the day to explore Lucca, which was time to see the highlights, but there's plenty more to see on a return visit.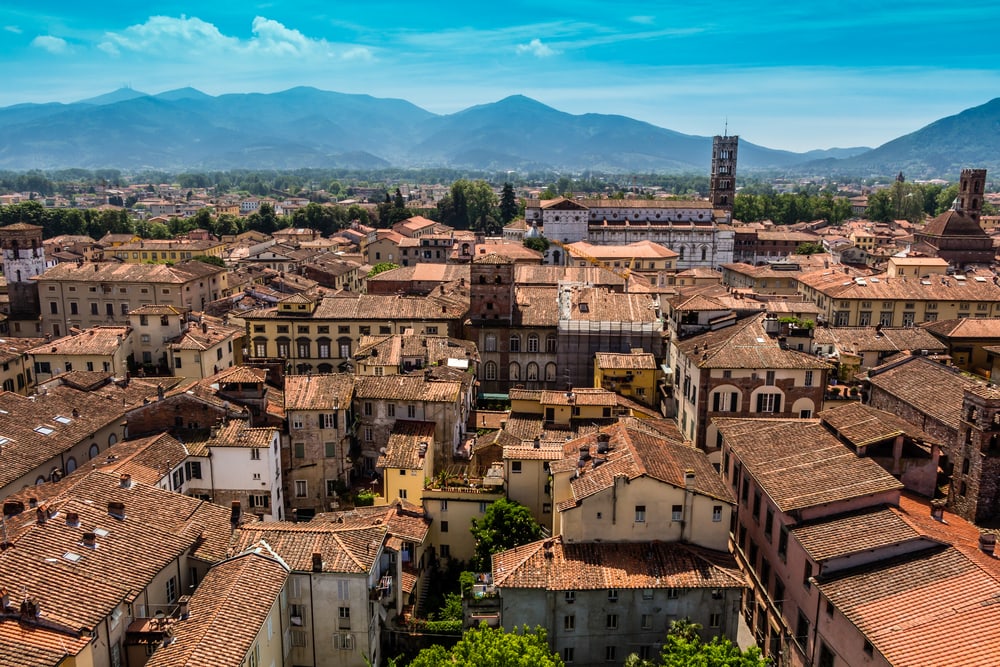 Lucca is the birthplace of the composer Giacomo Puccini. Puccini was born in Lucca in 1858 and died in Brussels in 1924, and music fans – especially opera lovers – consider visiting an homage to Puccini. While there, you can explore historical sites that formed part of his colorful life and that contributed to his fascinating story.
Who is Giacomo Puccini and Why Is He an Important Historical Figure?
Giacomo Puccini lived from 1858 until 1924, creating a name for himself in the world of operatic realism.
Giacomo came from a large family, with six sisters and one brother. His father, Michele Puccini, taught him how to play the piano as a young boy. His father passed away in 1864, orphaning Giacomo and his siblings. Because of the significant contribution of the Puccini family to Lucca, the community supported the children for many years, reserving the coveted position of the cathedral organist at the Cathedral of San Martinio for Giacomo until he was ready to step in and take his rightful family place.
The musician went on to study at the Instituto Boccherini from 1872 until 1880, and his very first composition was shared with the world in 1880 during his graduation piece. Giacomo Puccini then went on to study and work under several other renowned composers in other parts of Italy. Puccini's first opera was Le Villi, composed when he was 25 years old. He's more widely known, however. for his famous operas La Bohème, Tosca, Madame Butterfly, and Turandot.
What is Giacomo Puccini's Connection to Lucca, Italy?
Although he earned his own reputation in the industry, Puccini had music in his blood. Born into a family of musicians, his earliest ancestors moved to Lucca as early as 1719 and were musical directors to the Cathedral of San Martino for many years. In fact, the family held a virtual monopoly of Lucca's music scene for nearly a century, with Giacomo becoming the Puccini family's final, and arguably greatest, composer to contribute to the Italian theatrical legacy.
The town of Lucca became an integral part of Giacomo Puccini's life story. The Puccini influence on Lucca was reciprocal. The family – and Giacomo specifically – influenced the city's musical heritage dramatically, while the city and the local community of Lucca contributed significantly to Giacomo Puccini's influential work.
Historical Sites in Lucca, Italy, That Celebrate Giacomo Puccini
Giacomo Puccini, composer extraordinaire, spent a great deal of his life living in Lucca. Today, the town celebrates his life and musical mastery by means of several historical sites and memorials, ranging from the very home he was born in to the theatre in which his most influential compositions were performed.
Puccini Museum
Today, Giacomo Puccini's place of birth and family home has been transformed into the Puccini Museum, celebrating his incredible life and accomplishments.
The museum complex allows visitors to learn all about the composer, linking information and memorabilia with his history and time in the home itself. Indeed, much of the original interior decor of the old building has been well-preserved, demonstrating what the building looked like while the Puccinis called it home. This includes many of the rooms with their priceless furniture, including the very Steinway and Sons piano that Puccini used to compose Turandot and many of his other famous pieces.
In addition, visitors can peruse other historical artifacts, including letters to and from Giacomo Puccini, paintings, photographs, sketches and even original drafts of some of his early compositions.
Statue of Giacomo Puccini
Located on the Piazza Citadella near the Puccini Museum, the Staua di Giacomo Puccini pays homage to the great composer.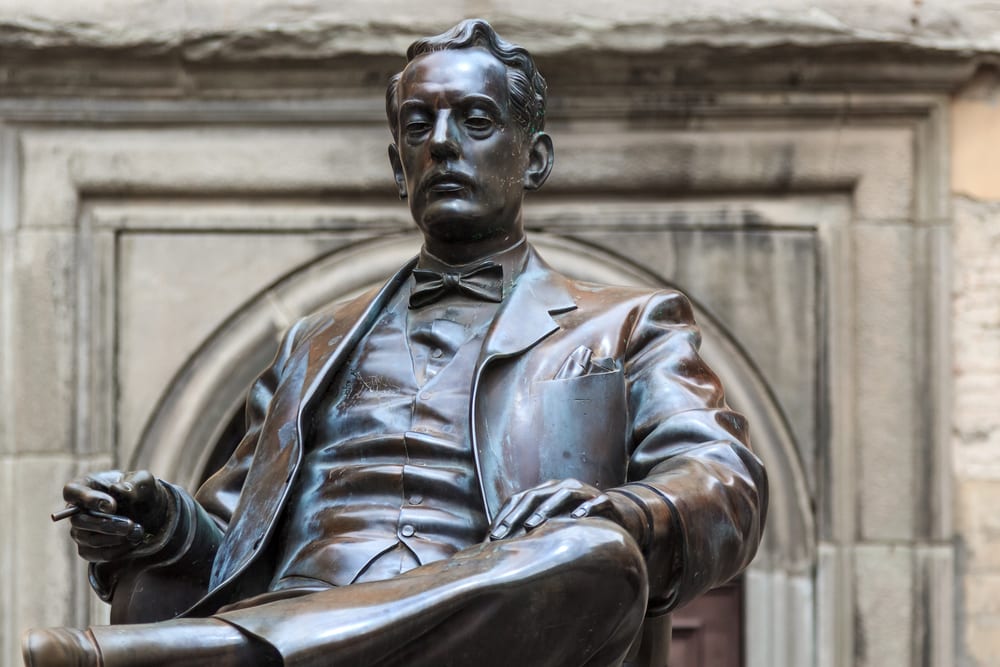 The statue depicts him sitting comfortably in a chair with a cigarette in his hand. It is a fitting tribute to Puccini, who sadly died in Brussels in 1924. Cause of death? Complications of surgery following his throat cancer diagnosis after a lifetime of chain smoking. There's a lesson for us there.
Caffè Di Simo
Caffè Di Simo, found in the heart of the city of Lucca, was a regular hangout for Puccini when he lived in and later visited Lucca. Back then, however, it was known as Café Caselli, named after Alfredo Caselli, a close friend of Giacomo Puccini.
The café, however, was more than just a successful establishment owned by his good friend. During the 19th century, Café Caselli was a well-known meeting place for musicians, intellectuals and artists.
Today, you can pay a visit to Caffè Di Simo as a patron and sit exactly where Puccini would have socialized and gathered with his friends, peers and contemporaries. Enjoy a coffee while listening to one of Puccini's operas.
Istituto Boccherini
Plan to visit the Istituto Boccherini, established in 1842, a private music school that Giacomo Puccini attended for eight years, from 1872 until he graduated in 1880.
The institute is still going today, and you can visit the building and explore the interior if you please. Visitors can wander the halls that Puccini himself walked down, and even see the piano and harmonium (a musical instrument that is a lot like an organ) that he practiced on during his time there. The school is also home to some valuable documents, including a few of Puccini's earliest compositions. The school runs a program called the Puccini Project, that aims to further the efforts of local historians in tracking down and preserving any and all musical contributions made by Giacomo Puccini.
The Istituto Boccherini is located in the Piazza Del Suffragio.
Gran Teatro Puccini
When planning your visit to Lucca, try to schedule a time to see a performance at the Gran Teatro Puccini, named after the man himself. The venue is an open-air theatre designed in an amphitheatre style, seating 3,370 people and another 495 in an auditorium below the main seating area. Completed in 2008, the theatre is dedicated to Giacomo Puccini and his musical legacy, celebrating his life in the most fitting way possible – by enabling more music and art to be performed and shared with the world.
The theatre is also special, in part, because of its location. From a scenic point of view, it overlooks Lake Massaciuccoli. It's location is also historically significant as a location a mere stone's throw away from the villa where Puccini lived towards the end of his life.
The Cathedral of San Martino
Still standing today, the Cathedral of San Martino was a special place for Giacomo Puccini, especially during his childhood. His involvement with the local cathedral began when he was just a boy at seminary school, and it went on to involve his participation in the choir and eventually as the organist – a position that was held for him specifically until he was of age due to his family's history. Much of the architecture is still original.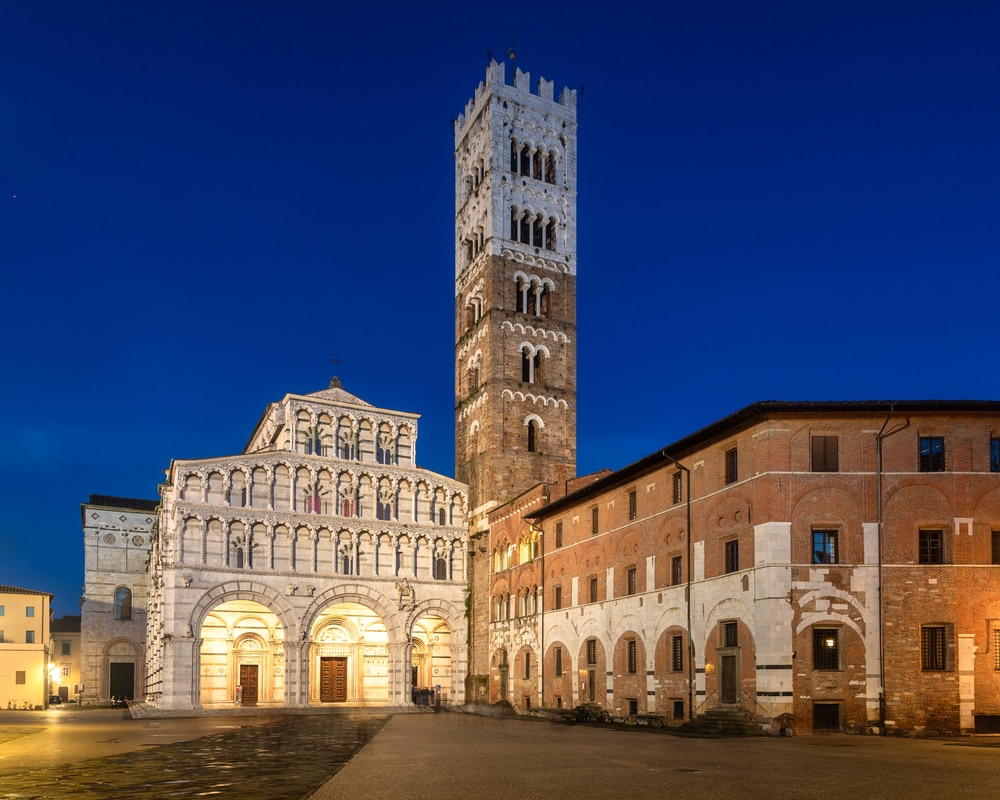 The cathedral, dedicated to Saint Martin, is found in the south-eastern corner of Lucca. Visitors can explore the cathedral and climb to the top of the bell tower.
The Teatro del Giglio
The Teatro Del Giglio is not only relevant to Puccini and his work, but it's also one of the flagship theatres of Italy. It was built in the mid-17th century as a public theatre and named in honor of the Bourbon dynasty. The theater underwent some reconstruction over the years, particularly between 1817 and 1819. Many famous and successful musicians and composers performed at the Teatro del Giglio, and Giacomo Puccini managed several of his operas here.
The Teatro Del Giglio is located in the Piazza Del Giglio. It has a capacity for about 700 people, and if you can time your visit to catch a performance, it's well worth the effort.
Final Thoughts on the Life of Giacomo Puccini
The Italian opera composer Giacomo Puccini was an incredibly talented and influential musical composer. He not only continued his family's proud legacy in his home town, but created a legacy of his own as an Italian composer of great success.
The Tuscan city of Lucca was greatly influenced by Giacomo and the Puccini family during their years living in the city, and Giacomo's compositions and contributions to the local community are evident all over – from the cathedrals and cafes to the local theatres. Lucca is a great Tuscan town to visit, especially for music lovers.
Save to your favorite Pinterest boards for planning your trip to Italy.