The Mediterranean has always been a place where history and cultures come to life. From the bustling metropolis of Barcelona to the turquoise waters of the French Riviera to the rolling hills of Tuscany – there is so much to see that it can be overwhelming to plan a Mediterranean trip.(I know – I've done it.)
That's what enticed me about the Iconic Western Mediterranean itinerary with Viking cruises onboard their Viking Neptune ship.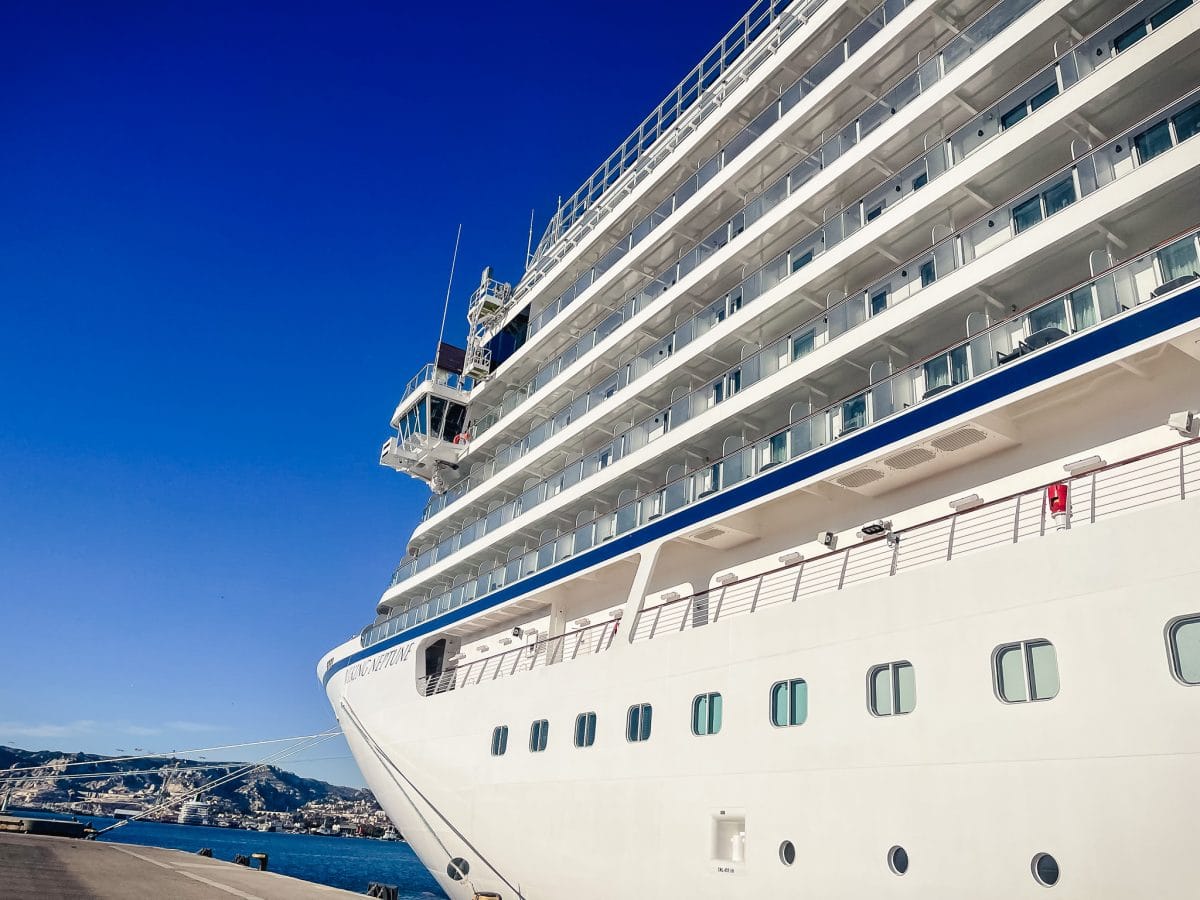 Cruise life not only allows you to sit back and relax while waking up in a new place each day, but this itinerary takes you to some of the most well-known cities in the Mediterranean, made famous for their history, culture, and natural beauty. That is to say, they have become iconic. And while we have spent a fair amount of time in this part of the world, this cruise itinerary got took us to one new country (Monaco), and several cities that we've never visited.
So what is it like aboard the Viking Neptune and what can you expect from the itinerary? This guide to the Viking Neptune, and the Iconic Western Mediterranean itinerary will fill you in on everything you need to know.
Getting There
We flew into Rome the morning of our sailing, and while I don't recommend flying in on the first day of the cruise, the Viking Neptune overnighted in Rome our first night. That meant that even if we were delayed a day, we'd make it onboard prior to sailing. That fits well within our risk tolerance level, but adding additional days in Rome is certainly a good idea. Since we've spent time lots of time in Rome, we were willing to risk flight delays. (You can find a great hotel in Rome here.)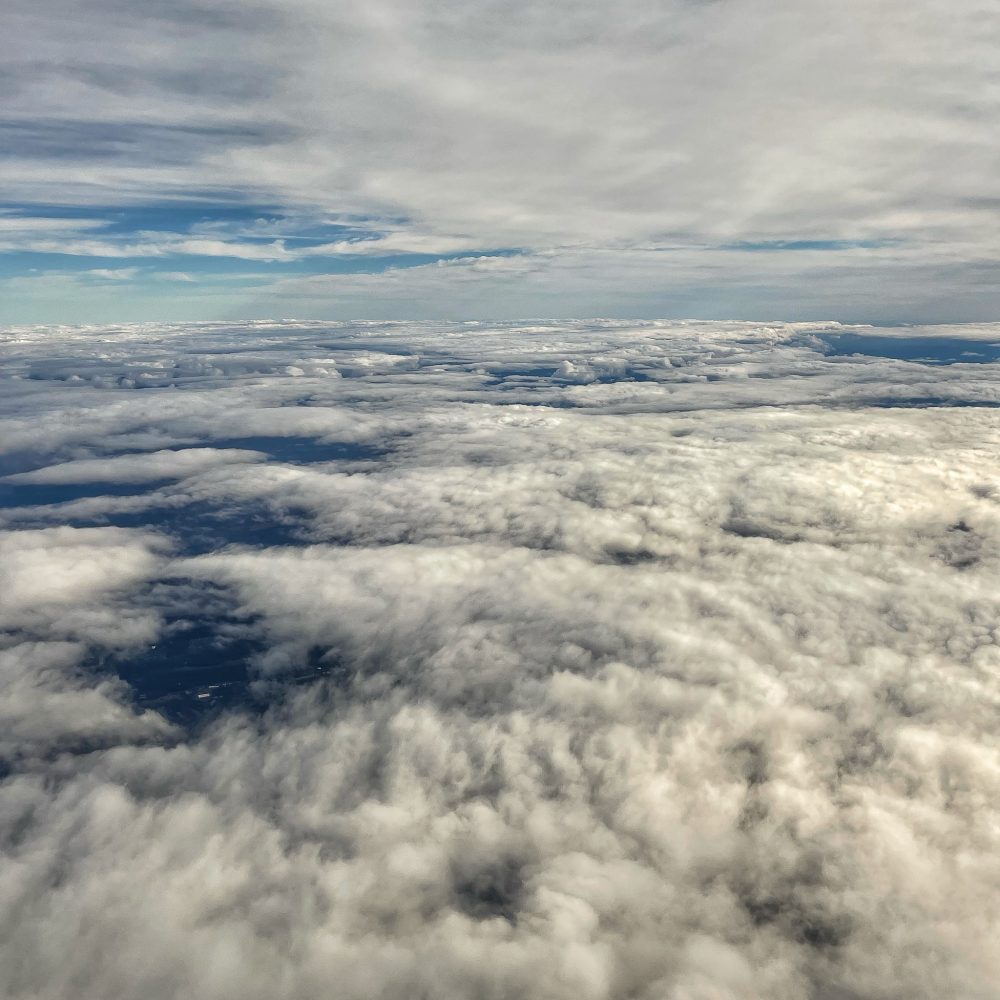 Our air was booked through Viking and unless you are using points or miles, I recommend this option. Not only does it come with guarantees about getting you to the ship, the prices they've negotiated topped anything that I could find independently. The fares were so good, that we upgraded to business class, making for a very pleasant overnight transatlantic flight.
Once in Rome, after clearing customs and immigration, there were Viking signs pointing the way to the included ground transportation.
Embarkation
Embarkation and stateroom availability is determined by stateroom category. Suites get the earliest access and times are staggered from there.
If you arrive before your scheduled time, as we did and as most overnight flights from the U.S. will, you can still check in (provide a credit card to set up your shipboard account, provide ID, get your ship ID card, etc.) and go onboard. It just means that your stateroom won't be ready until a little later.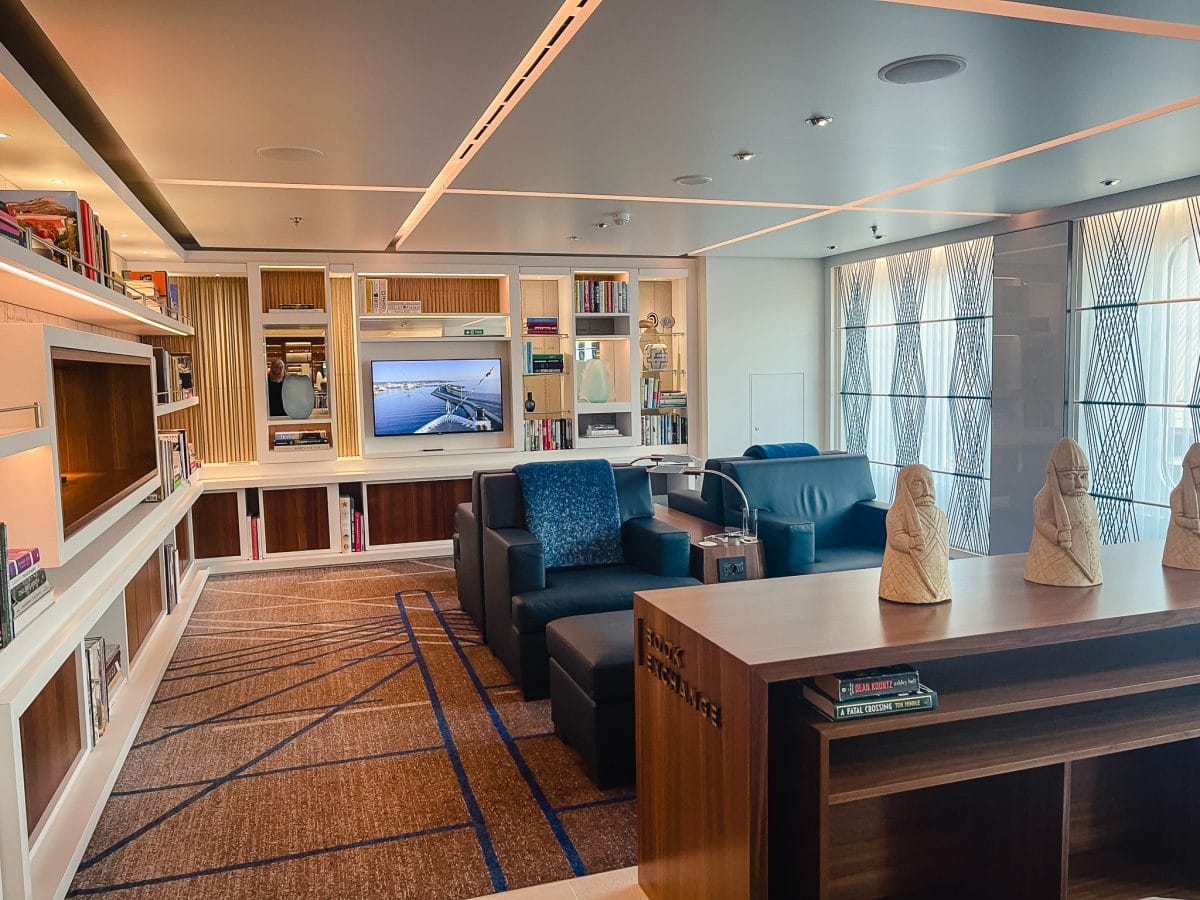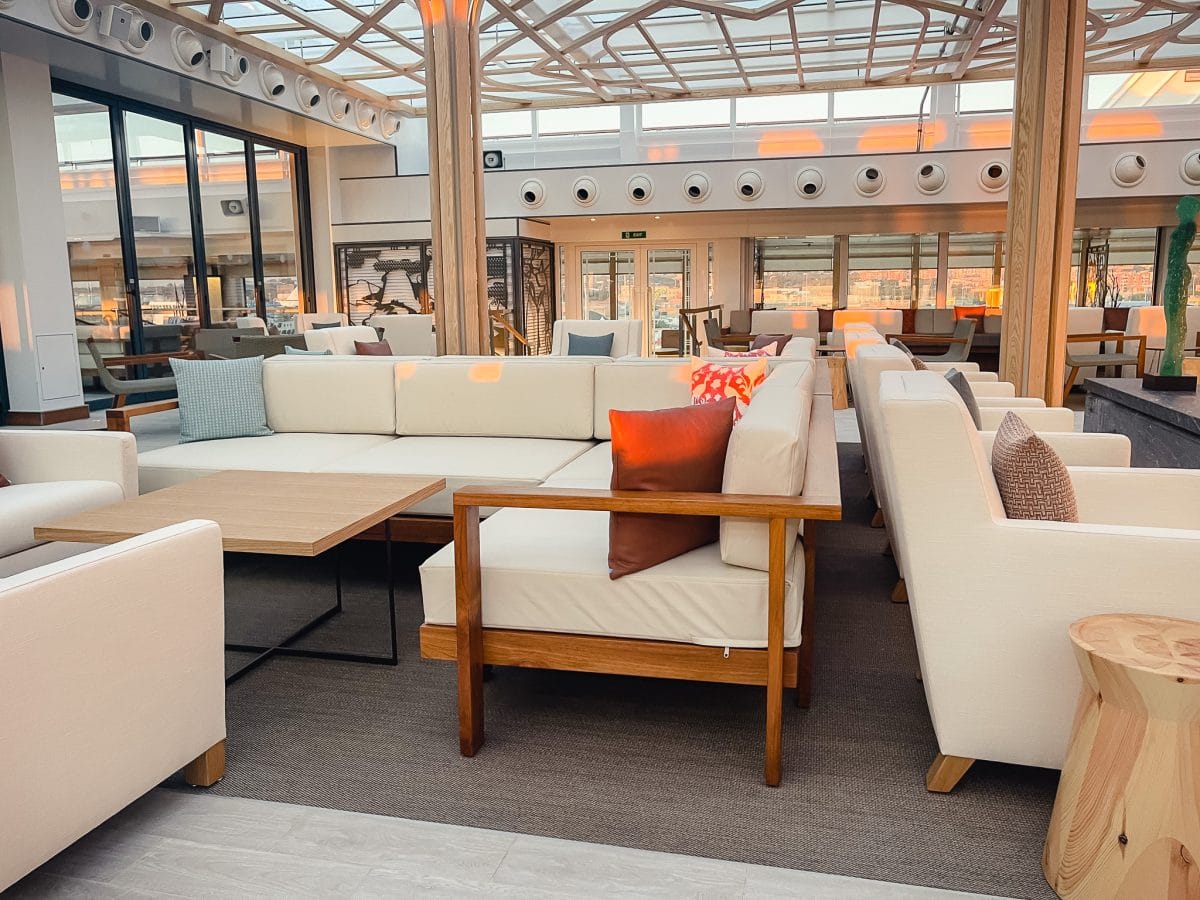 This was perfect for us, as we were well-rested after a nap during the flight, but we were quite hungry. We headed to the World Cafe on Deck 7 for lunch. By the time we finished and headed to the cabin, it was all ready for us and our bags were waiting.
The Ship
If you've been on a Viking ocean cruise before, you know that the ships are all patterned the same. Things will be in the same places, giving cruise guests a feeling of home, and knowing that everything is in the same place as before. Given Viking's return passenger rate, it's a decision that's working for them.
The Viking Neptune entered into service in 2022, mere weeks before we were onboard. The small ship can accommodate up to 930 guests, and on our sailing traveled with around 700. Let's take a brief look at how the ship is laid out.
The "front desk" is called the Explorers Desk and is located on Deck 1. It is staffed 24/7 and is the hub for information, getting questions answered, and solving problems. It's a good spot on the ship to use as a point of reference as its spot in the atrium makes it easy to find.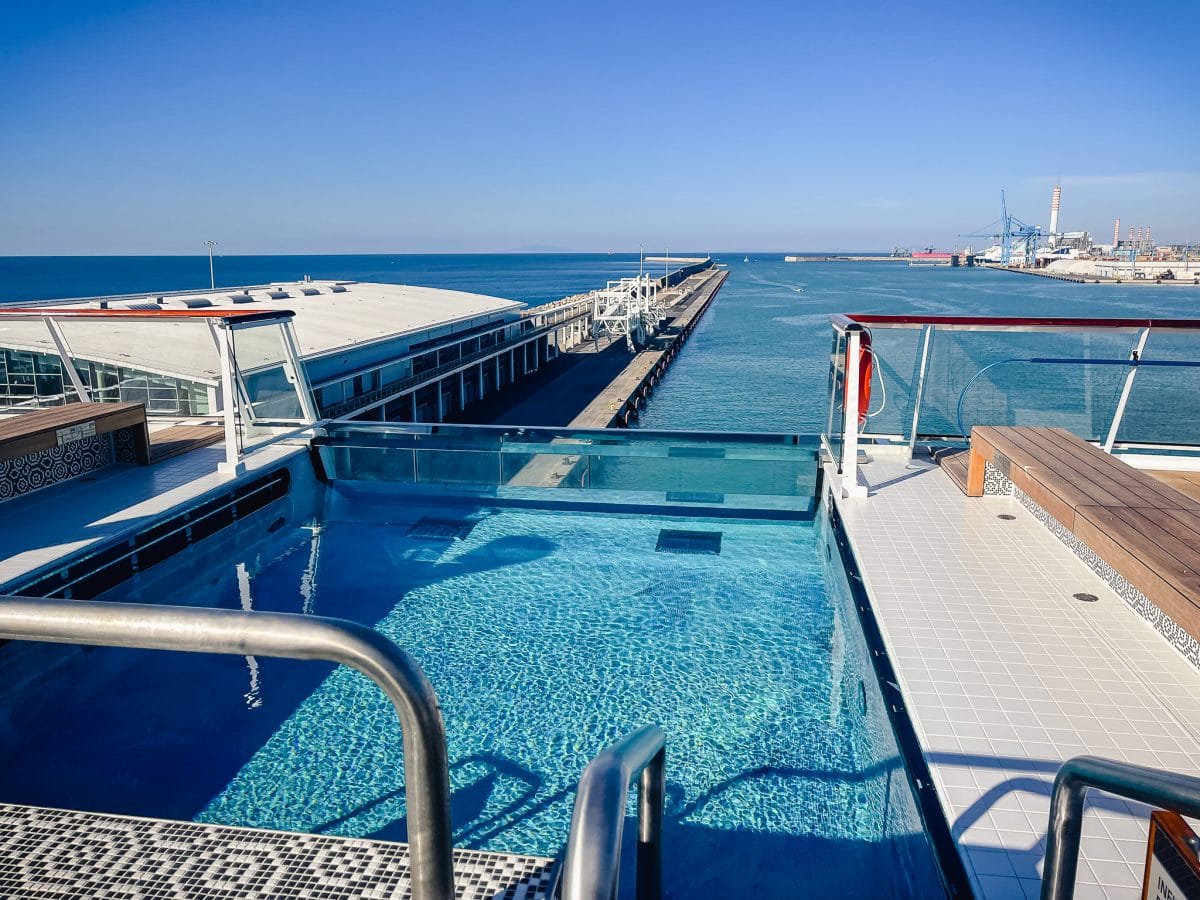 The ship has two swimming pools, both located on Deck 7 – a glass-backed infinity pool aft of the ship (behind the World Cafe), and the main pool located mid-ship. The main pool has a retractable roof so you can swim regardless of the weather, but given our December travel time, there weren't many passengers using it. The main pool area becomes an outdoor movie theater in the evening and you can watch from the pool or the pool deck.
The Nordic spa (located on Deck 1) is worth the time, whether for a spa treatment or to enjoy the ritual of Nordic bathing. Or both. The ritual of hot and cold pools, sauna and steam, and a snow grotto is reinvigorating. I wasn't sure if I'd enjoy it, but I did. And recommend giving it a try. The salon is adjacent to the spa and offers a good array of treatments and papering. On port days, there are discounts offered, so keep an eye out.
This itinerary featured a port of call every day but one. It was also shorter than all of our past ocean sailings, seven days instead of 14 or 17. That meant we didn't have as much time on the ship for relaxation or discovering new spots. Despite a couple of previous sailings, there are still things on the ship we still haven't checked out (the waffles at Mamson's that everyone raves about and jazz in the Torshavn Lounge), leaving plenty to explore on a future sailing.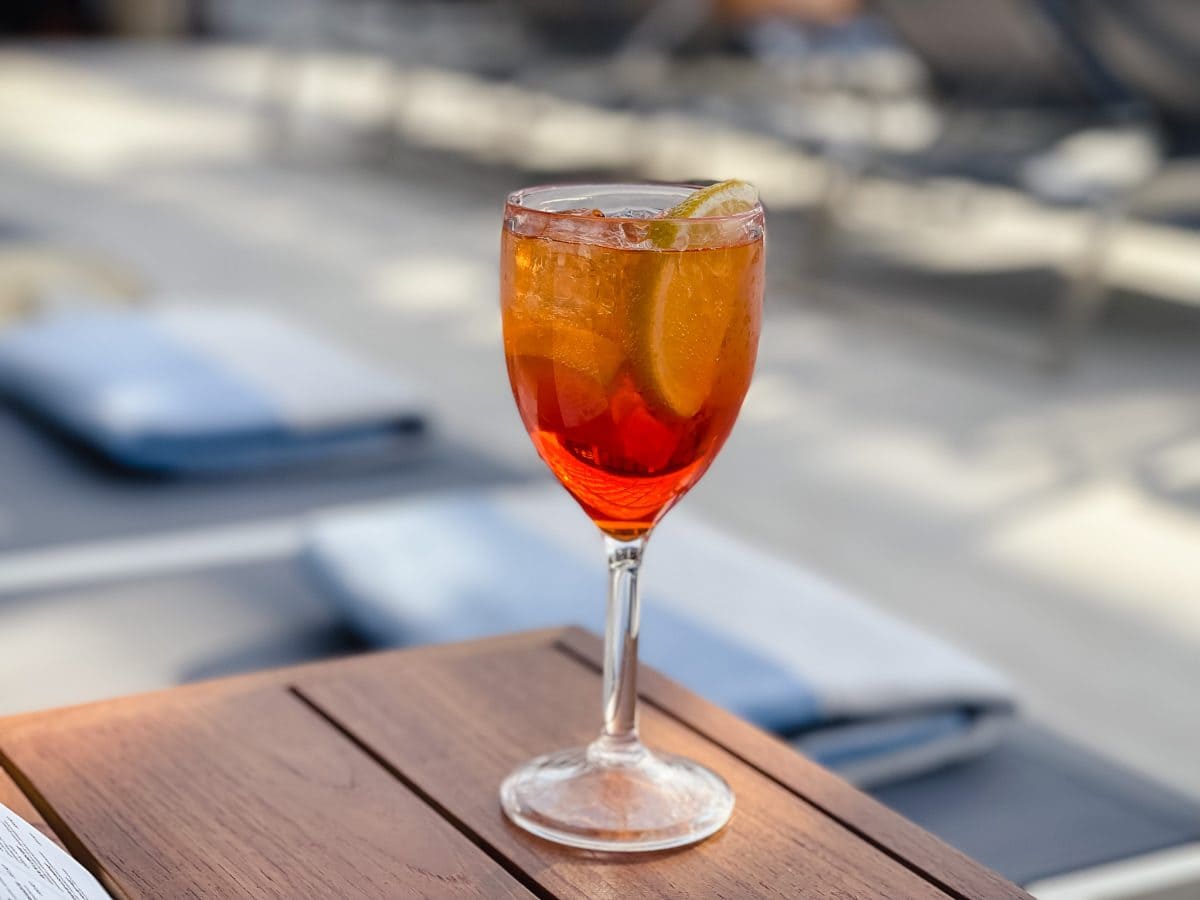 Life on the Viking Neptune can be as busy or as restful as you choose. A schedule of events, activities, enrichment programs, and services are listed in the Viking Daily left in your room each night. You can also find the information on your stateroom television, or Viking's app – Viking Voyager.
I recommend downloading the app and syncing it to your profile and account. We referred to the app constantly, checking to see what time our excursion was, when our reservation was, checking out the menu for the day, and more. On this trip, we found the app a little buggy when making reservations in specialty restaurants and for booking shore excursions, so we did those in person.
There are laundry facilities onboard the Neptune, located mid-ship on decks 3-6; each has three washers, three dryers, and two ironing boards with irons. While we didn't need to do laundry for the week, this is a very handy feature for longer voyages. No one wants to spend their vacation doing laundry, but it sure is helpful to be able to run a load and pack lighter. There is no charge for use of the laundry and laundry soap is included in all washers.
One of the things I like about sailing with Viking cruise line is that they aren't constantly trying to upsell you. There is no additional fee for the specialty restaurants, no one stopping by your table to sell roses or a photo, and no one constantly trying to sell you something more. You're onboard now, sure there are extras, but mostly it's about having time to relax and enjoy. Of course, should you wish to book a future cruise, there's a staff member standing by to assist you.
Staterooms
Staterooms are located on Decks 3-8, and all have balconies.
We stayed in cabin 4030, a deluxe veranda on Deck 4. This is a mid-level veranda stateroom, located mid-ship.
Our stateroom featured the following amenities: A king-sized bed, a sitting area with two chairs, large flat-screen television with on-demand movies, a mini-bar with soft drinks, and snacks (complimentary and restocked daily), complimentary 24-hour room service, free wifi (remarkable strong signal), robe and slippers, purified waters replace daily, personal coffee maker, upscale bathroom products, and more.
My favorite touch of luxury is the heated bathroom floors – love this! The in-room coffee maker is an addition since the last time we sailed with Viking. At 270 square feet, the cabin is on the small-ish side, but as long as you put stuff away, there's plenty of room for lounging, having breakfast in your room, and enjoying the veranda.
My recommendation for cabin selection is to select the best that your budget allows. The entry-level cabins are smaller than the suites, of course, so don't let budget put you off the reason to sail. Look for special pricing, and take a close look at the additional amenities offered in each stateroom category. When you do the math, you can determine the true value of what's included and where you get the most value.
Food & Beverage
Cruise ship food often gets a bad rap, sometimes deservedly so. And while food and beverage isn't the sole reasons we enjoy cruising, it does factor into the decision-making process. I'm more expansive in what I'm willing to try, while Tony remains fairly traditional, and Viking manages to satisfy both of us.
There are several dining options on the Viking Neptune:
The Restaurant – Dinner times in The Restaurant, the main dining room, are not pre-assigned, nor are the tables, and passengers are accommodated as they arrive. There seemed to be mixed information about whether reservations were necessary or not, but we were always quickly accommodated when we arrived without them. In fact, we never saw a crowd in the dining room at all. We tend to prefer dining a bit later, 7:30-8 pm, so not quite the extra-late dining hours that you see in France and Spain, so it may have been a bit more crowded at earlier times.
The Restaurant is a white tablecloth dining option, with tables ranging in size from dinner for two to a party of eight. You aren't forced into dining with others, although you may be asked if you'd like to join a table. Feel free to decline if you wish.
The menu has three sections to order from, allowing you to pick and choose to fit your night's preferences. Each night, around six rotating choices were offered for appetizers and entrees, along with two or three for dessert. Additionally, there was a regional selection based on the destination we were visiting, and a selection of traditional favorites that were always on the menu. Choices ran from gourmet to traditional, and there was never a time when I felt that I didn't have choices to order. Vegetarian options are available, and dietary restrictions are accommodated.
Dress code for The Restaurant is casually elegant and signage says that shorts and jeans are not permitted in the dining room. I don't know if someone would be turned away if they turned up wearing jeans, but we found most passengers in business casual attire. Casual pants and shirts, a few jackets but no tie, lots of sweaters and pants.
The Restaurant is located on Deck 2.
World Cafe – There are two sides to choose from at the World Cafe. Both sides offer the same entrees and side dishes, the difference is in the specialty items – sushi, sandwiches, gelato, etc.
We had generally had breakfast in the World Cafe and an occasional lunch. While we typically don't like buffets, the quality of food and the cleanliness of the buffet itself made it a solid choice. We each have very different breakfast preferences, I'm happy with fruit, muesli, and an occasional sticky bun, while Tony is a traditional sausage and eggs kind of guy. The buffet kept both of us satisfied. Coffee and juice are grab-and-go as well as served tableside.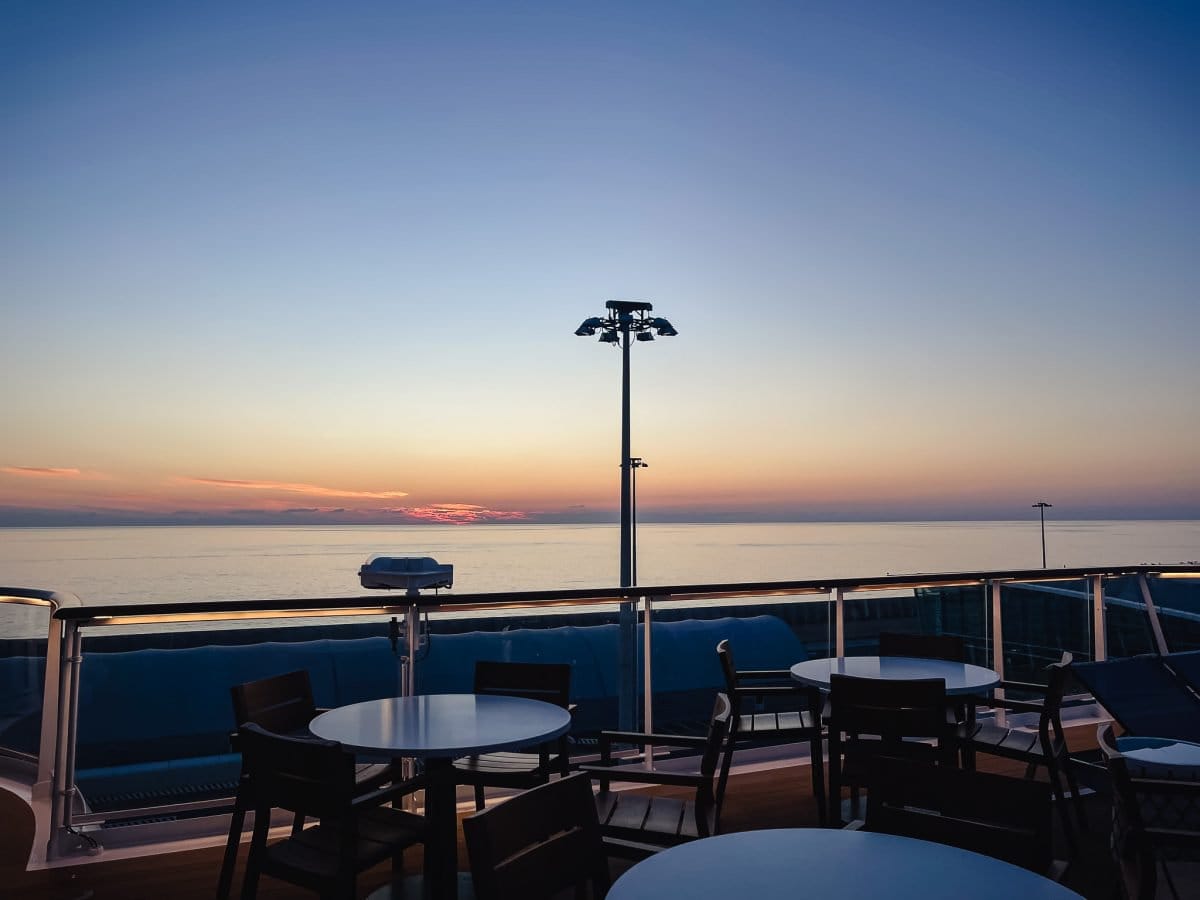 At dinnertime, the menu is similar to that served in The Restaurant, most entrees will be offered in both, and there are a wide variety of appetizer, salad, and dessert choices. If you're tired, or just don't want to linger over dinner, this is an easy choice. Plus, weather permitting, you can dine outside on the deck
The World Cafe is located on Deck 7.
Manfredi's Italian Restaurant –We are big fans of this restaurant and its menu. Our stateroom category allowed us to make advance reservations, but as we booked relatively last minute were unable to make reservations online. This is NOT a problem. Once onboard we stopped by the reservation desk outside the restaurant and booked one evening. During the course of the cruise, we checked back and made reservations for a second evening.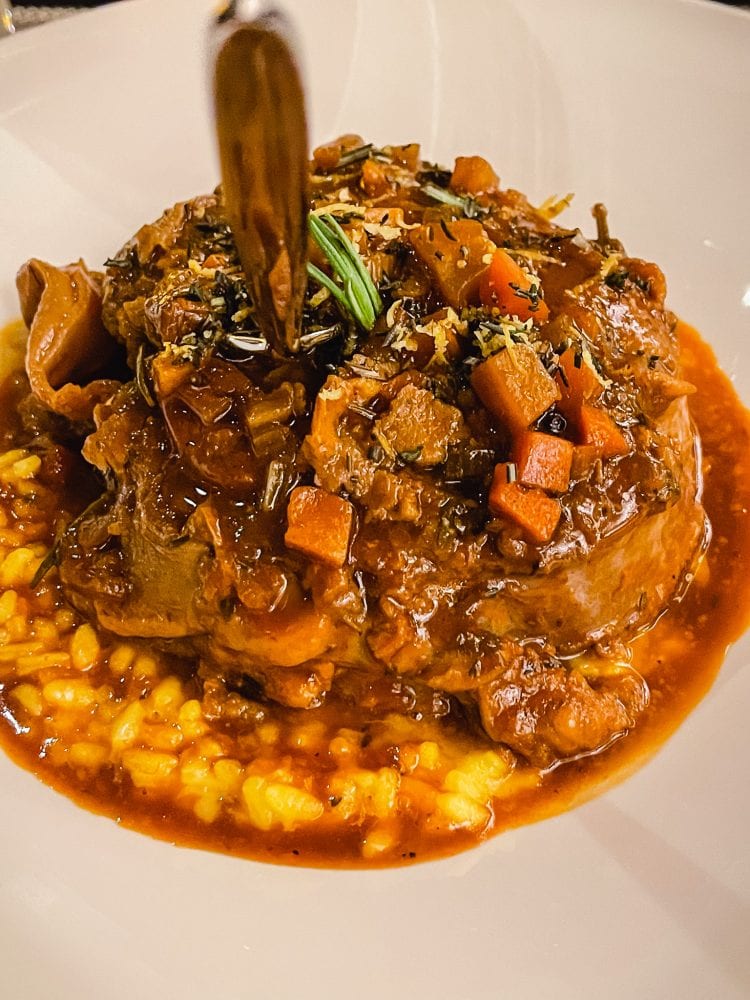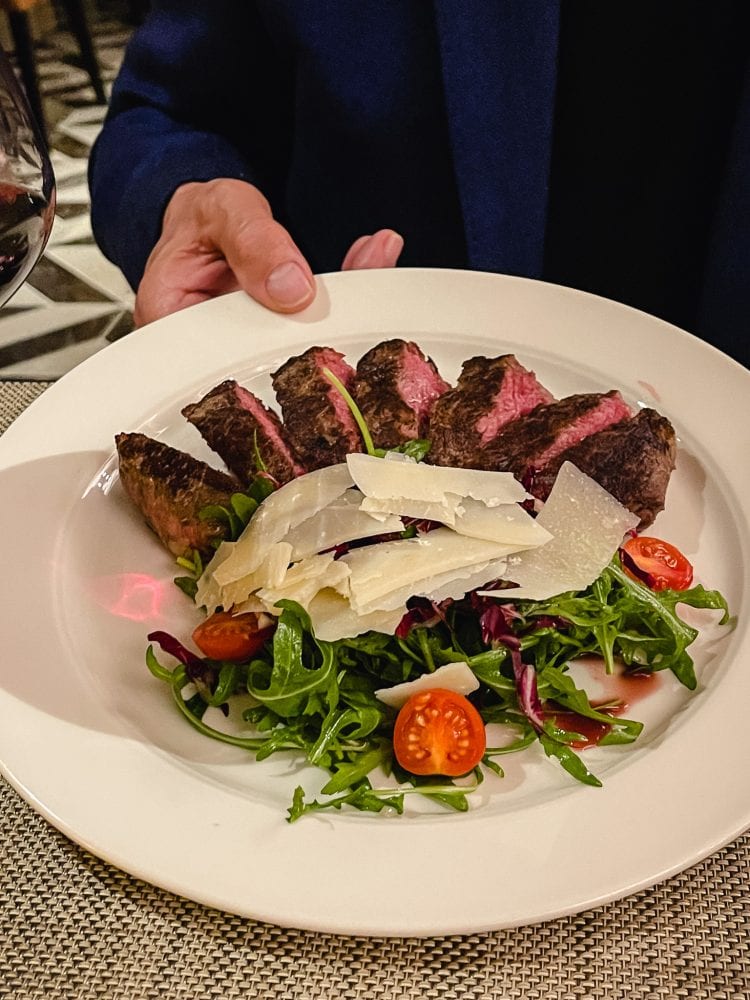 The menu offers a couple of daily specials, along with the standard menu of Italian favorites. The steak florentine is Tony's favorite, and I'm a fan of all the pasta dishes and the osso buco. The serving sizes are plentiful and easily shared.
Manifredi's is located on Deck 1. There is no extra charge for this specialty restaurant.
Chef's Table – The Chef's table features a rotating tasting menu that incorporates gourmet touches. Again, your stateroom category establishes when and how many advance reservations you can make, but like for Manifredi's we booked when we were onboard. We perused the menus and selected the dates that featured a menu that Tony was comfortable with. The menu is served for three nights before rotating to the next.
Wine pairings for the meal are also available, and is included with the Silver Spirits package (an additional charge if you don't have it). This is a great option, both to try new wines as well as to understand how food and wine complement one another. We always choose the pairing as we learn and enjoy so much more Delicious!
I love this restaurant more than Tony does, perhaps it's the adventurous eater thing, so I would have been happy with any of the menus. Compromise is important.
The Chef's Table is located on Deck 1. There is no extra charge for this specialty restaurant.
Pool Bar & Grill – A fast and convenient choice for burgers, dogs, and assorted grilled sandwiches. A small salad bar offers some sides to go along with it. There are a few high tops for table seating, but we usually grab a table and chair poolside, or a lounge chair to look out the window. We eat around the pool more often on sea days, but it's a great spot to pick up something quick.
The Pool Bar & Grill is located on Deck 7. No additional fee.
Wintergarden – Afternoon tea is served daily in the Wintergarden, and it's worth working it into your schedule at least once during the sailing.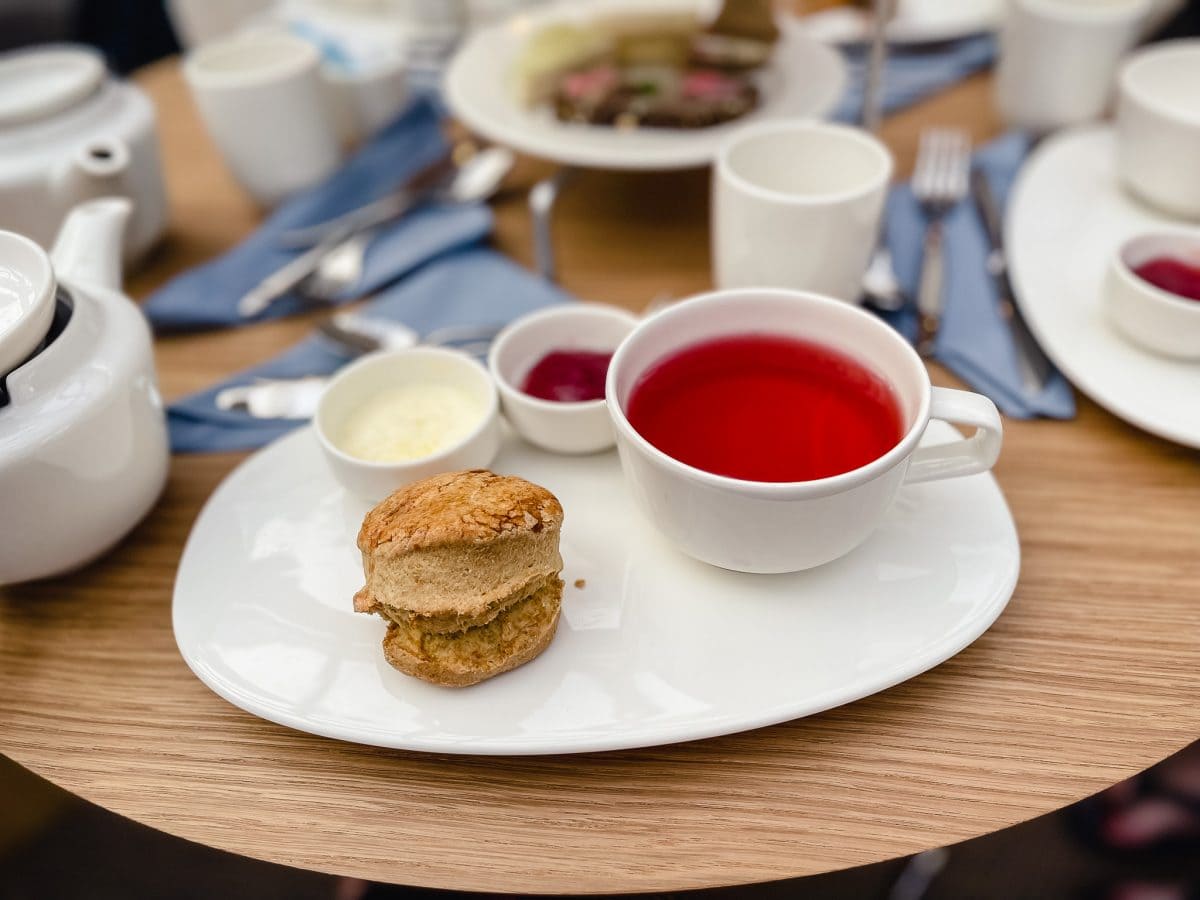 The tea menu is extensive, and the waitstaff can help you with a selection if it feels a bit overwhelming. A tiered serving tray with scones, finger sandwiches, petit fours, and macarons, are placed at every table.
The Wintergarden is located on Deck 7. No additional fee.
Mamsen's – We've still never had the waffle's here – and friends all rave about them. Putting that at the top of our to-do list for a future sailing. There's also a small selection of pastries and open-face sandwiches available throughout the day. If you want to give Brunost a try – a brown Norwegian cheese product – here's your chance.
Mamsen's is located in the Explorers Lounge on Deck 7. No additional fee.
Itinerary
Most travelers select their cruise based on a combination of sailing dates and itineraries, working their budget around those priorities. Some itineraries are only offered during certain times of the year, so you may need to compromise here. The Iconic Western Mediterranean itinerary is offered year-round, making scheduling easier.
At least one included shore excursion (free) in each port is included with your cruise fare and other optional excursions are offered for a fee. I have a love-hate relationship with shore excursions. I hate being crowded onto a bus to drive around and never having an opportunity for personal exploration. But I love them because they often take me to places that I would never think to visit, with guides that expose me to information and things that I might otherwise overlook. Plus, there are some special tours that can't be done any other way.
Shore excursions are generally booked prior to your sailing, with the exact opening date based on your stateroom category. Some of your choices may already be sold out. If that happens, head to the shore excursion desk once you're onboard and get on the waitlist. Hopefully, a spot will open up and you can get on.
Because of our late booking, we only booked one excursion in advance. We handled the rest once we were on the ship – the excursion desk staff is very helpful in answering questions and helping you match up the best tour for your personal preferences and interests. Last-minute decision-making was not a problem for us.
Although shore excursions are pre-paid, they can be changed up to 48 hours prior to the excursion date with no penalty. You will need to keep an eye on your expenditures for shore excursions as these fees can add up fast. We usually do a balance of personal exploration and an included tour.
Here's a day-by-day itinerary of the Iconic Western Mediterranean itinerary, along with what we chose to do and why, where we thought we made the right choice, and where we'd do something differently. We sailed the first week in December. We hope this helps you make excursion decisions that you'll enjoy.
Day 1 – Arrive in Rome and Embarkation
We arrived in Rome after an all-night flight from Seattle. We were fairly well rested, and not really suffering from jetlag, but it was nearly a 24-hour journey and that's always exhausting. On our first day onboard, we had lunch in the World Cafe, toasted our new experiences with an Aperol Spritz by the pool, and then got settled in our stateroom (which includes attending to the required safety video and reporting to our muster station). We talked with a few passengers who dropped off all their luggage and then headed back into the city.
Our recommendation: Listen to your body. If you've got lots of energy, head out and see a bit of Rome. If you're exhausted, take a short nap and try to get on a European schedule and time zone. Whatever you do, though, don't sleep away the entire day, then stay awake all night, perpetuating the challenge of changing time zones.
Day 2-3 Florence/Pisa, Italy (Port of Livorno)
It will be a bit of a drive to any of the Tuscany cities from the Port of Livorno, so when researching excursions be sure to take drive time into consideration. You have two days for sightseeing in Tuscany, so you can get a nice sampler of the area. And if that sampler includes some gelato and wine, all the better.
Florence is known for its Renaissance architecture, historic buildings, and is home to many of Italy's Renaissance treasures and Tuscan art. The art is amazing, the gardens beautiful, and the history overwhelming. It is worth visiting for far longer than is available on this itinerary. But this is the time you've got, so make the most of it! We were initially tempted by some of the specialty-themed tours, but since we've been to Florence many times, opted for other choices.
Pisa is one of the most recognizable cities in Italy, due to its world-famous landmark, the leaning tower of Pisa, so named because the ground it was built on started to collapse underneath it, causing it to lean slightly south. There is more to Pisa than taking a selfie with the famous leaning structure. Pisa is believed to have started as an ancient Etruscan trading center in 1000 AD, later serving as a base for the Roman Navy. It is home to one of the oldest universities in Europe, the University of Pisa, founded in 1343. Despite many trips to Italy, we've never visited Pisa, so we initially considered a tour that included Pisa.
Instead, we opted to spend more time in one location, one each day. We chose the half-day Lucca on Your Own excursion on the first day.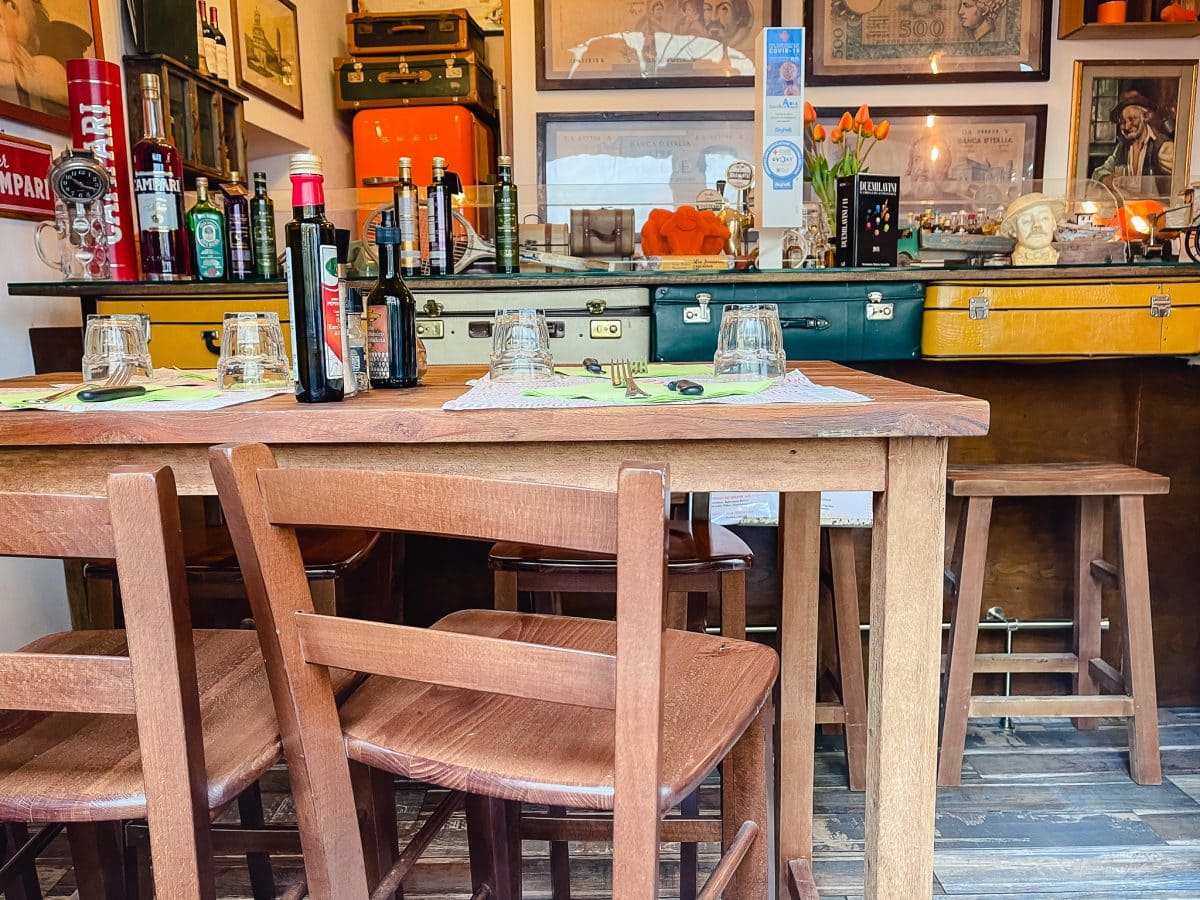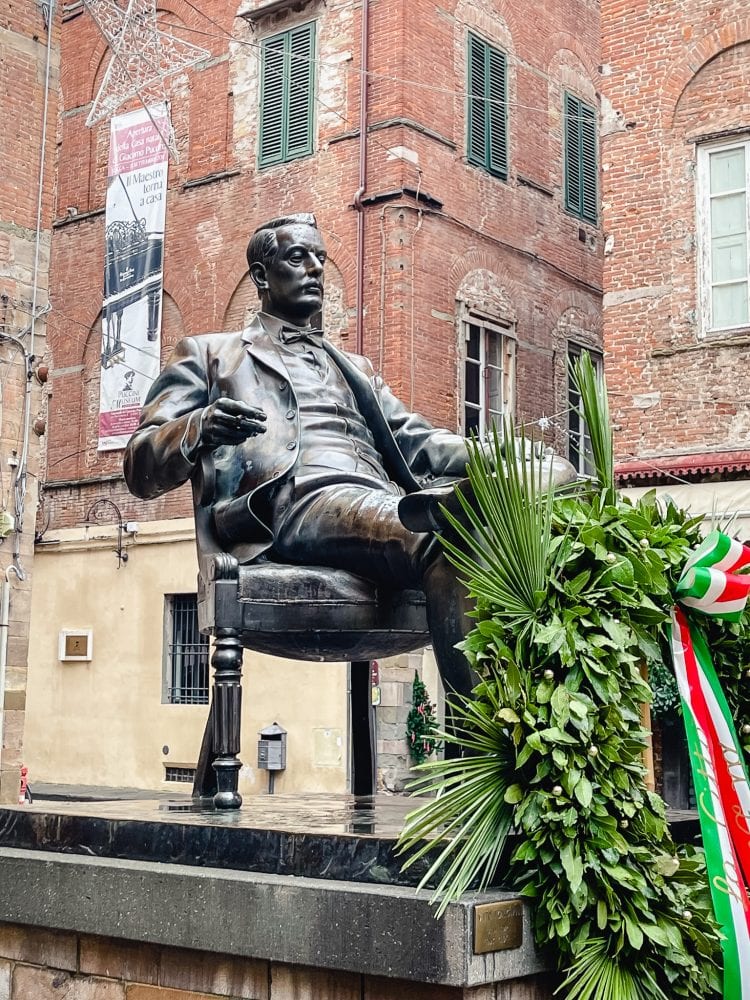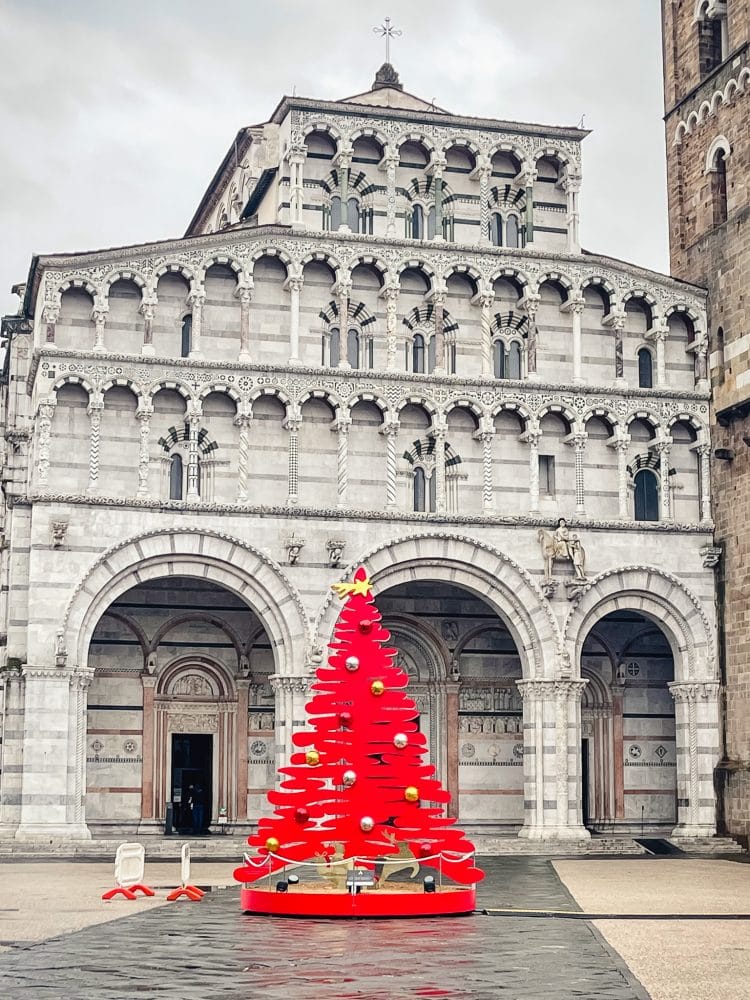 This was a new destination for us. Lucca is a small, walled medieval town, and the birthplace of Giacomo Puccini. After a short bus ride, our guide escorted us to the center of the town, gave us information to help us with our particular interests, and then we set out to explore on our own. We walked the walls of the city, stopped off for coffee, visited the Duomo in the main piazza, and visited the Baptistry of St. John. We were careful with our dawdling (so easy to do in Tuscany), but left time to wander among the streets and shops.
On the second day, we opted for the full-day tour, A Day in Tuscany.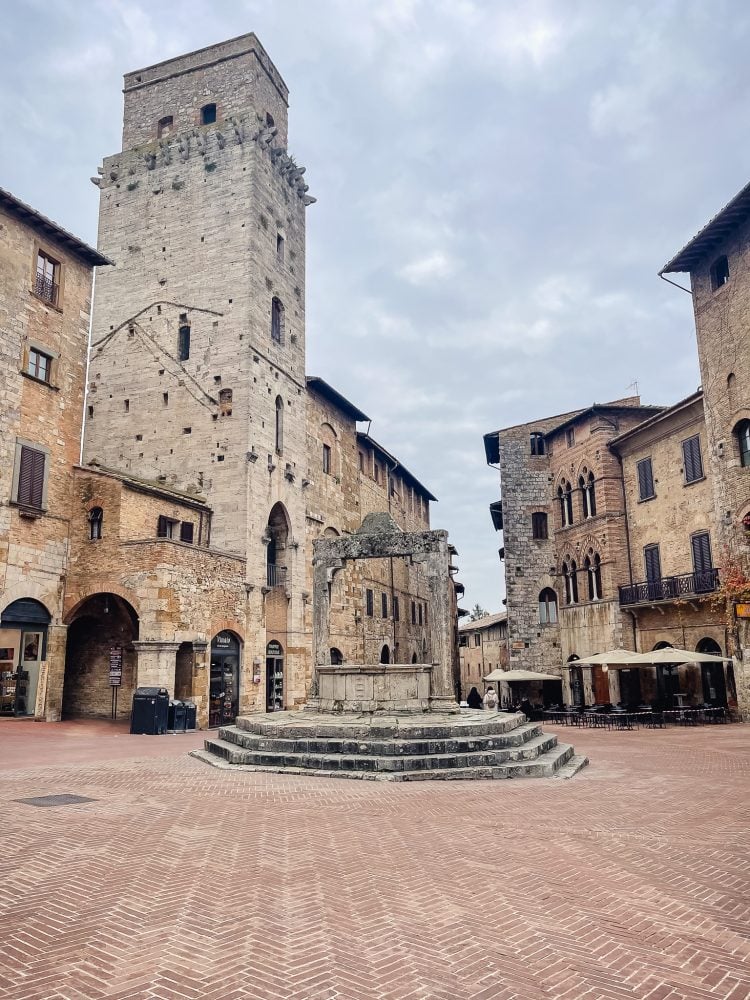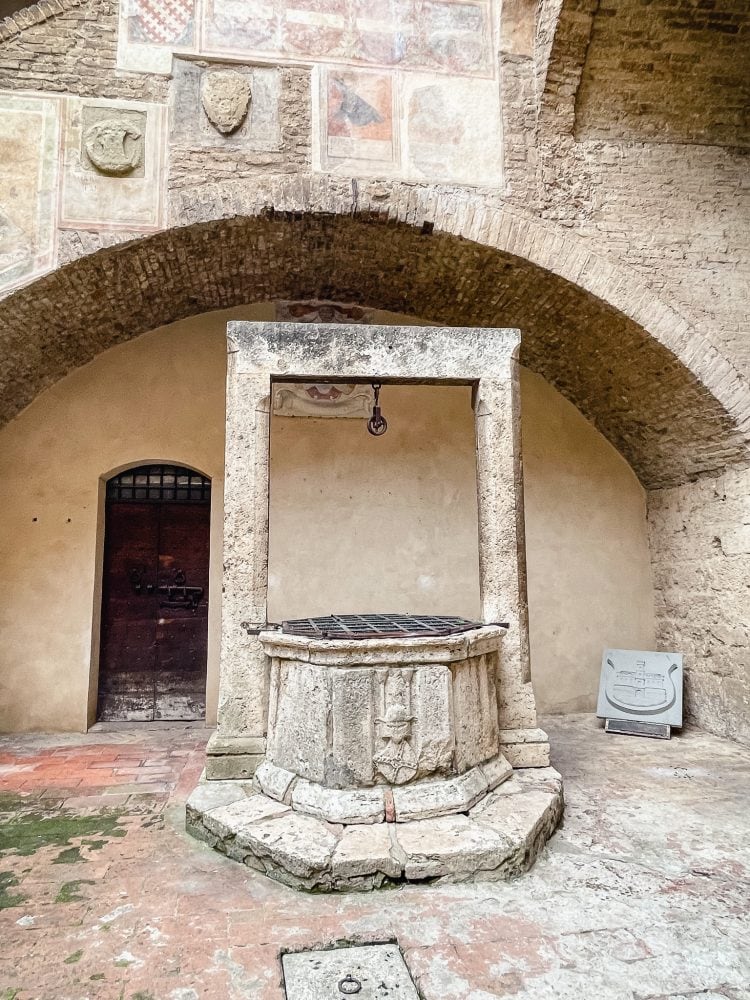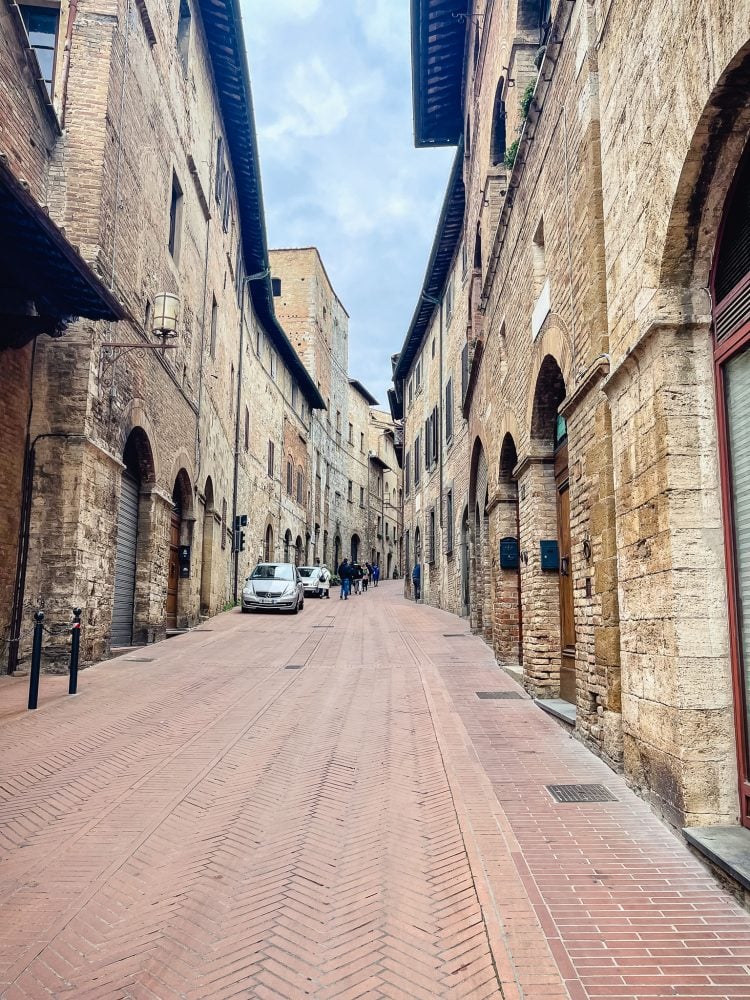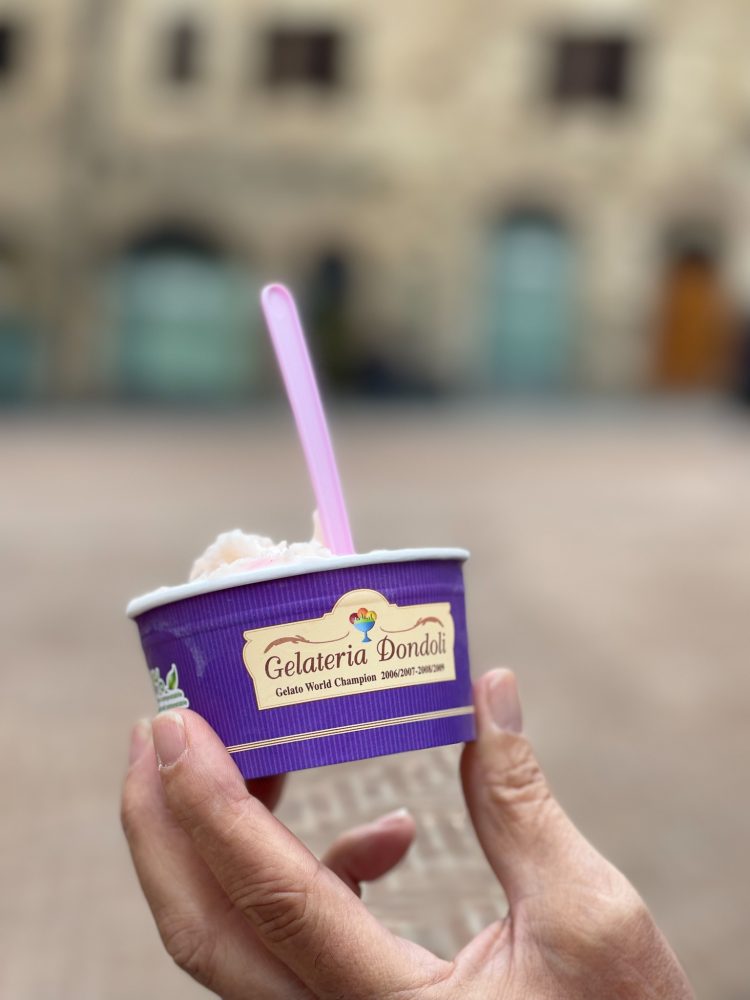 This tour took us to San Gimignano, another walled medieval town in the Tuscan countryside. It is also a UNESCO World Heritage Site. San Gimignano is known for its 14 towers, and during our guided tour of the town we walked by several of them. The tour took us to several of the main sites in the town, and although we've visited there before, we learned more and visited some spots we'd missed. There was free time for personal exploration. For us, that was buying some leather goods and stopping off for gelato at the famed Gelateria Dondoli.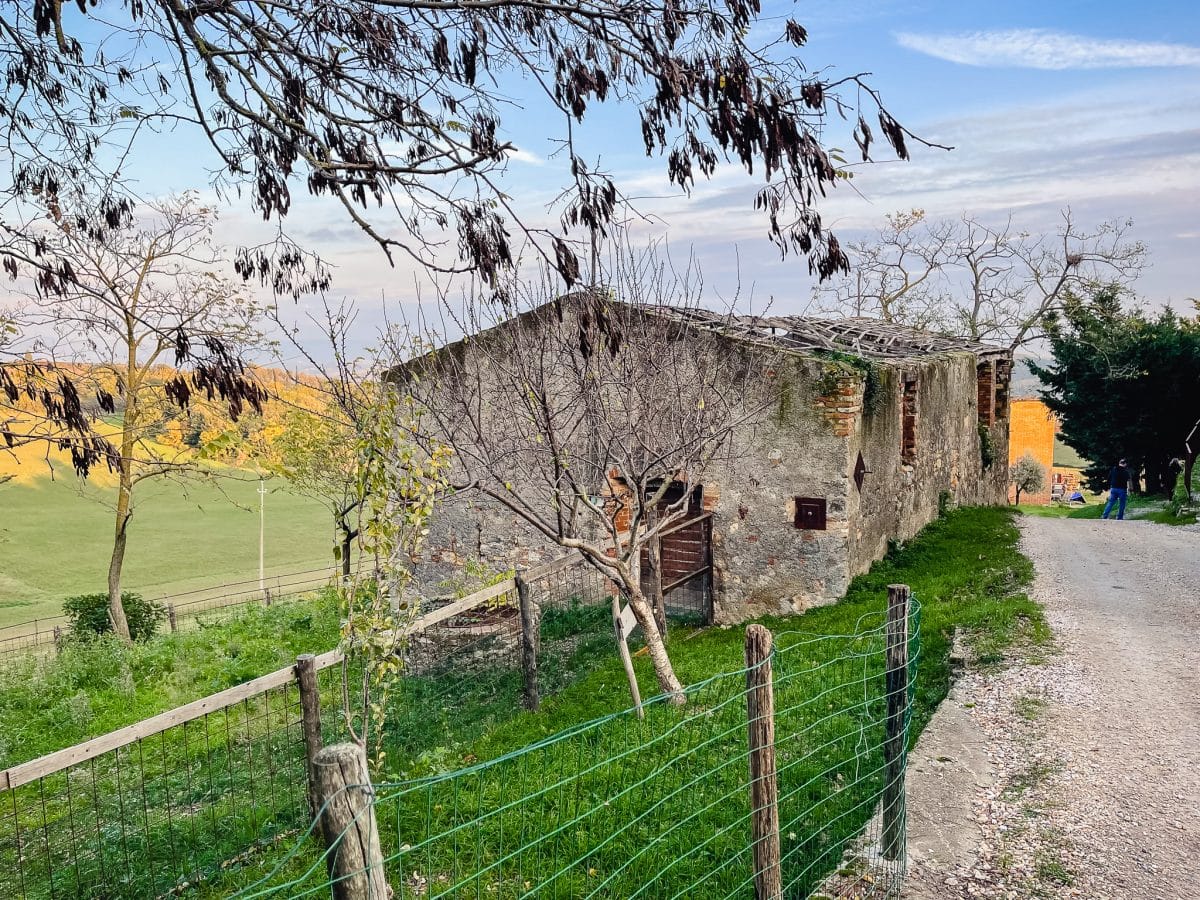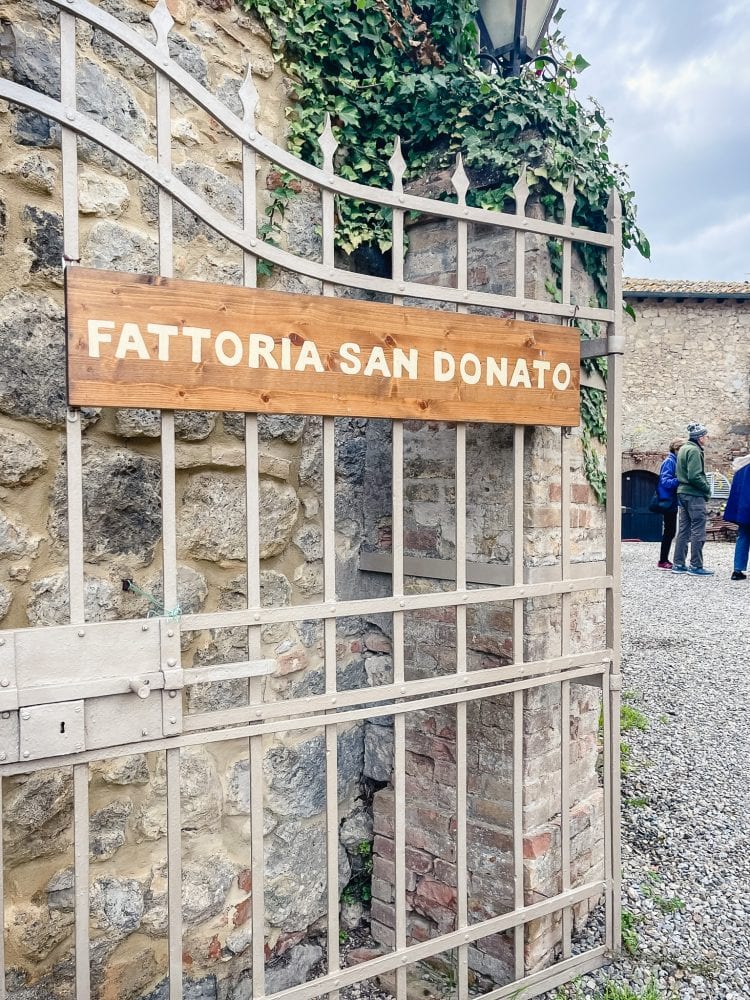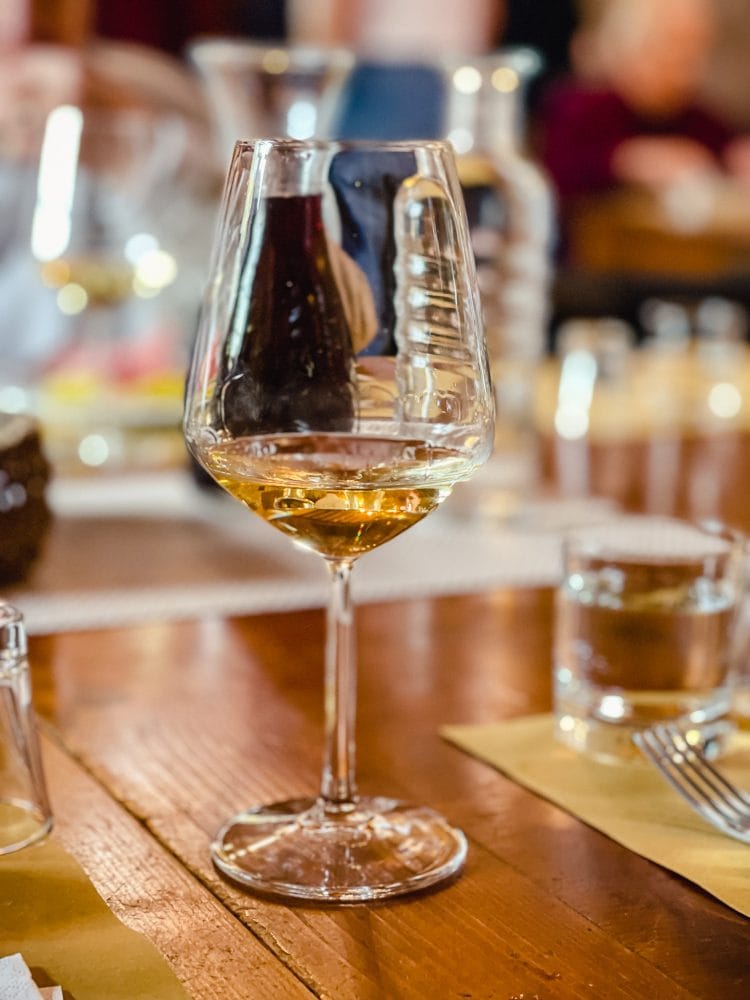 After leaving San Gimignano, we drove out further into the countryside for lunch at an olive grove and vineyard. Lunch was served buffet style, and was full of dishes prepared with ingredients grown on the farm. Delicious! We have tried to duplicate a couple of dishes at home, but no great success yet. Following lunch, there was time for a short tour of the winery and the farm. A gift shop on site was popular with all the visitors, and we purchased olive oil to bring home. It felt that there was a little too much time after lunch, though, and people boarded back on the bus early, ready to head back to the ship. Some different planning might have made better use of our time.
Our recommendation: If you've never been to Florence, choose an excursion that takes you to the main sites. It's an amazing city. If you've been, however, look for one of the tours that get you out in the countryside. Our Lucca trip was top-notch, giving us some basic grounding to explore and then setting us off. It was perfect! We enjoyed our full-day tour. It had a lot of downtimes, so if you prefer a busier schedule, this may not be for you.
Day 4 – Villefranche-sur-Mer
I had to look this destination up during our research stage because I didn't know where it was. This is a resort town on the French Riviera and is the port for visiting Monaco. Visiting Monaco (a new country for us) was a compelling reason for us to choose this decision.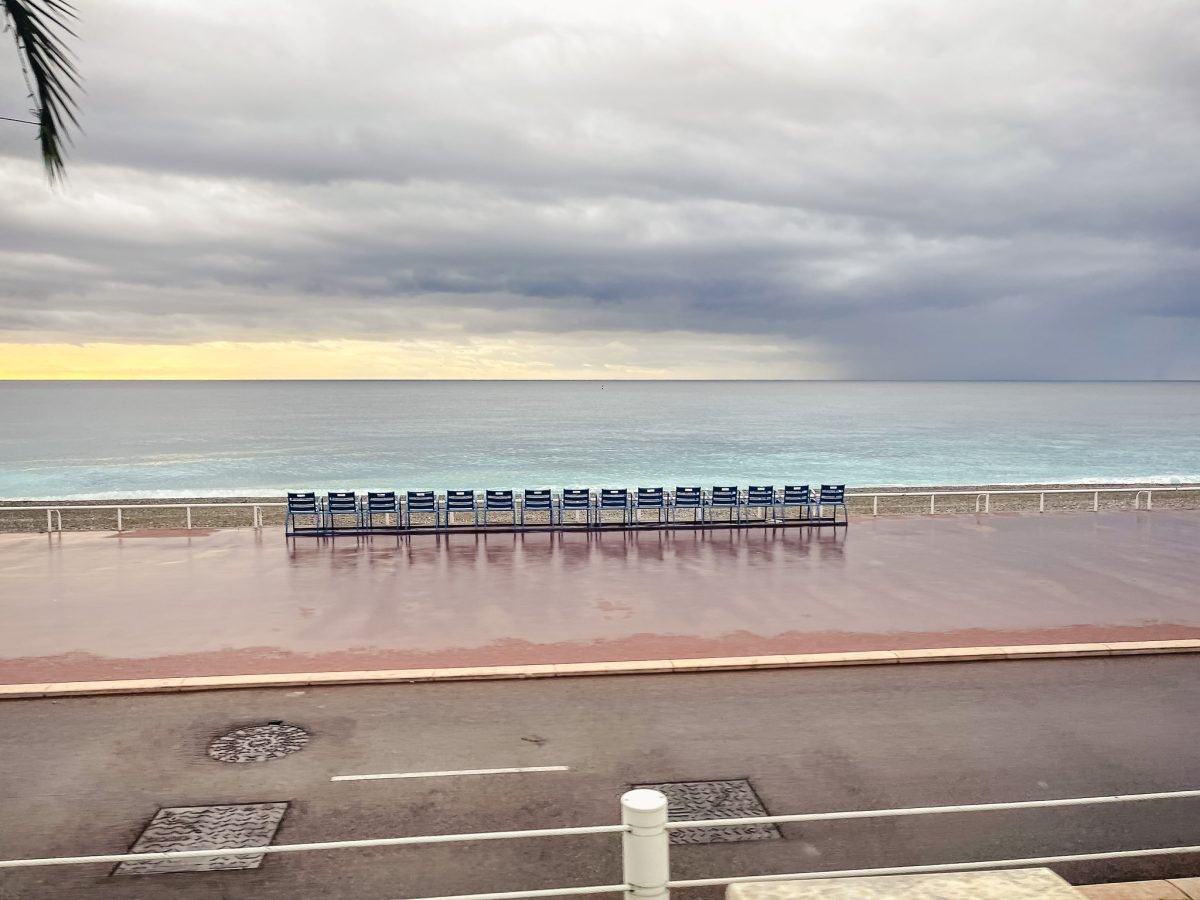 This harbor is considered one of the most beautiful in the Mediterranean, and after visiting, I understand how it got that reputation.
The Principality of Monaco is a sovereign city-state and is bordered by France on three sides, and Italy on the fourth. It's the second small sovereign state in the world, only Vatican City is smaller, and is home to around 40,000 residents. Prince Albert II of the House of Grimaldi is the head of state, assuming leadership after the death of his father, Prince Rainier (who was married to Hollywood actress Grace Kelly).
Monte Carlo is an administrative area within the Principality and has a reputation as a tax haven for the rich and elite. It's home to the Formula One Grand Prix, the prestigious Ballet Festival, the world-class Monaco Yacht Show, and its Casino (seen often in James Bond movies).
Since laying down a bet at the Casino de Monte Carlo was a bucket list item for me, we knew we wanted a tour that took us away from the scenic old port and into the city. We also wanted time to visit the Casino (to lay down that bet). Shore excursions included sightseeing around the Cote d'Azur, including Nice, Eze, Matisse, Antibes, Saint-Jean-Cap-Ferrat, and Monte Carlo.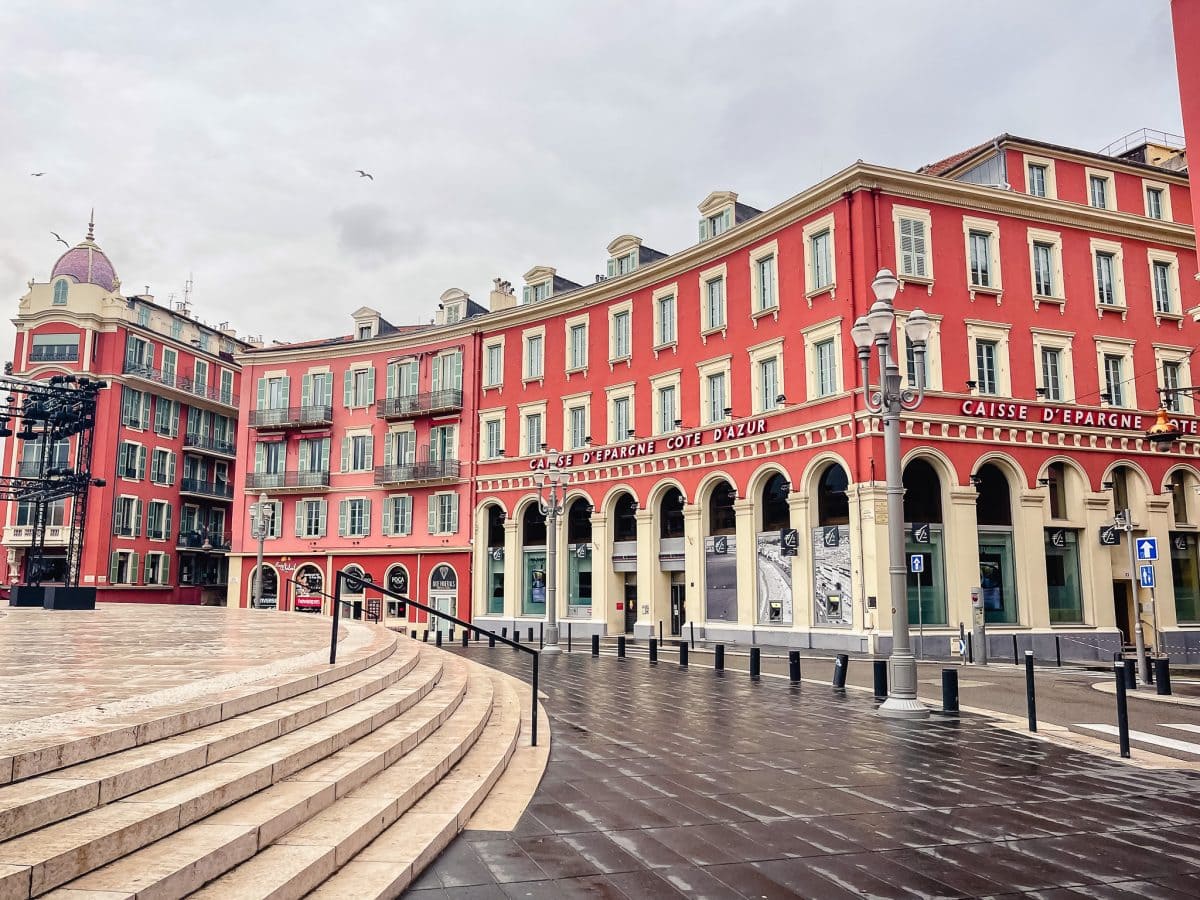 We chose the Nice, Eze & Monte Carlo excursion, finding it a good overview of the French Riviera. We did a little walking tour around Nice and got to visit the open-air market full of fruit, flowers, and vegetables.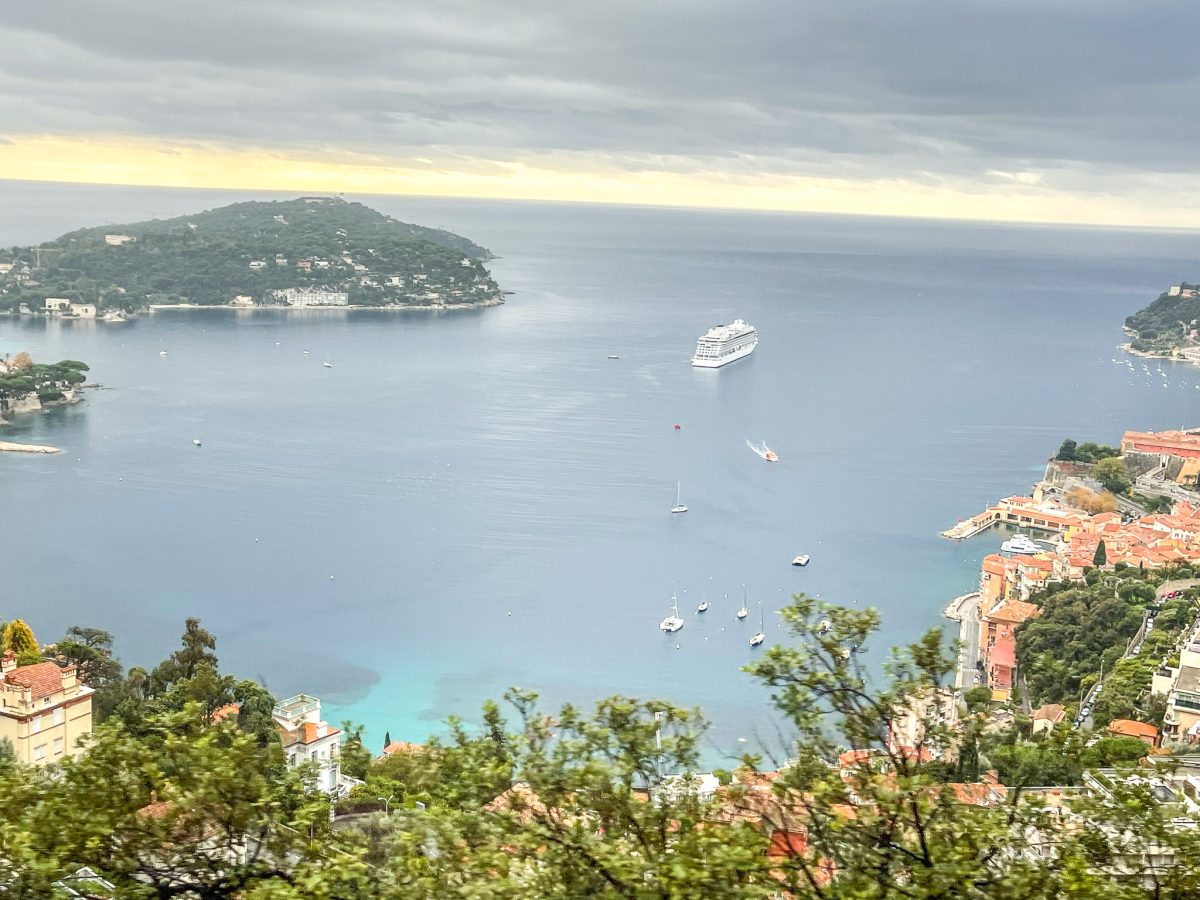 We continued on to the medieval hill town of Eze, enjoying seaside views of Cap Ferrat as we did. Eze is on a seaside promontory, and Tony climbed to the top while I enjoyed pastry and coffee.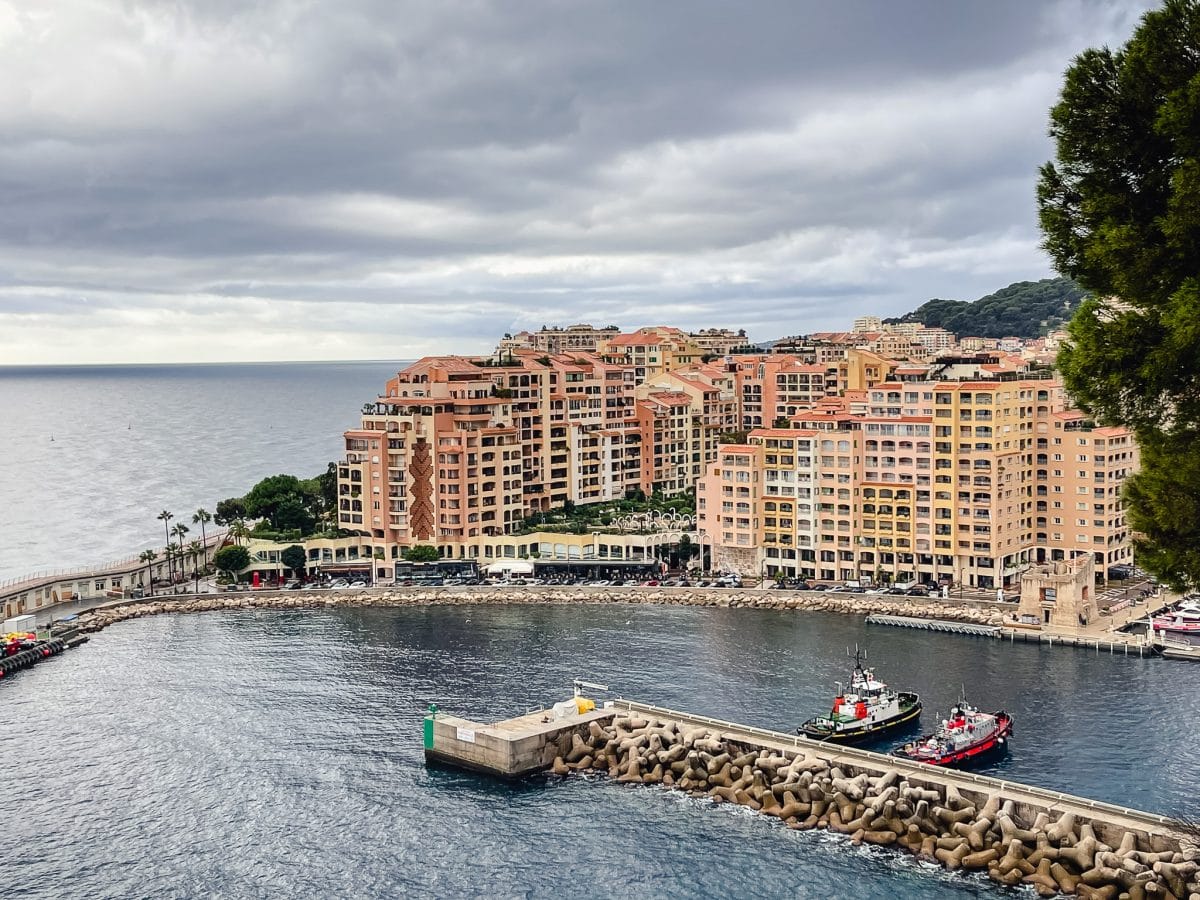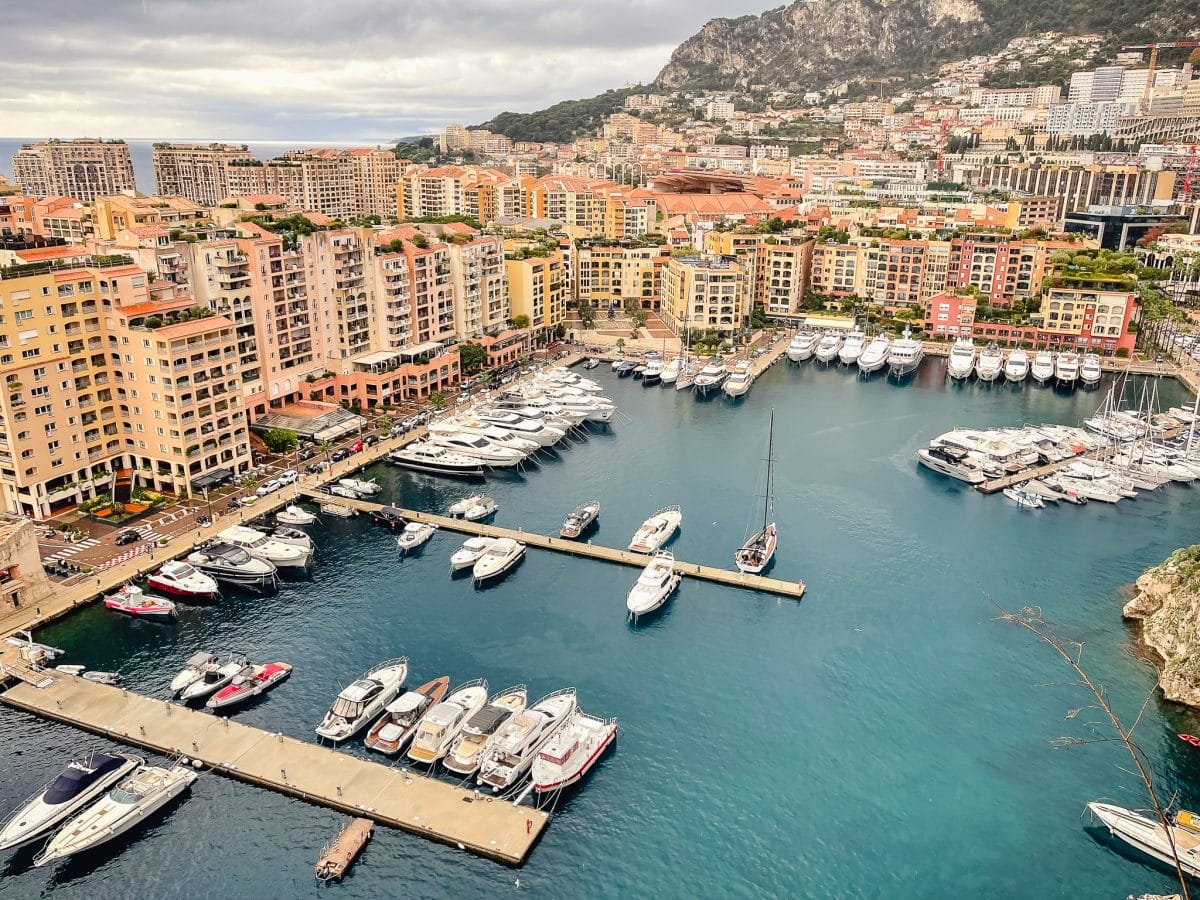 Once we arrived in Monte Carlo, we did a short tour of the area, walked b the Prince's Palace, and had free time for lunch and personal exploration. We enjoyed some people-watching over lunch in a local cafe and then went to the Casino.
Unlike Las Vegas, the Monte Carlo Casino has a dress code and admission fee. I'll have a detailed post on visiting the casino coming up, but we researched these details in advance and were prepared. We had about an hour to take a look around the Casino.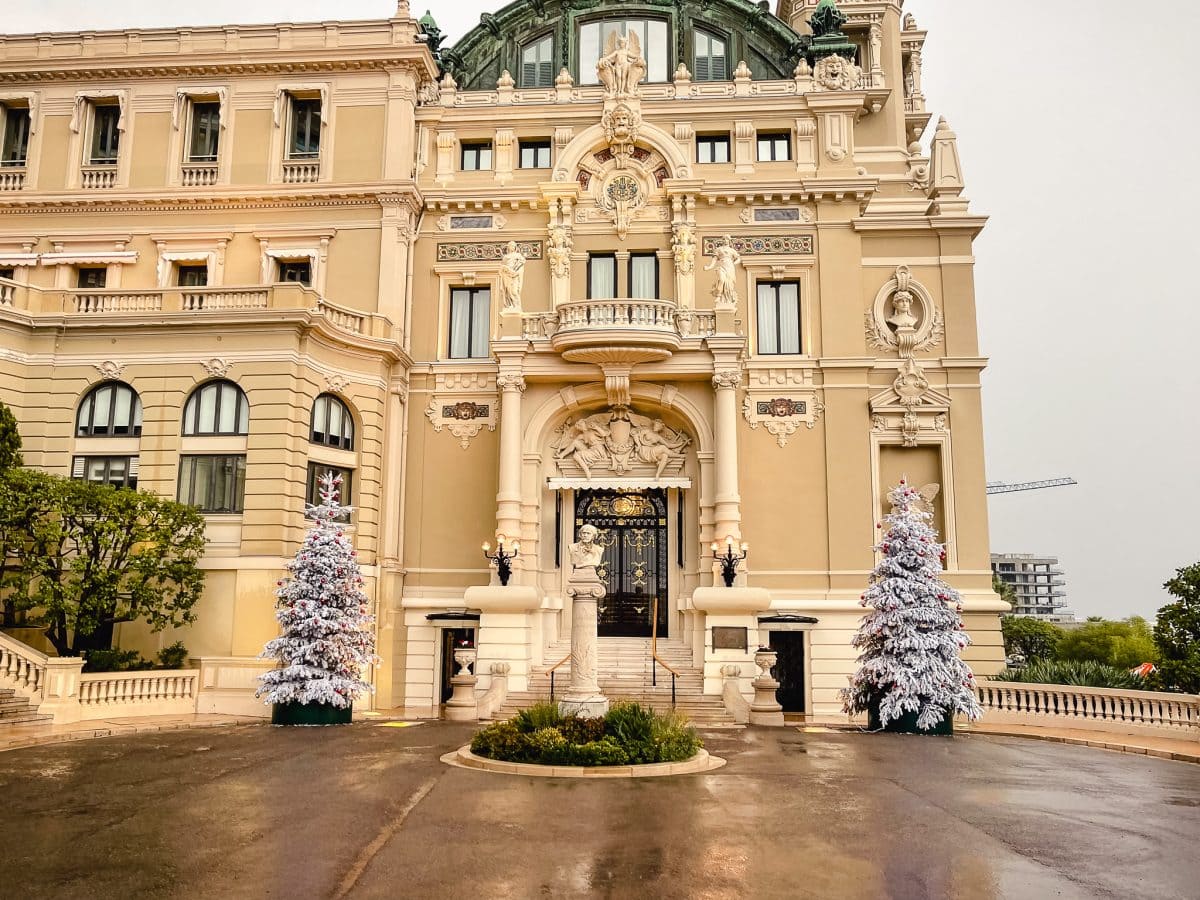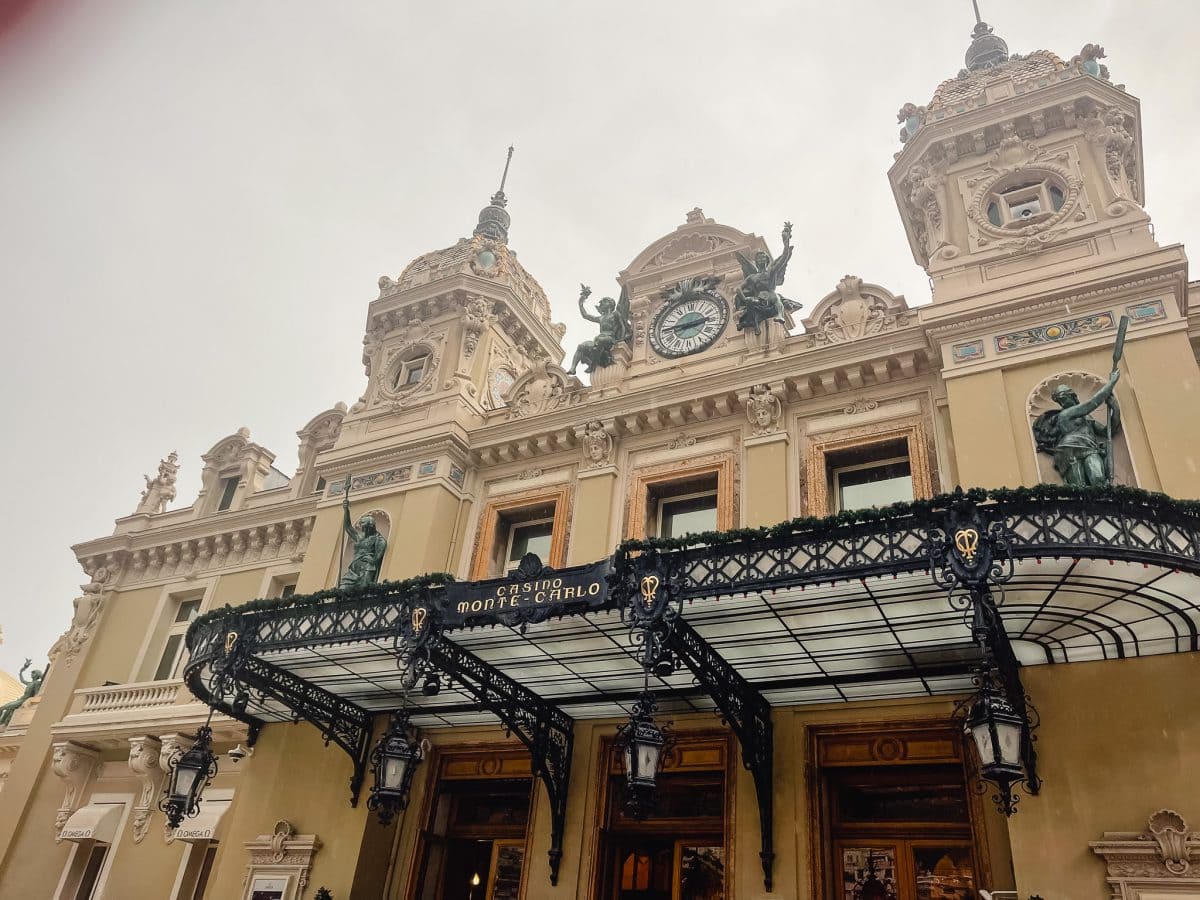 The architecture and decor are impressive. We were there mid-day, and very few people were gaming. Sitting down at a table for a little chemin de fer was a little intimidating, but we found a penny slot machine – James Bond themed – and allocated $20 to the experience. To our delight, we hit a small jackpot, winning enough to recoup our original stake, cover our admission cost, and have a chip to take home as a souvenir. Win!
Our recommendation: We think we picked the right excursion and it was a highlight of the trip. We've told our casino story many times since we've been home, and watched a lot of James Bond movies to get a glitzy look at it. If we had been here before, either the Nice on Your Own or the Antibes & Renoir Museum excursion would have been our choice.
Day 5 – Marseille, France
This was a first visit to the south of France, another appealing aspect of this itinerary. Marseille is located in the Provence region of France, between the Mediterranean and the rocky limestone hills of the Aix-en-Provence. It is the largest city on the French Riviera and the second-largest city in France (although taking the metropolitan areas into consideration, Lyon creeps ahead of Marseille and right behind Paris).
We were excited about this port as we knew there was a Christmas Market (another item on my bucket list). We briefly considered an excursion focused on wine tasting, but decided instead to see the city on our own.
The city of Marseille dates back to 600 BC when this bustling port city was home to Greek settlers. History is everywhere. From the 17th-century fortress that dominates the scene around the Vieux Port, also known as the Old Port, to the Abbey of Saint-Victor with its crypts and catacombs, Marseille grabbed our interest and didn't let us go.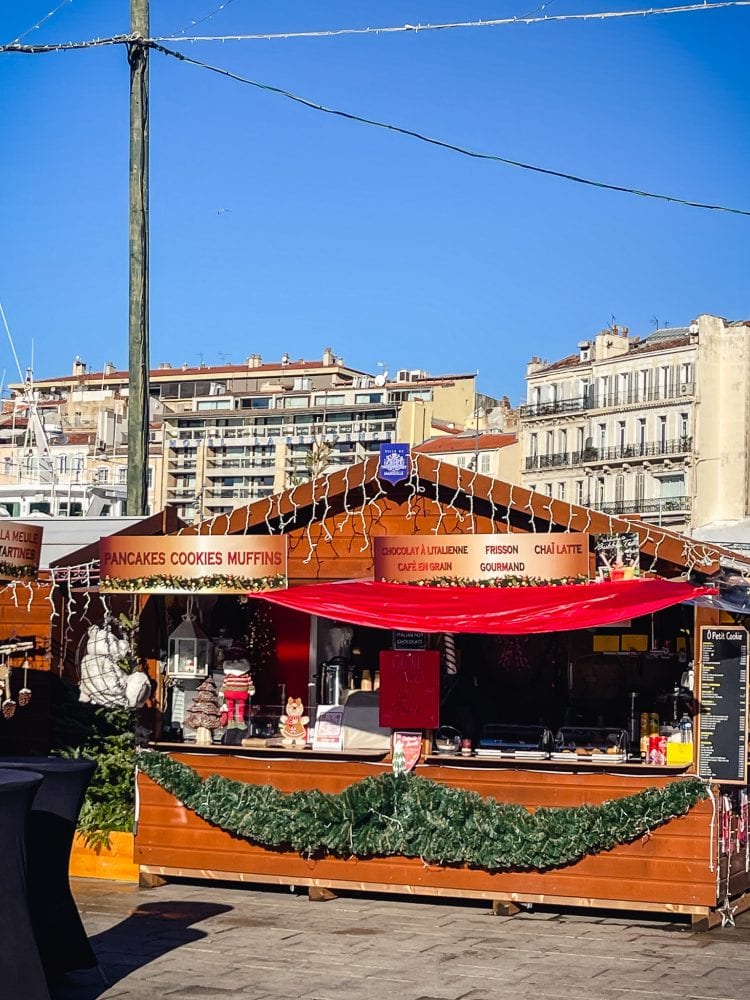 We took the ship's shuttle into the downtown core and walked to the Vieux Port to enjoy the Christmas Market. The market is set up in two sections along the water – one has gifts (chocolate, soap, handcrafted items, clothing, etc.) and one focused on santons. A santon is a small hand-painted figurine cast in terracotta or similar material that is used for building nativity scenes.
The traditional manufacture of santons is centered in Marseille and other regions in southern France. Leading up to Christmas, there are traditional santon fairs all over Provence. In addition to the usual figures and animals associated with the nativity (including elephants and camels), other santons depict traditional characters from village life in Provence.
We enjoyed some Christmas shopping here, picking up some French soap and French chocolates for gifts to take home. We also purchased a santon that depicts a village wine shop, complete with the ⁠cask maker, the vendor, the server, etc. It's a great fit for our wine cellar.
Picturesque Marseille is somewhere we'd like to return to.
Our recommendation: If you're comfortable exploring cities on your own, this is the place to do it. You can take a ship shuttle to and from downtown and plan your sightseeing accordingly. Had we not been focused on the markets, we would have opted to take the tram up to the fortress, wandered in a museum or two, and sat along the water with a glass of wine and a block of cheese.
Day 6 – At Sea (cruising the Mediterranean Sea)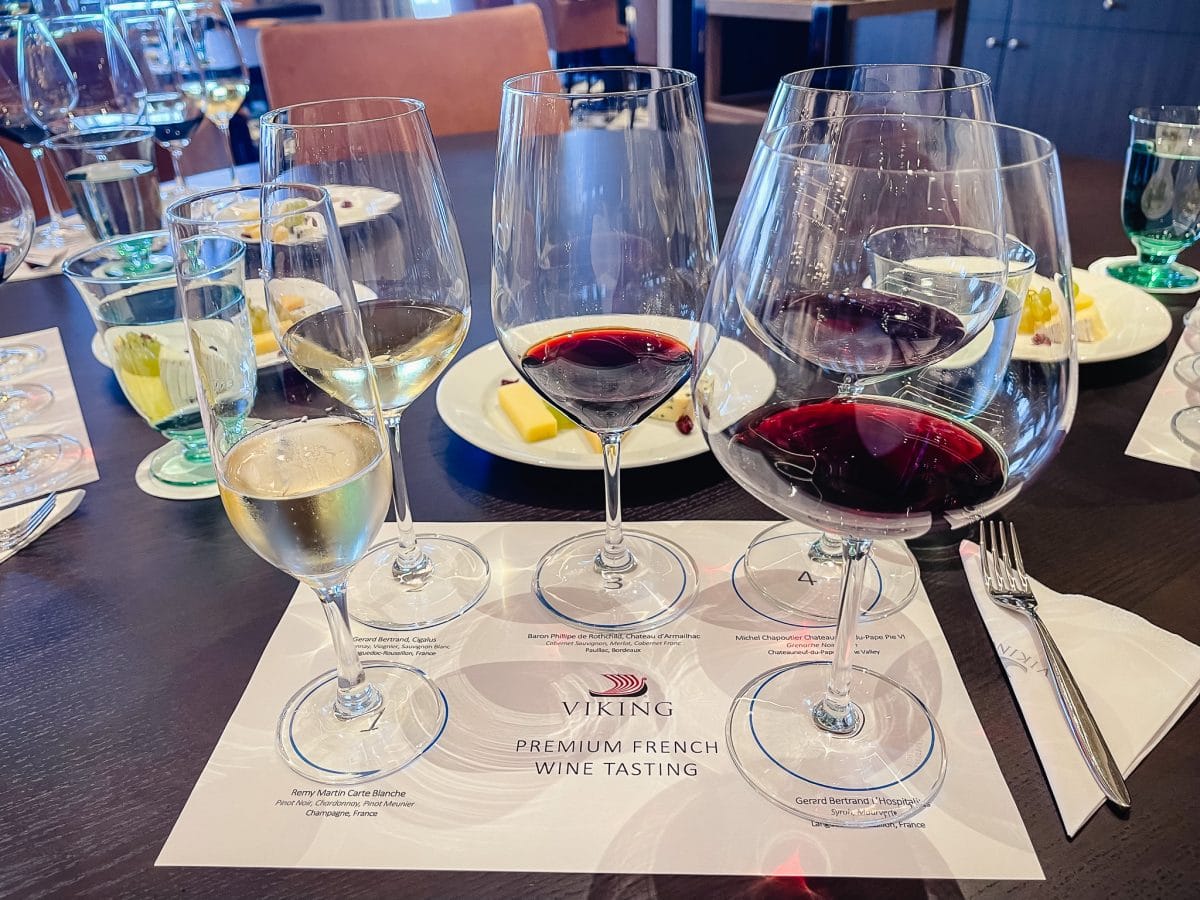 We were ready for a relaxing day at sea. This is a busy itinerary and we wanted to take it all in, but we also enjoy time on our Viking Ocean ship. We lounged in the Explorer's Lounge, signed up for a wine-tasting class about French wines, and had afternoon tea. There's plenty to do. Or just take a nap and enjoy the downtime.
Day 7-8 – Barcelona, Spain
Our Mediterranean sojourn ended in Barcelona, the capital of the Catalonia region of Spain. Although still part of Spain, despite numerous efforts at independence, Catalonia has its own language and culture. Catalonia was once home to Salvador Dali and Antoni Gaudi and is the birthplace of one of the most famous dishes to come out of Spain, ​​paella.
Barcelona is a big city – home to 1.6 million people living inside the city limits (4.8 million if you include the urban areas). It has a busy, vibrant atmosphere, and can be overwhelming. We've visited Barcelona before and prefer taking it in in small bits. Many of the excursions were full at the time of booking, and nothing we were interested in opened up while we were on the ship. Eventually, we decided on the Iconic Barcelona excursion.
This excursion was a highlight reel of attractions and sites around the city. We rode along the harbor, saw the Arc de Triomf (a remnant from the 1888 World's Fair), stopped for photos at Gaudi's unfinished masterpiece, La Sagrada Familia, and then walked around the Gothic Quarter. Free time was supposed to be allocated at the end of the tour before returning to the sip, allowing time for shopping, a coffee, or more wandering.
This was the one tour we thought was a miss. We knew that it was a drive-by/walk-by excursion, mostly pointing out notable spots with a little bit of history. We'd seen some of these sites, but hadn't been to the Gothic Quarter, so that was appealing. And since we had free time scheduled, we could enjoy a few things that were of personal interest. I'm not sure where it went awry, but our guide was disorganized and not adept at managing time. The result was that we had no free time to linger and enjoy. One passenger pushed back and managed to get the group an extra 15 minutes, so we were able to quickly walk through one of the Christmas Markets and soak up the holiday spirit.
Our recommendation: This is a tough one because the success of a tour rests largely on the tour leader. Ours was a clunker. Yours may be a wonder. We should have been more organized and booked an excursion (there were two to Montserrat Abbey that caught our eye), or just explored on our own.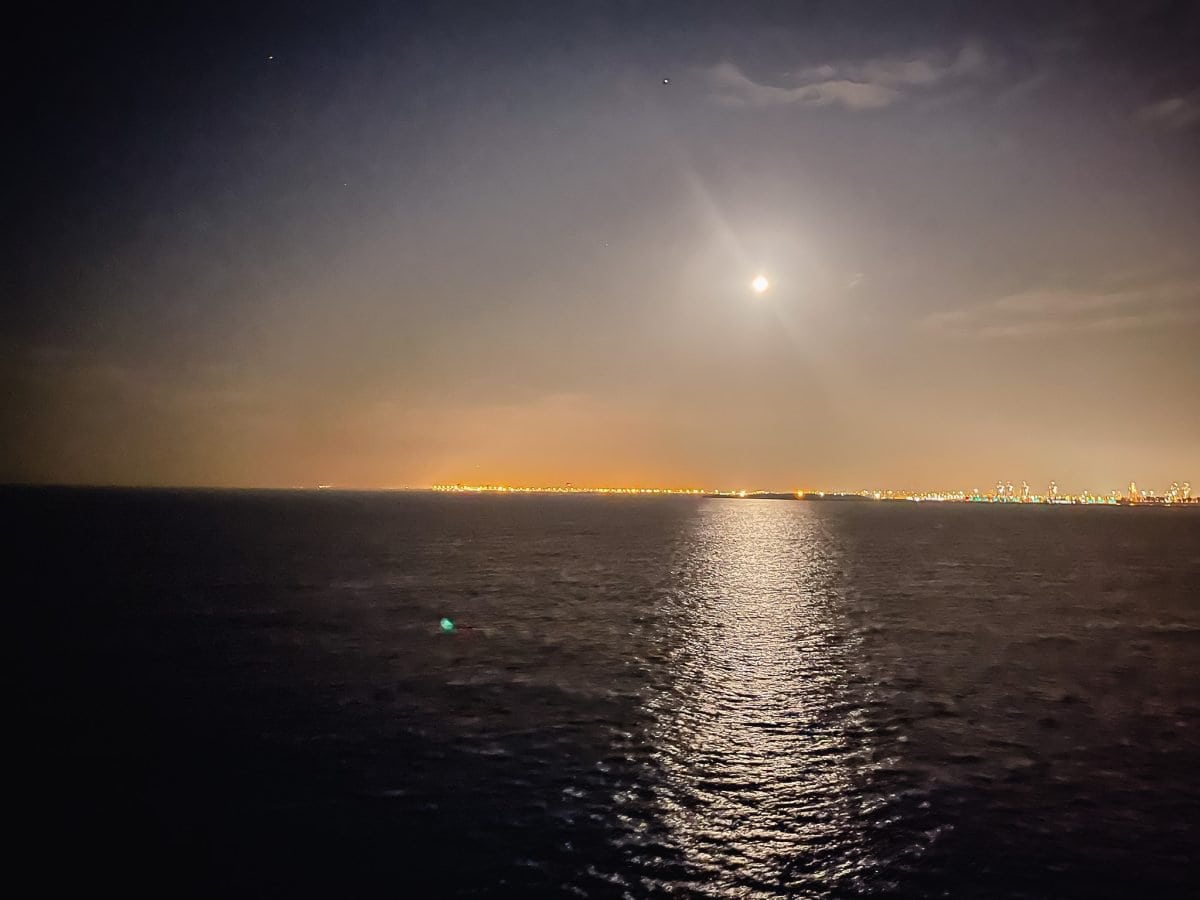 Gratuities
Mention tipping in a group of people and it's sure to elicit a lively discussion. I wish all service staff were paid a living wage, with consumer prices adjusted accordingly, and that tipping would cease to exist. But I also know that won't happen any time soon. Until then, I have accepted that it is an additional expense to factor into my vacation budget.
Please do the same.
This is not the time to make a political statement about the unfairness of tipping. Your hotel and dining staff work hard for you every single day. You've enjoyed a stateroom that was freshened twice daily, and any request was graciously handled. The wait staff is not only busy filling water and wine glasses, but bus boys are clearing and cleaning, and servers running out meals as quickly as possible, all while accommodating special requests and helping you have a great time.
They deserve as generous of a tip as you can manage.
Viking charges a flat per person/per day fee, added to the shipboard account, to cover gratuities for the hotel and dining staff. This includes the waitstaff, stateroom stewards, galley staff, laundry staff, buffet stewards, and others. This can be pre-paid or added to your shipboard account once onboard.
A 15% gratuity is added on to the bar and deck service at the time of purchase. In the salon, you can add the tip you wish at the end of your service, also added to your stateroom account.
Our policy is to provide additional cash tips to those staff who have been incredibly helpful and made our voyage something special. I'm not sure what cruise line policy is, but they've always graciously accepted it.
2023-24 Sailings
Viking Ocean Cruises Iconic Western Mediterranean Cruise is now a fond memory, and we enjoy looking back on our photos and sharing our experiences with friends. They'll keep popping up on my Instagram account as well.
This itinerary is offered in 2023 and 2024, sailing as we did, from Rome to Barcelona, as well as the reverse. Prices are based on double occupancy and vary based on sail date and type of stateroom.
Disclosure
Our cruise and a portion of our expenses were covered by Viking. The fun and memories are all our own. This post contains affiliate links.
Pinterest
Save to your favorite cruising and vacation boards and keep this info handy.