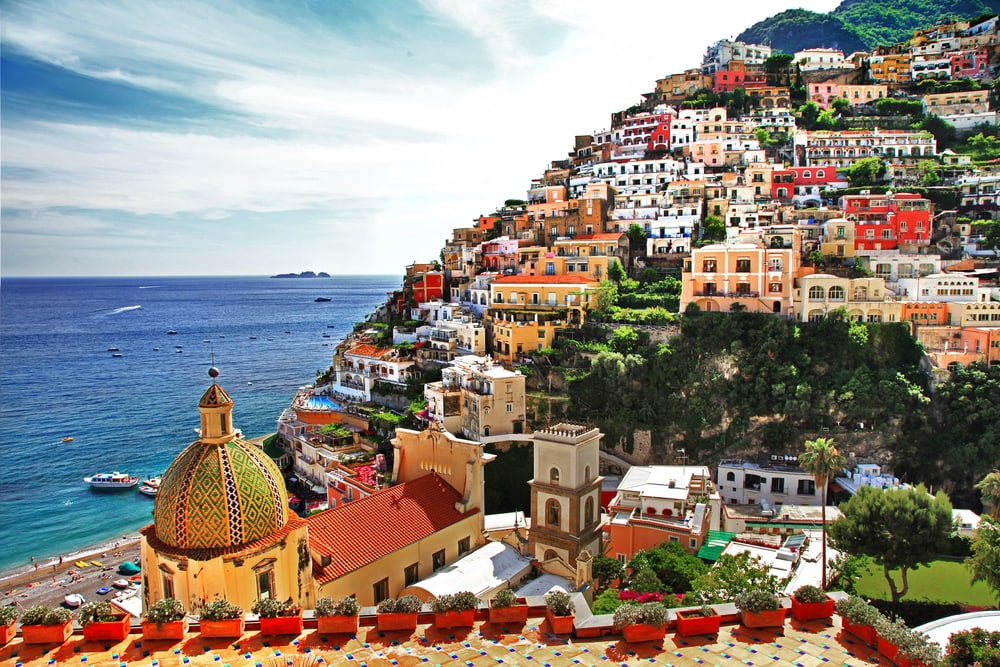 Even if you can't travel to Italy right now, you can get your Italian culture fix with these 101 movies set in Italy.
This list represents films set in Italy, not necessarily filmed in Italy – we all know that set designers can make a studio backlot look like the meandering streets of Venice or a Tuscany hill town. While most of these movies are in English, no Italy movie list can ignore the many fine sub-titled Italian movies, so I've included some of those. I've tried to include the memorable, historical, and romantic movies set in Italy, while acknowledging there are a few that are, perhaps, better forgotten. And if you're planning a first trip to Italy, this is a great list of movies to watch before you go.
Any list is subjective. If your favorite movie set in Italy didn't make the list, and it's available via some channel or streaming service (in other words, not so obscure that it can't easily be found), email me and I'll review the suggestion for inclusion.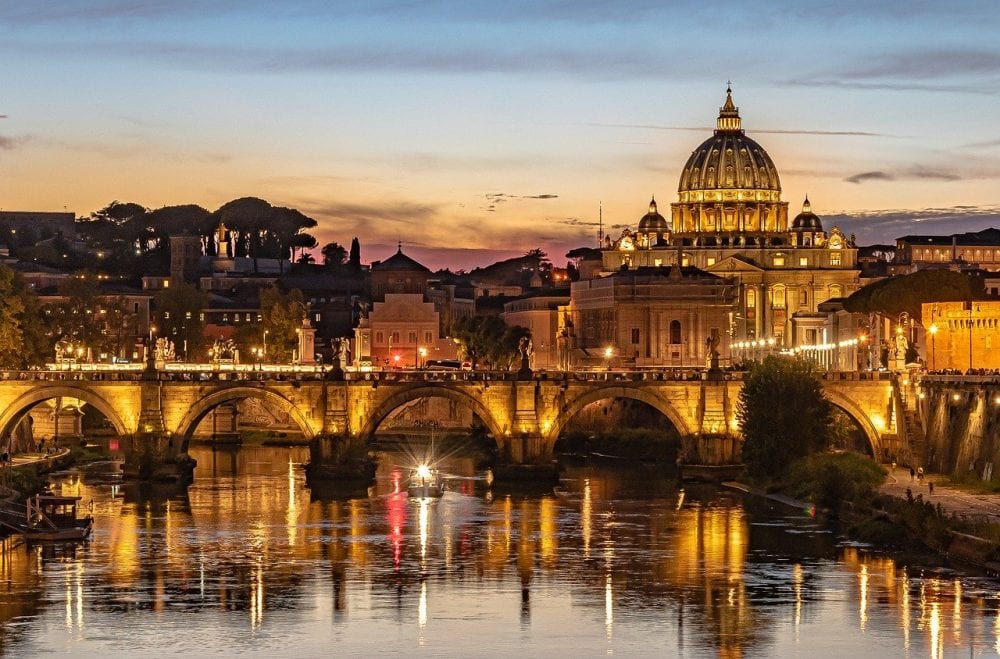 NOTE: Now that Italy has lifted all its pandemic entry restrictions, we can't wait to visit. We've updated this list to add even more great movies set in Italy.
8 1/2 (1963) – An autobiographical film from renowned Italian director Federico Fellini, about the trials and tribulations of filmmaking. Subtitled; it won an Oscar for best foreign film. Setting: Rome.
A Bigger Splash (2015): A rock star and her boyfriend vacation on an Italian island. Setting: Milan, Sicily.
Adventures of Pinocchio (1996) – One of puppet-maker Geppetto's creations comes magically to life. This puppet named Pinocchio has one major desire, to become a real boy someday, but he has to learn to act responsibly. Setting: Tuscany.
Agata and the Storm (2004) – A cheerful bookstore owner is courted by a man half her age while sorting through family drama. Settings: Genoa.
A Good Woman (2004) – A 1930s American socialite creates a scandal in the expatriate high society of the Amalfi Coast of Italy when she forms a secretive relationship with a wealthy American unbeknownst to his young wife. Setting: Amalfi Coast.
Alfredo, Alfredo (1972) – Alfredo (played by Dustin Hoffman, is a timid young Italian, who lusts after and woos the beautiful Maria Rosa. But when he manages to marry her, he discovers life is not nearly as

blissful as he expected. Setting: Ascoli Piceno. (in Italian)

All the Money in the World (2017) – Masked men kidnap a teenage boy named John Paul Getty III. His grandfather, Jean Paul Getty, is the richest human in the world, a billionaire oil magnate, but he's notoriously miserly. His favorite grandson's abduction is not reason enough for him to part with any of his fortune. Setting: Rome.
Amarcord (1973): A look at Italy during the fascist era, told through the eyes of teenagers. Setting: Rimini.
A Matter of Time (1976) – A simple young woman helps an eccentric old countess deal with her old age and she introduces the young woman to a world of upper-class society. Setting: Rome.

A Month by the Lake (1995) – Miss Bentley, an attractive older guest, meets a handsome, well-to-do bachelor. But when he's more interested in a beautiful young flirt, the mischievous Miss Bentley goes to outrageous lengths to reel in her catch. Setting: Lake Como.

And While We Were Here (2012) – While working on a writing project, a married woman (played by Kate Bosworth) enters into an affair with a younger man. Setting: Ischia.
Angels & Demons (2009) -Harvard symbologist works with a nuclear physicist to solve a murder and prevent a terrorist act against the Vatican during one of the significant events within the church. Setting: Vatican City, Rome.
A Room with a View – Two women find themselves in Florence with rooms without views, fellow guests Mr. Emerson and son George, step in to remedy the situation. Setting: Florence, Tuscany.
Bicycle Thieves (1948) – In post-war Italy, a working-class man's bicycle is stolen. He and his son set out to find it. The actors in this film were all amateurs. Setting: Rome.
Bread and Tulips (2000) – After being forgotten in a highway café during a bus trip, a housewife decides to start a new life by herself. Subtitles. Settings: Pescara, Rome, Venice, Lazio.
Brother Sun, Sister Moon (1972) -This is a dramatization of events in the life of St. Francis of Assisi from before his conversion experience through his audience with the pope, including his friendship with St. Clare. Settings: Sicily, Tuscany, Umbria, Rome Norcia
Bruno (2009)- Flamboyant and gay Austrian Brüno looks for new fame in America. Settings: Milan.
Call Me By Your Name (2017) – In 1980s Italy, romance blossoms between a seventeen-year-old student and the older man hired as his father's research assistant. Settings: Lombardy, Cremona, Lodi, Brescia
Catch-22 (1970)- A man is trying desperately to be certified insane during World War II, so he can stop flying missions. Settings: Rome
Chasing Liberty (2005) – The First Daughter and a mysterious British youth pretend to be newlyweds in Venice. Setting: Venice.
Cinema Paradiso (1988) A filmmaker recalls his childhood when falling in love with the pictures at the cinema in his home village and forms a deep friendship with the cinema's projectionist. Subtitles. Settings: Rome, Sicily.
Come September (1961)- Younger generation vs. "older" folks on vacation at an Italian villa. Settings: Rome, Genoa, Milan Cinque Terre.
Conspiracy of Hearts (1960) – Catholic nuns risk their lives to help Jewish children in an Italian internment camp escape to Palestine during World War II. Settings: Certosa di Firenze

or Certosa del Galluzzo (Florence).

Days and Clouds (2007) – A husband loses his job and tries to keep it a secret from his wife. Their life falls to pieces and they struggle to survive and put it back together. Settings: Rome, Genoa.
Eat Pray Love (2010): A married woman realizes how unhappy her marriage really is, and that her life needs to go in a different direction. After a painful divorce, she takes off on a round-the-world journey to "find herself". Settings: Rome, Naples.
Enchanted April (1991): Four English women, after World War I, who are unhappy with their lives, and their time away on vacation in a beautiful Italian villa. Settings: Portofino.
For Your Eyes Only (1981): James Bond is assigned to find a missing British vessel, equipped with a weapons encryption device and prevent it from falling into enemy hands. Settings: Belluno, Dolomites, Veneto.
From Russia With Love (1963): James Bond willingly falls into an assassination plot involving a naive Russian beauty in order to retrieve a Soviet encryption device that was stolen by S.P.E.C.T.R.E. Settings: Venice.

Gidget Goes to Rome (1963): Gidget is still in love with Moondoggy and they head to Rome with a chaperone in tow. Misadventures and misunderstandings are sure to follow. Settings: Rome.

Gladiator (2000): A former Roman General sets out to exact vengeance against the corrupt emperor who murdered his family and sent him into slavery. Settings: Siena.
Gomorrah (2008): A look at organized crime in Naples, the movie launched a television series of the same name. Setting: Naples.
Hudson Hawk (1991): A cat burglar is forced to steal Da Vinci works of art for a world domination plot. Settings: Emilia-Romagna, Rome.
I Am Love (2010): A Russian woman marries into a wealthy Italian family. The matriarch then embarks on a risky affair. Setting: Milan.
If It's Tuesday, This Must Be Belgium (1969): The humorous adventures of a group of American tourists taking an eighteen-day guided bus tour of nine European countries. Settings: Rome, Venice.
Il Postino: The Postman (1994): A simple Italian postman learns to love poetry while delivering mail to a famous poet, and then uses it to woo a local beauty. Subtitles. Settings: Sicily, Campania.
In Love and War (1996): A bitter love story between a talented writer and a gentle nurse. Settings: Veneto (Venice).
It Started in Naples (1960): Days before his wedding, a lawyer travels to Italy to settle his brother's estate and discovers he has a nephew. Settings: Naples, Capri.
Italian for Beginners (2000): Several lonely hearts in a semi-provincial suburb of a town in Denmark use a beginner's course in Italian as the platform to meet the romance of their lives. Subtitles. Settings: Venice.
Juliet of the Spirits (1965) – A middle-aged betrayed wife embarks on a voyage of self-discovery. Settings: Rome.
La Dolce Vita (1960): A series of stories following a week in the life of a philandering paparazzo journalist living in Rome. Subtitles. Settings: Vatican City, Rome.
Ladyhawke (1985): Two cursed lovers get help from the wily thief Gaston, and battle an evil bishop. Settings: Dolomites, Abruzzo.
Letters to Juliet (2010): Sophie dreams of becoming a writer and travels to Verona. Victor is a would-be restauranteur heading to Italy on vacation. Romance ensues. Settings: Verona, Tuscany.
Life is Beautiful (1998): A father shelters his son from the dangers of their concentration camp. Setting: Arezzo.
Like Crazy (2016) – Two women break out of a mental hospital, steal a car, and road trip around Italy. Setting: Tuscany.
Love is All You Need (2012): A hairdresser, who has lost her hair to cancer, finds out her husband is having an affair, travels to Italy for her daughter's wedding, and meets a widower who still blames the world for the loss of his wife. Settings: Naples.
Malena (2000): Against the backdrop of war, a teenage boy becomes love-stricken by Malena, a sensual woman living in a small, narrow-minded Italian town. Subtitles. Settings: Sicily.
Man on Fire (1987): A former CIA agent is hired as a bodyguard for an Italian businessman. When the businessman's daughter is kidnapped, the agent embarks on a vengeful rescue. Settings: Rome, Milan.
Marriage Italian Style (1964) – A wealthy businessman takes a penniless prostitute for a mistress, spurning her when he marries. Setting: Naples.
Men in Black: International (2019): The Men in Black have always protected the Earth from the scum of the universe. In this new adventure, they tackle their biggest threat to date: a mole in the Men in Black organization. Settings: Castello Aragonese

, Naples.

Miracle at St. Anna (2008): Set in 1944 Italy, the story of four black American soldiers from the all-black Buffalo Soldiers division, get trapped in a Tuscan village during WWII. Settings: Tuscany.
Moonraker (1979): James Bond investigates the mid-air theft of a space shuttle, and discovers a plot to commit global genocide. Settings: Venice
Much Ado About Nothing (1993): Young lovers Hero and Claudio, soon to wed, conspire to get verbal sparring partners and confirmed singles Benedick and Beatrice to wed as well. A modern take on a Shakespeare comedy. Settings: Tuscany, Florence.
Nine (2009): A musical that follows a middle-aged Italian film director who has too many women is his life – his wife, his mistress, his muse, his agent, and his mother. Settings: Rome, Salerno.
Ocean's Twelve (2004) – A group of professional criminals plans a European heist. Setting: Lake Como, Florence.
One Chance (2013): The true story of Paul Potts, a shy, bullied shop assistant by day and an amateur opera singer by night who became a phenomenon after being chosen for — and ultimately winning — Britain's Got Talent in 2007. Settings: Venice.
Only You (1994): As a teen, Faith was told that her destiny is a man named Damon Bradley. Years later – Faith is about to marry another man – a Damon Bradley calls to wish them all the best. Faith blows off the wedding and follows Damon to Italy. Settings: Rome, Venice, Salerno, Siena
Quantum of Solace (2008): Seeking vengeance for his lover's death, James Bond uncovers a conspiracy to take control of a country's most precious natural resource. Settings: Siena.
Return to Me (2000): A man who falls in love with the woman who received his wife's heart must decide which woman it is who holds his heart. Settings Rome.
Roman Holiday (1953): In this classic, a bored and sheltered princess escapes her guardians and falls in love with an American newsman in Rome. Settings: Rome.
Rome, Open City (1945): During the Nazi occupation of Rome, a resistance leader finds refuge while seeking escape. Setting: Rome.
Shadows in the Sun (2005): An aspiring young writer tracks a literary titan suffering from writer's block to his refuge in rural Italy and learns about life and love from the irascible genius and his daughters. Settings: Siena, Lazio.
Stealing Beauty (1996): After her mother commits suicide, a young woman travels to Italy in search of her father and to lose her virginity. Settings: Tuscany, Siena.
Tea with Mussolini (1999) –

An orphaned Italian boy is raised amongst a circle of British and American women living in Mussolini's Italy before and during World War II. Settings: Florence, Siena, Rome.

Ten Winters (2009) – A chance meeting propels between a young man and woman plays out over 10 winters as they come and go in one another's life. Setting: Venice.
The Agony and the Ecstasy (1965): The biographical story of Michelangelo's troubles while painting the Sistine Chapel at the urging of Pope Julius II. Settings: Rome.
The Biggest Bundle of Them All (1968): Some incompetent European gangsters kidnap an American gangster who they think has a lot of money. Settings: Rome.
The Bourne Supremacy (2004): When Jason Bourne is framed for a CIA operation gone awry, he is forced to resume his former life as a trained assassin to survive. Settings: Naples.
The Dirty Game (Also known as The Secret Agents (1965)): The US intelligence chief in Europe relates the stories of three different operations that he was involved in with colleagues. Setting: Rome.
The English Patient (1996): At the close of World War II, a young nurse tends to a badly-burned plane crash victim. His past is shown in flashbacks, revealing an involvement in a fateful love affair. Settings: Rome, Pisa, Trieste.
The Godfather (1972): The aging patriarch of an organized crime dynasty transfers control of his clandestine empire to his reluctant son. Settings: Sicily.
The Godfather Part II (1974): The early life and career of Vito Corleone in 1920s New York City is portrayed, while his son, Michael, expands and tightens his grip on the family crime syndicate. Settings: Trieste, Sicily.
The Godfather Part III (1990): In the midst of trying to legitimize his business dealings in New York City and Italy in 1979, aging Mafia Don Michael Corleone seeks to avow for his sins while taking his nephew Vincent Mancini under his wing. Settings: Viterbo, Sicily, Vatican City.
The Great Beauty – A charming journalist turns 65 and withdraws to take stock of his life, turning his cutting wit on himself and his contemporaries, and looking past the extravagant nightclubs, parties, and cafés to find Rome in all its glory. Setting: Rome.
The Italian Job (2003): After being betrayed and left for dead in Italy, Charlie Croker and his team plan an elaborate gold heist against their former ally. Settings: Venice, Genoa.
The Italian Key (2011): A romantic fairy tale about a 19-year old orphan girl who, as her sole inheritance, gets an antique key that unlocks both an old Italian villa and the secrets of her family history. Settings: Val Borbera.
The Life Aquatic with Steve Zissou (2004): With a plan to exact revenge on a mythical shark that killed his partner, Oceanographer Steve Zissou (Bill Murray) rallies a crew that includes his estranged wife, a journalist, and a man who may or may not be his son. Settings: Naples, Rome, Florence.
The Lizzie McGuire Movie (2003): A middle school class trip to Italy. Setting: Rome.
The Man Who Bought the Moon (2018): A Sardinian fisherman has promised the moon to the woman he loves. And Sardinian men always keep their promises. English subtitles. Setting: Sardinia.
The Name of the Rose (1986): An intellectually nonconformist friar investigates a series of mysterious deaths in an isolated abbey. Settings: Abruzzo, Rome.
The Omega Code (1999): Ancient codes hidden within the Torah reveal the secrets of global events, past, present, and future. One man is after the Code, seeking the power to change the world as we know it, while another seeks the truth, risking his life and everything he stands for in order to stop him. Settings: Rome.
The Omen (1976): An American diplomat travels to Rome to investigate the circumstances surrounding the birth of his adopted son. Setting: Rome.
The Pink Panther (1963): The bumbling Inspector Clouseau travels to Rome to catch a notorious jewel thief known as "The Phantom" before he conducts his most daring heist yet: a princess' priceless diamond with one slight imperfection, known as "The Pink Panther." There was a remake in 2006, but the earlier is a classic. Settings: Rome.
The Red Violin (1998): A red-colored violin inspires passion, making its way through three centuries over several owners and countries, eventually ending up at an auction where it may find a new owner. Settings: Cremona.
The Talented Mr. Ripley (1999): In late 1950s New York, Tom Ripley, a young underachiever, is sent to Italy to retrieve Dickie Greenleaf, a rich and spoiled millionaire playboy. But when the errand fails, Ripley takes extreme measures. Settings: Salerno, Rome, Naples.
The Taming of the Shrew (1967): Brutish, fortune-hunting scoundrel Petruchio tames his wealthy, shrewish wife, Katharina. A Shakespeare classic. Setting: Rome.
The Tourist (2010): Revolves around Frank, an American tourist visiting Italy to mend a broken heart. Elise is an extraordinary woman who deliberately crosses his path. Settings: Venice, Treviso.
The Trip to Italy (2014) – Two men, six meals in six different places on a road trip around Italy. Settings: Liguria, Tuscany, Rome, Amalfi, Capri.
The Twilight Saga: New Moon (2009): Edward leaves Bella after an attack that nearly claimed her life, and, in her depression, she falls into yet another difficult relationship – this time with her close friend, Jacob. Setting: Siena.
The Two Popes (2019) – The story of the often tense relationship between Pope Benedict XVI and Pope Francis. Setting: Vatican City.
The Voice of the Moon (1990) – A recently released mental patients has madcap adventures while looking for love. Setting: Rome.
The White Sheik (1952) – A man brings his new wife to Rome. She's off to find a comic strip character, the White Sheik. Setting: Rome.
Three Coins in the Fountain (1954): Three American women working in Rome, Italy, share a spacious apartment and the desire to find love and marriage, each experiencing a few bumps in their journeys to romance. Settings: Dolomites, Rome.
To Rome with Love (2012) – A father meets his daughter's future inlaws in four comedic stories. Setting: Rome
Umberto D (1955): An elderly man and his dog struggle to survive on his small pension in post.-war Rome. Setting: Rome.
Under the Tuscan Sun (2003): A writer impulsively buys a villa in Tuscany in order to change her life. Settings: Salerno, Arezzo, Florence.
Variety Lights (1950) – An ambitious young woman joins a troupe of traveling vaudevillians whose careers are failing. Settings: Lazio.
Von Ryan's Express (1965) – An American POW leads a group of mainly British prisoners to escape from the Germans in Italy during WWII. Settings: Northern Italy, Florence.
Yesterday, Today and Tomorrow (1963) – Three different stories about women and the men they attract. Setting: Naples.
Way of the Dragon (1972) – A man visits his relatives at their restaurant in Italy and has to help them defend against brutal gangsters harassing them. Settings: Rome.
When in Rome (2010) – A young, ambitious New Yorkers goes on a whirlwind trip to Rome and impulsively steals coins from a reputed fountain of love. Setting: Rome.
Where Angels Fear to Tread (1991) – After a rich Edwardian widow impulsively marries a handsome but poor Tuscan dentist and dies in childbirth, her English in-laws try to gain custody of the baby. Settings: Tuscany, Lazio.
Here are some of my highlights from past trips to Italy:
Pin to your favorite Italy, travel, and movie boards