Elba is the largest island of the Tuscan archipelago and the third-largest in Italy (behind Sardinia and Sicily). With its beautiful beaches and clear blue water, it is a popular getaway for beach lovers, especially during the summer months, but Isola d'elba offers much more. From hiking, swimming, and watersports, to history and museums to great food and drink, you can find a great mix of experiences whether you're looking to explore Elba, relax, or do both.
Here's what you need to know to plan a getaway to Elba.
The History of Elba Island
Understanding the island's history is the first step in discovering Elba.
Elba was first inhabited by Ligures Ilvates, a tribe that lived on the land that is modern-day Italy. Since the early tribes, Elba has been occupied by the Romans, Germans, Italians, Spain, British, and French. That's a lot of occupation by conquerors, and it's all gone into creating the heritage and culture of the island.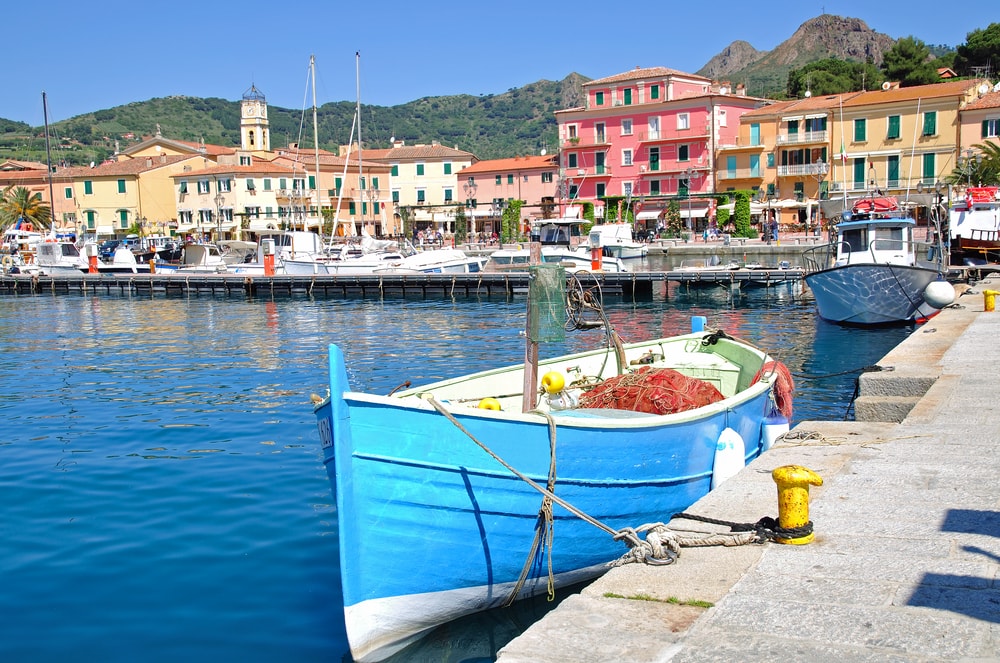 Since 1860, Elba has been a part of Italy and specifically Tuscany (named after the Grand Duchy of Tuscany, an Italian monarchy from the 19th century).
Elba is most famously known as the island where Napoleon Bonaparte was exiled. Napoleon was forced to resign in 1814 when Prussia, Austria, Russia, and the French emperor signed a treaty that ended his reign. Napoleon stayed on the island for ten months before escaping and returning to France.
How to Get to Elba
To get to Elba, you have to take a ferry from Italy's mainland to one of the three main towns on the island, Portoferraio (the largest city and capital of Elba), Cavo, and Rio Marina.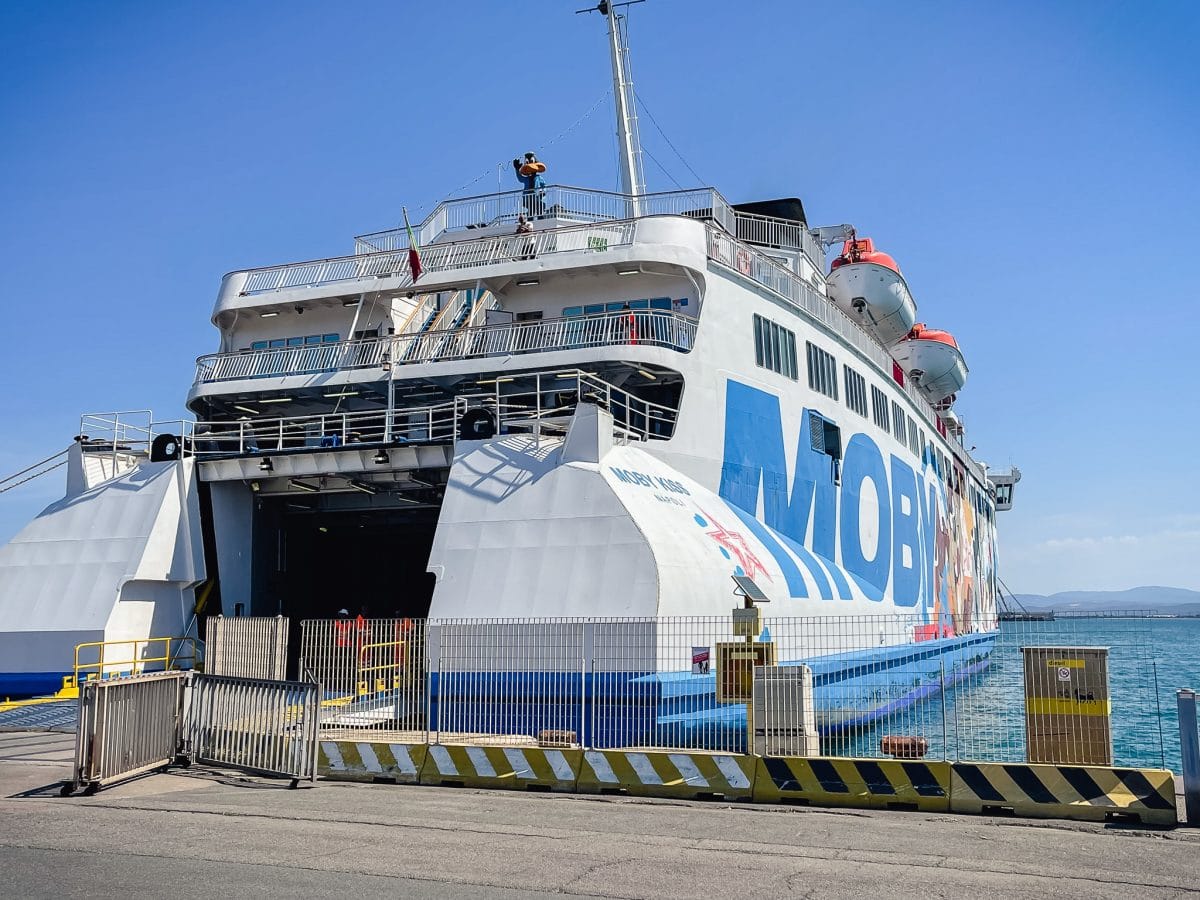 Four ferry companies serve Elba – Blu Navy, Corsica Ferries, Toremar, and Moby Lines. Between the four lines, there are 77 crossings to Elba by ferry and by hydrofoil; the latter is passenger only. If you have a car, and you probably will want one to explore the entire island, make sure you are looking at schedules for car ferries. The transit time ranges from 15 minutes to one hour, depending on the route and type of boat.
Since we were in Tuscany, we opted for the main route from the Port of Piombino on the mainland and to Portoferraio. It's a one-hour crossing.
We purchased our tickets online while in Italy, about a week before we planned to travel. While it's only an anecdotal musing, it seemed that we had better pricing when booking from Italy. Prices have a fairly broad range, dependent on the date of the week, time of day, type of vehicle, and, of course, the number of people. We budgeted about $200 for three people and a vehicle, roundtrip, and traveling midweek. By choosing discounted times and with a discount code from our Airbnb host, it costs around $170 the bulk of which was an expense for the car (price dependent based on the exchange rate).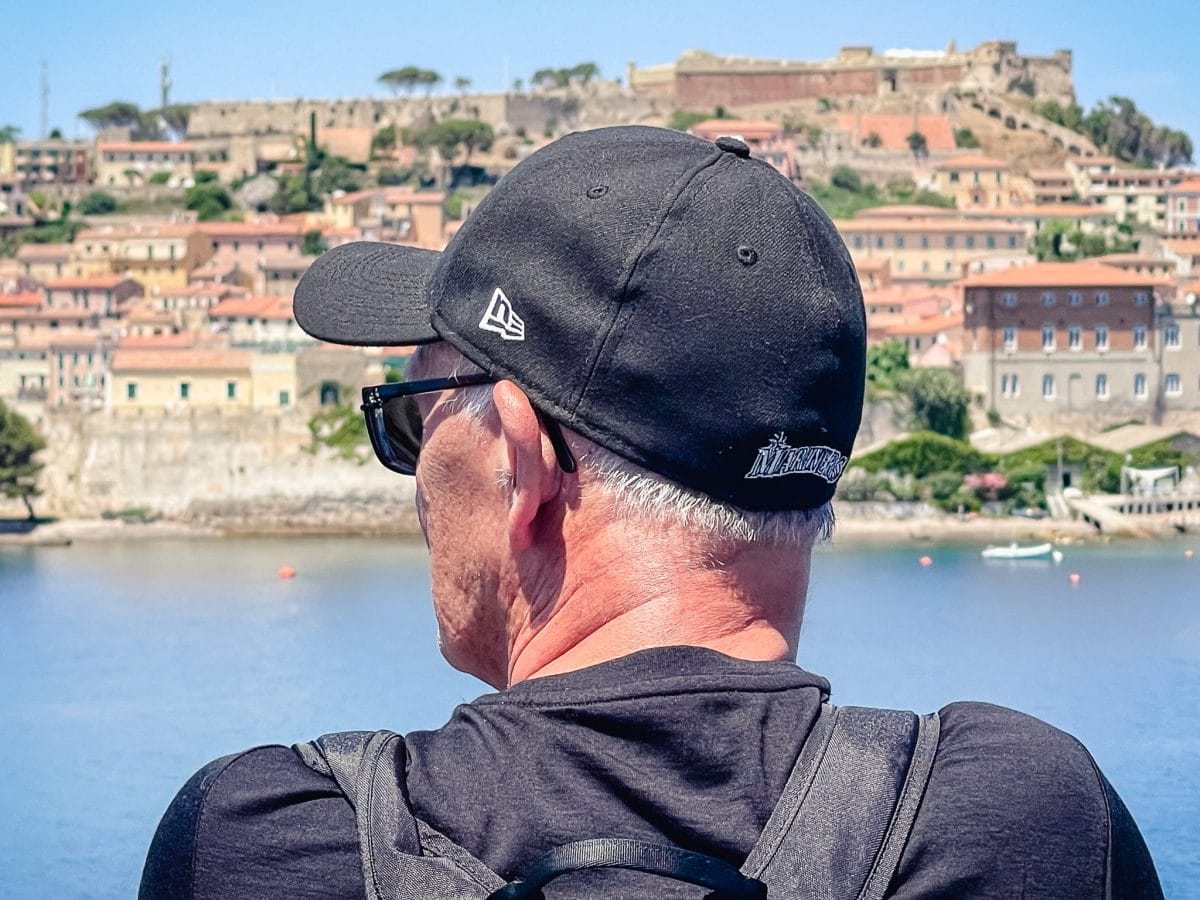 There were cars and passengers driving up and purchasing tickets on demand. There didn't seem to be any booking problem doing this, but since it was nearing summer's high season, and given we had a reasonably tight travel schedule, we felt more comfortable purchasing advanced tickets. Had we not had a car and had greater schedule flexibility, I'd have chosen to do day-of walk-on tickets.
There is a small regional airport on Elba, the Maina di Campo Airport. Czech airline Silver Air has year-round flights between Elba and Pisa and Florence, and seasonal flights between Elba and Milan Linate, Bologna, and Lugano (Switzerland). The 50-minute flight between Florence and Manina di Campo starts at around $180 per person.
Things to Do in Elba
Known not only for its Napoleonic history but also for its crystal-clear waters, hidden coves, and some of the best beaches in Italy, this small island punches well above its weight. Elba is a popular vacation spot for Italian locals who are attracted by the island's white sandy beaches, seaside towns, and laid-back attitude.
We chose the beautiful island of Elba somewhat blindly – a little bit of research and a whole lot more fly by the seat of our pants. We wanted to explore a new destination, wanted some relaxed beach time, and thought of it as an exploratory trip to decide if it was someone to return to for a longer stay.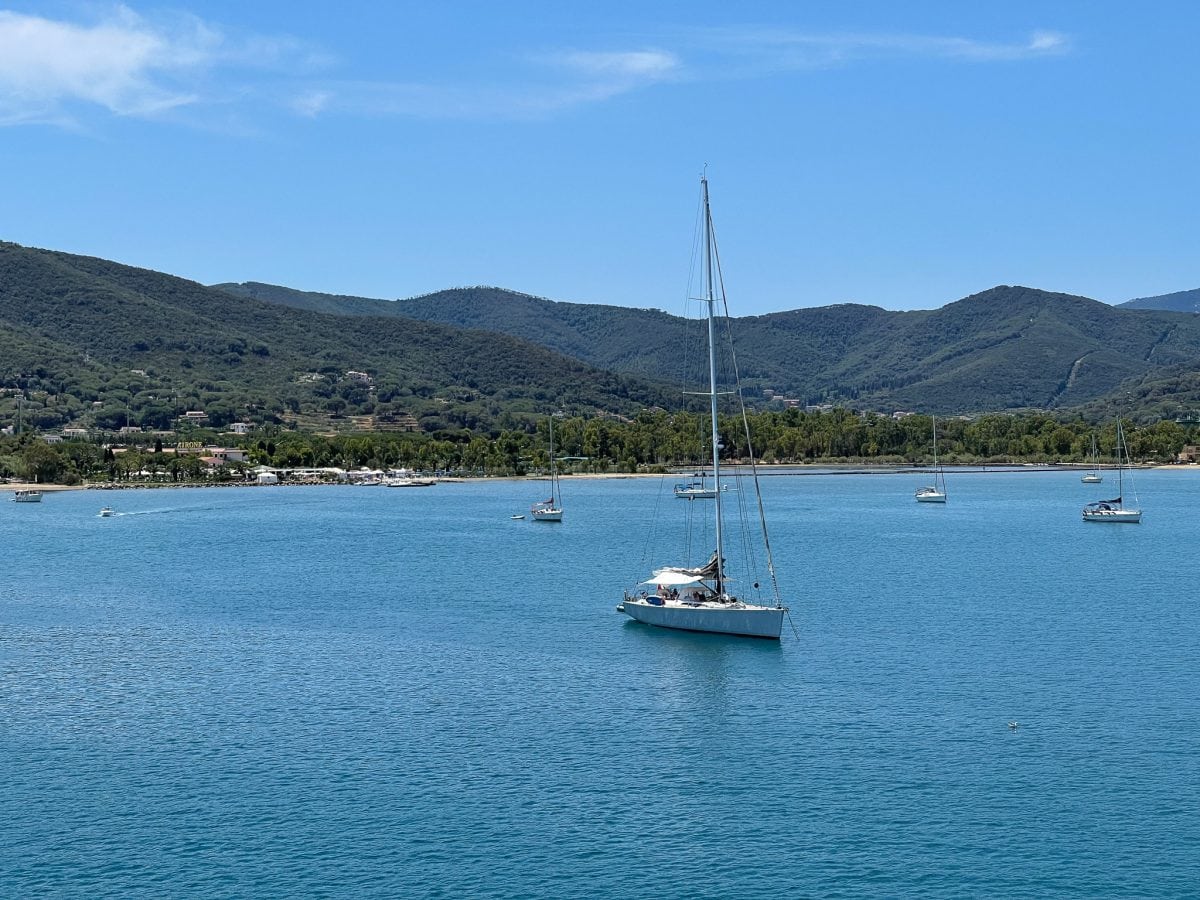 Prior to leaving for Italy, we booked a complimentary Zoom session with Go Ask a Local. Stefano provided us with the basic information we were looking for, gave us some recommendations about things to do, the best time to hit the beaches, pointed out the best ways to get places (including the ferry), and made good suggestions for a first-time visitor to Elba. Go Ask a Local provides personalized recommendations and advice in a one-hour video call, then follows up with written information, to help you save time, plan smarter, and have a better trip. Locals guides set their own pricing, but for budget planning, figure on around $100-125.
We were able to navigate Elba with some email directions and using Google maps. We started using Airalo e-sim for our travel connectivity (when free wifi isn't readily available). It's been a game changer for keeping in touch, getting directions, and checking menus and business hours. For this trip, we had wifi where we stayed, but wanted it for when we were out exploring (and on Elba). We paid $10.50 for 5 GB of data, a bargain over other internet options. You can find more info about using this e-sim here. Use promo code MARYJO1833 for a $3 discount on your first purchase.
We didn't have anywhere near enough time to do all the things we wanted to do. Perfect reason to plan a return trip. Here are a few suggestions.
Historical Sites
Palazzina dei Mulini – Palazzina dei Mulini was the residence where Napoleon lived during his time on Elba. The home, now a museum, was built in 1724, but Napoleon renovated a lot to suit his style. Of course! Tour the museum to see the rooms where Napolean spent his exile, including his studio, library, and the original furniture.
San Martino Villa and Demidoff Gallery – San Martino Villa is another home where Napoleon lived on Elba. It was his summer home, and there was a gallery below the home. One of the highlights is the Egyptian room and its papyrus plants.
The Medicean Ramparts in Portoferraio – The Medicean Ramparts is a fort built to protect Elba from Turkish attacks. The fort is between the town and the sea, and there are four levels to it. When you are near or in the fort, you can see parts of the former city walls.
Fort Longone in Porto Azzurro – Another fort in Elba is Fort Longone, built when the Spanish had control of the island. You cannot visit the inside of the fort because it is used as a prison, but viewing the outside of the fort and exploring the area around it is well worth it.
Tonietti Mausoleum in Cavo – The Tonietti Mausoleum was built as a private tomb for the wealthy Tonietti family. The family never used it as such, and now it sits in a deserted but scenic area of Elba. If you are in Cavo, you can get to the museum on Mount Lentisco in 30 minutes.
Outdoor Activities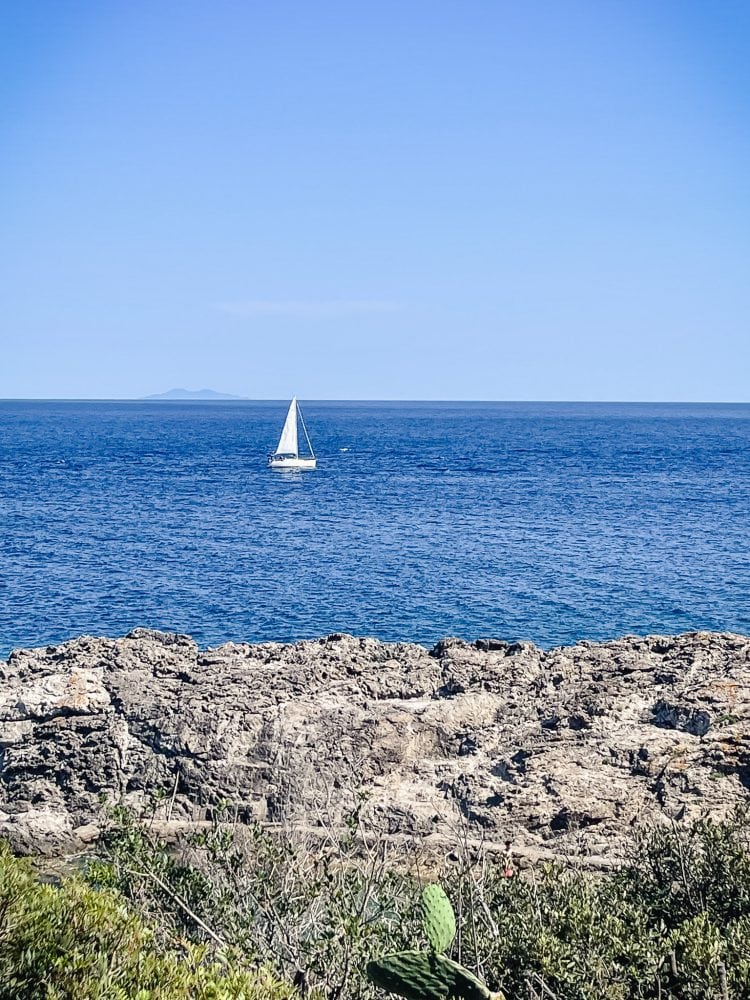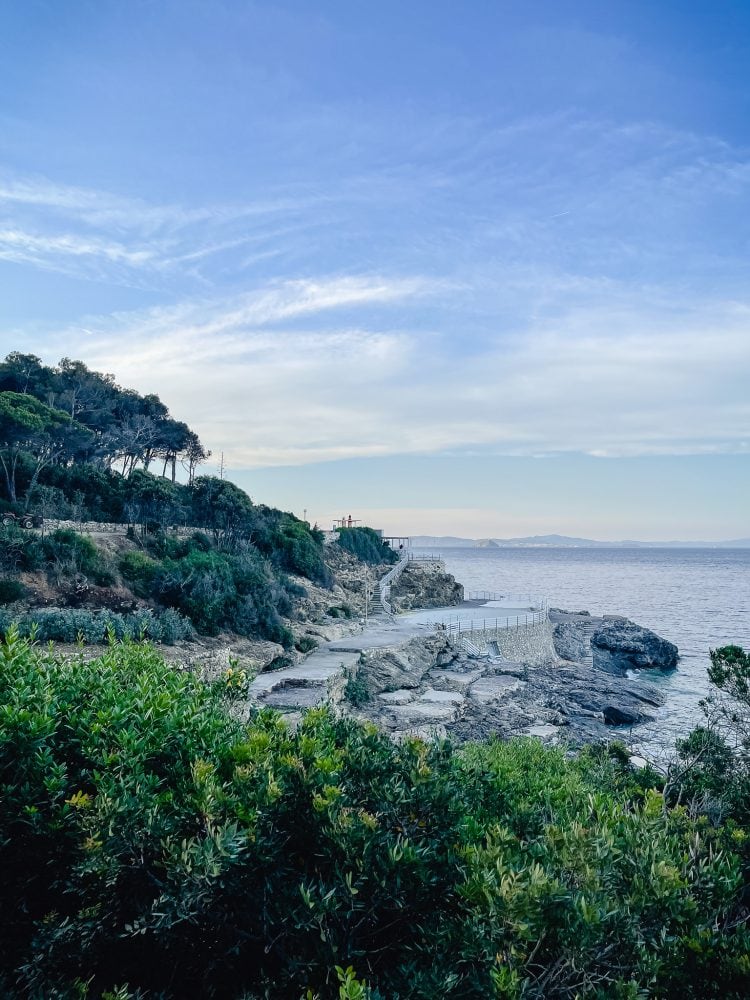 Go on a bike ride. Everywhere we went on the island, we saw cyclists. While I'm not in good of enough shape to tackle some of the island's hilly terrain, biking along the coast on a sunny day did look appealing.
Get out on the water. We wanted to see more of the island from the water, and it was also a recommendation from Stefano. When we mentioned this to our Airbnb host, he offered to make reservations for us with a local company that he was familiar with. We took him up on the offer. The three-hour boat tour left from the main square in Porto Azzurro and headed out to explore coastal Elba. Our captain and first mate pointed out scenic sites, and colorful fish, then dropped anchor in two spots for some swim time. We paid once onboard ($30 per person). There were tour companies located around the marina, so I'm sure you can book as a walk-up (space available, of course). Based on other rates we saw, it seemed like we got a local discount.
Take a cable car to the top of Monte Capanne. Located near the town center in Marciana, it's an 18-minute ride to the top. This is the highest point on the island, and on a clear day, you can see most of it. There are hiking trails for the hearty.
Hit the beach. Every local has a recommendation as to their favorite, and we were able to check out a few (not nearly enough). Most locals prefer the smaller beaches (generally free) and bring their beach gear from home. If you don't have access to beach gear and want the advantages of chairs, loungers, changing areas, and services, choose one of the larger beaches that offer full amenities. Prices will vary but plan on about $30-40 for the day. Most hotels with a private beach will include access in their rate.
Where to Stay on Elba
We opted for an apartment rental through Airbnb. We needed two bedrooms and wanted a little bit more room than a hotel would offer. After doing the math, we had better options for much less money with an apartment rental.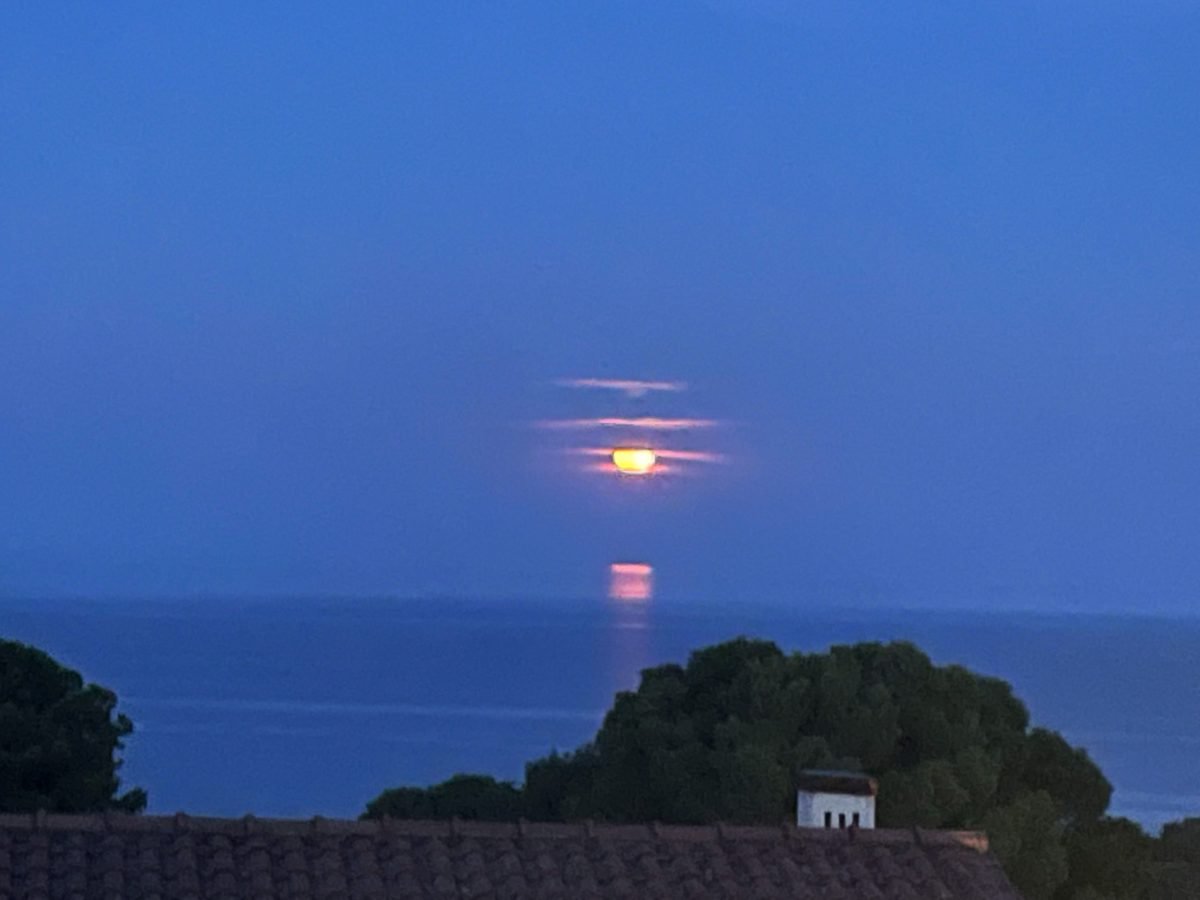 We stayed in the Capo d'Arco community on the east side of the island. It was about a 20-minute drive from Potofierra, fairly secluded, and it was a good place for our needs. You can find the listing here. This area, however, is fairly remote, and you'll need a car to get around.
Elba has a good variety of hotels spread throughout the island if a hotel works better for you. It should be easy to find a good location in your price range. Remember, though, the high season (summer) comes with high prices. For the best value, try shoulder season.
Here are a few diverse suggestions on where to stay for a getaway to Elba.
Hotel Fabricia – Portoferraio. This hotel is one of the highest-rated hotels on Elba, and you can't beat the value for your money. The hotel is surrounded by an old-growth olive grove and has a park-like setting. Guest-only private area on a public beach. Booking info here.
Hotel Villa Ombrosa – Portoferraio. Located on Le Ghiaie beach, this hotel lies within a marine biological protection area, about a 10-minute walk from the town center. Private beach with a great location for snorkeling and diving. Booking info here.
Allegroitalia Hotel & Condo – Capo d'Arco. Apartment-style rooms with a full kitchen and dining facilities in a National Park-protected area. Two main buildings give you access to swimming pools, a beach, restaurants, and amenities. This was located near where we stayed.
Hotel Bel Tramonto – Patresi, Marciana. Not on the beach, but within easy walking access (15 minutes) to a local beach. Quiet, the village has only 100 residents, but with easy access to a bus stop that connects with local attractions and businesses.
Find more Elba hotel information and booking details here.
Wine on Elba
Elba has two wineries, which is not bad for an island in the largest producing country in the world. They are all located near each other on the east side of the island, so it is easy to visit all three in one day. As always, drink responsibly and have a designated driver.
Elba has nearly 900 acres of grapes, with only about a third of those designated Elba DOC.
Wines of Elba
Elba White DOC – Pale gold in color, with a strong wine aroma. The mandated DOC blend includes no less than 50% made from Trebbiano (also called procanico), Ansonica, and Vermentino grapes (individually or collectively).
Ansonica – Pale gold to rich gold in color, and spans the taste spectrum from dry to sweet. Must be made with no less than 85% white ansonica grapes.
Elba Rosso DOC – Deep ruby red, with full fruit flavor. Must be made from no less than 60% Sangiovese grapes.
Red Reserve – Ruby red, full-bodied, with fruit and spice aromas. Made from the same grapes as Elba Rosso, the difference lies in the aging process. It must be aged for a minimum of 24 months; at least 12 of those must be in wooden casks. I love the red reserve with aged Pecorino cheese.
Rose – Pale pink in color, with a fresh flavor that seems to match its color. Made with the same grapes as Elba Rosso.
Elba Aleatico DOCG – Dark red in color with a red jammy flavor. A full-bodied, sweet, dessert wine. Made with 100% aleatico grapes. A little too sweet for my palate, but I can see how it could create a delicious pairing with a properly matched dessert.
Moscato – Pale gold to amber in color, another sweet dessert wine. Made from 100% moscato grapes. Again, this one is a little too sweet for my palate, but I have used it to make syrup for a fruit salad.
Wineries on Elba
There are two wineries on Elba, both located on the east side of the island.
Azienda Agricola Arrighi – The vineyard was originally a hotel that opened in the 1920s, one of the first on the island, with a small amount of wine produced for hotel guests. In the 1990s, third-generation owner Antonio expanded wine production and devoted himself to being a winemaker. Since then, the vineyards have quadrupled in size. They also produce other local products including olive oil, wine vinegar, limoncino, and arancino. The winery is located in the hills behind the bay of Porto Azzuro. Reservations are required. More info here.
La Faccenda – La Faccenda opened in the late 1990s on an abandoned farm and today produces estate wines with the Elba DOC label. The winery produces a good mix of red and white wines. The winery is located on the road between Portoferraio and Porto Azzuro. Email to arrange a visit. More info here.
We brought home a couple of bottles from Elba – a rose (for a sunny afternoon on the deck) and two bottles of a 2020 Rosso DOC. We'll cellar the latter for at least a year, most likely opening one in 2023, and then another in 2025-26. We use Cellar Tracker (paid version) to keep track of our wine inventory (approaching 175 bottles) and to note when we'd like to drink each bottle. Check out Cellar Tracker here.
Best Places to Eat and Drink on Elba
We didn't make reservations or specific restaurant plans for this trip, and pretty much wanted to live in shorts and t-shirts, hang out as we pleased, and opt for non-scheduled days. Pizza by the pool was just fine. Salami, cheese, and a bottle of wine? Equally fine. Wander Porto Azzurro and spot an interesting menu? Sure, we're all in. These were all great options for us, and the food and beverages were just what we wanted.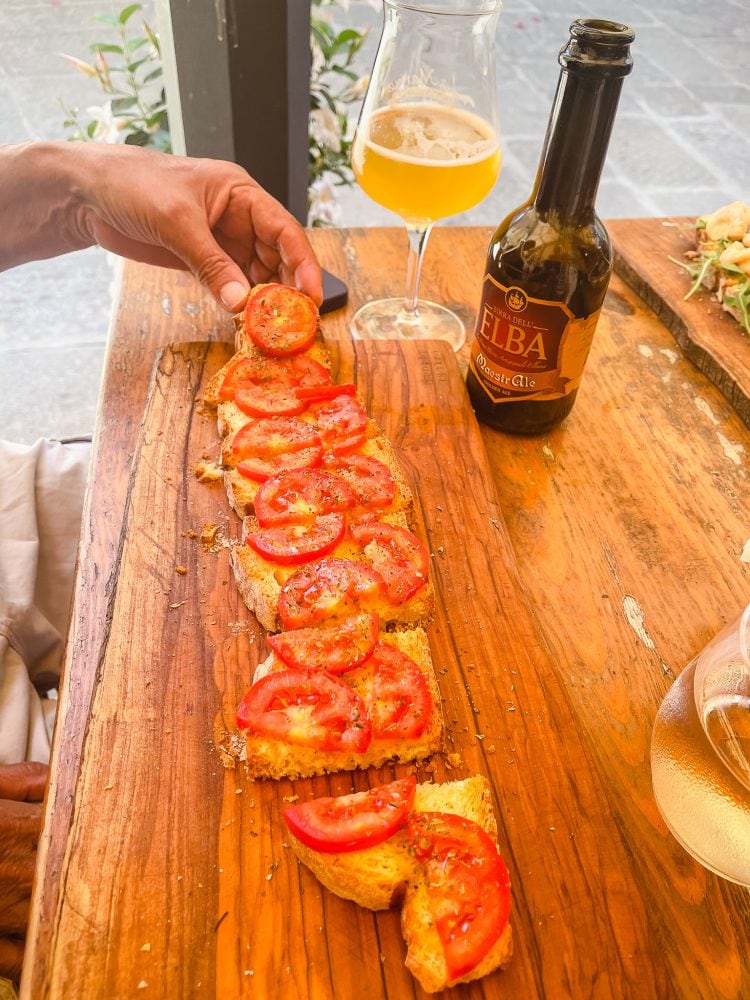 Not surprisingly, seafood is a staple on Elba. I was disappointed not to see mussels on more menus as there are beds around the island. Octopus was common as was bonito, often served simply (usually grilled). Squid ink was popular in pasta choices and fried anchovies popped up as appetizers as well as main dishes. Pizza was an easy choice, and some restaurants offered it served as a flatbread rather than a pie.
Risotto, pasta cinghiale (wild boar), and heartier red sauces were occasionally on the menu, but we were advised we'd probably find those dishes better on the mainland. We followed that advice and mostly kept to seafood.
For us, dessert was always gelato. So many choices that we had to eat it at least twice a day (and often three times), always justified by wanting to try out just one more new flavor. My favorites for this trip: champagne and lavender, pear, and fig. Tony's favorite (as always): limone.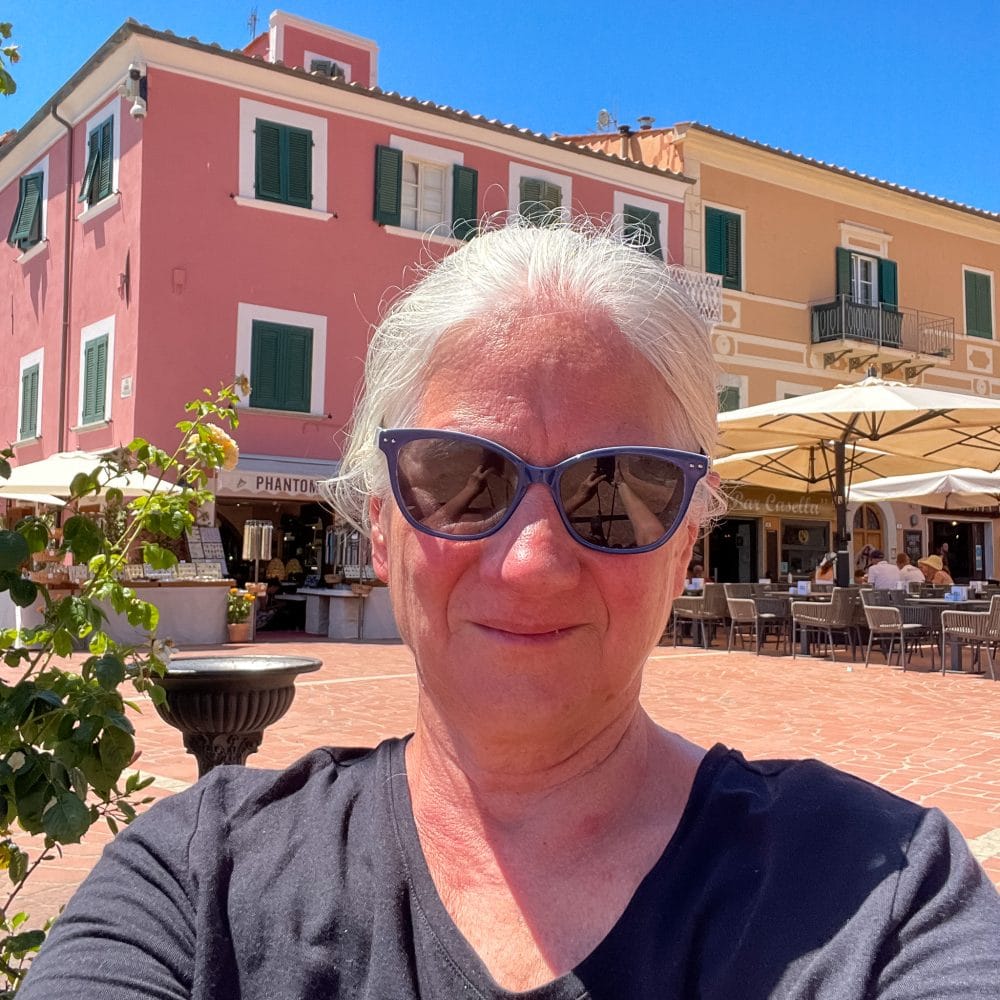 You may not be as laid back about your getaway to Elba, so here are some restaurants worth your consideration. The list below includes some we visited and others recommended by locals that we didn't have time to get to. They're on our list for a return trip.
Teatro Bistro & Wine Bar – Portoferraio. Located in the square by the Teatro dei Vigilanti, this was the restaurant most often recommended by friends. Come for the view, and stay for the food. Perfect spot for a charcuterie plate, a glass of wine, and a great view.
Ristorante Lo Zenzero – Lacona (between Portoferraio and Porto Azurro). This rustic venue has a small space for indoor seating and a spacious (and uncrowded) outdoor seating area. The menu of the day varies but has an emphasis on local seafood.
Osteria la Miniera – Rio Marina. Lunch and dinner are served on the patio, with the sea urchin gnocchi a standout favorite with customers. Good for families.
Pizzeria Ristorante Calafata – Porto Azzurro. We had lunch here before heading out on our sailing expedition. We sat outdoors and people-watched the square. Lots of nearby gelato shops for a refreshing dessert.
Osteria Locanda Cecconi – Porto Azzurro. We went here for dinner. Lot of good items on the menu and it was a tough choice. Eventually tempted by one of their daily specials (osso bucco). Servings are generous and easily sharable.
Ristorante Koala – Capoliveri. A little more upscale than what we were looking for. Their tasting menu (approximately $60 depending on the exchange rate) seems to offer excellent value, especially if booked for the sunset views to accompany it.
Ristorante al Moro – Marina di Campo. Farm-to-table restaurant with menu selections based on what's growing in the garden. With 150 wines in their cellar, the staff is happy to help find a perfect pairing. I regret we didn't make it here.
When do you plan to visit Elba?
For Pinterest
Save to your favorite Pinterest travel boards and start learning about all the beautiful places to visit on Elba, a beautiful island off the coast of Tuscany.