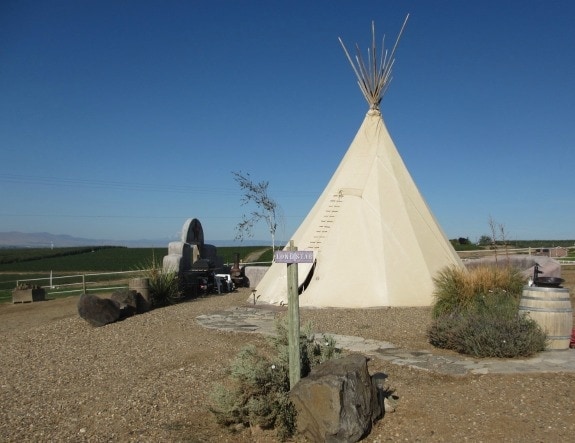 Cherry Wood Bed, Breakfast & Barn
Address:  3271 Roza Drive, Zillah, Washington (Yakima Valley)
Value Luxury Rating:  



 (out of 3 hearts)
Features:  Set on a working farm in the Yakima Valley,  Cherry Wood Bed, Breakfast & Barn offers overnight accommodations in 22-foot teepees. This specialty bed and breakfast has barbeque grills, compact refrigerators, separate super-clean and private water closets, along with an open-air shower to round out its amenities. The property is horse and dog-friendly, and the teepees have a special bed in your teepee so your dog can sleep right along with you. No children permitted.
Price Range:  $245/night based on double occupancy. Full breakfast included. Cherry Wood is open during the "season", generally from late spring into early fall. Reservations required; make them early as they book up for the season quite quickly.
Personal Notes:  I've been interested in staying at Cherry Wood for several years now, so I was very excited that it worked out for a late summer visit to the Yakima Valley. I am not a camper and make no apologies for that, but staying in a teepee is part of the glamping trend and I was happy to give it a try.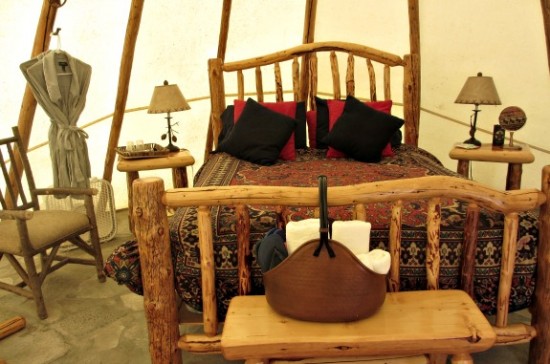 Let me be very clear – this is not roughing it. The teepees have most every amenity that you could find in an upscale hotel:  attractive lodge style furniture, lodge-like decor, magazines to read, games to play, Ralph Lauren robe, slippers, lighting sufficient for reading as well as ambience, refrigerator, fluffy towels, and privacy. You even get an electric blanket in case you get a little chilled on those cooler Yakima Valley nights. In short, you have everything you'd have at a hotel, except for an in-teepee bathroom (it's out the door and around the corner) and shower (which is outdoors and secluded).
A visit to Cherry Wood shouldn't be thought of in the same way as staying at a hotel. A stay at Cherry Wood should be part of an overall experience, including some wine touring and tasting, some time understanding what's happening on the farm, and enjoying the amenities on offer. Plan to arrive early for your stay, or stay late on the day of your departure to participate in some of the activities.
Hay Wagon Winery Ride:  Offered on Thursday and Sunday, we boarded the "cowboy limo" for an afternoon of winery tours and tasting. With a cooler of cold beverages and snacks (meat, cheese, fruit, crackers), we bumped our way through vineyards, orchards, and learned a little bit more about the agriculture of the area from our hay wagon wrangler. We liked the afternoon in the sun, and I'd recommend lots of sunscreen and perhaps a hat.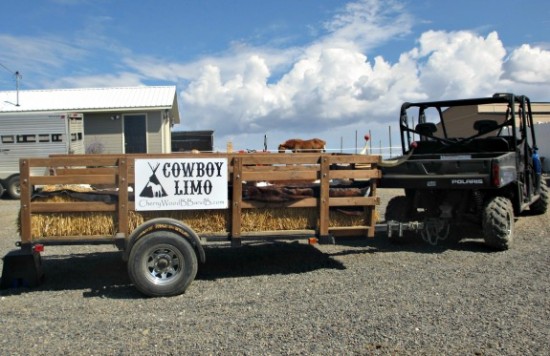 Our winery stops were at Silver Lake Winery, Cultura Wine, Dineen Vineyards, and Agate Field Vineyards. We snacked a little onboard the hay wagon, tasted at each of the wineries, enjoyed a pre-arranged lunch at Cultura (owned by Pepper's son), and bought a bottle of 2008 Drifter's Syrah ($25) at Agate Field. Our questions about the fruit trees we say (various apple types, peaches, nectarines, and more) as well as the general area were ably answered by our wrangler. It was a great way to spend an afternoon in the Yakima Valley.
Hay wagon rides are $150 per person, and include snacks and lunch. Worth every penny, it's a great way to spend an afternoon. You do not have to stay at Cherry Wood to participate in the ride. If you're in the area for other reasons, carve out an afternoon for a ride. Reservations required, and worth every penny.
Horseback winery rides are offered on Friday and Saturday and include stops at two to three wineries and lunch. $225/person, with proceeds supporting Cherry Wood's horse rescue program.
After our hay wagon ride, it was time to settle into our teepee, and while doing so, one of those great Eastern Washington thunderstorms set off. The rain poured down, although we were dry and cozy in our teepee, and we could peek out at the lightning dancing across the sky. We had intended to head out to a local restaurant for dinner, but we were quite full from our late afternoon lunch so opted to stay in and watch Mother Nature's spectacular evening entertainment.  We read, watched the storm, and enjoyed the barely touched fruit and cheese snacks from the afternoon hay wagon ride. While it was accidentally perfect for us, evolving out of circumstantial events, I recommend "staying in" for dinner. Take a dip in the swimming pool, take advantage of the barbecue grills, refrigerators, and outdoor seating to have a relaxing dinner, and end the evening with a relaxing soak in the outdoor tubs ($35/person per hour).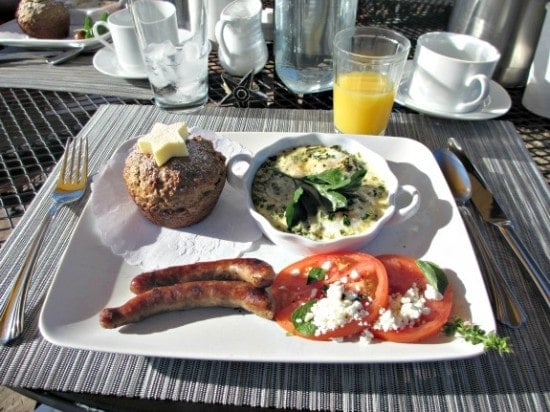 The following morning coffee was waiting for us on the patio (time arranged the evening before) and we eased into the morning with news and email. Breakfast followed shortly thereafter and started with nectarines in creme fraiche with mint, followed by baked eggs, sausage, sliced tomatoes, muffin, and orange juice.
Rather than heading out sightseeing, I think you should spend as much time as possible at Cherry Wood. There's plenty to do and see, it's a great place for kicking back and relaxing, and it's a great break in what can often become the relentless movement of travel.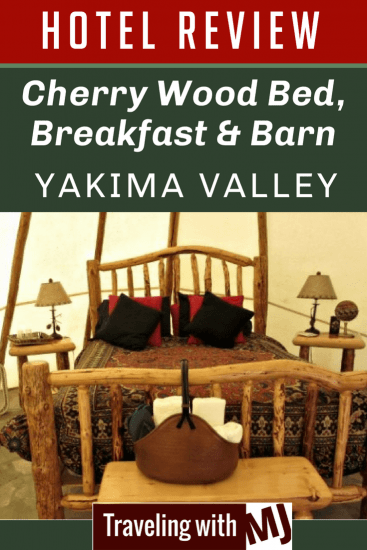 However, if you're spending some extended time in the Yakima Valley, I'd recommend the following:
Winery tours. Everywhere you turn is an arrow pointing you to a winery. Many of them have tasting rooms on site, and some of the small, family-run wineries are wonderful. You might find this Yakima Valley wine map helpful in your planning. I found this interactive planning map helpful for organizing stops and calculating drive times.
Learn about hops and taste beer. It's not all about in the area – 78% of the hops grown in the United States are produced right here in the Yakima Valley. Check out the Spirits and Hops Trail  and try some tasty local brews and food. Local distilleries are also cropping up, some of which have visiting hours.
There's probably something in season when you're visiting, so stop off at a fruit stand or farmers market to get delicious local produce. We picked up some of the best nectarines we've ever tasted.
Explore the murals in Toppenish. A variety of artistic styles can be found painted on buildings throughout the town. Download a map and listing of the 75 murals in Toppenish, and take the time to read the signage at each mural that explains the artist and the subject matter.
The American Hop Museum (Toppenish) was closed when we were there, but it's in a great old building that made peering in nearly impossible. It had great reviews from my beer loving friends; I'm sorry we missed it.
The Yakima Valley Visitors Center (101 North Fair Avenue, Yakima) also has plenty of information and suggestions. Open seven days a week, with shorter hours during the winter season.
Disclosure:  I received a complimentary overnight at Cherry Wood as part of a visit to the area that was partially sponsored by Visit Yakima Valley.