The Heathman Hotel is located in the heart of downtown Kirkland on the east side of Lake Washington and boasts that it's the only boutique hotel in Kirkland. Just a couple of blocks from the lake, in fact, conveniently located in the city and a short walk from Marina Park, local shops, and galleries.
While the hotel is within easy walking distance to lots of locations, complimentary bicycles are available to guests. It expands your options if you don't want to spend all your time driving, it's a fitness option that's also fun. There is a fully equipped gym if you want a more regimented fitness routine.
Free Wi-Fi makes the hotel attractive for both business and leisure travelers.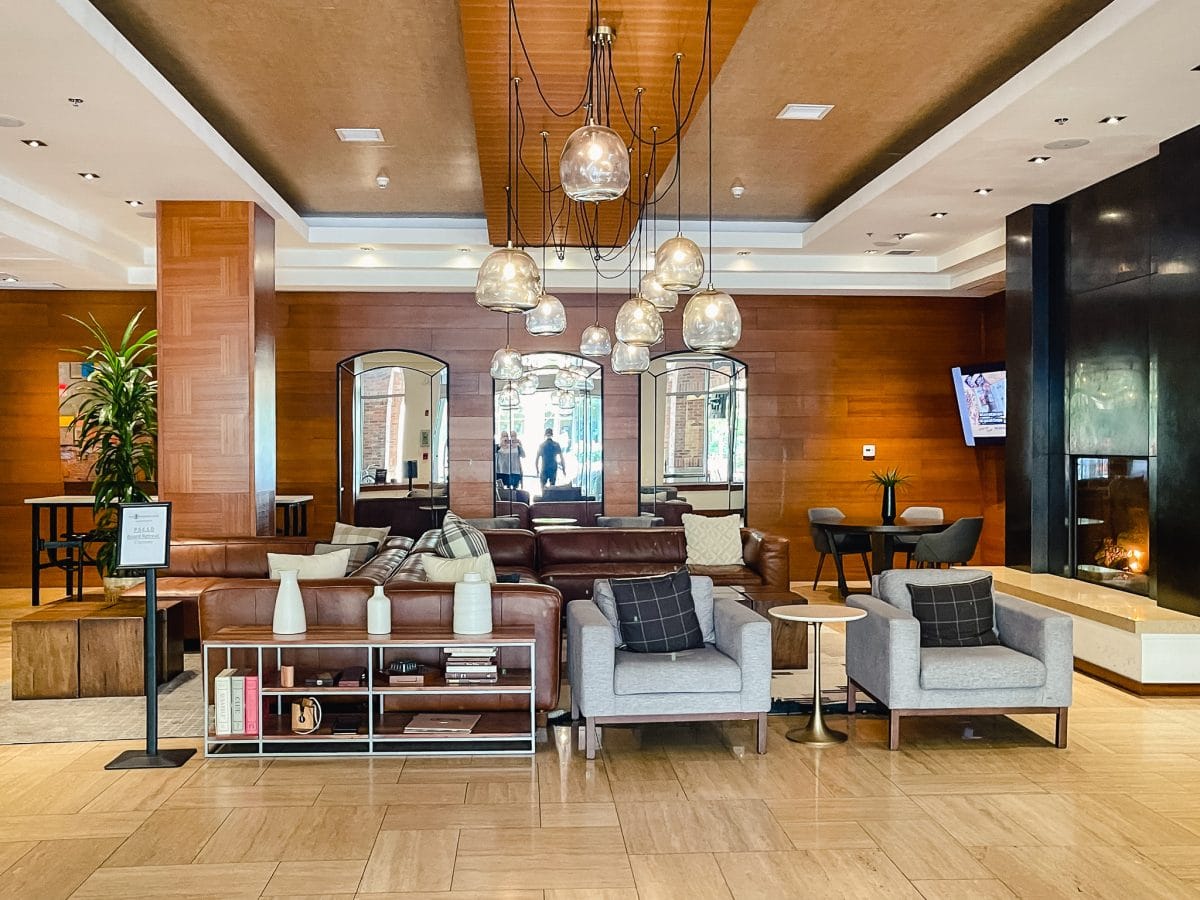 Who Stays at the Heathman Hotel?
The Heathman Hotel caters to a large variety of guest types, ranging from solo businessmen and women to couples, small families, and locals. We think the hotel shines for couples booking a romantic getaway. We love it for an easy getaway weekend when we want to do wine tasting in nearby Woodinville wine country. There are about 115 wineries and tasting rooms in the Woodinville area and the Heathman makes a great home base for exploring.
Bonus points for a summer stay when it's a great day to walk around the shores of Lake Washington. Or, take enjoy the free use of bicycles offered by the hotel.
There are lots of fun shops and galleries to explore in the downtown Kirkland area, with vibrant restaurants and bars throughout the shopping district. Just a few doors away is Melody Lynne Winery's tasting room and wine bar. Just a couple blocks more and you'll find POP Culture Champagne Bar. If you're not a wine enthusiast distilleries and cideries are also a short drive away.
What are the Rooms Like?
The 91-guest room hotel is both spacious and modern, with a variety of room sizes and amenities to meet your individual needs. Room types available at the Heathman Hotel range from the Classic King, the Classic Queen, and the Symphony to the Terrace Suite and, of course, The Heathman Suite. Some of the rooms have balconies.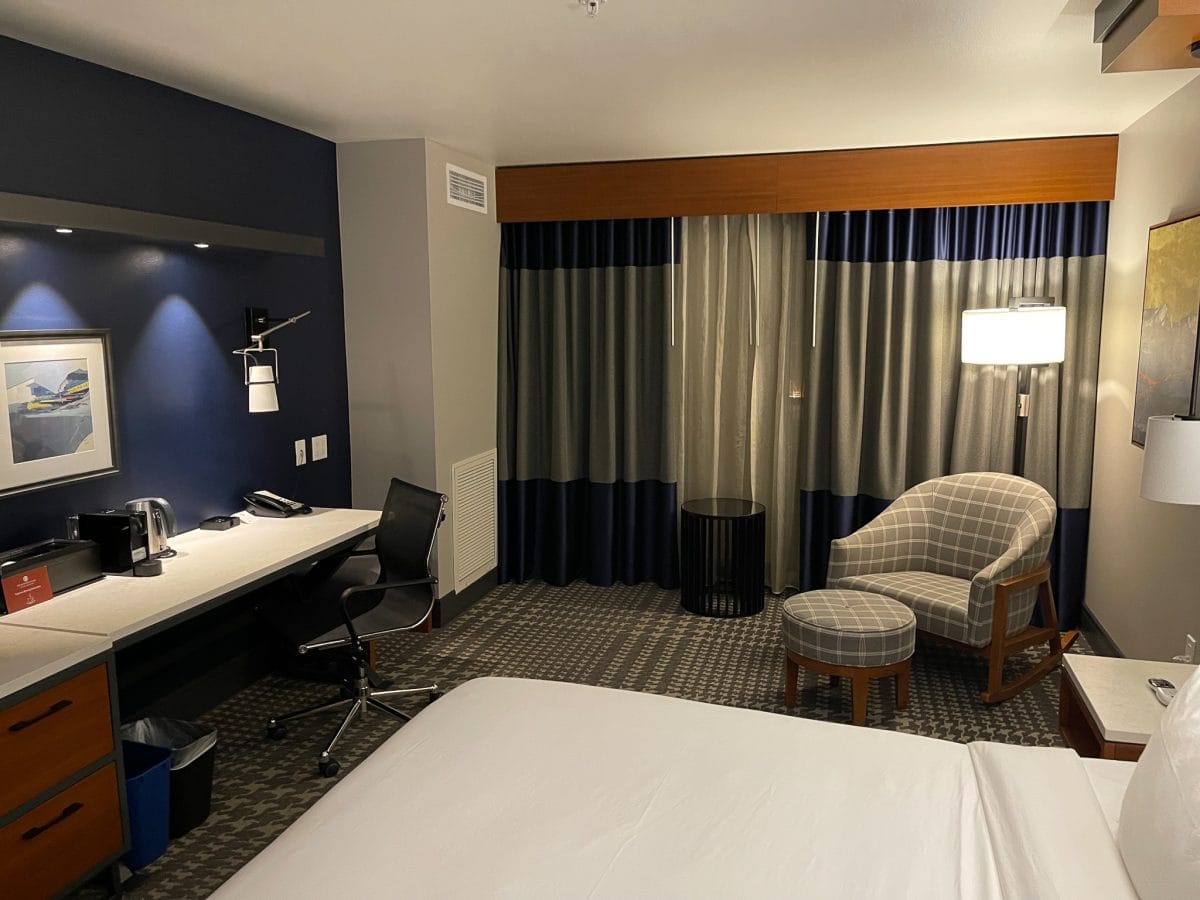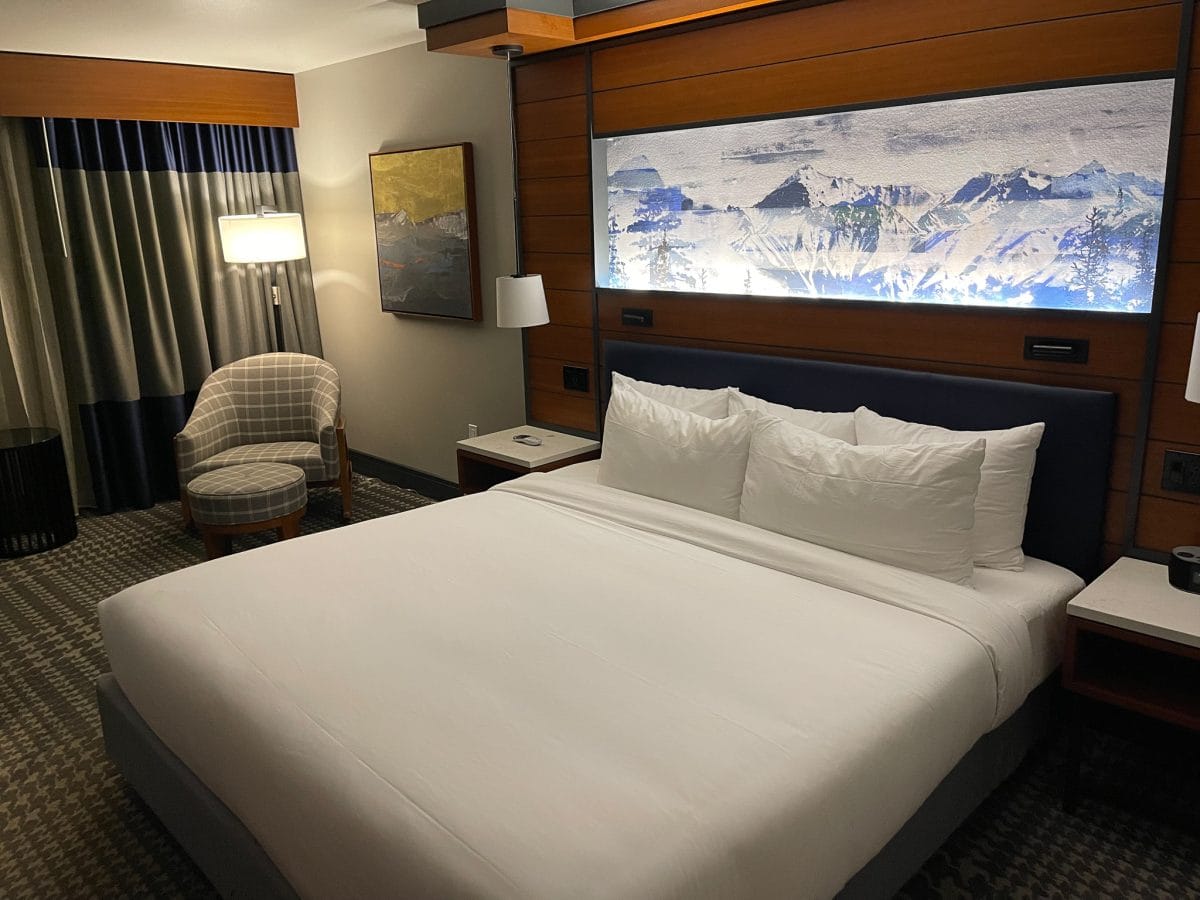 If you need a bathtub instead of only a shower, be sure to make your personal preferences known when making your reservation. Not all rooms have tubs. Designer bath amenities are always a special treat.
We stayed in a Classic King room, pretty much an entry-level room. It was lovely, with plenty of room to spread out and lots of extra touches. You can enjoy morning news or music (an in-room sound dock stereo system) with a delicious cup of coffee made fresh with your personal French press. There is also an electric kettle for the tea drinkers.
The Heathman is a pet-friendly hotel, so you can bring your furry family members along with you. Pups even get their own signature dog biscuit, a dog bed, and water and food bowls for the duration of your stay.
Where Will We Eat and Drink?
The on-site restaurant is Hearth and it serves classic comfort food in a relaxed environment. Indoor and outdoor seating is available, depending on the time of year and weather. We stayed in September and during the day it was warm enough to sit outside.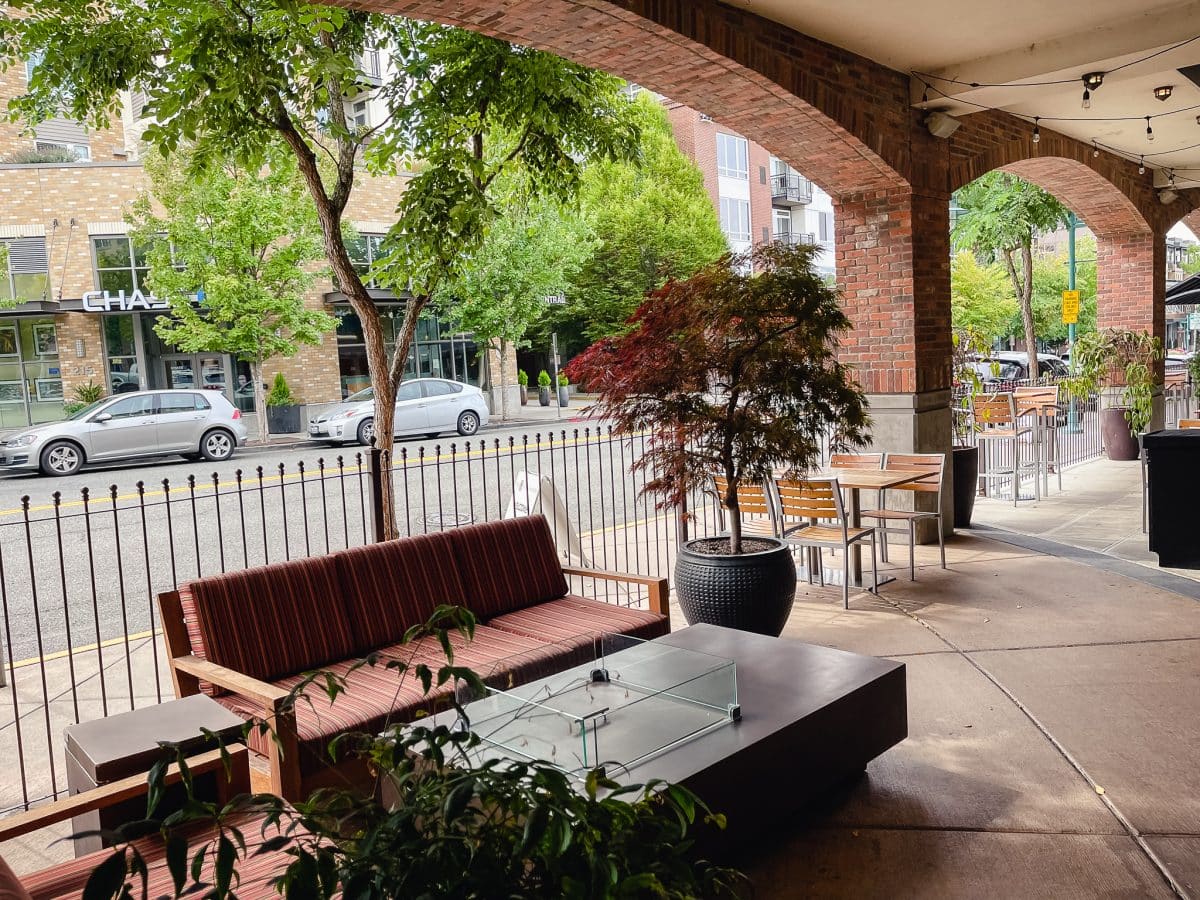 Menu items range from quick meals like salads, sandwiches, and stone-fired pizza. For dinner, the classic entrees include roasted halibut and a New York steak. A regional menu with suggested wine pairings is often available. The bar has a good representation of local craft beers and wine, along with craft cocktails.
If you want to step away from the hotel for a meal, there are plenty of options within walking distance. For breakfast, we like the family-owned George's. Brunch is served daily until 4 pm, so it's an ideal place when you've slept in way too long but still are jonesing for morning grub. My favorite is the half order of chorizo benedict. Delicious!
What Works? What Doesn't?
The overall experience at the Heathman Hotel is great – the front desk staff is helpful and informative, not only about the hotel but of the local attractions too. The rooms are spacious and cozy, the beds are comfortable, and the location is great. We have it on our highly recommended list and will stay there again.
The Eastside is pricey, and sleepy little Kirkland (as it was when I grew up near there) is no more. During the summer and nice weather, prices are going to be about $300 per night, which may be more than your budget for a local stay might be. If you're flexible on dates or are traveling during the off-season, there are some good deals to be found, and if it's a special occasion, splash out with a suite.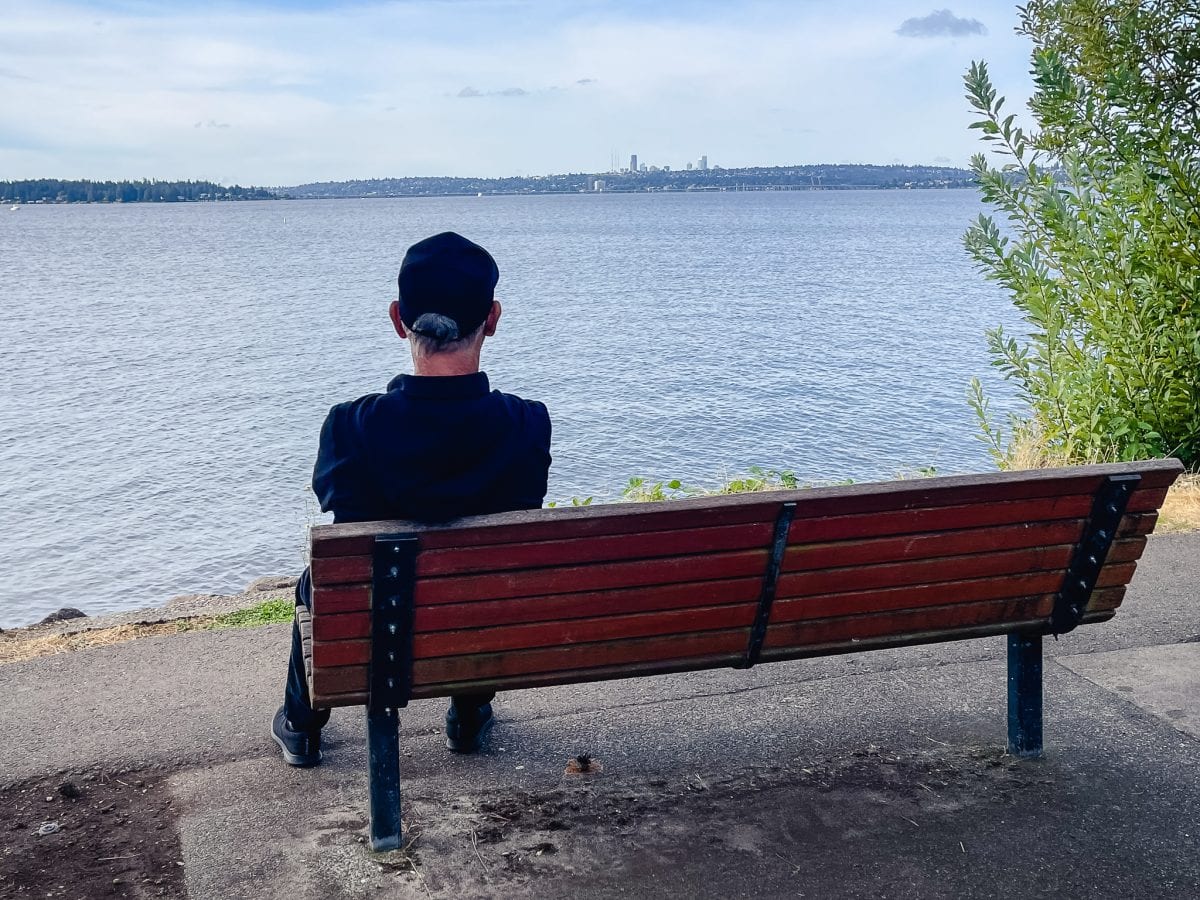 Need to Know
Address: 220 Kirkland Avenue, Kirkland, Washington
Website: Here
You'll need a car to get to Kirkland, but once at the hotel, you can leave it parked and enjoy a walkable city or use it as your base for exploring the area. The hotel is about a 35-minute drive from Sea-Tac Airport, slightly less from Paine Field (get more info about Seattle area airports), and traffic dependent. It's about 25 minutes from downtown Seattle.
Hotel affiliation: The Heathman Hotel Kirkland is an independent hotel and is part of the Stash Rewards loyalty plan.
Rates: Starting around $225/night based on double occupancy based on a rate check in January. Rates are generally lower on the weekends.
Pinterest
Save to your favorite Pinterest Boards and start planning your stay at the Heathman Hotel in Kirkland