The recently opened Astra Hotel Seattle is part of the Marriot Group's Tribute Collection. Centrally located in the South Lake Union neighborhood, the new hotel is conveniently near Seattle's major attractions – the Space Needle, Seattle Center campus, Lake Union, and the Amazon Spheres.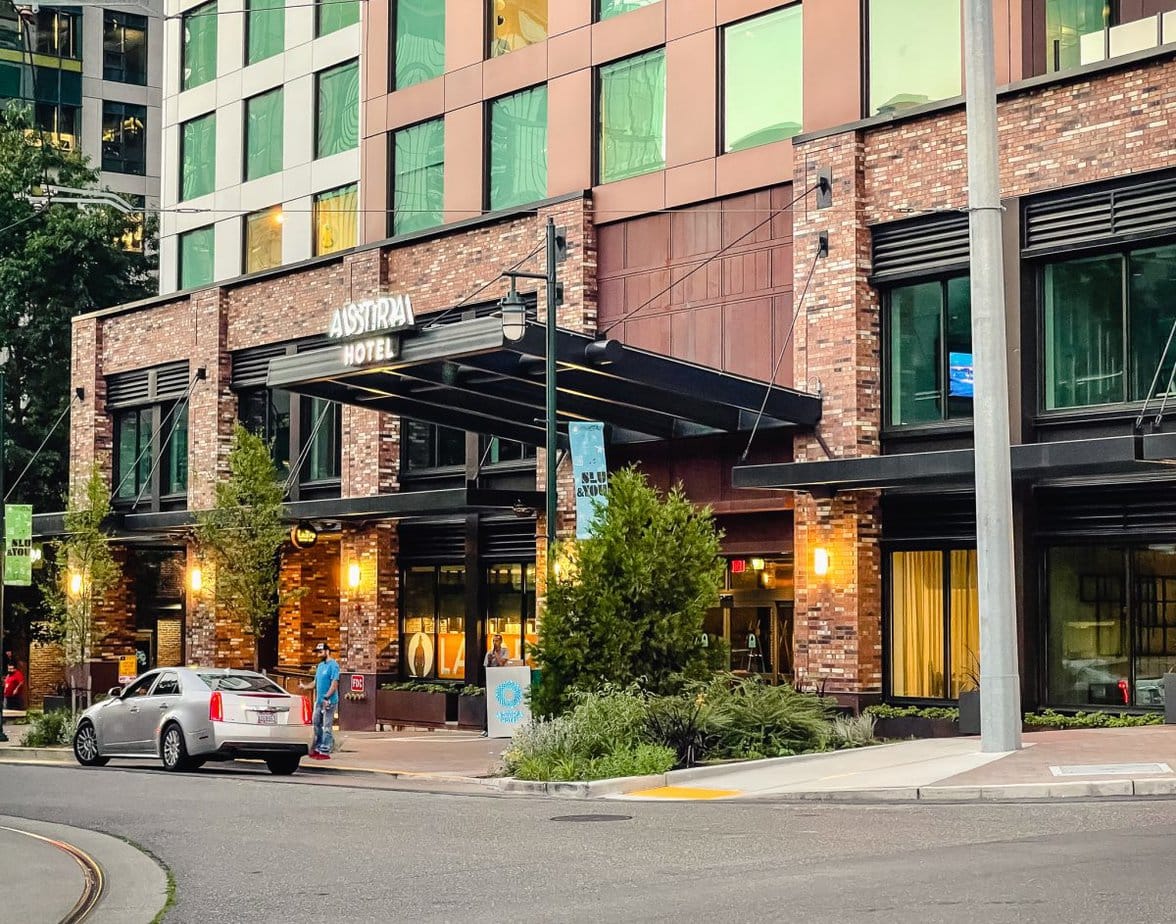 This technologically progressive Seattle hotel boasts an array of smart features and functions, fitting in perfectly with the tech hub in which it is located. With state-of-the-art amenities and a convenient location with comfortable rooms, the Astra Hotel has set a high bar for a downtown stay.
Who Stays at the Astra Hotel in Seattle?
The eclectic clientele ranges from business travelers and young professionals to families. Meeting and event space is plentiful, attracting the tech-set who will find the range of tech-enabled meeting spaces attractive. The abstract art is enticing and the retina displays are crisp and easy on the eyes. For families with young children, the kid's program can provide a little breathing room for parents. A 24-hour business center, 24-hour fitness center, and valet parking round out the amenities.
What are the Rooms Like?
The 265 guest rooms at Astra's South Lake Union location range from premier and deluxe options (king and queen beds) to a presidential suite. Each room is packed full of amenities including complimentary fiber optic Wi-Fi, 65" flat-screen televisions an ionic hairdryer, a mini fridge, a handheld clothing steamer, an ergonomic workspace, and mechanized blinds. Intuitive bathroom nightlights, screencasting on the television, and a digital concierge were all a treat.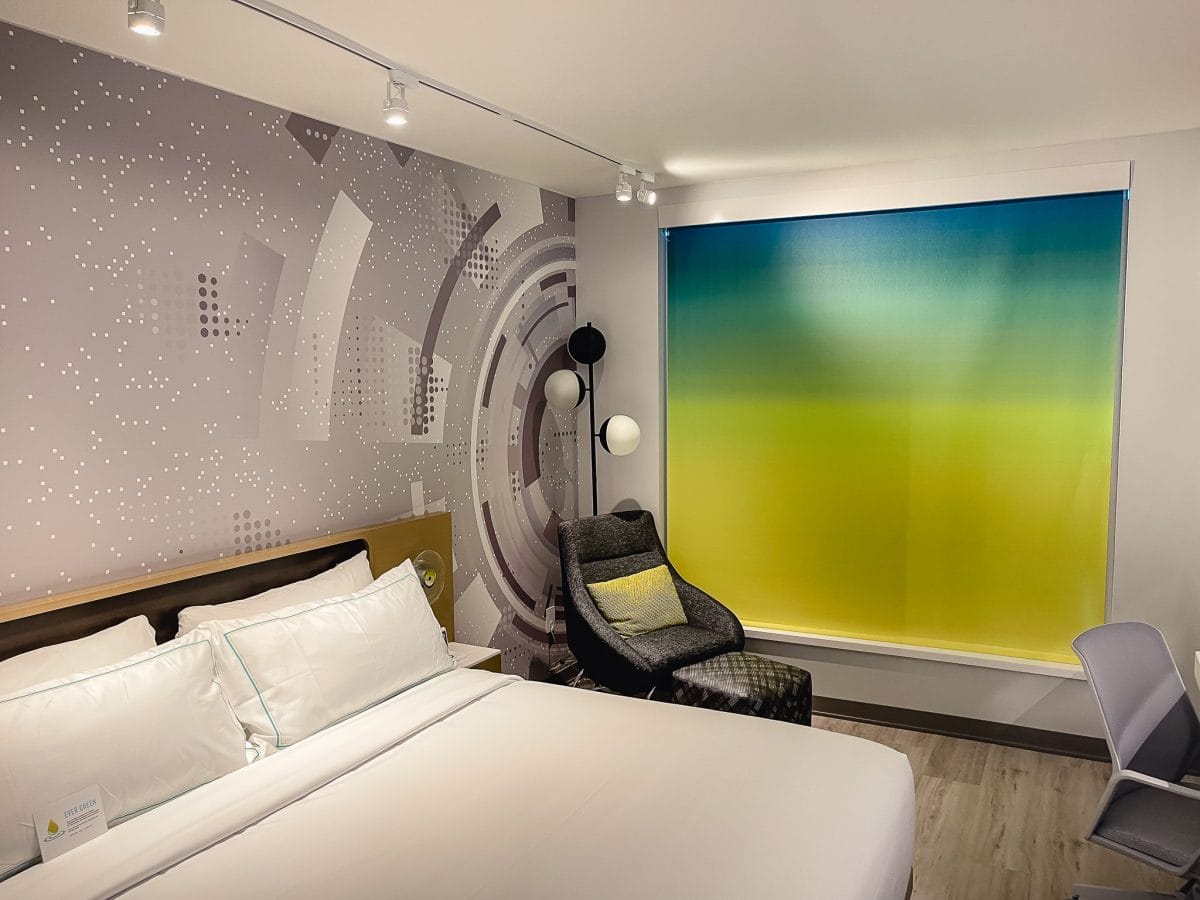 Sparky, the robotic butler, can deliver room service, including food, linens, or other supplies to the room. We didn't have a chance to interact with Sparky during this stay. Next time.
And let me mention again – FREE wifi.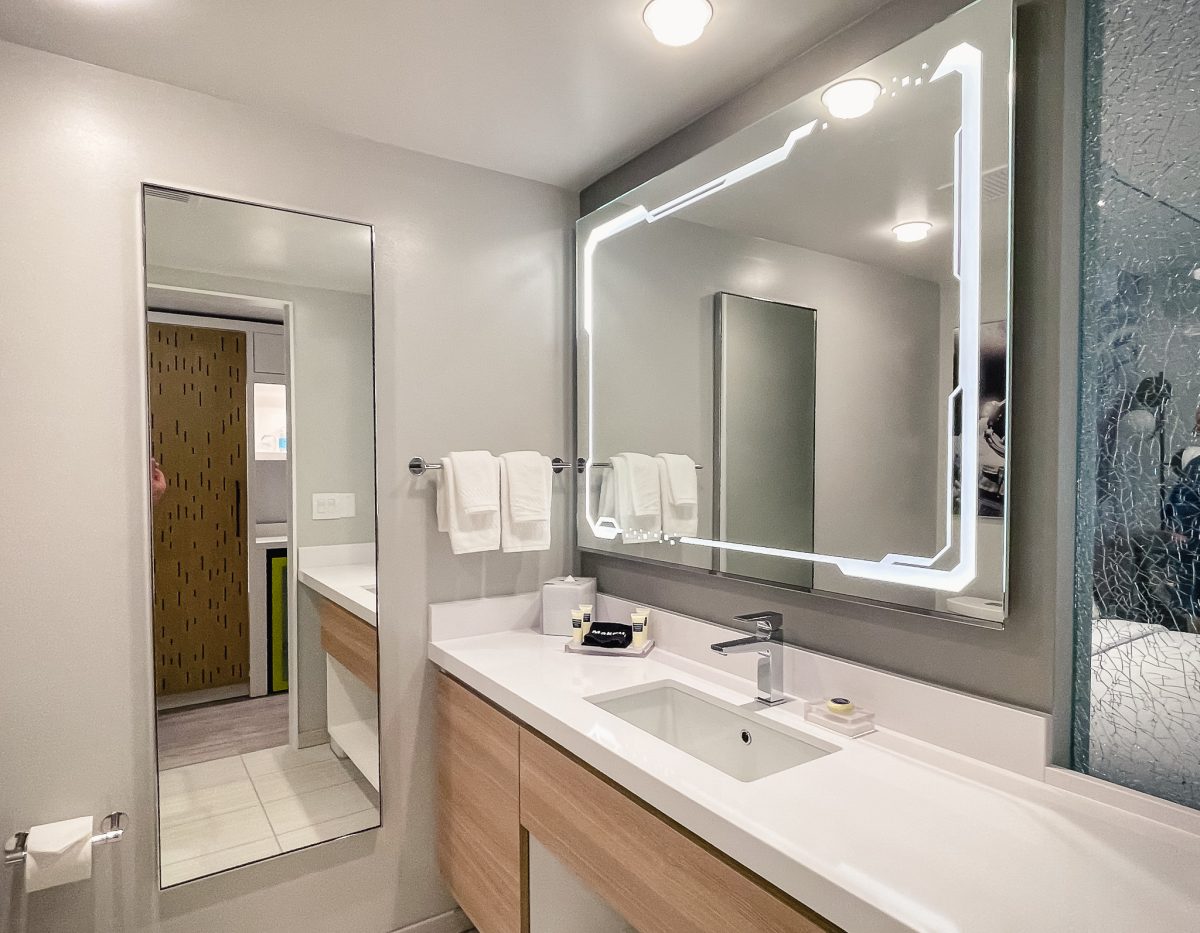 We thought the rooms had a space-age vibe. Technology was a part of it, of course, but the sleek minimalism of the decor bolstered it. Designs on all the walls created a cylindrical feeling. It felt like we were on the Starship Enterprise. Or perhaps the Orville.
Where Will We Eat & Drink?
Three restaurants are available. on-site, in addition to the multitude of choices available in the neighborhood.
Caffe Ladro
Located in the main floor lobby, Caffe Ladro offers an assortment of coffee blends and seasonal specialties along with a delicious display of freshly baked goods. Open mornings from 6:30 am-noon for your morning caffeine and sugar fix.
Otium Grill & Greens
Located just off the lobby, Otium (which is Latin for leisure time) is located just off the lobby and serves as the main hotel dining venue. Large windows provide light and openness to the room, which incorporates some industrial chic touches (exposed ductwork, lots of metal) to the decor. This also means the noise level can escalate. Great fun for a group of friends; not as good for a romantic dinner.
Executive Chef Kalen Schramke works with local partners to create menu items that reflect the highest quality and well-cared-for protein choices. Seafood is wild-caught and sustainable. Greens are organic and local. We enjoyed some passed tastings at a recent media event and liked what we saw.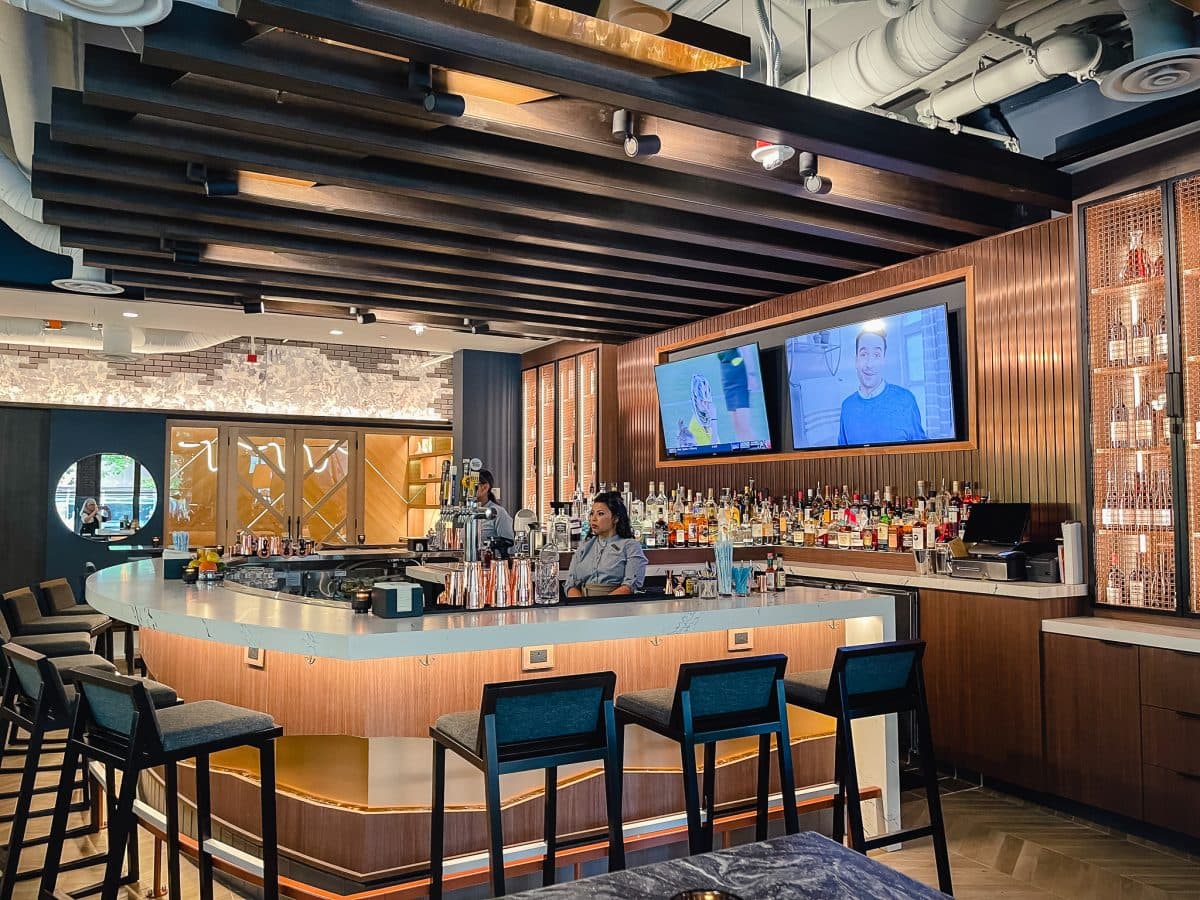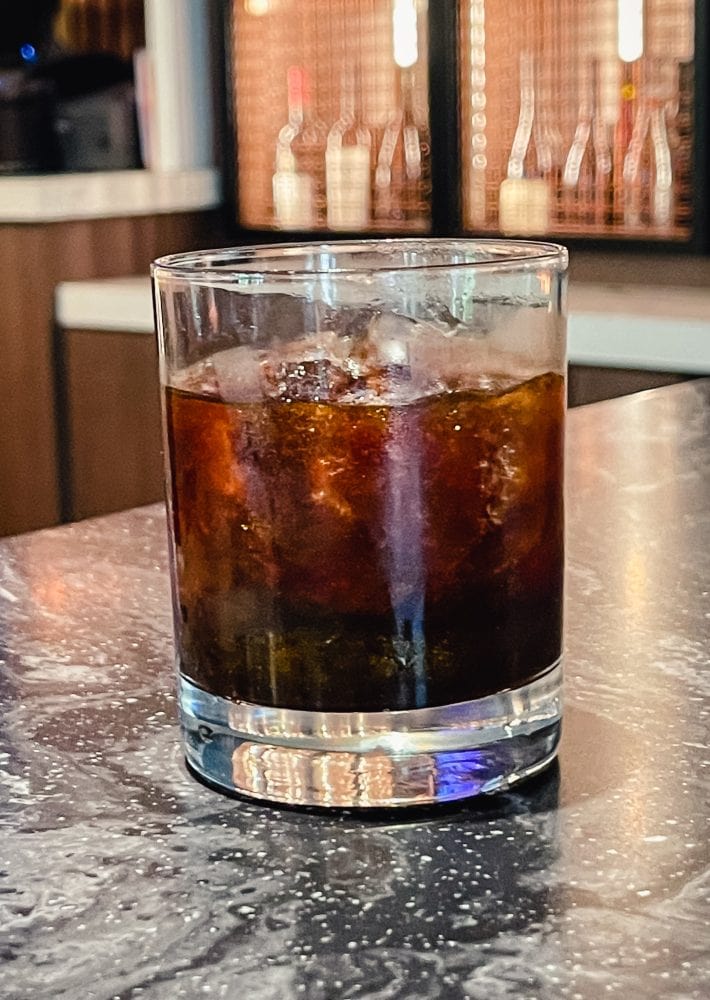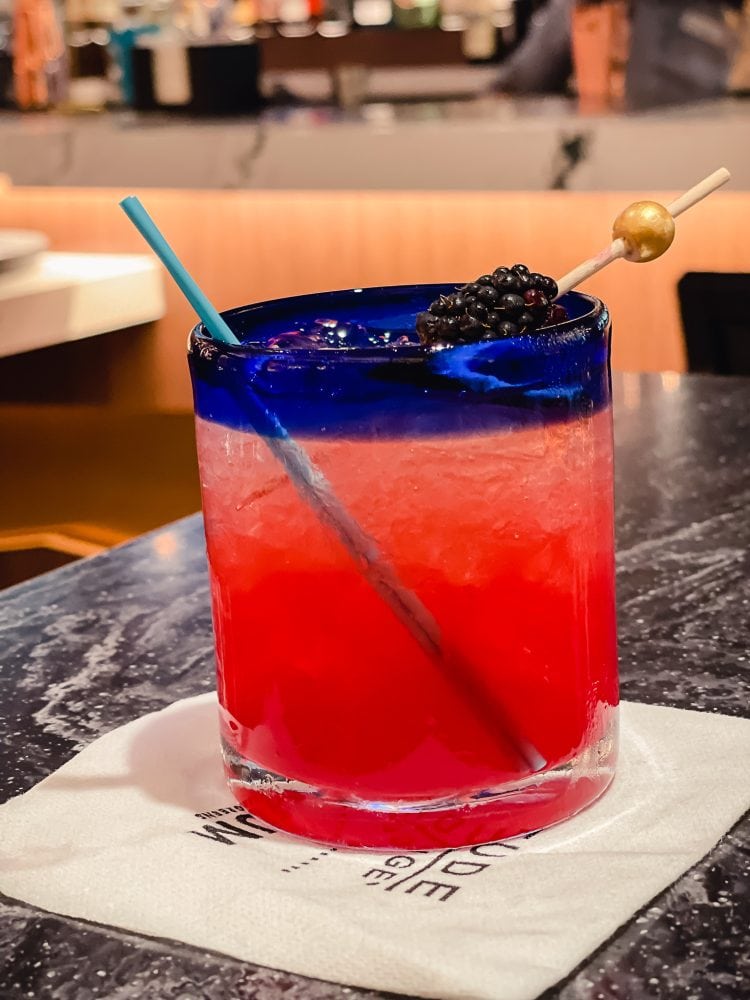 The craft cocktails alone are worthy of a visit. Tony enjoyed the Necessary Provisions (premium whiskey, chicory, cold brew, pipe tobacco, cardamaro, black walnut, $15). I'm a fan of the Blood Moon (vodka, creme de cassis, quinquina, Earl Grey tea, coriander, lemon, sparkling mineral water, $15). What a tasty beverage – cheers!
Otium is currently open for lunch (11 am-2 pm) and dinner (4-10 pm), Monday-Friday. Extended weekend hours should be coming soon.
ALTITUDE Sky Lounge
Sixteen stories up, ALTITUDE is Seattle's newest upscale rooftop bar. Wrap around deck with impressive views of Seattle, fire pits to stave off the Seattle chill, industrial chic design, and a quality selection of beer, wine, and cocktails. Seattle's young and beautiful will want to drink and be seen here. It is also available for private events.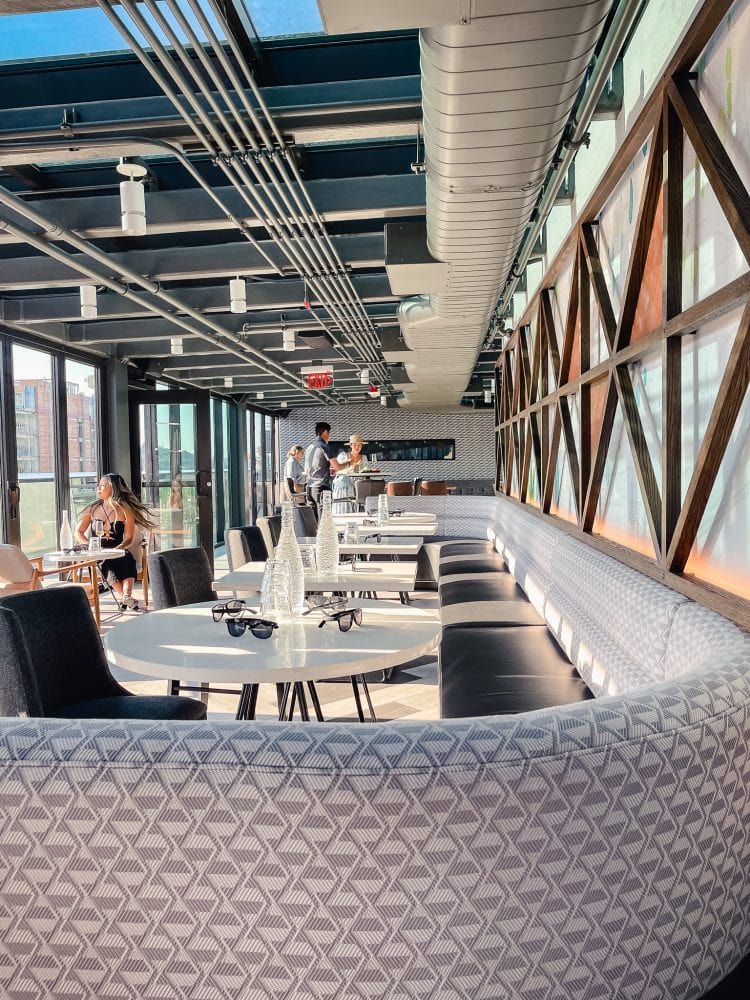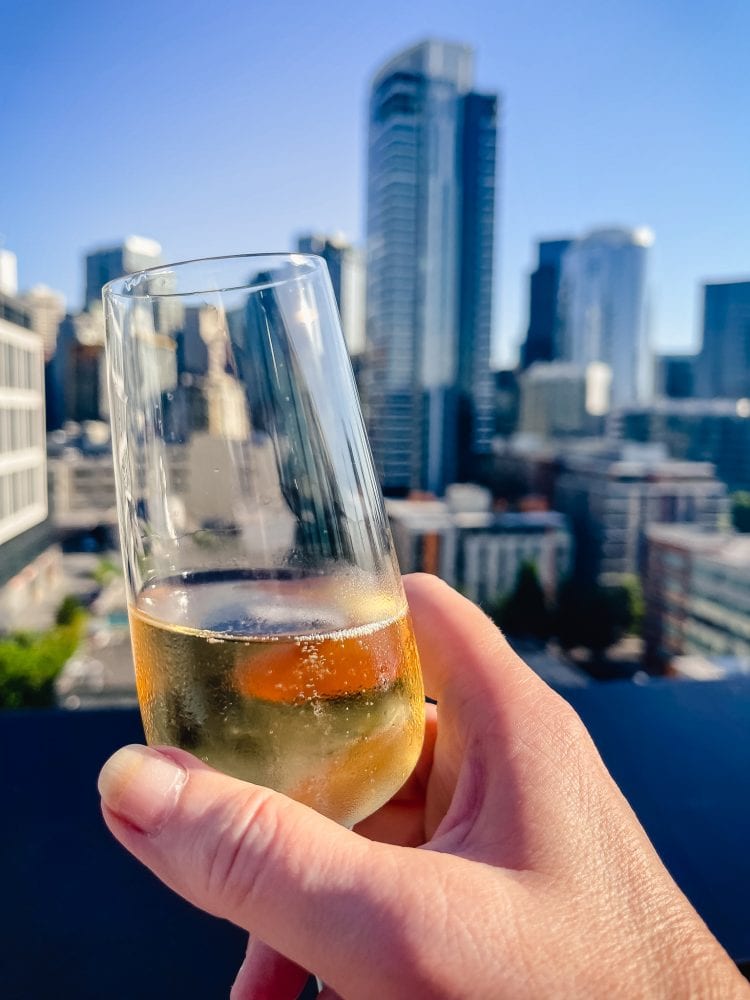 During Seattle's nice weather, the outdoor section is likely to be one of the hottest tickets in town. Heaters, although limited, will extend the season, but I doubt anyone will be sitting out here in the middle of our winter rainy season. You've got a little bit of time left, so make a reservation right away. Indoor seating is a solarium-style glass enclosure. Reservations are for 90-minutes and book up fast.
What works? What doesn't?
The front desk and overall guest service are superior, especially since we stayed relatively soon after it opened, a time normally associated with working on lots of pesky details. A few special requests were met cheerfully and with a sincere effort to be helpful.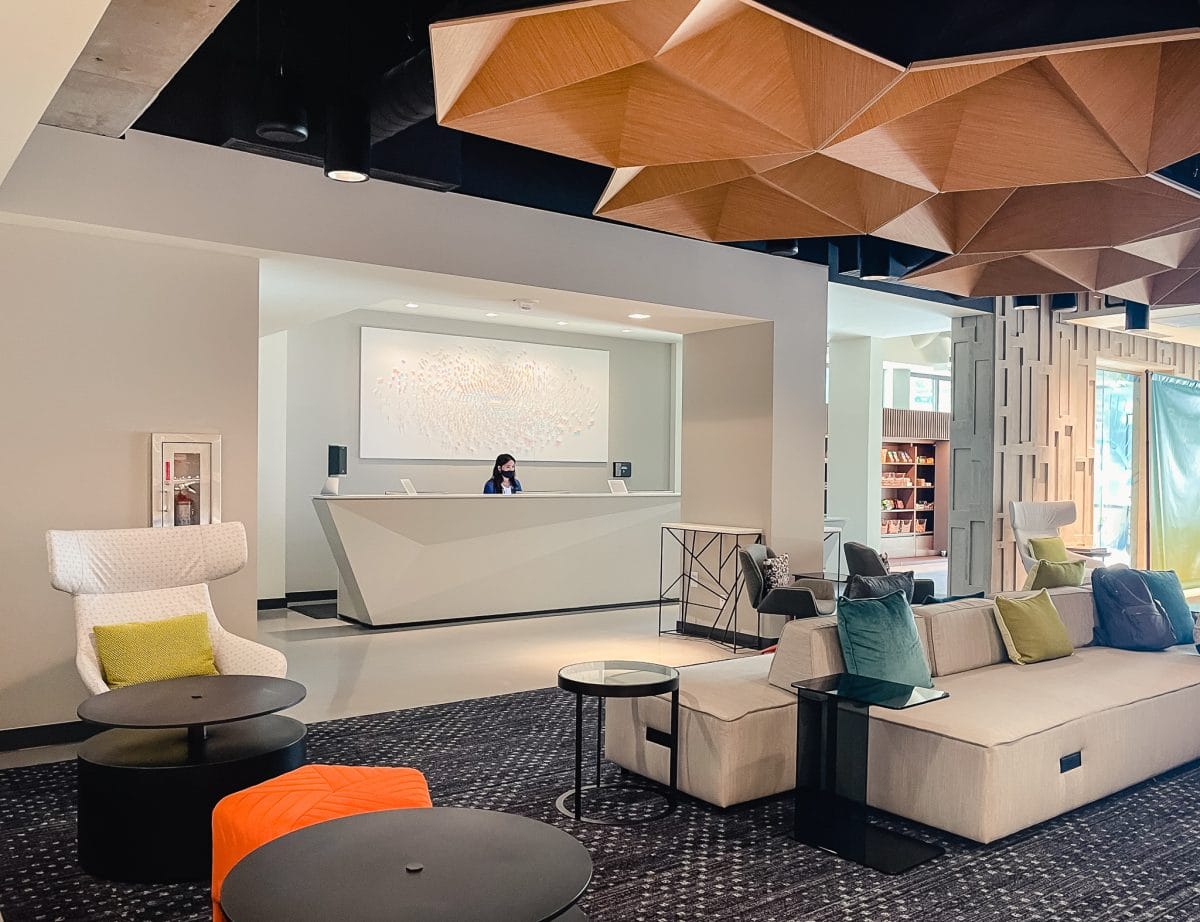 Leisure guests will appreciate Astra's close proximity to many of Seattle's iconic attractions. The Westlake Light Rail Station, with direct access to Sea-Tac Airport, is about a mile away. While that might be a bit too far to manage with a lot of luggage, we thought the location gave us lots of walking options for places to go and things to do in the northern end of the downtown core.
We'll be back to stay again. In fact, we've got our eye on booking the presidential suite for an upcoming event.
If you're young and techy, the Astra Hotel will become your go-to place in Seattle for food and drink. It has all the bells and whistles that make it a premium location for the downtown set. Although I felt a little too old for ALTITUDE, on a nice day, I expect this place will be packed. I wouldn't hesitate to book dinner at Otium.
Need to Know
Address: 300 Terry Avenue North, Seattle
Website: here
Closest light rail: Westlake station, about one mile away
Hotel affiliation: Marriott Tribute Portfolio (Bonvoy loyalty program)
Rates: Starting around $175/night based on double occupancy. Rates seem to be lower on the weekends.
Disclosure: We attended a press event celebrating the opening of the hotel, which included a complimentary stay.