Secret Seattle: A Guide to the Weird, Wonderful, and Obscure is almost ready to fly on the press. It is available for pre-order on Amazon (here) and from the publisher, Reedy Press, here. The official release date is September 15th, 2021, and shortly after that, it will be available directly from me and on the Secret Seattle website.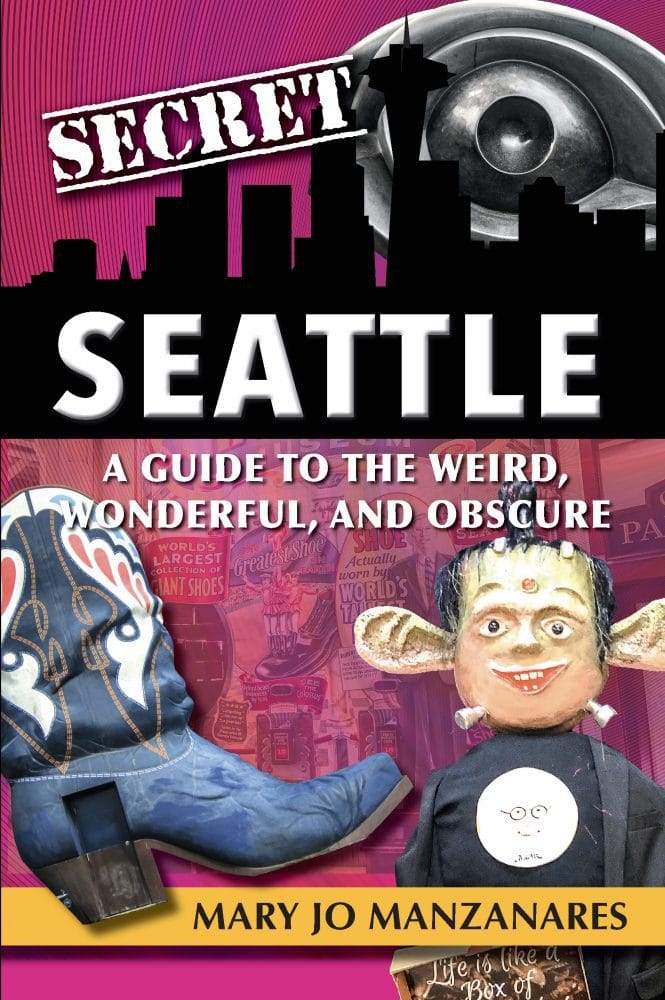 This is my first book. I wrote it in the middle of the Covid-19 pandemic. What a crazy idea, as closure and lockdown policies seem to change almost daily. The secrets in this book were rewritten many times as beloved businesses went out of business or pivoted in ways that didn't work for the book. And now that it's set for release, it seems like things are changing rapidly once again. Although it was a crazy idea, I'm so very glad that I took on the challenge. As a native Washingtonian, there was still so much to discover, so many times that Tony or I said, "I didn't know that."
What can you expect in this quirky guidebook? The book is full of secrets. And secrets are funny things. Over the years, stories change. They often grow exponentially with each re-telling until there is little resemblance to the origin story.
I scoured the city and surrounding areas for a diversity of secret spots. You'll find diversity in geography – from Capitol Hill to Pioneer Square, from Lake Union to Madison Park, from Elliott Bay to the Pike Place Market – as we discovered Seattle's historical treasures and unusual things. You'll find diversity in culture as we learned about painful and often forgotten history, appreciating, even more, the patchwork that makes up our corner of the Pacific Northwest. We discovered great public gardens, pocket parks, century-old sidewalks, and offbeat facts. We found a whole new way of looking at everyday sights, not just the best places, but also how to keep a keen eye out for unexpected amazing views, interesting local history, green spaces, and sorts of things that seemingly hide in plain sight.;
Here are a few things you can discover about the Emerald City:
Learn how rhinoceros and hippopotamus can help you have a more beautiful garden.
In the enthusiasm of NHL hockey in Seattle, don't forget that the first U.S, team to win the prestigious Stanley Cup came from Seattle.
If you long for the pinball wizard days of youth, discover how to rekindle your love of the silver ball.
Love the roar of the thunder boats? Discover how you can enjoy hydro racing all year long.
What sport started as a backyard experiment and has grown into one of the fastest-growing events in the U.S.?
Can you really rent an elephant for your party?
Where can you learn more about the Time Lady, the pleasant voice that used to answer the phone and tell callers the accurate time?
How has Seattle recycled nuclear submarines?
Whether you're a Puget Sound local wanting to learn more about the Seattle area, or a visitor wanting and to find a perfect place to check out, Secret Seattle starts you off on a path of discovery.
With the release of the book imminent, the work picks up again. There's still much to be done and with various restrictions and limitations in effect, I really need your help. Here are some ways that you can help:
Buy a book! Whether you pre-order or wait till the release, the success of a book is all about the sales. And, contrary to those New York Times best-selling authors, niche guidebook authors aren't rolling in the dough with sales. So every single purchase of Secret Seattle matters – a lot. I am happy to sign books purchased directly from me (and am happy no matter where you choose to buy it) and offer bulk pricing for the purchase of five or more books. Secret Seattle will make a great gift for your favorite armchair explorers, a Seattle walking enthusiast, or someone who wants to get off Seattle's well-beaten path.
Buy books to give away – as a client gift, housewarming gift, new employee welcome gift, for your meeting attendees, secret Santa gift, for auction or sales gift basket, and more. I'll sign and personalize them if you wish. The holidays are right around the corner.
If you own or manage a bookstore, boutique, gift shop, or have a small business that could showcase and sell the book, I'll put you in touch with a representative who can help with wholesale orders. There is no minimum order required.
Be a fan! You can follow me from my Amazon author page and my Goodreads author page.
Invite me to speak at an event – luncheons, Zoom meeting or conference, book signing, club meeting, reading group, bookstore event, author event, fairs, festivities, book clubs, etc. Do you belong to an organization or group that needs a speaker? I'm available and will make it fun.
Share this blog post on social media – Twitter, Facebook, Instagram, wherever you and your family, friends, and colleagues hang out.
Email me your marketing and promotion ideas. I welcome ideas from the hive minds of readers.
I can't wait to hold the book in my hands!
Pin to your favorite Seattle boards because you know you'll want to buy – and love – this book.