Located on Seattle's historic Pier 57 overlooking Elliott Bay, Miners Landing is so named for its role in the Klondike Gold Rush; it was the site where the first gold was brought back to the city, inspiring more citizens to head out in search of riches. Today, Miners Landing is a popular tourist destination with lots of attractions, arcade games, restaurants, and rides to enjoy.
To help you plan how to spend your time here, here is our guide to what you can see and what you can do at Miners Landing.
Things to Do at Miners Landing
You don't have to be a kid to have all the fun, there are attractions on Miners Landing suitable for all ages.
Seattle Great Wheel
Seattle's answer to the London Eye, the Seattle Great Wheel is one of the most popular attractions on pier 57. Standing at over 175 feet tall, it was the tallest Ferris wheel on the US West Coast when it was first opened in June 2012. Now there are lots of other competitors.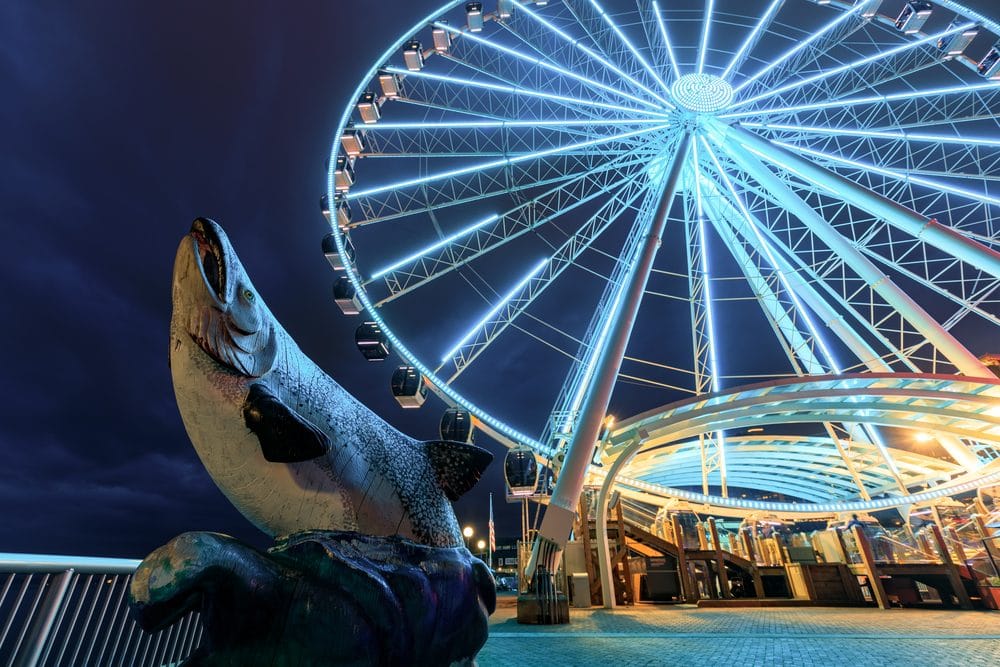 The Great Wheel consists of 41 regular gondolas that can carry up to eight passengers and one VIP gondola with red leather seats and a glass floor which has a capacity of four passengers. The trip around takes approximately 12 minutes and you get to admire the fantastic views across Elliott Bay. The views are amazing whether you take the wheel day or night, but there's a special magic to the ride at night when the city is all lit up.
As well as taking a ride on the Seattle Great Wheel, you can also see the spectacular light show. These usually take place on Fridays, Saturdays, and Sundays from when it gets dark to 10 pm. During the week, just the ring beam is usually illuminated. If you happen to be visiting during the holiday season or on a game day, keep an eye out for the special themed light shows that take place. They also do custom light shows, so if you are visiting Seattle for a special event (such as getting married or a branding event), you can contact them to make custom arrangements.
Current ticket prices are $13 for an adult, $11 for seniors, $8.50 for children 4-11 years old, and kids 3 and under ride free (although they still need a ticket). Website here.
Emerald City History Walks
If you want to learn more about the history of Seattle's Central Waterfront area, Emerald City History Walks is located inside Miners Landing Seattle. On this tour, you will learn about Elliott Bay's past and how it was instrumental to the creation and growth of the city. You will see various sights in the area, including the Coleman Dock, Seattle Great Wheel, Seattle Aquarium, the Port of Seattle, and various scenic viewpoints along the way. Your guide will also be able to give you insider tips on where to go in the area, including restaurants and cafes.
The tours take place rain or shine, with cancellations and delays only if there are extreme weather conditions. Note also that admission fees to the attractions you are taken to are not included in the tour price. Currently, there are no tour dates available online, so it is a good idea to keep checking to see when they come up.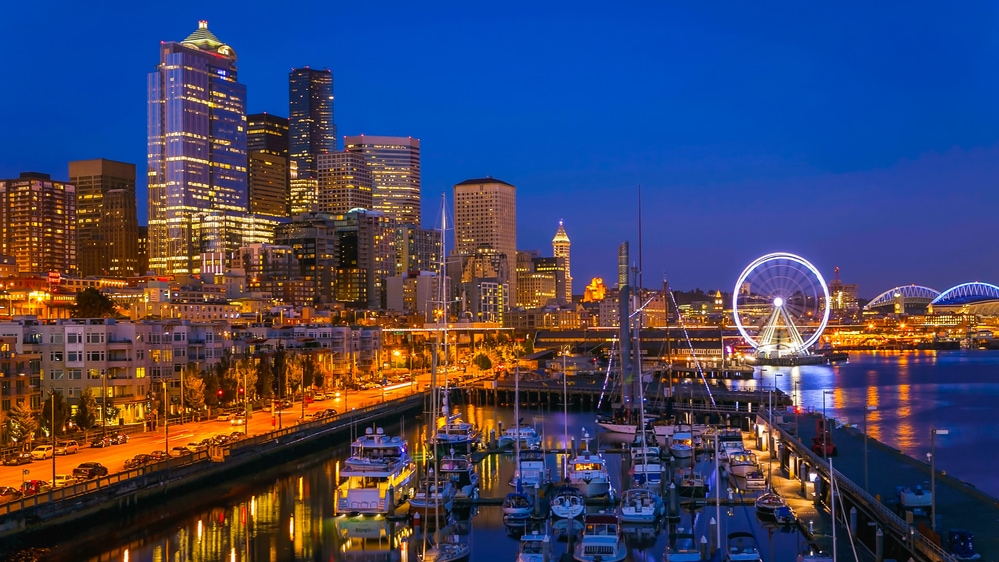 Wings Over Washington
One of the newer attractions at Miners Landing, Wings Over Washington is described as a state-of-the-art flying theater that uses 5,000 cameras, drones, MUSHROOM VR, laser projection, and surround sound to take you on the trip of a lifetime. Website here.
To begin with, you are shown to a room similar to a log cabin with various totem animals; once seated, you watch a video of a park ranger giving some history of Washington state and safety information for the ride itself while the totem animals move around you. You then move through to the theatre to enjoy an amazing journey as a spirit eagle sweeps you over the landscapes of Washington state. As you dive and swoop you pass landmarks such as the Olympic National Forest, Mount Rainier, the San Juan Islands, the Cascade Mountains, and Snoqualmie Falls. After taking in the view of the Tieton River and the Walla Walla Valley Balloon Stampede, you will find yourself gliding back to Elliott Bay and around the Seattle Great Wheel just in time for a colorful fireworks display.
As well as the sights, you can also experience the smells and sounds created with the ride's high-tech equipment.
Seattle Waterfront Carousel
It doesn't matter how old you are, it seems that everyone loves an old-fashioned carousel. Despite what you might read elsewhere online, this historic carousel is not that old; although it looks like it was made in the early 20th century, it is actually a fiberglass replica that only dates back to the 1980s. It still provides visitors with a fun two-and-a-half-minute ride though, so even if it is not the historic gem that it looks like – and won't be for a few more decades, at least – it is still a charming ride.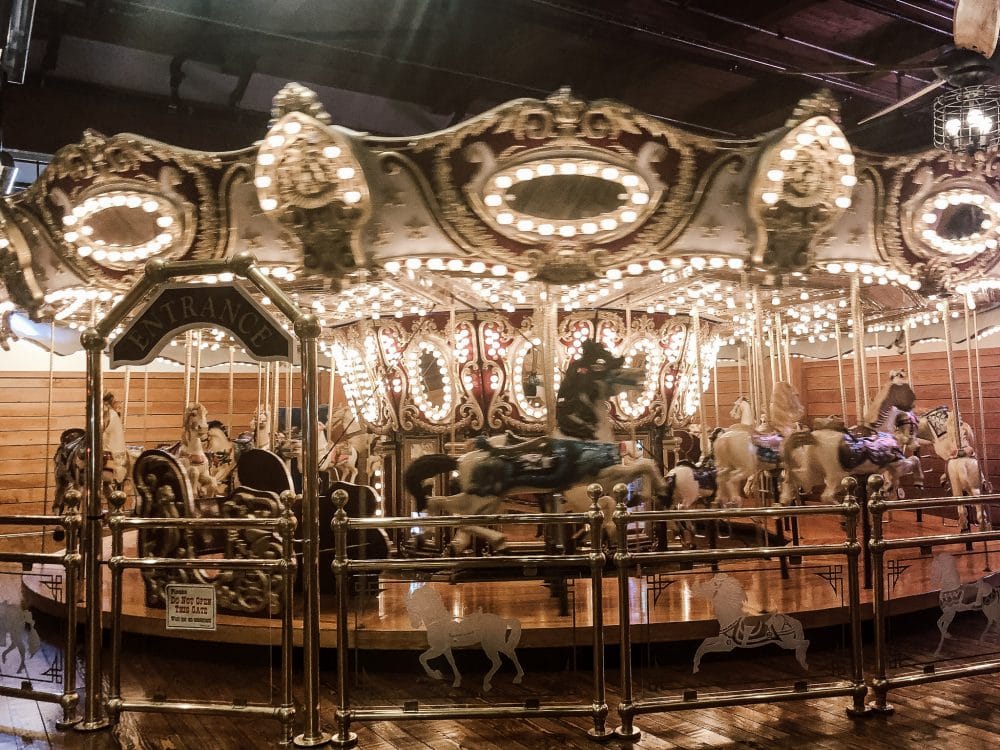 Don't be fooled by the name, either – the Seattle Waterfront Carousel does not give you views over the water. It's located inside of Miners Landing Seattle and surrounded by vintage arcade games. So although you do not get great views of the bay while you take a spin, this is a pretty cool retro atmosphere.
Klondike Arcade
If you're a fan of retro gaming, stop by the Klondike Arcade. Since Pier 57's revamp, there are only a select few games left, but they're classics – a giant Pac-Man game, NBA Jam, and three versions of Street Fighter II. Have at it!
Where to Eat at Miners Landing
The Crab Pot Restaurant and Bar
As you might have guessed from its name, there's lots of crab on the menu, from the crab cocktail for a starter, to the crab combos and specialty crab dishes for entrees. If you're not a crab lover, don't worry, there plenty of other menu items available. The Crab Pot is casual dining with a great menu.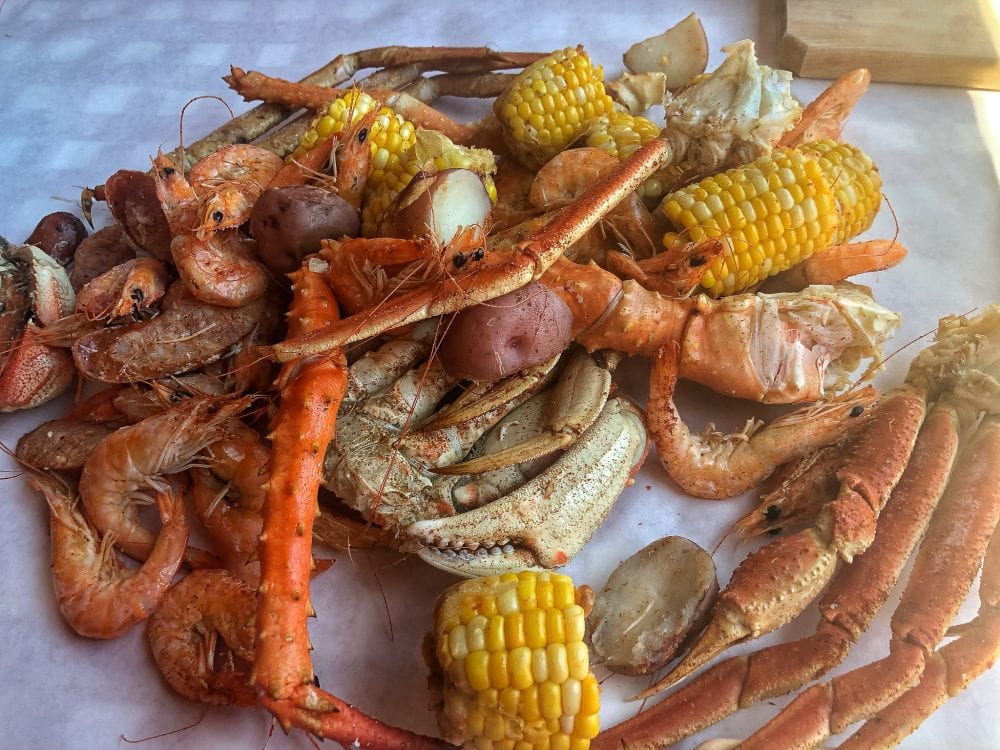 One of my favorite Crab Pot options – only offered during the summer crab season – is the Royal Crab Feast. Bib up with this feast of four varieties of fresh and regionally sourced crab, red-jacketed potatoes, fresh corn, andouille sausage, and head-on shrimp. A minimum order of two is required, but it will easily serve more. I'd recommend ordering the Royal Crab Feast for two, add in salads for everyone, and you'll have enough dinner for people (and probably have some to take home).
Chef Nick Novello also settled a longstanding argument for us. I crack my carb and eat as I go along. Tony cracks all his crab, forming it into a pile, then eats it. The Chef agrees with me.
The Fisherman's Restaurant and Bar
Situated just under the Seattle Great Wheel, the Fisherman's Restaurant and Bar has both indoor and outdoor seating, so if it is a nice day weather-wise you can enjoy your meal while taking in the beautiful views of Elliott Bay.
When it comes to the menu, it should come as no surprise that fish and seafood are the order of the day here, although there are other options during the dinner service if fish isn't your thing. Fisherman's is well known for their chowders, oysters, and mussels, but both their lunch and dinner menus are extensive, offering a wide range of grilled fish, salads, tacos, and plenty of other delicious options.
Salmon Cooker
If you are looking for a quick casual bite to eat, the Salmon Cooker is a great choice. You stand in line to order what you want and then take it out onto one of the benches or tables on the waterfront to eat. It has lots of choices when it comes to fish and seafood, and the bread bowls filled with chowder are always a big hit.
The Sourdough Restaurant and Bakery
For lighter bites, the Sourdough Restaurant and Bakery is popular with both visitors and locals. Their bread alone is reason enough to visit; they specialize in double sourdough, which is considered to be one of the best in the city. Like many eateries in Miners Landing Seattle, they do an excellent clam chowder in a bread bowl, but they also have a variety of bread-based light dishes on offer, such as panini and sandwiches. As it is also a bakery, you can also buy some of the bread to take away with you.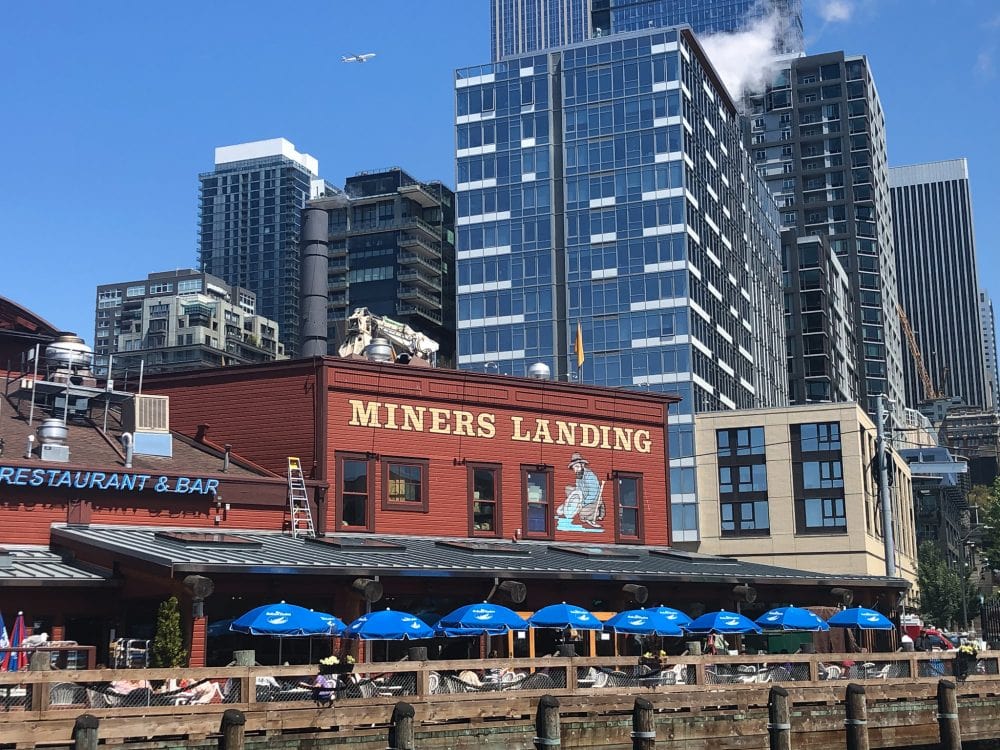 Seattle Bay Creamery
Most people enjoy something sweet after their meal and Seattle Bay Creamery is the perfect place to go. They sell home-made ice cream which can be purchased in either cones, floats, cups or shakes, with a choice of the most popular flavors. Even their waffle cones are made on-site, so you know that everything is freshly made.
Shopping at Miners Landing
Pirates Plunder
The main store at Miners Landing Seattle, Pirates Plunder specializes in pirate-themed clothing, souvenirs, party supplies, and toys. Although it may sound like it is filled with tourist crap, it's actually a pretty cool store to browse and a great place to pick up a few Seattle souvenirs for friends and family. It's an interesting mix of quirky and good quality products for sale.
Other Stalls and Stores
While Pirates Plunder is the main store located within Miners Landing, there are also a number of smaller stalls where you can purchase snack purchases. Ice cream is always popular on a hot Seattle summer day, and equally popular are the cotton candy, caramel corn, and kettle corn stalls. Let your personal taste preference dictate.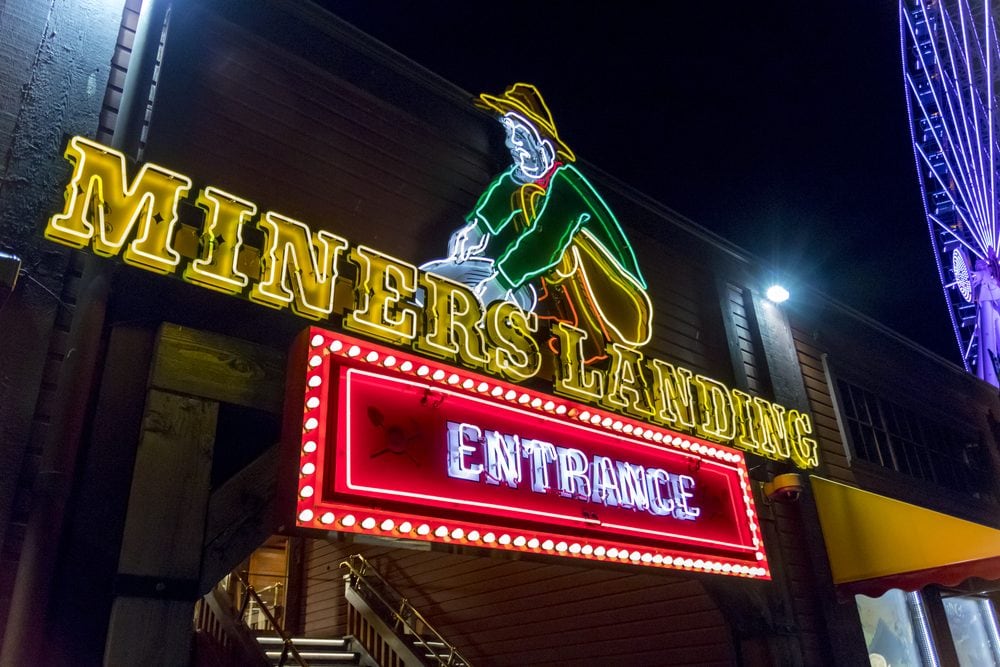 Whether you are want to take in the awesome views of Elliott Bay, looking to indulge your inner child by going on some of the rides, or simply wish to enjoy an excellent meal at one of the many restaurants here, a visit to Miners Landing in Seattle is the perfect day out. On a beautiful Seattle day, there's nothing better than spending it on the Seattle waterfront.
Where to Stay in Seattle
There are lots of great hotels in Seattle and we enjoy booking one for a getaway weekend at home. This is a handy map to help you find the right match.
Pin for Later
Pin this to your favorite Pinterest boards for planning your next trip to Seattle, how to enjoy time in Seattle before or after a cruise, or make a list of local ideas.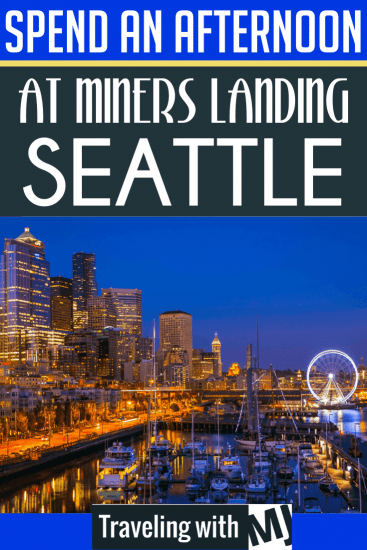 Want to explore another Seattle neighborhood? Here's our guide on how to enjoy an afternoon in Seattle's Pioneer Square.
Disclosure: We have visited Miners Landing many times and, on occasion, some of our activities have been hosted.