Mayflower Park Hotel
Address:  The Mayflower Park Hotel is located at 405 Olive Way, Seattle, Washington.
Value Luxury Rating: 



(out of 3 hearts)
Features:  Located in the heart of downtown Seattle, the classic European-styled Mayflower Park Hotel dates back to 1927. The lobby features chandeliers and antiques, creating an inviting atmosphere for checking in, meeting a guest or just relaxing before heading out for the day. It is accessible by light rail direct from the airport, about a 40-minute trip.
The hotel has 160 rooms and 29 suites decorated in color schemes similar to the lobby, and each room features art specially designed for it. Contrasting with the classic headboards and armoires, are all the necessary modern amenities such as a flat panel television, coffee maker, and free wifi.
Price Range:  I stayed in a King Suite, which had a bedroom with king-sized bed and a separate parlor area. Checking random dates in January, this suite is value-luxury priced at around $229/night. An entry level classic queen room is priced at around $179/night, A variety of special packages (including breakfast, art themed, and more) are also available, adding minimal cost and lots of value to the rate.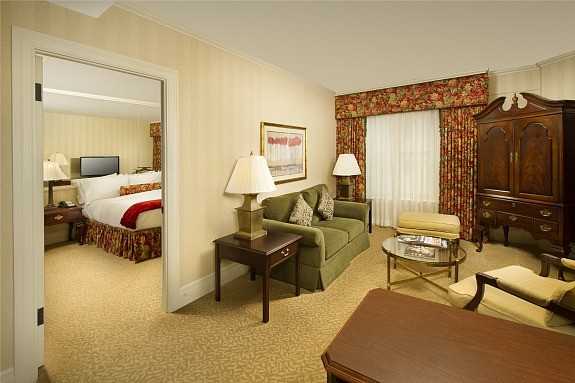 The Mayflower Park is well situated for any shopping forays, and if you want a festive getaway, the current Holiday Traditions Package offers great value. It's also available with breakfast. I usually spend New Year's Eve in the city, enjoying dinner and end of the year festivities, and the prices for this usually high priced holiday are value-luxury priced starting at $239/night.
Valet parking is available for $35/night, an outrageous amount, but competitive (if not lower than) other hotels in the city. Most packages include valet parking.
Personal Notes:  The independent and locally owned Mayflower Park has been an integral part of Seattle's downtown core for decades, and is the longest continuously operating hotel in the city. You can read about its illustrious history in Seattle's Mayflower Park Hotel, a book inspired by staff who were interested preserving the stories from the hotel's past.
I am predisposed to like this type of hotel – it's historic, has the best parts of European elegance (decor and gracious feel) combined with the best of modernity (larger rooms and the necessary electronic luxuries), and is well situated for exploring the city.The Mayflower Park didn't disappoint. From the warm welcome at check-in to my hurried departure when I lost track of time, I felt like I belonged there.
[tweetthis]Find out why @MayflowerPark in Seattle is a great value luxury hotel choice.[/tweetthis]
It would have been nice to hole up in my room, tune out the rest of the world and enjoy the old world comfort, while I put fingers to keyboard and wrote a bunch of stories. Oh sure, I'd come out for breakfast at Andaluca (a doorway to the left in the lobby), or for a martini at Oliver's (another door to the right will take you there). But mostly, I wanted to stay in my room – did I mention the free wifi – and how often does that happen when you're at a hotel?!
Instead, I spent the day enjoying some of the best Seattle has to offer, all within easy walking distance of the hotel:  A stroll through the Pike Place Market to pick up some meat, cheese, and fruit. A visit to the Seattle Art Museum to take in a traveling exhibit as well as to visit old favorites. Some shopping at nearby Westlake Center and Macy's to pick up some last minute items for an upcoming trip. A ride on the Monorail (located at Westlake Center) to the Seattle Center to visit the EMP and Science Fiction Museum. A stop off for coffee, a visit with a friend, and two days that remind me how wonderful my city really is.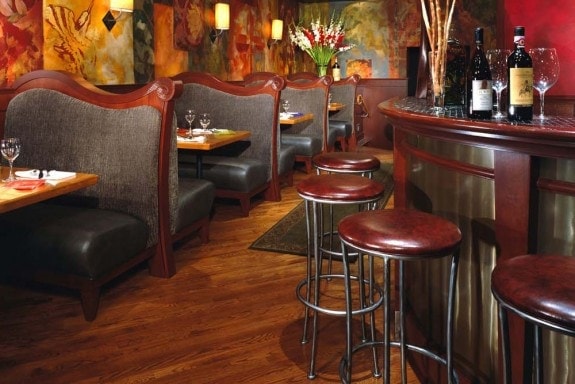 I had breakfast at Andaluca one morning, opting for the classic coffee and bacon and eggs. It was a solid serving, service was attentive while understanding that I wanted to linger, and I want to go back to try their dinner menu, especially the Liquid Chocolate Cake. Breakfast is served 6:30-11 am, Monday through Friday, and 7 am-noon on weekends. Dinner is served 5-9 pm, Tuesday through Thursday, and till 10 pm on Friday and Saturday. Andaluca is closed for lunch, and for dinner on Sunday and Monday.
Cocktails at Oliver's is a great way to end a busy day, and you can think of it as a Seattle history lesson as well. Oliver's is located on the former site of one of the first Bartell Drug Stores, was at one time known as the Carousel Room with a circus theme and antique horses, and eventually evolved to its current incarnation in 1976. It pains me to say, and ages me as well, that I remember all those previous lives.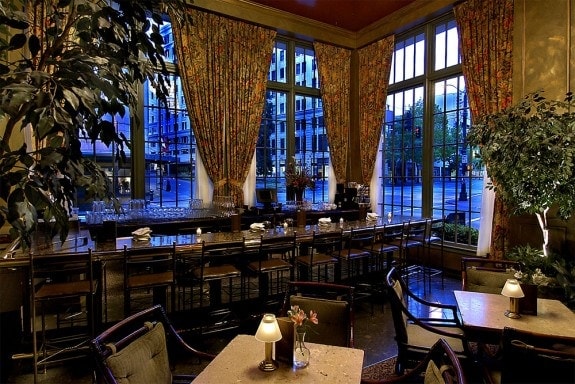 Today Oliver's is spaciously airy, with floor to ceiling windows, and known as home of the International Martini Classic Challenge. We stopped off for happy hour snacks and a cocktail, ordering a Lemon Drop and an Uptown Margarita. One word sums them up – strong. For me, it was too strong, and no amount of doctoring them up was going to help. A switch to wine made good sense. If you like a great martini, you won't have this problem, you'll slurp it on up and order another.
Oliver's is open 1:30 am-2:30 pm daily for lunch, and features small bites all day long, closing at 2 am. Complimentary appetizers are available 4:30-6 pm, Monday through Friday.
My stay was not without a minor hiccup, something that wouldn't be noticed if I didn't spend half my life in hotels. Front desk service was very gracious, but also very slow. Every transaction seemed to take an eternity, whether asking a question, getting change, or any of the mundane reasons guests stop off at the front desk. In-room check out was unavailable when I left, and the process at the front desk seemed to take far too long, mirroring the experience of other guests that I stood behind in line.
To be fair, the hotel was full and there were lots of cruise guests. Guests didn't seem to be in a hurry, and neither was I, but it would be intolerable for a businessperson trying to get on with their day. The front desk space is small, and can only accommodate two stations comfortably, so there needs to be a better way to speed up the process without compromising the gracious customer service.
Photo credit:  Courtesy of the Mayflower Park Hotel (with many thanks as I struggle through my vision problems).
Disclosure:  My two-night stay, along with valet parking, was complimentary to facilitate this review. All other expenditures were my own.