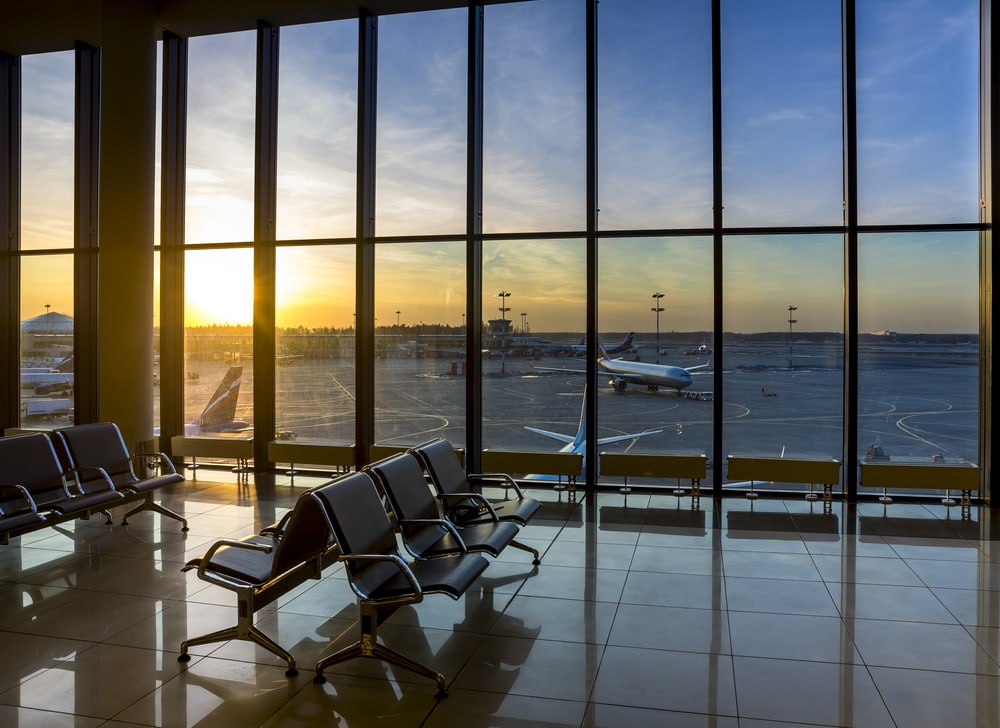 Whether you're a frequent flyer or taking your first trip, you'll need to figure out one important thing — how to get to the airport! After years of traveling, heading off to the airport is a rather routine thing for me, but you'd be surprised by how often even the most frequent fliers scramble to get packed and to their gate on time! The problem usually stems from one thing: not being prepared. 
It's tough to turn things around when travel starts off on the wrong foot. The last thing you need before your trip even begins is to arrive at the airport cranky and stressed! Getting to the airport in a relaxed state of mind sets the tone for everything that follows, which is important because, once you're at the airport, very little will be within your control. Fortunately, there's an easy fix!
Do you have a plan for getting to the airport in a timely, unhurried fashion? Unlike the past, travelers can now check-in, pull up their boarding pass, and pay for checked bag fees all from their phone! Those steps can reduce the things you'll need to do at the airport, allowing you to bypass the ticket counter altogether.
HOWEVER, and I put that in caps for a reason, planning how you are going to get to the airport on the day of your flight is probably the most important part of starting your travels off on the right foot. It's important to have a plan in place well in advance of your travel date that takes in variables like traffic patterns, airport size, and whether you're flying domestic or international.
Looking for tips that actually work? Here's how to get to the airport in plenty of time:
Drive yourself and park at the terminal. Depending on where you live and traffic patterns, this could take a fair amount of commute time. Additionally, terminal parking is generally the most expensive parking option. If you're really running late, some airports offer valet parking at an even higher daily rate. I NEVER plan for this option as the parking rate is exorbitant, but I have encountered traffic or rideshare problems that have left me having to make this choice at the last minute.
Drive yourself and park off-site. You'll still have to deal with the traffic and commuting issue, but at least parking off-site saves a bit of money. Allow plenty of time to not only get to the parking lot but also to get from the parking lot to the airport. Some lots run the shuttles on a scheduled basis, others whenever there is someone ready. The farther away the lot, the cheaper it will be, but the more time you need to allow.
Tip: If your off-site lot of choice accepts reservations, consider making one and avoiding any chance that the lot could be full on your day of travel (especially important during the busy holiday travel times). Searching online can usually turn up some special rates or coupons that can help reduce the cost.
Have a friend or family member drive you. This is probably my least favorite alternative, because you're putting your schedule and commute time in someone else's hands. Even if you're able to use the carpool lane, delays can wreak havoc on a schedule. While this can be an attractive option if all parties are reliable and you take turns, this arrangement is one of the easiest to become problematic.
Traveling every week? Departing at the crack of dawn? Arriving home in the middle of the night? It can be an imposition on any relationship, especially when a creeping delay means a friend is standing by for you rather than enjoying their own plans (or you miss your flight because they were late picking you up!).
Tip: Have a cut-off point where you no longer expect your friend to wait for you. If the 7 pm arrival becomes 3 am due to a mechanical delay, take a cab. And if you are a decent friend at all, you'll bring home a gift or treat the person to lunch, dinner, or drinks.
Take a cab to the airport. You still have the traffic and commute to deal with, but you don't have the headache of managing it. Plus, most taxis are able to drop you curbside, right at your airline's check-in counter. If you live in a residential area you'll need to arrange in advance for your pick up, while urban dwellers may be able to hail a cab on the street. Cabs can be expensive, but with more than one traveler, the per-person cost can be reasonable.
Tip: Some cab companies take credit cards or even digital payments. If this is important to you, ask in advance.
Use a car service. Although not available in all cities, I've found a car service to be more reliable than a taxi service when it comes to a timely pick up. The cars are clean and comfortable, and comparably priced to a taxi. If I'm going to be gone for longer than a week, I usually use a car service. It's more reliable for my suburban location and cheaper than what it would cost to park.
Tip: Booking round-trip will often get you a discount. If you plan on using a car service regularly, set up an account and negotiate for a discount.
Shared van service. There are a variety of companies that provide these services, lumping several pick-ups in one shuttle. Keep in mind, though, that because these are shared rides, it will take more time to get to the airport. You will save some money, though!
For example, a taxi or car service from my home to the airport costs about $50, while a shared van service will take about half an hour longer but cost around $38. If there are two or more of you traveling together, however, it's probably more cost efficient to use a taxi or car service than to use a shared service. Check online for coupons or special promotions (like kids ride free).
Tip: Most shared van services offer a discount for online booking.
Stay at an airport hotel that offers a fly/drive package and then take the hotel shuttle to the airport. This can save a lot of time if you live a long way from the airport, and is an attractive option for those very early morning flights. In my area, many hotels offer seven days free parking with an overnight stay. Do the math and see if this makes sense for you.
Tip: Even if your airport hotel of choice doesn't advertise a fly/drive option, always call and ask!
Public transportation. Depending on where you live this could be a subway, train or a bus. While this is my preference when traveling to a large city, unfortunately it's not a viable option from my home (maybe one day soon, I hope). If you have a service that can get you directly to the airport (examples: Chicago, San Francisco, Washington DC, Newark, JFK), this is probably going to be relatively cheap and quick. You will have to juggle luggage, so if you're carrying a lot this might create additional stress on you. If you are traveling with kids (and all their gear!) it may not be possible.
Tip: Check the schedules and don't catch the very last train/bus that will get you to the airport on time.
Use a rideshare. When figuring out how to get to the airport, many travelers turn to ridesharing apps such as Uber and Lyft that allow them to book a ride right from their smartphone. This type of car service is usually in a privately-owned vehicle where you can hop in with strangers, or pay a higher fare to ride on your own. Rideshare vehicles may only be allowed to drop off at specific areas of the airport, so be sure to get these details so you can factor them into your commute time. 
Tip: Always do a fare estimate in the app before you request a ride. Your driver may offer a flat-rate for traveling to the airport!
How are you getting to the airport for your next trip? Pin this to your favorite Pinterest boards for your next trip.