Jordan has a very hot and dry climate, so a cool and refreshing drink is just what you need after a long day of exploring. One of the most refreshing drinks I found while I was visiting Jordan was mint lemonade, or Limonana, a traditional drink found throughout the Middle East.
The name originates from the word "limon" which means lemon in Arabic and Hebrew and "nana" which means mint. Apparently, the drink became more well-known in the 90s after an advertising campaign promoted it in Israel, but it has been a popular sip across the Middle East for far longer. You can find it everywhere in Jordan – in restaurants, bottled in convenience stores, served fresh at juice stands, everywhere.
I visited Jordan as part of a paid partnership project with Globus Journeys. Saying yes to the Jordan Escape tour was easy-peasy. I had previously toured with Globus on their California Dream': Northern California by Design tour and was impressed. I loved their attention to detail, the quality of their itineraries and guides, and the enjoyable environment they created among group members. This tour maintained the high quality I have come to expect from Globus.
Our Jordan Escape tour started in Amman and during our seven days together, we saw more than I had imagined would be possible. The itinerary included: Amman, Jerash, Wadi Rum, Petra, Mount Nebo, Madaba, and Bethany Beyond the Jordan.
You can read my story about visiting Mount Nebo here, and my travel tips for Jordan here.
When I first saw the green drink, I thought it was a green smoothie. I love my green vegetables, but prefer them raw or lightly steamed, and NOT in a beverage. What I discovered was a refreshingly vibrant mint lemonade served as juice or heavily iced as a slushie. Yummmmm!
After returning home, I was determined to replicate the beverage at home, thinking it would be perfect for a summer pick-me-up on the deck, and that it had lots of possibilities for a cocktail. I knuckled down and got to making and tasting, changing and tasting, and some final tweakings until I thought it was quite perfect.
My version of limonana follows. It's the right blend of sweet and tart for my palate preference. But it might not be for yours. Adjust the amount of lemon juice and/or simple syrup to get the right balance for you.
Yield: 4 glasses
Tasty Jordanian Mint Lemonade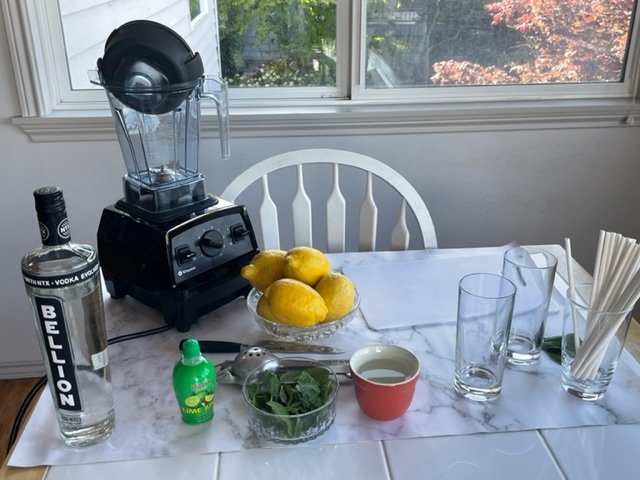 Mint Lemonade has very simple ingredients: fresh lemon juice, lime juice, sugar, fresh mint, and water.Add vodka for a craft cocktail version. Adjust mint, lemon juice, and sugar to find the best flavor balance.
Ingredients
3/4 cup fresh lemon juice (3-4 lemons, depending on size)
Splash of lime juice (fresh is great, but RealLime is fine, too, and what I often have to use)
1/2 cup packed fresh mint leaves
1/3 cup simple syrup
2/3 cup vodka (substitute water if making a non-alcoholic version)
4-5 cups of ice
Instructions
Juice fresh lemons to get 3/4 cups of juice. Depending on the size and juiciness of lemons, this should be 3-4 lemons. Add to blender.
Add the juice of one-half fresh lime to the blender.
Add 1/2 cup of fresh mint to the blender. Pack tightly into the cup.
Add 1/2 cup simple syrup to the blender. (Recipe below.)
Add 2/3 cup vodka to the blender (use plain water if you want a non-alcoholic version)
Blend on high until liquified.
Add half the ice and blend again (it should start getting slushy)
Add remaining ice and blend one last time (it should now be very slushy)
Pour into a glass and serve. Add a paper straw, and garnish with lemon, lime, or mint leaves.
Notes
To make simple syrup:
The usual recipe for simple syrup is equal parts boiling water and sugar. I prefer it a little thicker as I've found it gives a better mouth feel for drinks. I use the ratio of 1 1/2 cup sugar to 1 cup boiling water. It keeps in the refrigerator and I like having it handy.
Fresh lemons are a must, but you can substitute RealLime. Limes are often pretty sad looking where I live, so I usually have to make this substitution.
I used Bellion Vodka; it's bright taste is a little less harsh than other brands I've tried. The vodka ratio listed here works just fine for me. but I may be a lightweight. If you want it a little stronger, add it directly to the glass.
Cheers!
Recommended Products
As an Amazon Associate and member of other affiliate programs, I earn from qualifying purchases.
Nutrition Information:
Yield:
4
Serving Size:
1
Amount Per Serving:
Calories:

147
Total Fat:

0g
Saturated Fat:

0g
Trans Fat:

0g
Unsaturated Fat:

0g
Cholesterol:

0mg
Sodium:

47mg
Carbohydrates:

16g
Fiber:

0g
Sugar:

14g
Protein:

0g
Save to your favorite Pinterest boards