Before every vacation, I love researching places and learning about all the destinations, their history, and the attractions. I try to find a book or two about or set in the destination (I start this process as soon as the trip is booked so that I have lots of time before I arrive on-site). I start reading guides and blog posts from my cadre of trusted sites. I set up a Pinterest board to keep track of the things I deem important, the photos that capture my attention, and I compile information that would make a data nerd proud.
Without proper preparation and some research, you could find yourself in difficult situations or end up missing some hidden gems. So it's smart to do it. But no matter how much research I do, I love the serendipity that happens while traveling – finding something unexpected when I get there. Something that I may have overlooked in my research. Something that was flat out wrong in the articles I read. Or something that can only be appreciated while in a destination. For me, this is what travel is all about.
When I visited Jordan, I was surprised by how much I didn't know until I got there. That's why I prepared this guide with some of my personal Jordan travel tips. You can learn about the things that surprised me, and then discover some new information and experiences in Jordan on your own.
I visited Jordan as part of a paid partnership project with Globus Journeys. Saying yes to the Jordan Escape tour was easy-peasy. I had previously toured with Globus on their California Dream': Northern California by Design tour and was impressed. I loved their attention to detail, the quality of their itineraries and guides, and the enjoyable environment they created among group members. This tour maintained the high quality I have come to expect from Globus.
Our Jordan Escape tour started in Amman and during our seven days together, we saw more than I had imagined would be possible. The itinerary included: Amman, Jerash, Wadi Rum, Petra, Mount Nebo, Madaba, and Bethany Beyond the Jordan.
You can read my story about visiting Mount Nebo here.
I think it's important to talk about group trips. Some of you may think of me as more of an independent traveler. And while that's true sometimes, there are also times when I want things handled for me. There's something freeing about having someone else makes all the plans and take care of the details. No arguments over where to go for dinner (come on, am I the only one who has had that conversation go on long past dinner time and into the hangry zone?). It's nice not to have to track and coordinate opening hours and fees and is really nice not to worry about toting luggage around. All of those details become more complicated and time-consuming when you're visiting an international destination where things are different than the way you've "always done things" at home.
Jordan is a destination with a complicated history. It's full of incredible historical sites that date so far back that it made my head spin. It has amazing natural sites that made my jaw drop. And it has warm, friendly people who are eager to share their hospitality – and their smiles – with you. A Globus tour strips away all the complicated stuff of travel, leaving you with the parts that light up your eyes as you enjoy another amazing day. And there were lots of amazing days in Jordan.
Jordan Travel Tips: 9 Things I Didn't Know Until I Got There
1. Carry Some US Dollars, Which Are Widely Accepted
The local currency in Jordan is the Jordanian Dinar which, at current conversion rates is approximately 71JD/$100 USD. I generally find an ATM when I arrive in a new country and take out local currency so that I have it handy. With the benefits offered through my bank, this is the best option for me to get foreign money. I generally make purchases with my credit cards, but it is also a good idea to have some local currency for taxi drivers, a tour guide, and for other small purchases. And that's what I did after arriving in Jordan.
However, I quickly discovered that US dollars are widely accepted throughout the country, especially when paying for souvenirs, accommodation, and tours. I'm still glad that I had Jordanian dinars, even though restaurants, my camel ride (which had been on my camel ride), and souvenir purchases were all quoted in both dinars and dollars. This means you won't end up with a lot of excess local currency at the end of your trip (although keeping it for a return visit is always a good thing).
2. The Mars Rover is at the Royal Automobile Museum
Well, not an actual Mars Rover, but it is the one from the movie The Martian, starring Matt Damon. Much of the movie was shot on location in Wadi Rum, a UNESCO World Heritage Site, and when filming ended, the production team donated the Rover to the Royal Automobile Museum to say thank you to Jordan for its hospitality while filming.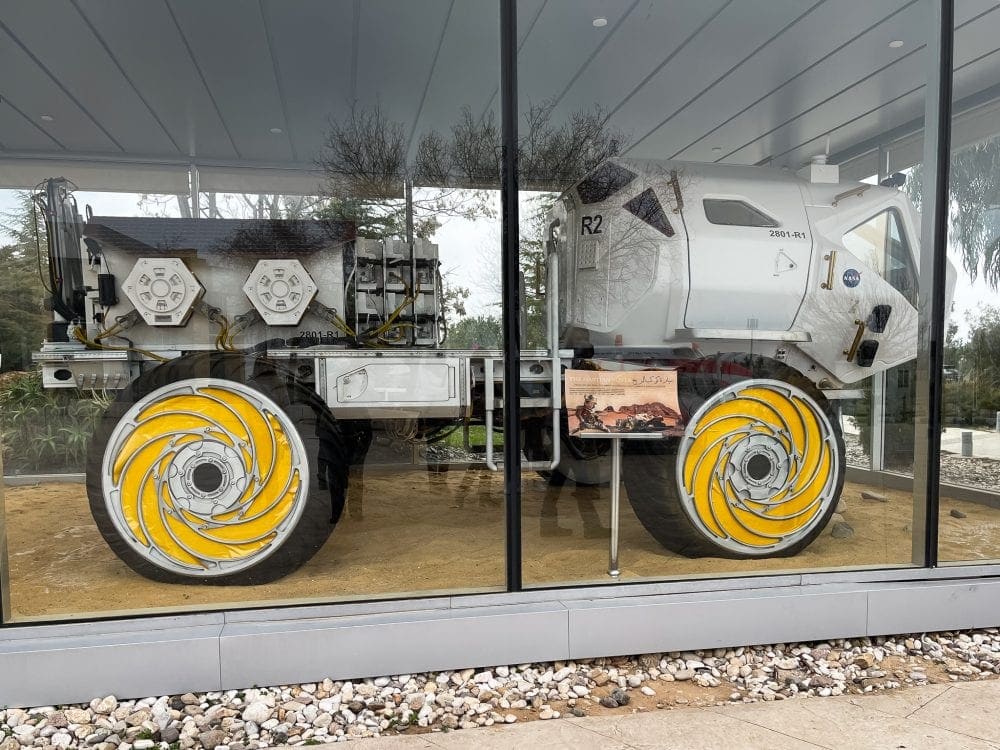 The Royal Automobile Museum was – surprisingly – one of my favorite attractions in Amman. Located next to the Al Hussein Public Park in Amman, the museum was established in 2003 by King Abdullah II as a way to honor his father, the late King Hussein. Since its opening in 2003, it has grown exponentially and has a huge collection of vehicles in its exhibits, such as Hussein bin Ali's cars dating back to 1916, classic sedans that drove the King around his country, and scooters, motorcycles, sports cars, and even an amphibious vehicle.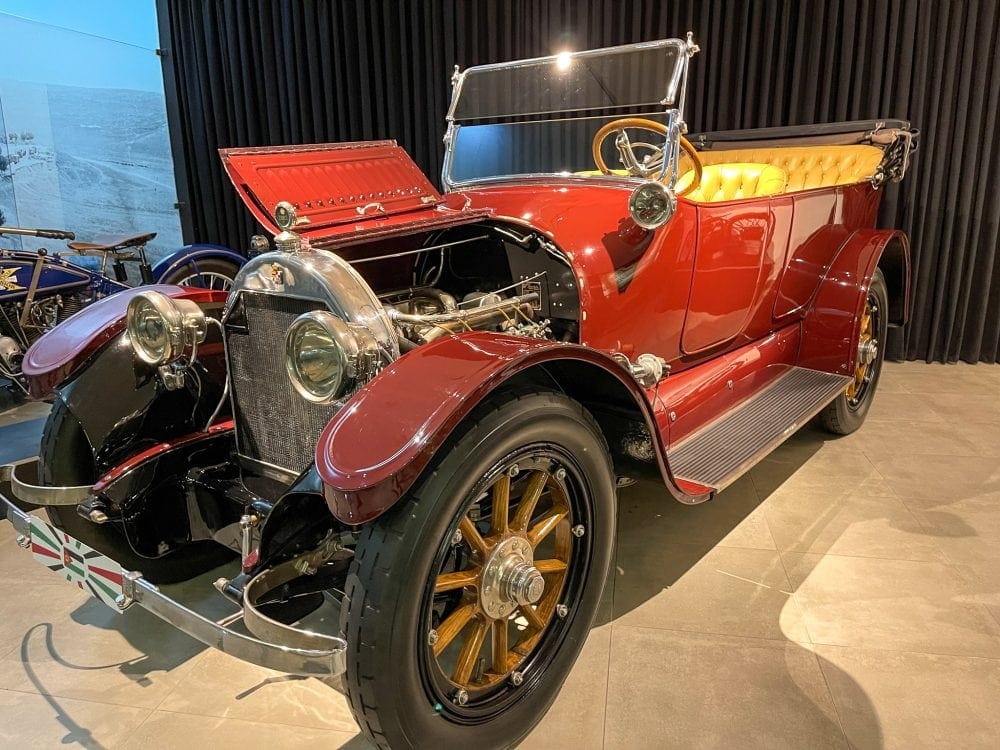 Sure, the cars were fabulous, but what I enjoyed – and spent much time viewing – was the history placards that accompanied each exhibit. It was a good way to look at history through a different lens, and I found myself nodding as I recalled many of the events.
Details: Royal Car Museum, At Tibbiyya, Amman, Jordan | Website
3. Try Jordanian Wine and Beer
As 96% of Jordan's population identifies as Muslim, I expected alcohol to be difficult to find (at best) or non-existent (most likely). I definitely didn't expect Jordan to have its own wine and beer.
Jordan's wine-making history goes back thousands of years. In fact, it's said that Jesus may have drunk wine from Jordan at the last supper. As further evidence of Jordan's wine history, archeologists have found a total of 82 wine presses near Petra in Jordan. Many of the presses were of industrial size and scale. supporting the idea that this small country has a long-standing wine tradition.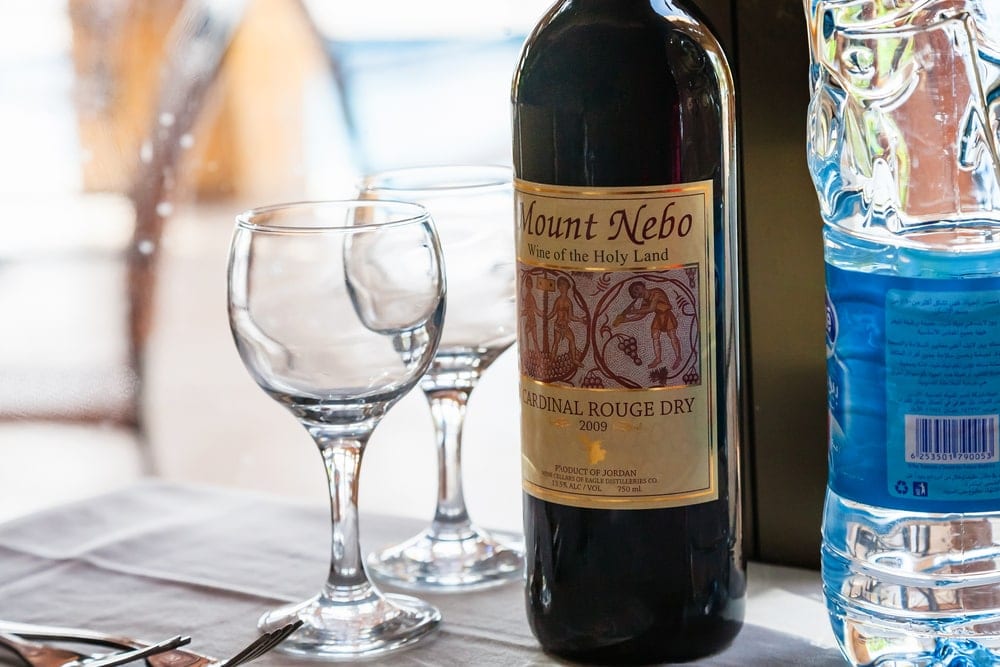 Today, there are two Jordanian wineries, Jordan River and Saint George, both located in Mafraq in Northern Jordan. The soil and elevation in Mafraq are favorable to grape growing, mostly Cabernet Sauvignon, Merlot, Shiraz, Pinot Noir, Chardonnay, Muscat, Pinot Gris, Gewurtztraminer, and Chenin Blanc. Both wine companies have won awards for the quality of their wine; Jordan River has won 96 awards, and Saint George has 23 awards. We were offered Jordanian wine with dinner at most of our hotels, causing me to become more curious about Jordanian wine (maybe there's an upcoming post on the topic).
Likewise, beer in Jordan goes back thousands of years. Petra, the oldest local beer, offers a lager, Weizen, and amber. It has a fairly high alcohol content, about 8%. Amstel is the most widely consumed beer in Jordan with a factory located in Zarqa (the first Amstel beer factory built outside the Netherlands). Zarqa, the second-largest city in Jordan, is about 15 miles northeast of Amman.
In 2010, craft beer made its way to Jordan, with the first microbrewery, Carakale Brewery. Carakale is located in Fuheis, about 13 miles northwest of Amman. It's a predominantly Christian city, so doesn't have religious prohibitions, although their craft beer is starting to make its way into restaurants and stores. In addition to its blond ale, Carakale offers flavored beers.
Beer was also regularly offered at restaurants. Talking with some fellow travelers on our tour, they said that making a beer purchase at stores in Amman was complicated, involving a series of locations and discussions.
Details for Jordan River Winery: Eagle Distilleries, Wasfi Al-Tal Street P.O.Box 4. Zarka 13110 Jordan | Official Website: Jordan River
Details for Saint George Winery: 129 Arar Street, Wadi Saqra, 11115 Amman, Jordan | Official Website: Saint George
Details for Carakale Brewery: Official Website: Carakale Brewery
4. Sip a Mint Lemonade, or Limonana, a Delicious Local Treat
Jordan is has a very hot and dry climate, so a cool and refreshing drink is just what you need after a long day of exploring. One of the most refreshing drinks I found while I was visiting Jordan was mint lemonade, or Limonana, which is a traditional drink found in the Middle East.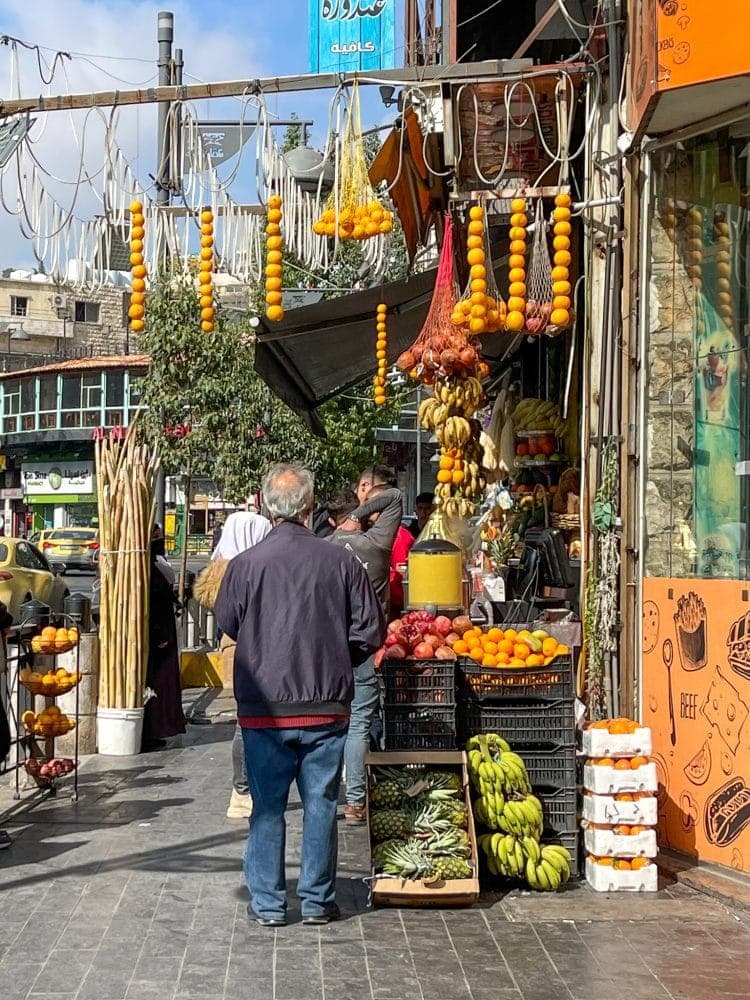 The name originates from the word "limon" which means lemon in Arabic and Hebrew and "nana" which means mint. Apparently, the drink became more well-known in the 90s after an advertising campaign used it in Israel, but it has been a popular sip across the Middle East for far longer. You can find it everywhere in Jordan – in restaurants, bottled in convenience stores, served fresh at juice stands, everywhere.
Its green color made it look rather unappetizing at first. I've had way too many kale, spinach, and other green smoothies, and I wasn't excited to give another one a try. Boy was I missing out! Once I got past my initial reluctance, I discovered a refreshingly tasty juice and I ordered whenever I could. It's served as a simple juice and also frozen like a slushie. Yum! (No kale or spinach involved.)
Mint Lemonade has very simple ingredients: fresh lemon juice, sugar, fresh mint, and water, and I was determined to replicate it at home. I searched for recipes, tried out a few, tweaked and tasted, and eventually created a recipe that works for me. It's perfect as a craft cocktail, and the non-alcholic version is tasty as well.
Find my recipe here.
5. Hike Petra Through the Back Door
Petra is one of the New Seven Wonders of the World and is the most visited attraction in Jordan. While postcards and photos always show the beautiful facade of Petra's Pharaoh's Treasury, suggests a smaller site than what exists. Petra is actually a huge archeological city, about 102 square miles, and is a UNESCO World Heritage Site.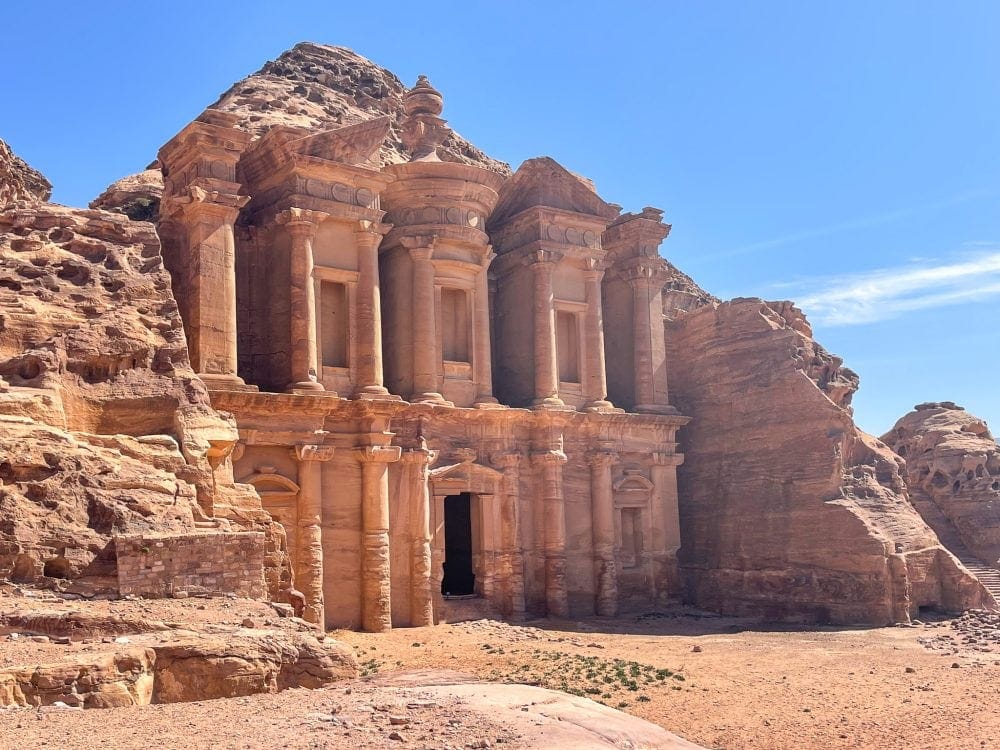 When visiting Petra, the usual route is to walk from the Visitor's center through the three-quarters of a mile gorge that opens up to the iconic Treasury, and this is what is offered on the Globus Escape tour. This is what I was familiar with and what I was expecting. However, there is another route through what's called the Back Door, and Globus arranged this for our small media group. This is the long way into Petra, all totaled, we logged about nine miles before the day was over, and we were able to see far more of the ancient site than is typically seen by visitors.
This back door route is a quieter entry than the busy Siq entrance. The trail takes you through the Wadi Musa Canyon, past incredible landscapes, rock formations, and tombs before arriving at the Monastery (Ad Deir). The monastery itself is a stunning monument carved out of stone and is worth a visit. It may seem familiar if you've watched the movie Transformers: Revenge of the Fallen. This spot is like a hiker's rest stop, with refreshments available for purchase, restrooms, and some basic supplies available. Have a mint lemonade and rest up for the onward journey.
It was now onward and upward through the site until we eventually reached the Treasury, then exited through the Siq. If you've seen photos of Petra or watched the movie Indiana Jones and the Last Crusade, you've seen the Treasury. It looks just like that, with camels, people, and traders occupying the area in front of the monument. Siq is Arabic for the shaft and is the main entrance and exit to Petra. It is a narrow gorge that starts at the Dam and ends at the Treasury, and is a combination of natural rock formations and carved stone. The Siq has paved stone slabs to walk on, but golf carts are available (for a fee) for those who aren't able to walk the distance.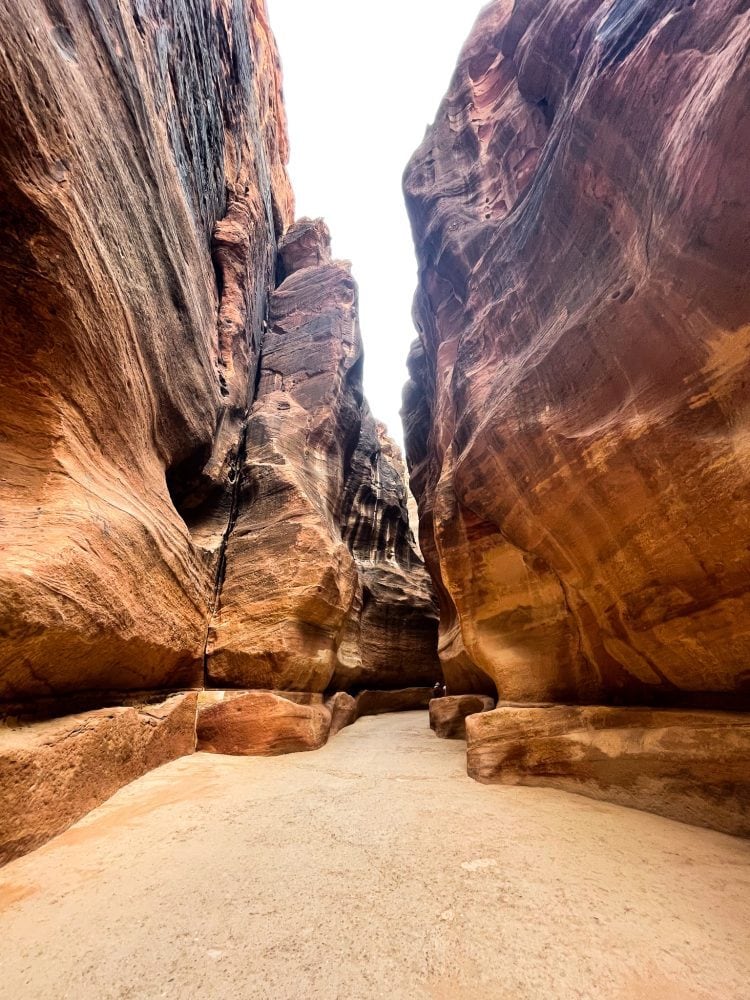 While the hike is not overly strenuous, it's more than a mere walk (which was what I had expected). We covered trails, rocks, and steps. It's a hike, not a climb, but I was not wearing proper shoes for the hike and it definitely slowed me down. While I don't think hiking boots are required, a solid athletic shoe would have been more appropriate and would have allowed me to have better traction and a surer footing. Also, nine miles for an out-of-shape middle-aged woman was tough. I made it, although I slowed the group down a bit, and at times had to rely on a helping hand down a few steps. The next day I felt pretty sore. But, I am so glad that I stepped up to the challenge – I saw a side of Petra that too many miss – and other than the shoes, wouldn't change a thing.
As an add-on to the Jordan Escape Tour, Globus offers a Petra at Night excursion. While I was too pooped to go, friends who rallied to do it said it was beautiful.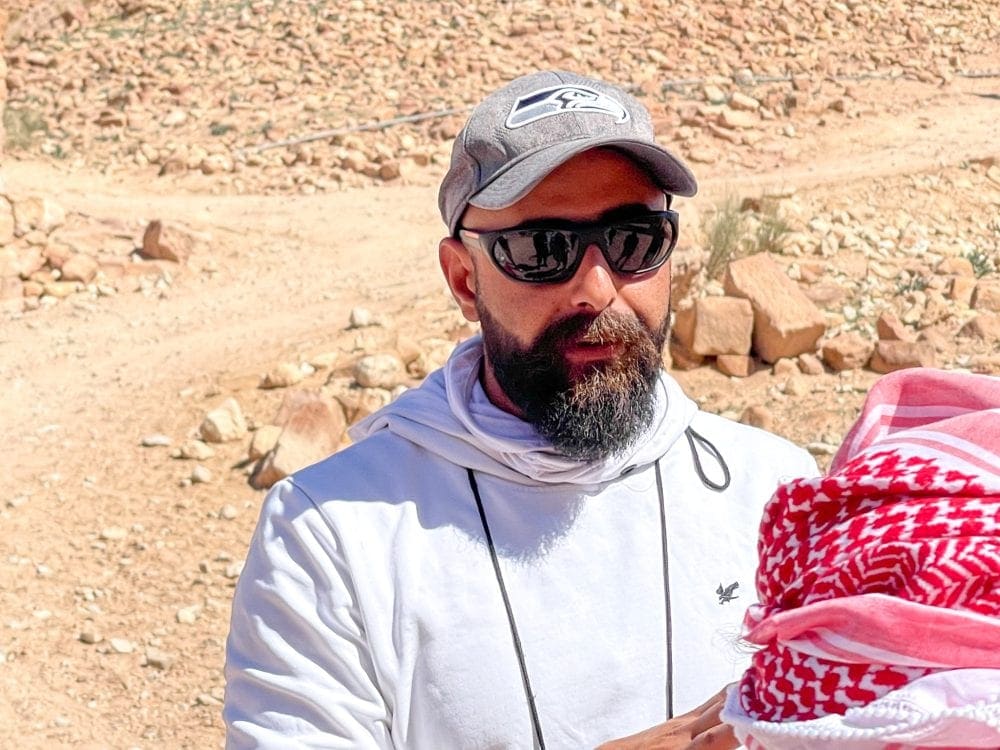 Fun detail: Our guide, Abdullah, sported a Seattle Seahawk sports cap.
Details: Official Website: Petra
Recommended reading:
6. Don't Miss the Jerash Archeological Site
Many people think of Petra when they think of historical sites in Jordan, or maybe Wadi Rum or the numerous religious sites, but those are just the most commonly visited tourist sites. Until I spent time in Jordan, I didn't understand or appreciate the many impressive archeological sites around the country, Jerash, a city just a bit north of the capital city of Amman, is one of those spots. Jerash is known for its Greco-Roman ruins and the Jerash Archaeological Museum.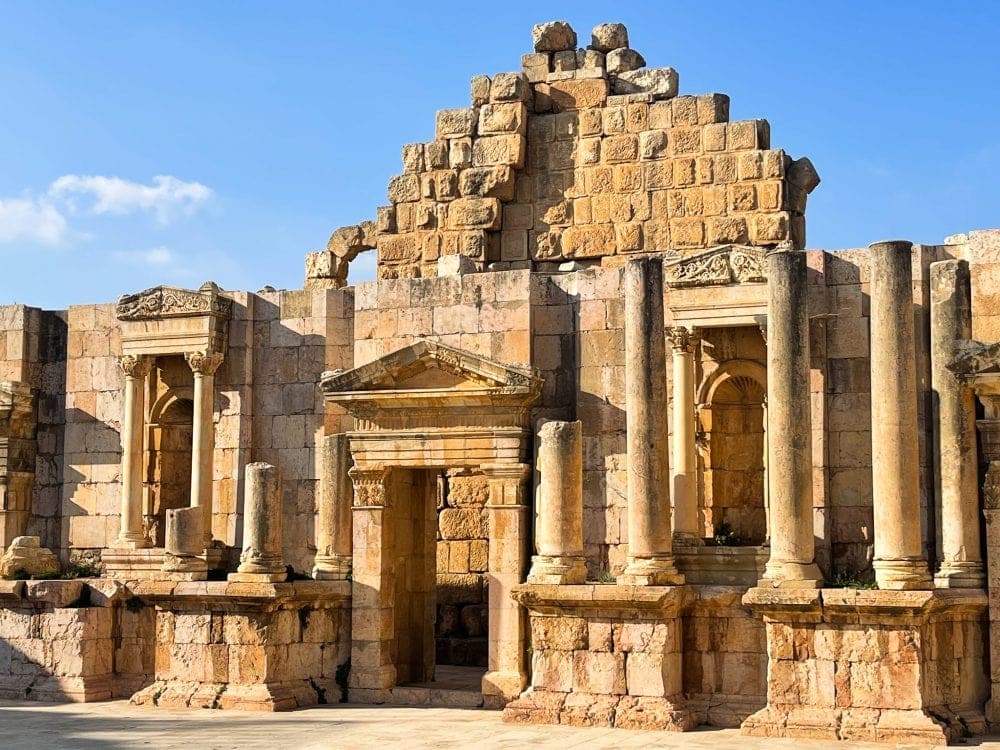 Known as Tal Abu Sowan, the archaeological site dates to the Neolithic period, and artifacts found here are said to date as far back as 7500 BC. Just think about that for a minute. 7500 BC. That's a long, long, time ago.
Often called the "Pompeii of the Middle East," the size of Jerash is just as overwhelming. And while Jerash didn't have a volcano eruption as Pompeii did, it did suffer from earthquakes and warring occupations from invaders. Romans, Greeks, and Ottomans have occupied Jerash and contributed to the deterioration of the ruins.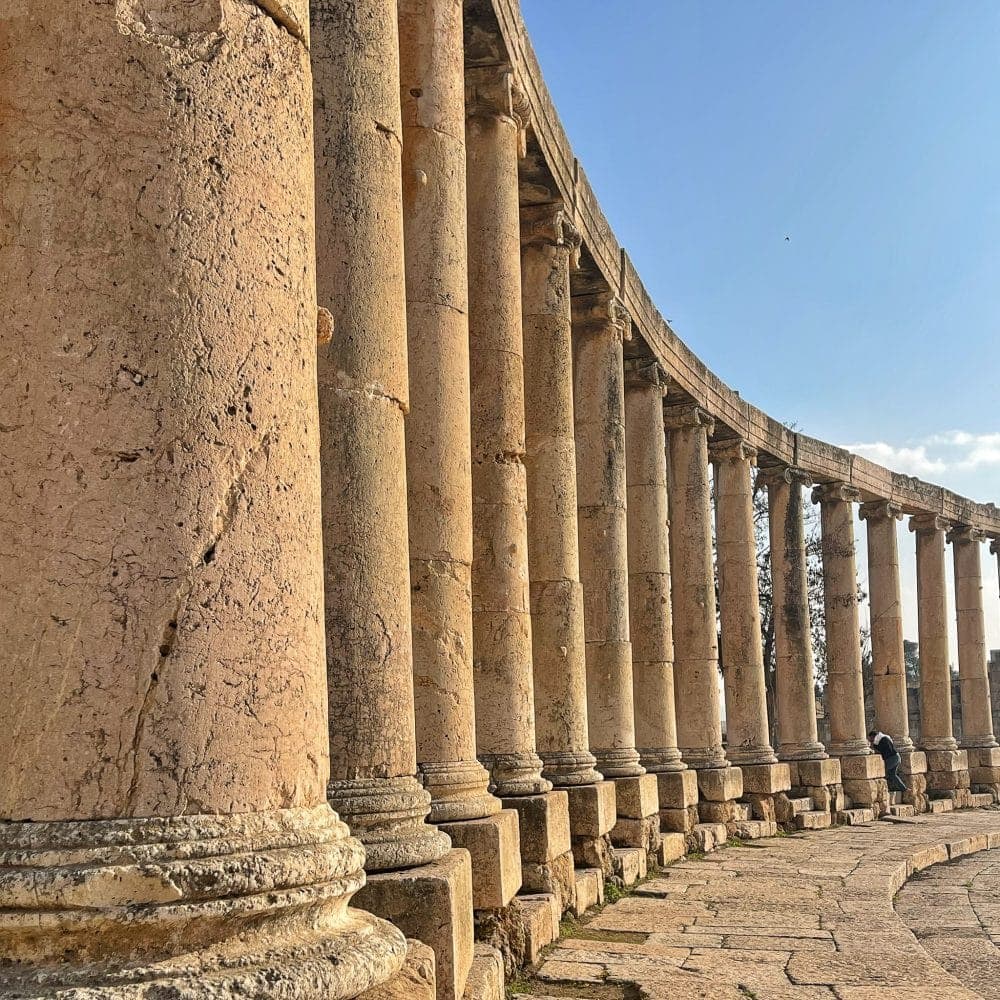 The most popular spots in Jerash are Hadrian's Arch, the Corinthian Columns in the Temple of Artemis, the oval-shaped Forum, and the amphitheater. Parts of the site have been excavated, but there is still much to explore and archeologists are still hard at work. Jerash is not to be missed and I had a great time exploring there. And who knows? Maybe more discoveries will have been made by the time I return.
Details: 7VHQ+GP8, Jerash, Jordan | More information: View Here
7.Take a Trip to Wadi Mujib
I had never heard of Wadi Mujib until I saw the itinerary for the Jordan Escape group tour. A bit of quick research turned up that it was an area often referred to as the Grand Canyon of Jordan. Hmm, could be pretty impressive.
Wadi Mujib, also known as the Amon Stream is a river that cascades through a canyon and empties into the Dead Sea (below sea level). The sandstone canyon has impressive natural features, including striated rocks, waterfalls, cliffs and plateaus, hot springs, and dramatic rock formations. The area includes a nature reserve, is a popular spot for hiking and canyoneering, and offers public spots for various types of outdoor recreation.
Historically, Wadi Mujib was the boundary between the Moabites and Amorites (Old Testament) and was the valley in which Moses led the Israelites. Religious travelers may want to include the area as part of their spiritual pilgrimage.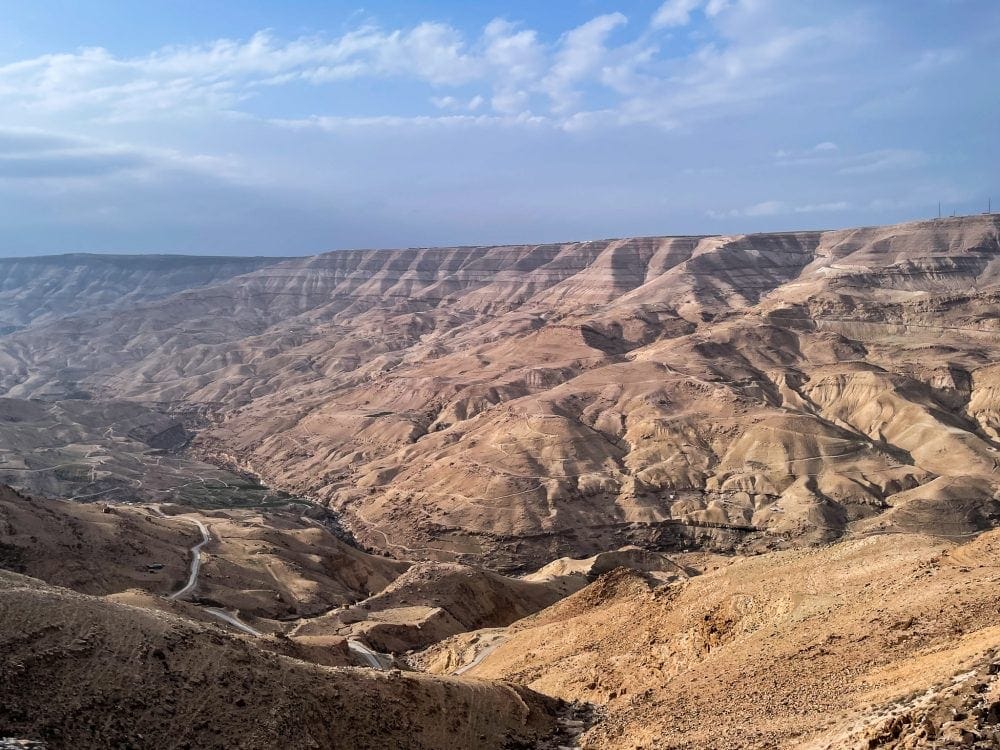 We got views of the canyon as we wended the roads snaking through it – down one side and up the other – it was a great way to get views of and appreciate the enormity of the area. It's probably the best way, other than flying over, to experience the grand view of things. I'm sure in the summer months the hot weather may be brutal here, but the shoulder seasons seem like a good time of year to visit. Put in on your list.
Details: FH8F+R7M, Al Judayyidah, Jordan | More information: Wild Jordan
8. Be Sure to Check Out Amman's Street Art
When you think of cities in Jordan, you may imagine beige, sandstone buildings with a monotone color pallet. And that explains much of the country – it's very beige, almost blending in with desert sand.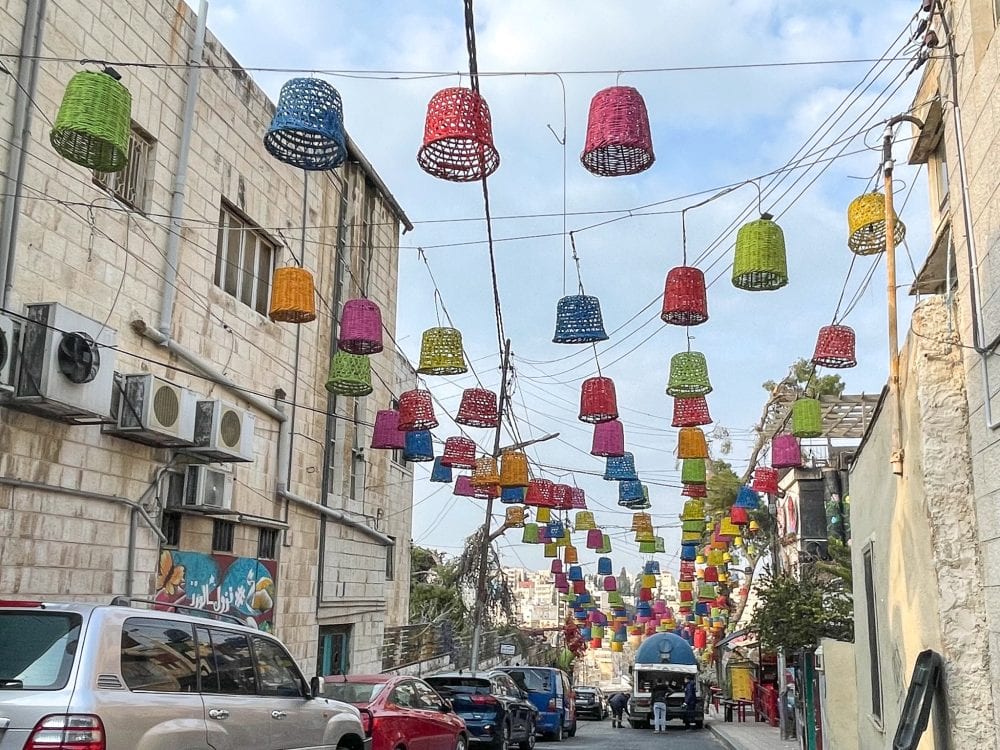 In Amman, however, there's a significant amount of street art that brightens up the cityscape. It's a relatively new art form, cropping up in the last decade, and similar to street art around the world was once considered vandalism and graffiti. That attitude is changing, though, and in many of the older parts of Amman, the ancient, gray cement now displays colorful art. Steps have been painted, walls have been adorned, and colorful umbrellas and baskets hang above buildings over the streets.
Where this self-expressive art was once seen as something to get rid of, it is now seen as an artistic display of culture. Some displays are whimsical and fun, while others represent important social issues and causes. And, they are fun places to capture some colorful photos.
Details: Jabal al Weibdeh, Amman | Street Art Map
9. Embrace the Spice Life
Jordanian food is intensely flavorful and delicious, which is largely due to three popular spices – Za'atar, Sumac, and Cardamon. You'll likely find that every dish has at least one of the spices, and sometimes more than one. Let's take a look at these three spices.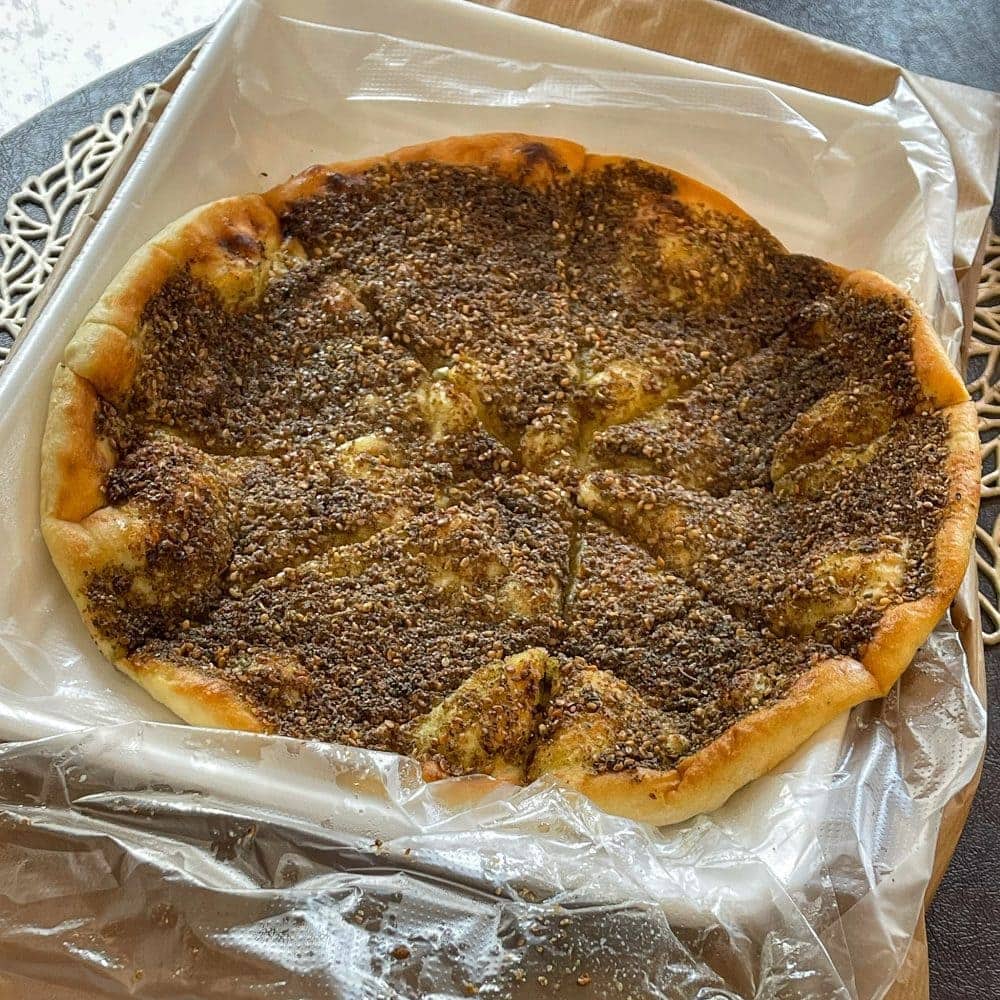 Za'atar is a spice blend, made with dried thyme, savory, oregano, sumac, and sesame seeds. It's usually added to manakish, a baked flatbread dough similar to pizza dough, that is traditionally eaten as a breakfast meal. I loved the za'atar manakish, but alas, it's doubtful I'll be making it at home. However, it also tastes delicious on hummus or mezze, sprinkled over avocados or tomatoes with a drizzle of olive oil. You can also use it to season salads, meats, and pretty much anything that needs a little flavor boost.
Sumac is another popular spice in Jordan. It's bright red in color, similar to paprika, and adds a tart, citrus-like flavor. Not surprisingly, you'll see it used in fish dishes or any dish that needs a big citrus boost. It has a sweet-sour taste and blends well with bolder flavors like allspice, chile, thyme, and cumin. The only thing I knew about sumac was that it was a poisonous shrub. Although the culinary sumac is related to the poisonous shrub of the same name, it's safe to eat and quite tasty.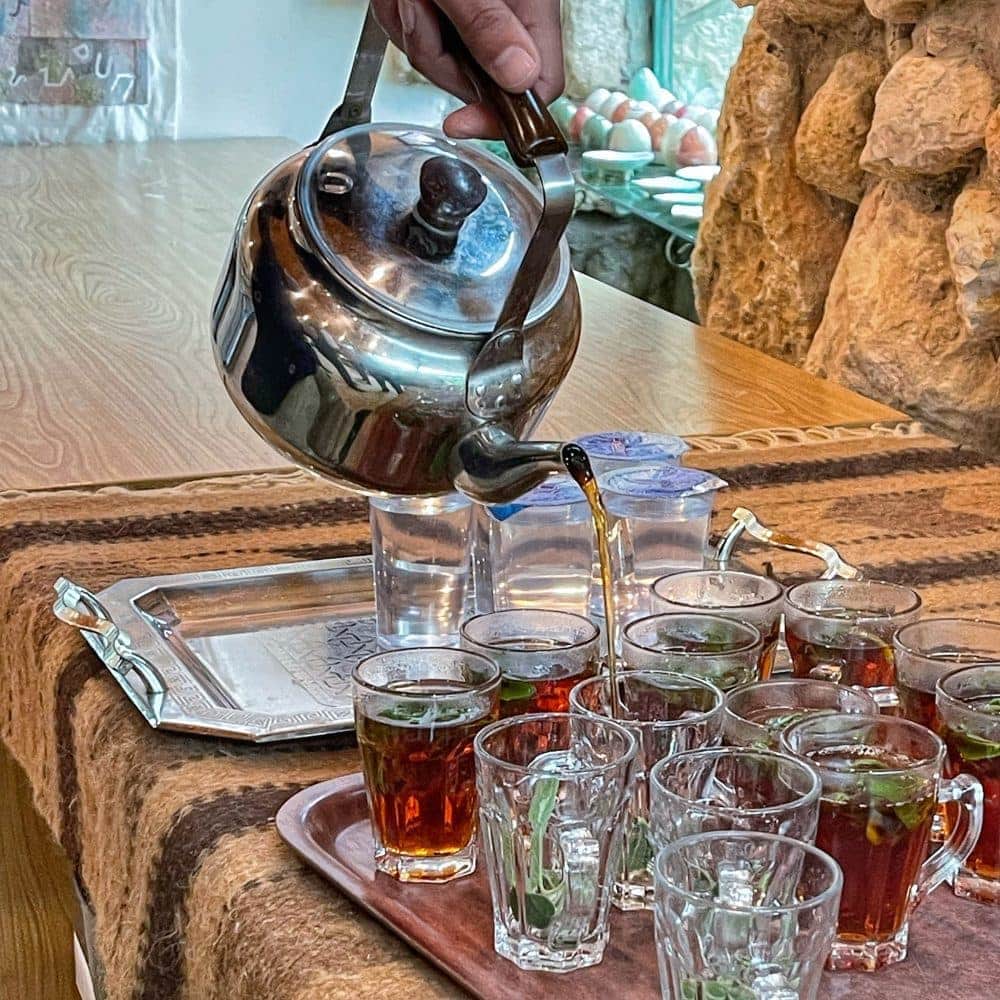 Finally, there is Cardamom (also spelled cardamon, cardamum). Cardamom is fragrant with a distinctive taste. It's used as a flavoring in food both savory and sweet. It's also used in coffee and tea, which was how I first noticed it. When used sparingly, it was tasty, but there was a point where it crossed over into being a little too strong. Recipes will be precise in their measurements, but for adding to coffee or tea, I'd start with a minuscule amount, maybe a quarter of a teaspoon, then adjust to personal taste.
If you're looking for a practical souvenir to take home, some traditional dried spices would be a lovely way to bring a taste of Jordan home with you. Loose dried spices would always be the best, but there are often prohibitions about bringing these into the U.S. (and other countries). Packaged spices are generally fine, though, but be sure to check before you go.
Final Thoughts on Jordan Travel
If you're anxious to start planning a trip to Jordan, I have a few final tips. The best time to visit Jordan is during the spring and fall. This is shoulder season, with warm, pleasant weather, avoiding the extreme desert heat.
Non-stop flights to Jordan are currently available from Chicago (ORD) and New York (JFK), and seasonally from Detroit (DTW) and Washington (IAD). Connecting flights offer several additional options, with connections available through most major European and Middle Eastern countries. I went via London (LHR). Flights have become expensive lately, so you'll want to start keeping an eye out for a great deal.
Jordan offers a tourist visa on arrival. The visa fee is 40 JD (about $57).
Amman was a much more secular city than I was expecting. Although I was aware that I was in a Muslim country, the dress code spanned the spectrum. I felt comfortable in jeans and leggings, fairly typical western casual attire, in the tourist areas. The early mornings (there weren't a lot of them) and nights were a bit chilly, a reminder that the best thing for a travel wardrobe is layers. We didn't have a lot of rainy days, but an umbrella or hat might also be useful.
Current Covid requirements include testing prior to arrival and then testing again at the airport upon arrival. Globus was great about keeping me up-to-date on the required testing and also arranged for testing for us before returning to the U.S. These requirements will likely change, perhaps several times. The important thing is to research and keep informed so you are prepared.
Jordan is a fascinating country full of incredible historical sites and amazing landscapes. There is much to learn and love about this country, and I tried to soak up as much as I could. I understand now why friends who have visited say it's one of the best places they've visited. I loved my time in Jordan and got to cross two bucket list items off my list (riding a camel, visiting Petra).
For Pinterest
Pin this to your favorite travel boards and start planning your trip to Jordan.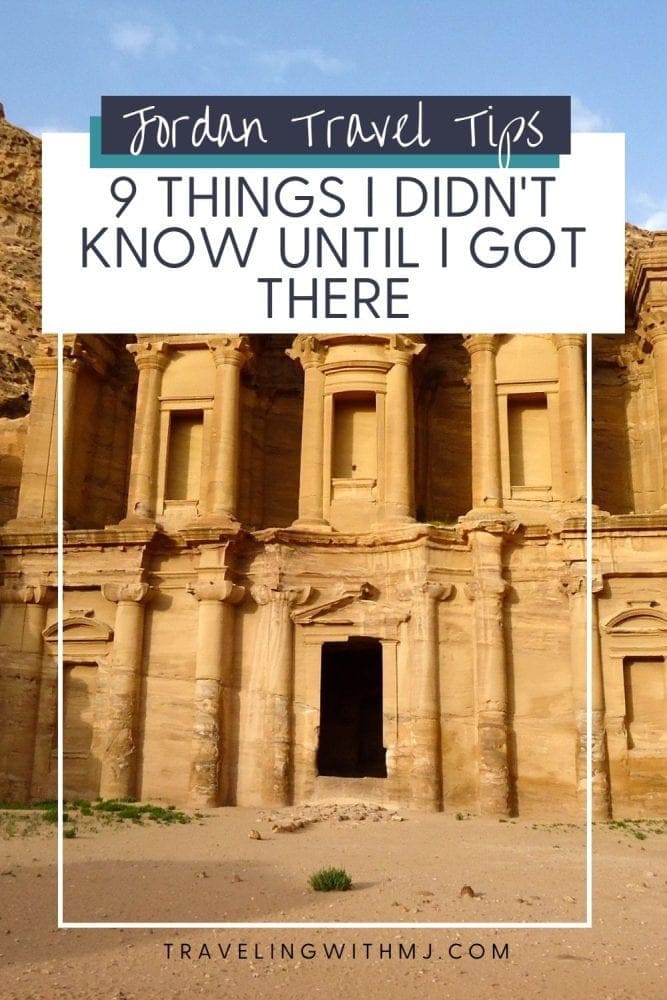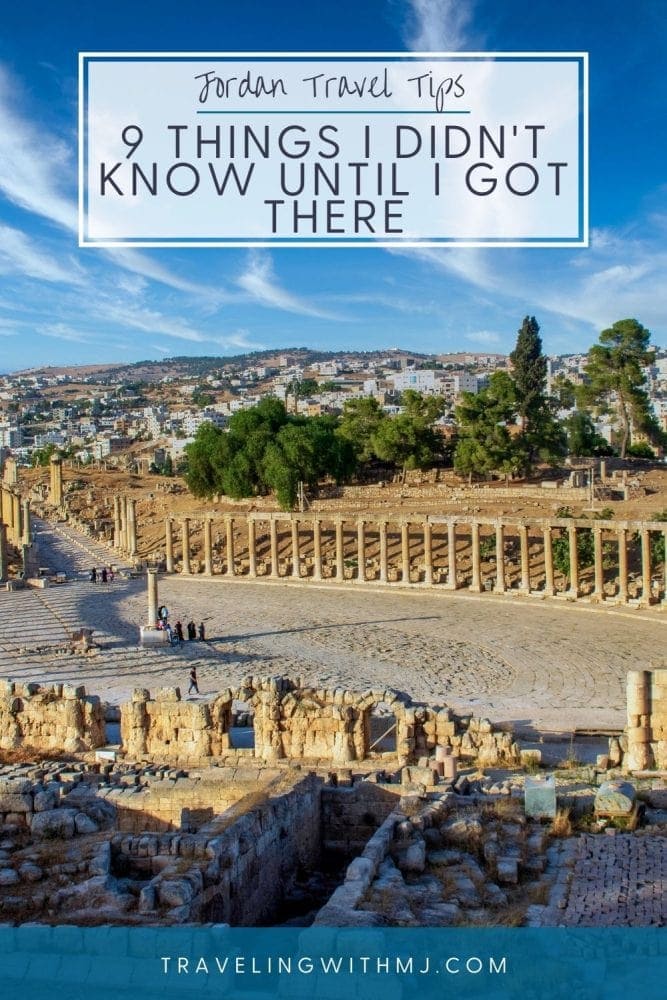 Disclosure: My Jordan Escape tour was sponsored by Globus and Visit Jordan (the Jordan Tourism Board).