Fast food can be good food, and Karne Garibaldi (website is in Spanish) in Guadalajara, Mexico proves the point over and over again.  Whenever I'm in Guadalajara, you can bank on my having at least one meal at this casual restaurant whose claim to fame is the Guinness Book of Records (1996) entry for the fastest service.  They set the record at 13 1/2 seconds for a table of six.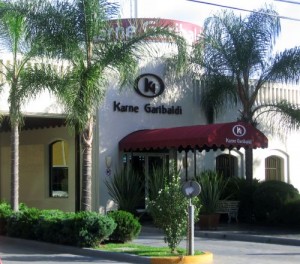 The service is so fast that before you're even seated a group of waiters will arrive at your table bringing you appetizers to get started.  It's a plate for of fresh, warm tortillas, served along with delicious grilled onions, refried beans with bits of corn in it (this Karne Garibaldi specialty is available for purchase by the can), and other condiments (chopped green onions, radishes) and salsa.  This is what constitutes starters in an authentic Mexican restaurant.  Chips and guacamole are available, but must be ordered separately, and fair warning, guacamole is not always available.  Don't worry, though, you'll be just fine without it.
Once seated, waiters are there to take your order immediately.  By default they are prepared to get you in and out in a hurry, but they are more than accommodating if you ask them to slow down the pace.  If you want time to have an ice cold beer and chat, speak up and ask for a little more time.  I'd recommend starting with a cold Negro Modelo (ask for a frosted mug) first thing, and then placing your food order when the beer arrives.
What should you order?  Well first off, if you have an Americanized version of what traditional food in Mexico is like, Karne Garibaldi will force you to forget those preconceptions.  Ordering is basically all about size, as one item dominates the menu – the regional specialty, carne en jugo (beef in juice).  Basically, this is like a tasty beef stew, cooked in its own broth and flavored with bacon, beans, tomatoes, and spices.  Despite what you may read elsewhere, there are a few other items on the menu.  But I've never ordered them.  The reason I go here is for the carne en jugo.  Just place an order for the size your prefer, ranging from extra small to extra large, and then get ready to dig in — it'll be at your table practically before the words have left your mouth.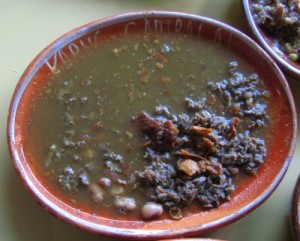 When your meal arrives there are a couple of ways to eat it.  Tourists (and there are usually not a lot in the restaurant) tend to scoop the meat out of the juice, drop it into a tortilla, add a few condiments and eat it like a taco.  I ate it that way the first few times because I didn't really know what else to do.  After going to dinner there with some local friends, I'd like to think that I've learned better, and now eat it like a local.  Locals eat is as a soup or stew, adding a variety of condiments to the meat and broth, including the radishes, chopped onions and salsa.  Then tightly roll up a tortilla in one hand, and eat it as you would a piece of bread, using a spoon to enjoy every bite of the carne en jugo.  You can also add the grilled bulb onions, although they are sweet and yummy eaten plain.
Just as fast food can be good food, so can fast service be good service.  The waitstaff is not just fast, but also attentive.  An empty mug will get a generate a request if you'd like another.  When the tortillas, refried beans, or any of the condiments  run low, they'll be replenished without your needing to ask.  The service is seamless and unobtrusive, but I like chatting with the servers and asking them about favorite things to do in their city.  Since there are times when I'm there on a weekly basis, they start to get to know me after awhile.  Between my sketchy Spanish language skills and their desire to practice English we seem to figure everything out.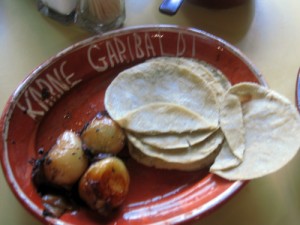 My recommended order would be a medium size carne en jugo, with a couple beers.  The price for that will vary based on the exchange rate, but typically will come in around $6-7  which includes a generous tip. I always have leftovers, and they are extremely gracious about packing them up and including all the extras, usually replenished.  The tortillas can be a little tough the next day, but everything else is just as delicious.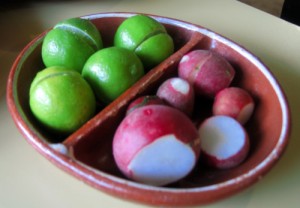 I frequent the location across the street from Plaza del Sol (Mariano Otero 3019, Zona Plaza del Sol),although there are other locations around the area.  Hours are 11 am – 11 pm every day but Sunday, when it closes at 6 pm.  Credit cards are accepted.  Casual dress is okay, but be aware that casual by Guadalajara standards is more dressed up than by US standards.
Karne Garibaldi is one of my favorite Guadalajara restaurants.  And it's not a tourist restaurant, despite the whole Guinness record thing.  The majority of patrons are locals, and although the staff does not speak much English, they do a great job of communicating.  The language difference is not a problem, but remember that you are in Mexico and it's expected that people will speak Spanish! The delicious flavors of your meal will make conversation easy.
It's been awhile since I've been back to Guadalajara, and I'm craving some carne en jugo.  I've yet to find anywhere here at home where they serve it, but it sure would be nice to get my fix a little closer to home.
If you want to explore the culturally rich city of Guadalajara, these tours offer great choices and value.
Photo credits:  personal collection