Planning an 8-day Ireland itinerary might sound overwhelming. There are so many great places to see in Ireland, but you can't see the entire country in a week. The best option is to pick an area to enjoy and dig in a little deeper with your experiences and activities.
If you're at all like me, you'll fall in love with Ireland and want to return again and again (this was my fourth visit to Ireland). It's a magical land filled with natural landscapes, centuries-old buildings, castles, world-class pubs, and warm hospitality. Let's not forget the folklore and traditions found nowhere else in the world, because I'm choosing to believe in fairies and leprechauns.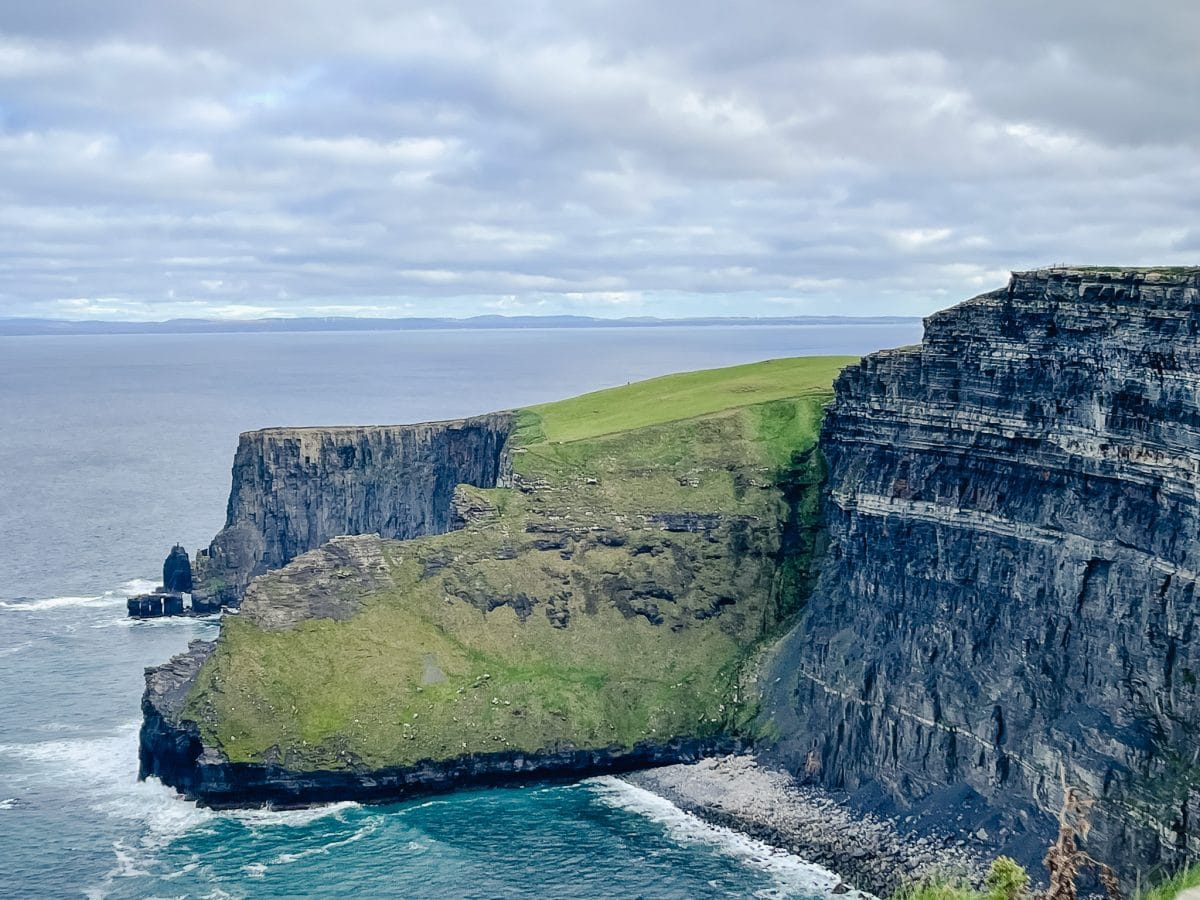 Globus's Green with Envy tour is a good introduction to Ireland. It covers some of the most iconic landmarks, as well as takes you to some historic and cultural hotspots where you can learn about the country and its people. Your friends will simply be green with envy at all the amazing sites you'll see and the experiences you'll have. Invite them along next time!
On my trip to Ireland, part of a paid partnership with Globus Journeys, I had the opportunity to learn and experience the country as part of their Choice Touring program. Choice Touring has been designed to provide a general group framework, and within that, options for individual customization, independence, and flexibility. It's almost like having your own specialized tour. Choice Touring is a premium product for only slightly more than regular group tours.
Our tour was Green with Envy: Ireland by Design. You can find the 2023 tour details here. One of the things we did on the tour was to provide Globus with feedback on the various tour activities. The company cares about keeping its tours fresh and relevant; feedback matters.
I've previously written about our literary pub crawl in Dublin and my new love for Irish Soda Bread (which I now make at home – delicious). Today I want to outline more about the tour itself, what attractions in Ireland we went to, and more about our Choice experiences. That should be the information you need to decide if this is a good vacation option for you.
In this post, I'll be introducing each stop on the Globus Green with Envy tour so you can see if this is the best Ireland itinerary for you.
Green With Envy: 8-Day Ireland Itinerary
Whether you want to visit Ireland's oldest pub, see grand and opulent architecture, or wander around the craggy Cliffs of Moher, there's plenty to fall in love with on this 8-day itinerary of Ireland.
Day 1: Arrival in Dublin
The first day of the Globus Green with Envy tour is an orientation day. It starts in the evening, so depending on the time you arrive in Dublin, you could spend your day exploring or take this as an opportunity to get yourself oriented with the country. Get a local SIM card, charge your gadget batteries, or just sit in a local pub and drink off the jetlag. You have two days at the end of the tour to experience Dublin, so don't feel like you have to hurry to see it all as soon as you arrive.
Dublin is the capital and the largest city in Ireland. It lies at the mouth of the River Liffey and has a population of about 1.2 million people. It's a magnetic city with a vibrant atmosphere and so much going on. Dubliners are friendly and have a great sense of humor, which makes visitors instantly fall in love with the place – I know I did.
The city gets its name from an old Celtic word, Dubh Linn, which translates to 'blackpool' in English. The name refers to a stream that meets the River Liffey near Dublin Castle, which forms a deep, black pool. They were very original with their names all those thousands of years ago!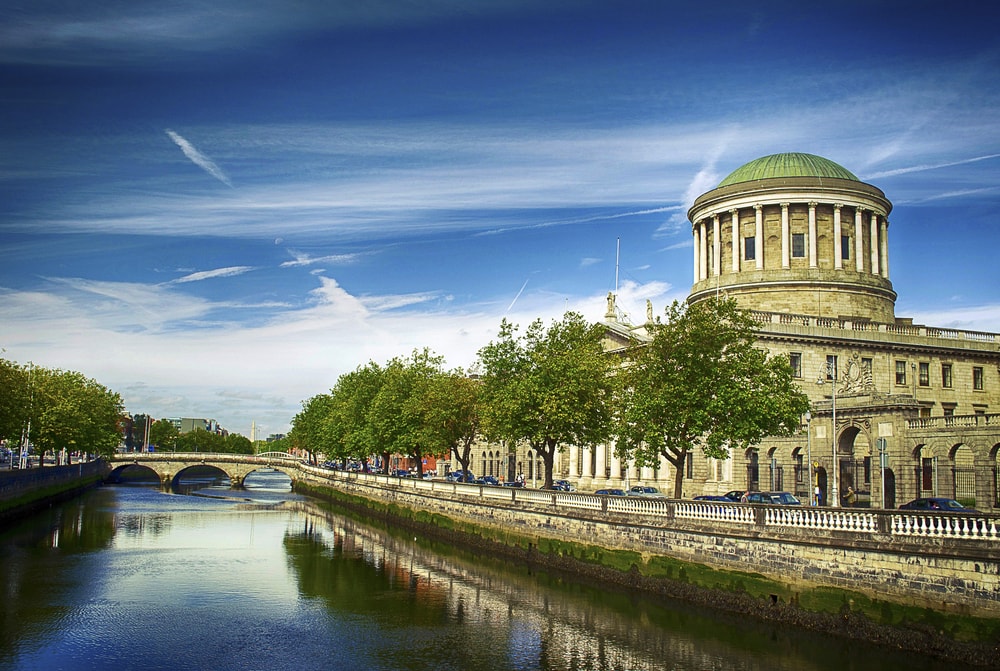 Dublin has a long and rich history stretching as far back centuries. The Vikings arrived in the 6th century and settled in. In 1170, after the invasion by the Anglo-Normans from England, the town grew into a city and became the capital of the English Lordship of Ireland. English and Welsh settlers began to move to Dublin, growing the population even more.
Although Dublin has a creative and laid-back reputation today, it wasn't always this way. The city has had a tumultuous past dating back to the 16th century when Henry VIII split with the church. Ireland has always had a very large Catholic and Protestant population, and the two religions have been butting heads for centuries.
Another important event in Dublin's history was more recent (well, a hundred years ago). Dublin was at the forefront of the Easter Rising of 1916 and the War of Independence (1919-1921). Across the city, numerous important battles took place between the British and Irish forces. In some buildings in Dublin, you can still see bullet holes from the 1916 Easter Rising.
Today the city is at peace and is more well-known for its relaxed, artistic – and peaceful – vibe. The narrow, cobbled streets lined with pubs tell stories of a colorful past and a celebration of Irish writers, more so than past battles.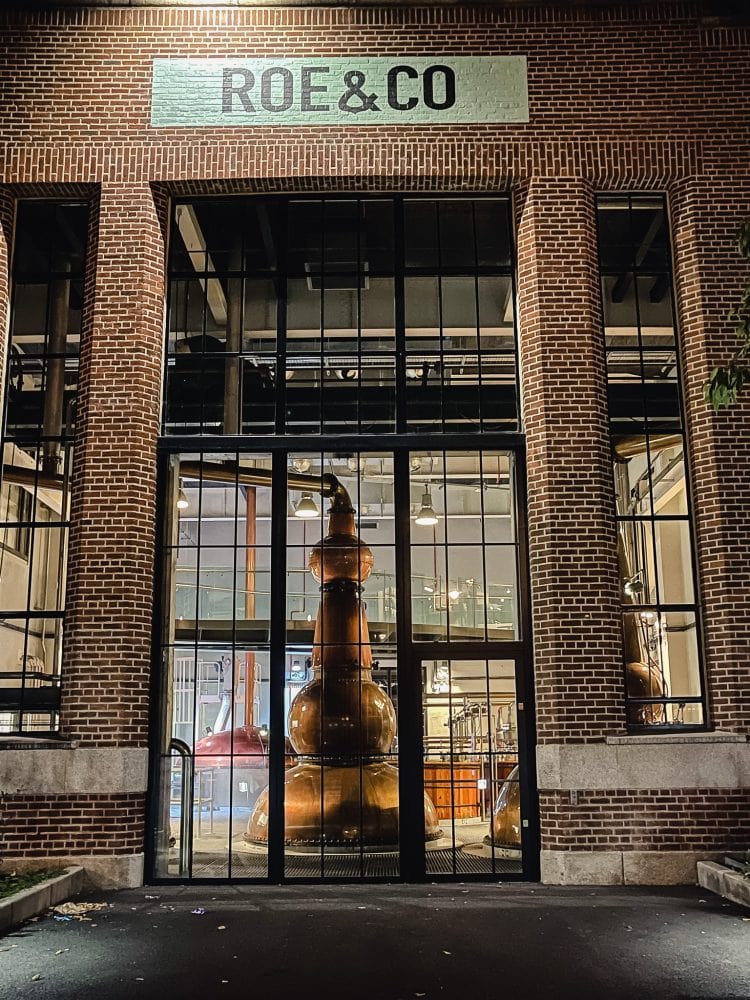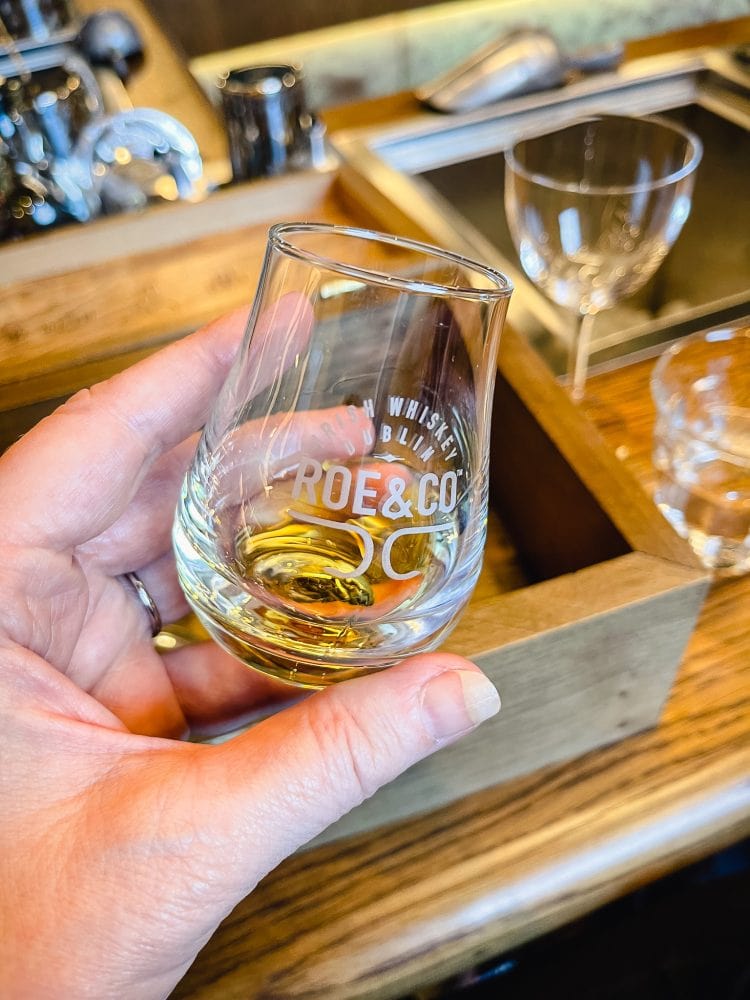 We kicked off the tour with a cocktail workshop and whiskey-paired dinner at Roe & Co. Distillery. It was our first introduction to Irish whiskey, but certainly not the last.
Day 2: Dublin, Kilbeggan, Athlone, Westport
On the second day of the Green with Envy tour, we headed out of Dublin about an hour's drive, to the Irish whiskey distillery of Kilbeggan.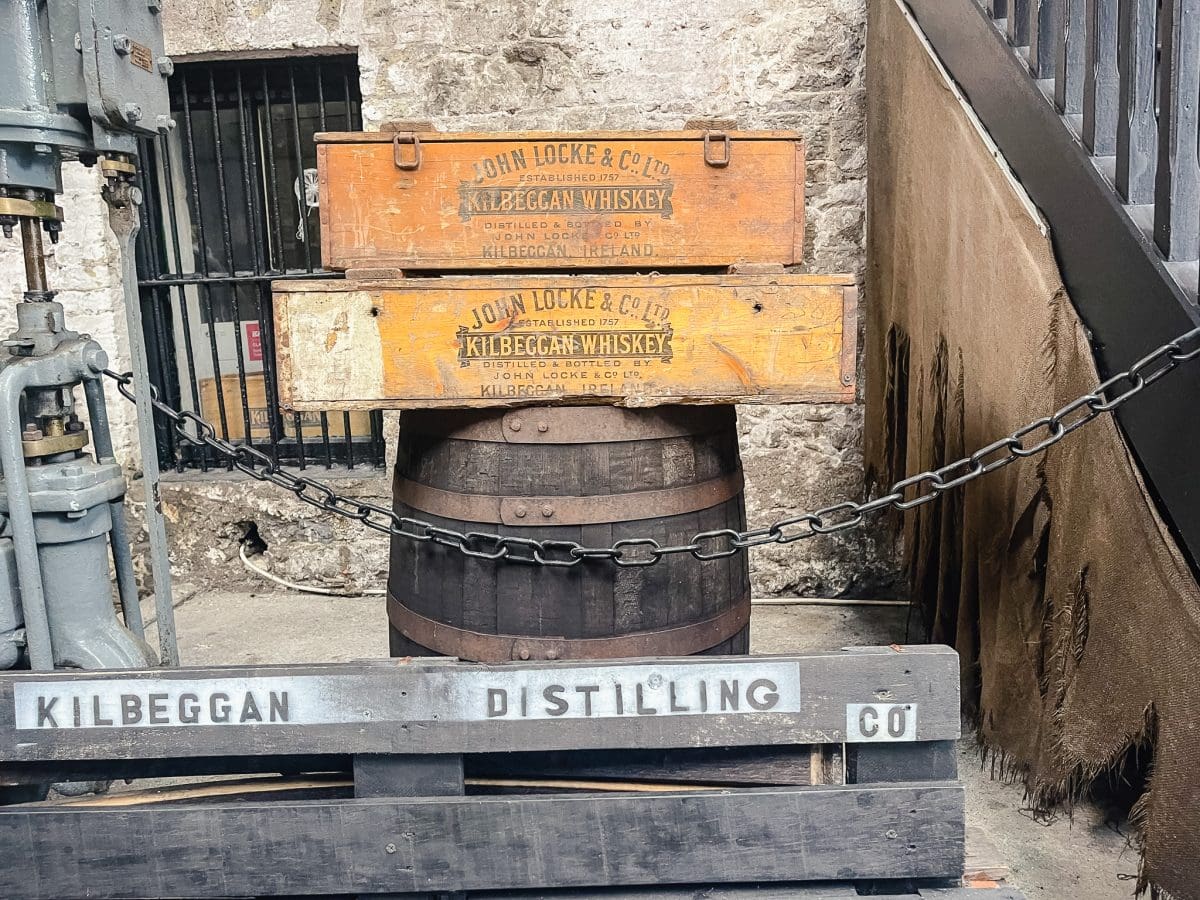 Founded, distillery is famous for being the oldest licensed distillery in Ireland. For over 200 years, the distillery has been making its innovative whiskies – through the good times and the bad. Even when Ireland reached economic turmoil, the distillery powered through.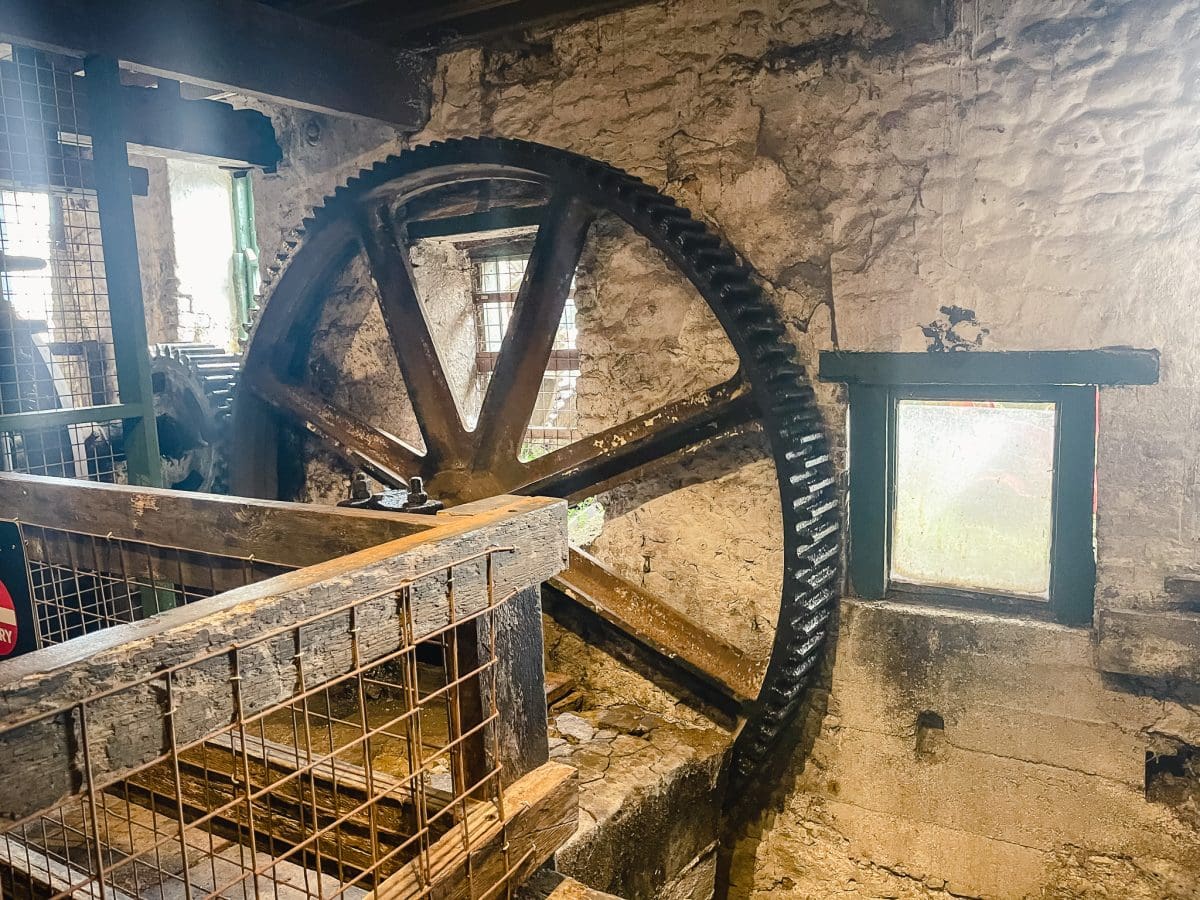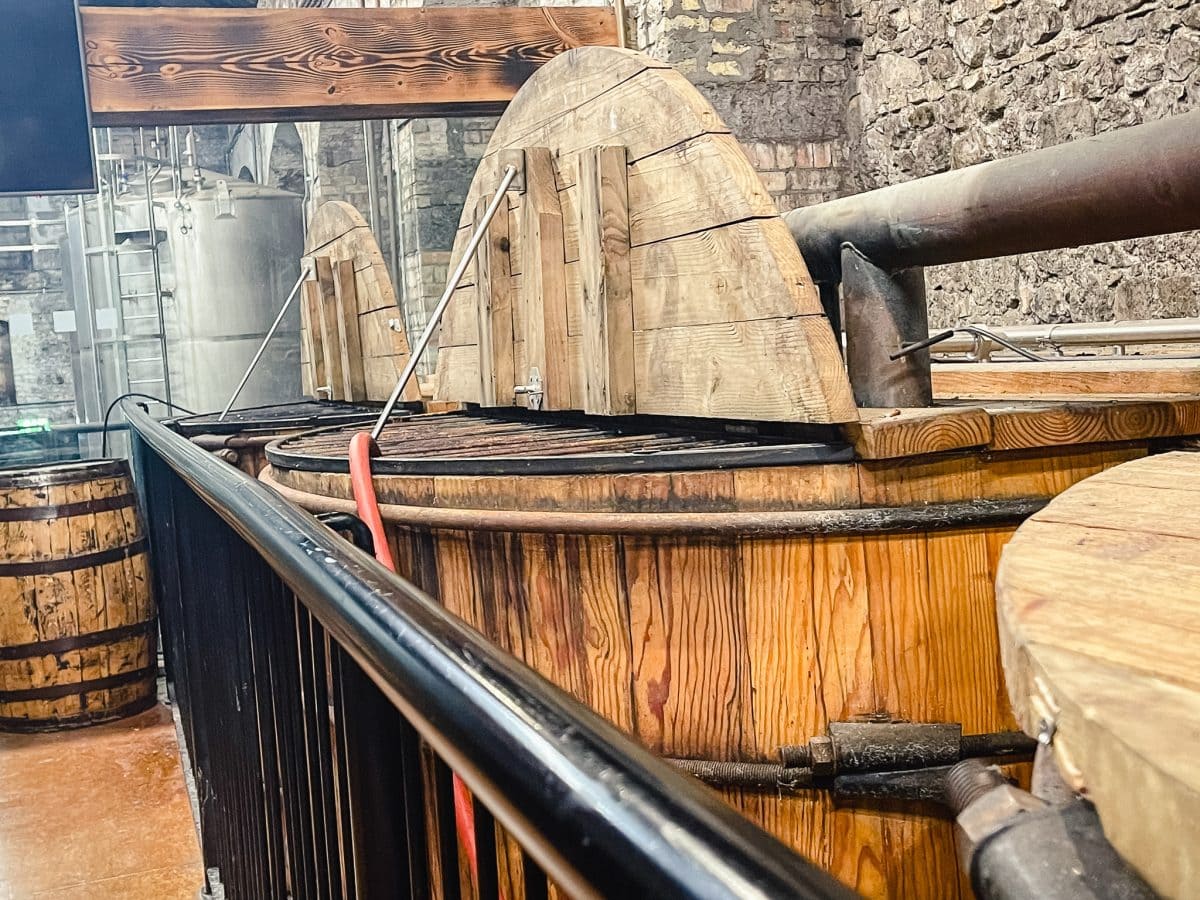 We toured the distillery, and learned about the process of making whiskey and the different types and blends. It seems a perfect mix of science and art. Of course, you get to try a tipple or two.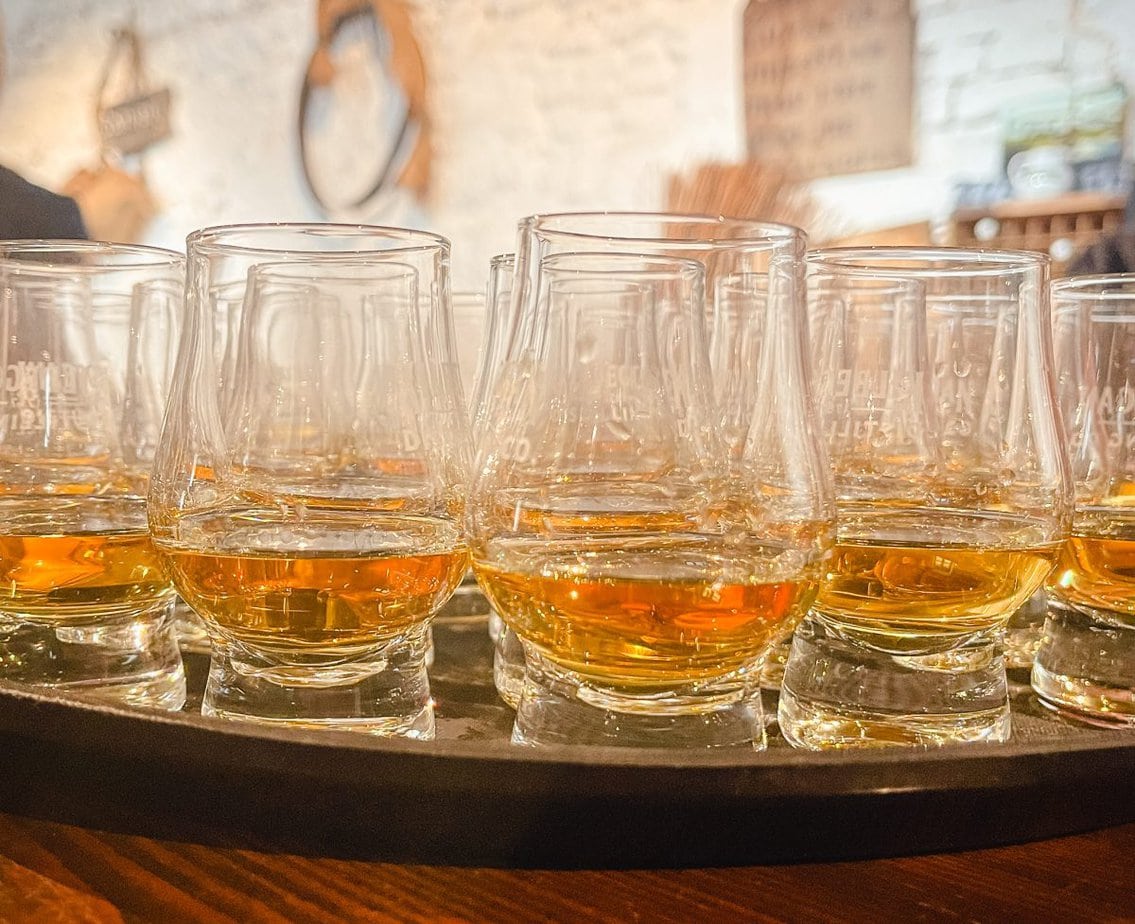 I'm not an Irish whiskey connoisseur, although I do love Irish Coffee, and it was interesting to taste the various whiskeys and learn about the differences. I'm still not a convert to the liquor, but I have more of an appreciation for it.
After exploring the distillery, we ventured on to the town of Athlone. The town is famous for its Irish coffee and is home to the oldest pub in Ireland. You'll find the "oldest" designation a common theme throughout Ireland.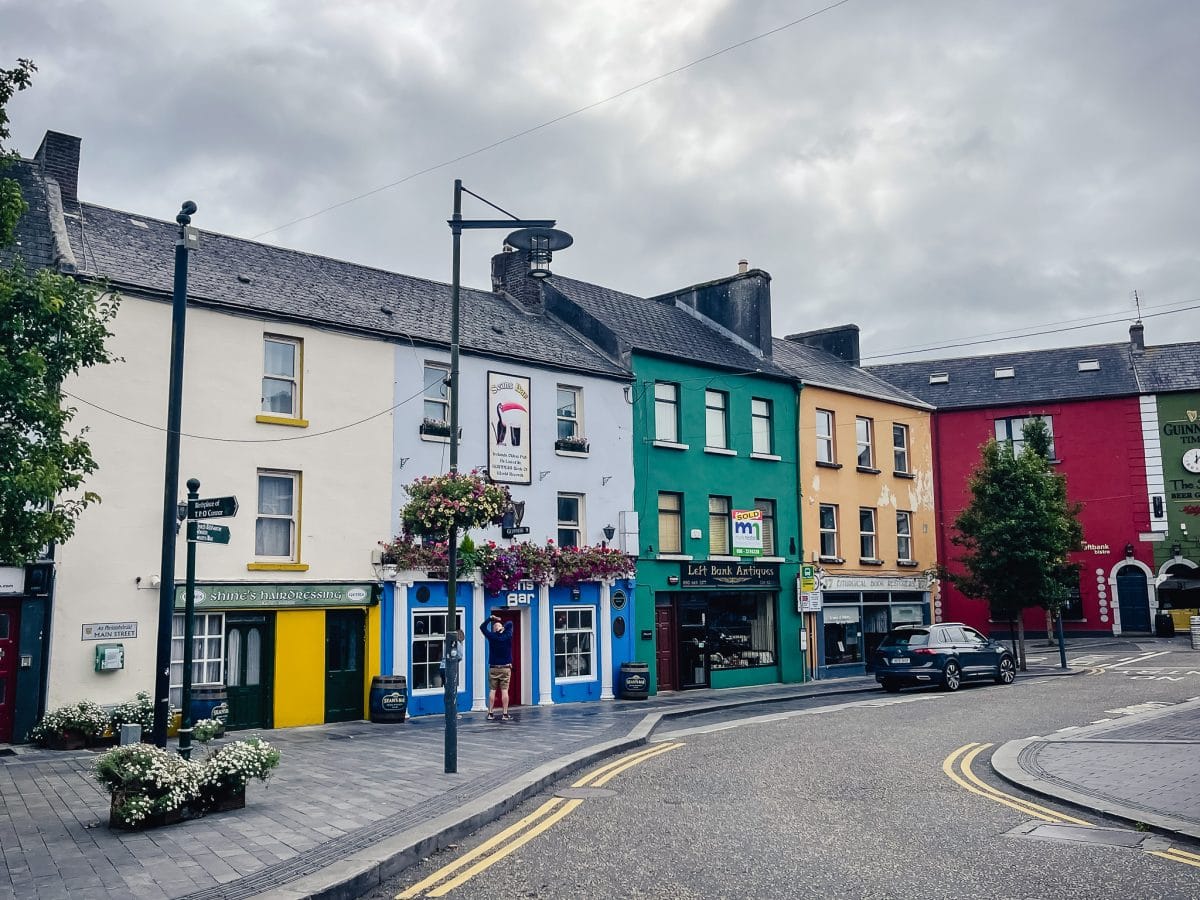 Athlone is a small, medieval town in the center of Ireland. It is called the beating heart of Ireland because of its location in the middle of the country. It also marks the starting point to what is known as the Ancient East – the part of Ireland where more than 5,000 years of history has been preserved and where many of its myths and legends were born.
Athlone has always been a defense town because of its geographical location on the River Shannon. It has been invaded many times since the 12th century and is most famous for its fortress and bridge. Despite numerous attacks, it's still standing today.
As well as the numerous battles that took place in Athlone, it's also known for its quaint, oldish world charm and colorful buildings. The number one attraction is Sean's Bar, a tavern that holds the Guinness world record for The Oldest Pub in Ireland, as it officially dates back to 900 AD. I'm not arguing with Guinness records!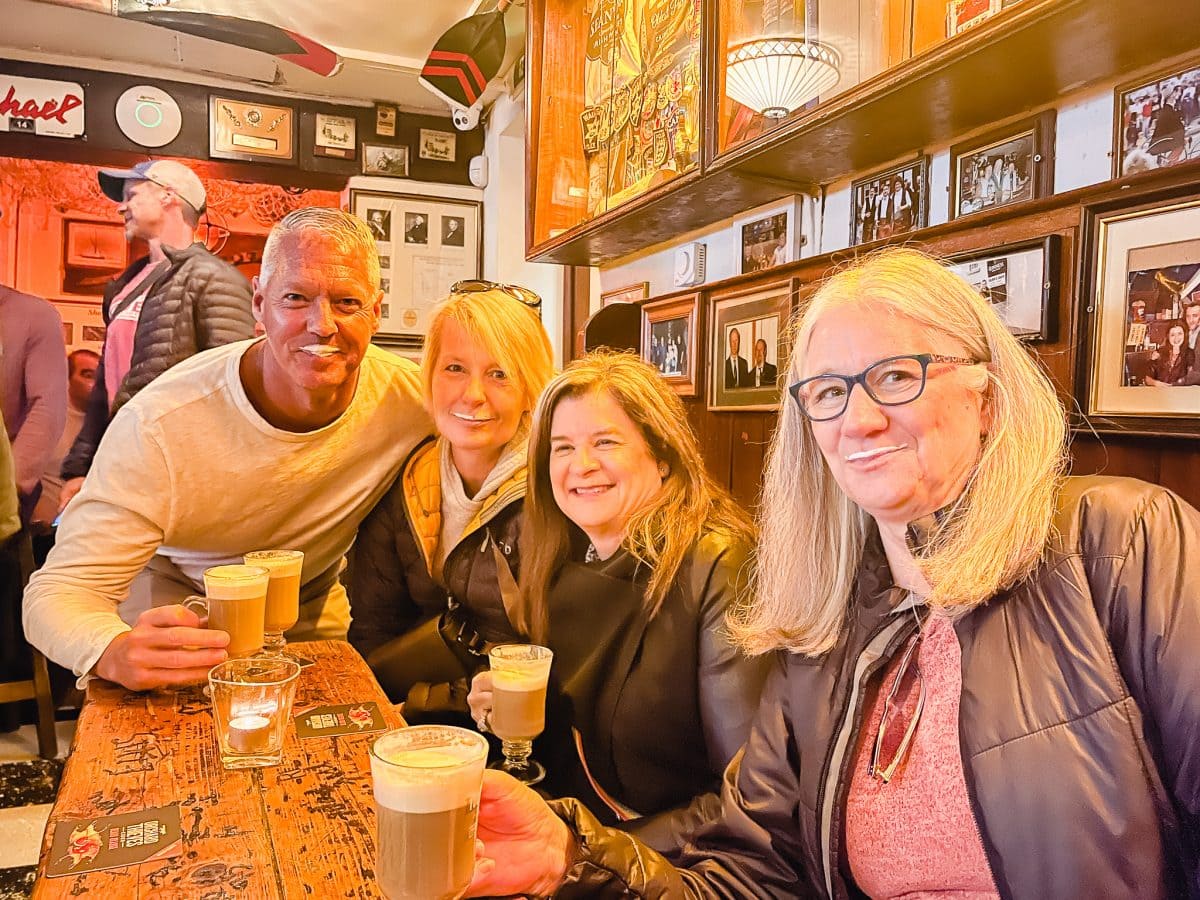 The bar is dark and quirky, with low ceilings, wicker walls, antique furnishings, and sawdust on the floor to soak up spilled Guinness. I opted for an Irish Coffee, complete with a whipped cream mustache.
After visiting Athlone, it's on to Westport…
Day 3: Westport
A 2-hour drive from Athlone, Westport sits on the West coast of Ireland (hence the name). It's known for its stunning beaches and sea-angling, as well as being home to iconic nature spots and pilgrimage sites.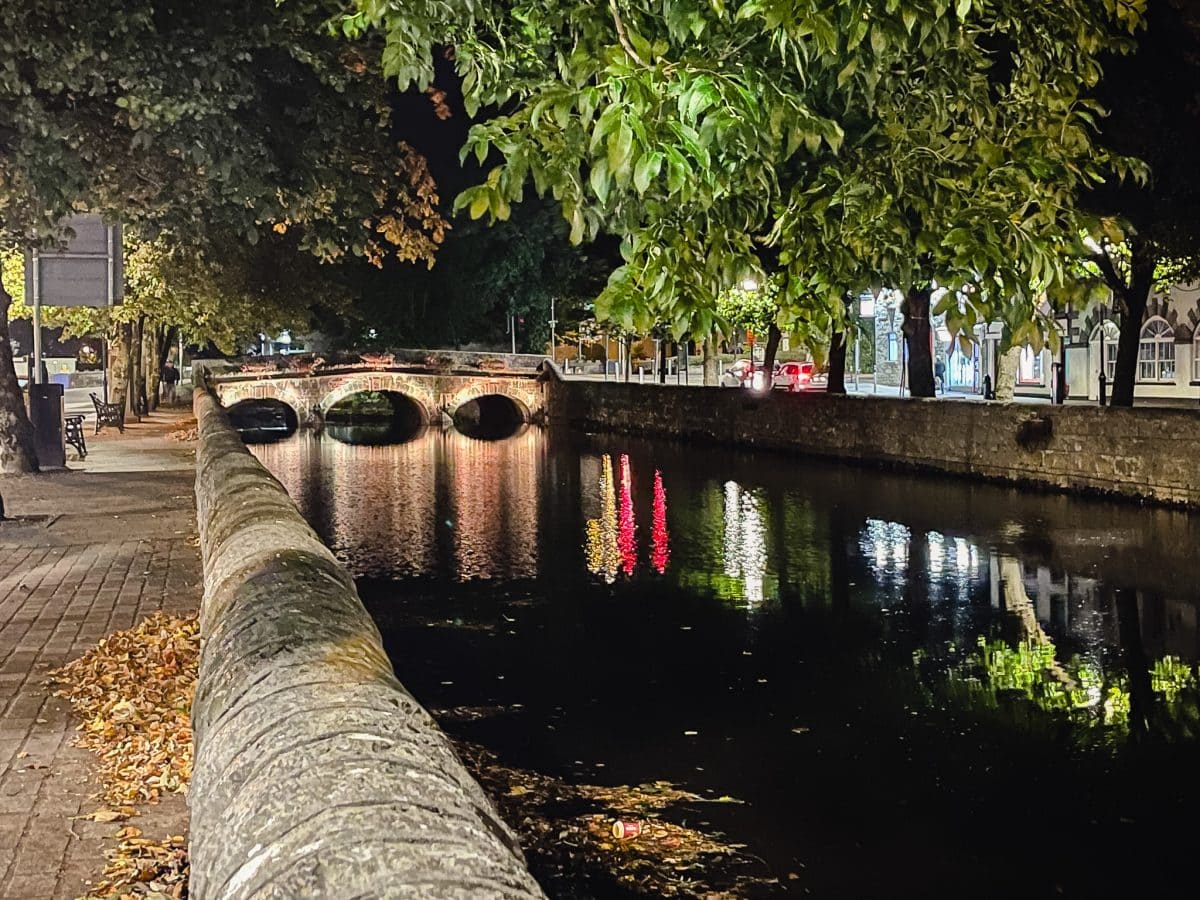 Westport's history is fascinating. It's a heritage town and was one of the few "planned towns" in Ireland. It was designed by architect James Wyatt and was commissioned by the first Earl of Altamont in the 1780s to be a place for his workers and tenants to live. Though no original records have been found of the original plans of the town, and it has been extended many times since the fact that it was completely planned out still remains one of the most interesting and quirky characteristics of the town.
Today, visitors can revel in the stunning natural scenery that surrounds the town, including its blue flag beaches which are some of the best in Ireland.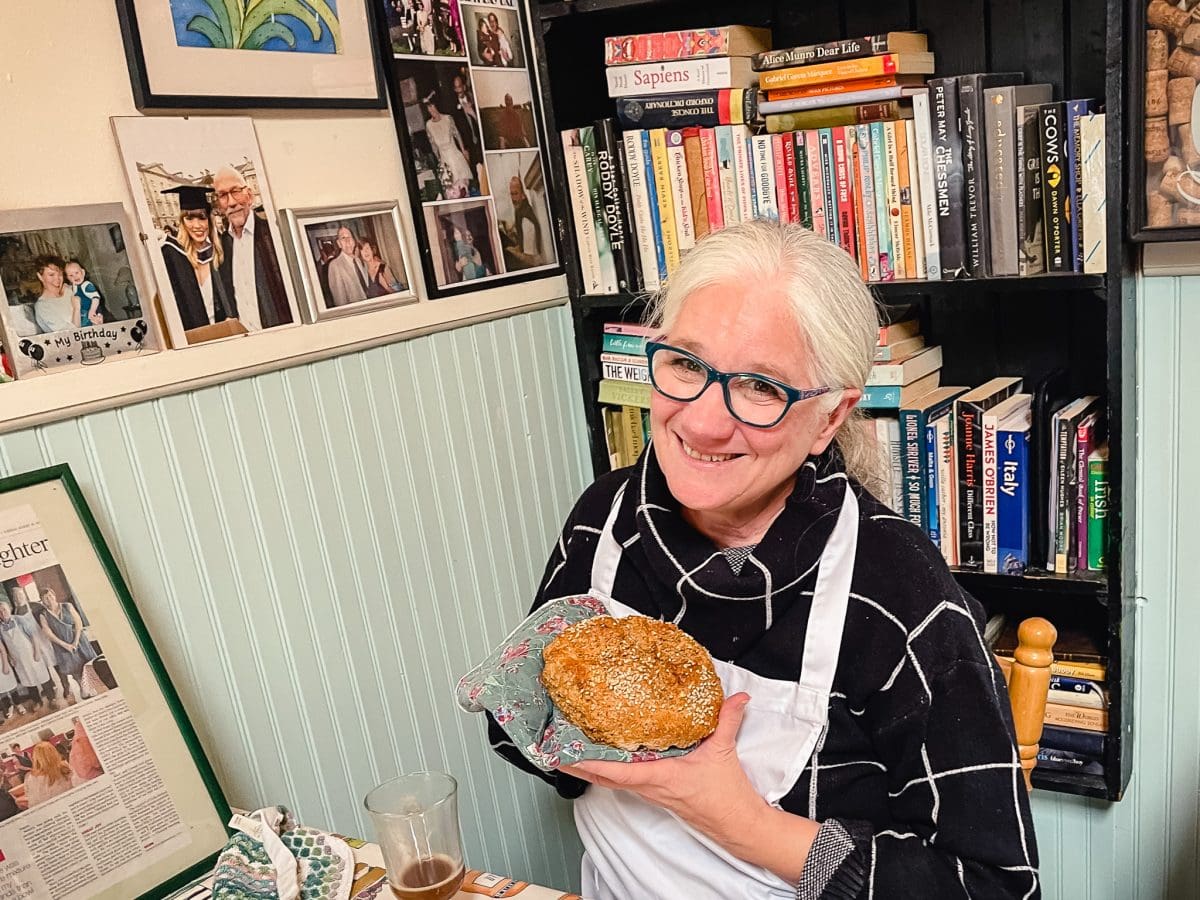 CHOICE TOUR OPTION: I took a baking class and made Irish Soda Bread and scones. It was fun – and delicious – and I loved the personal connection with our baking instructors as much as the finished baked goods. Read more about the history of Irish Soda bread and the baking class here. (Other choice tour options were a guided e-bike tour of Westport and a trip to Achill Island along the Wild Atlantic Way.)
Day 4: Kylemore Abbey, Maam Cross, Galway
Next up was moving on to Kylemore Abbey, otherwise known as Benedictine Abbey.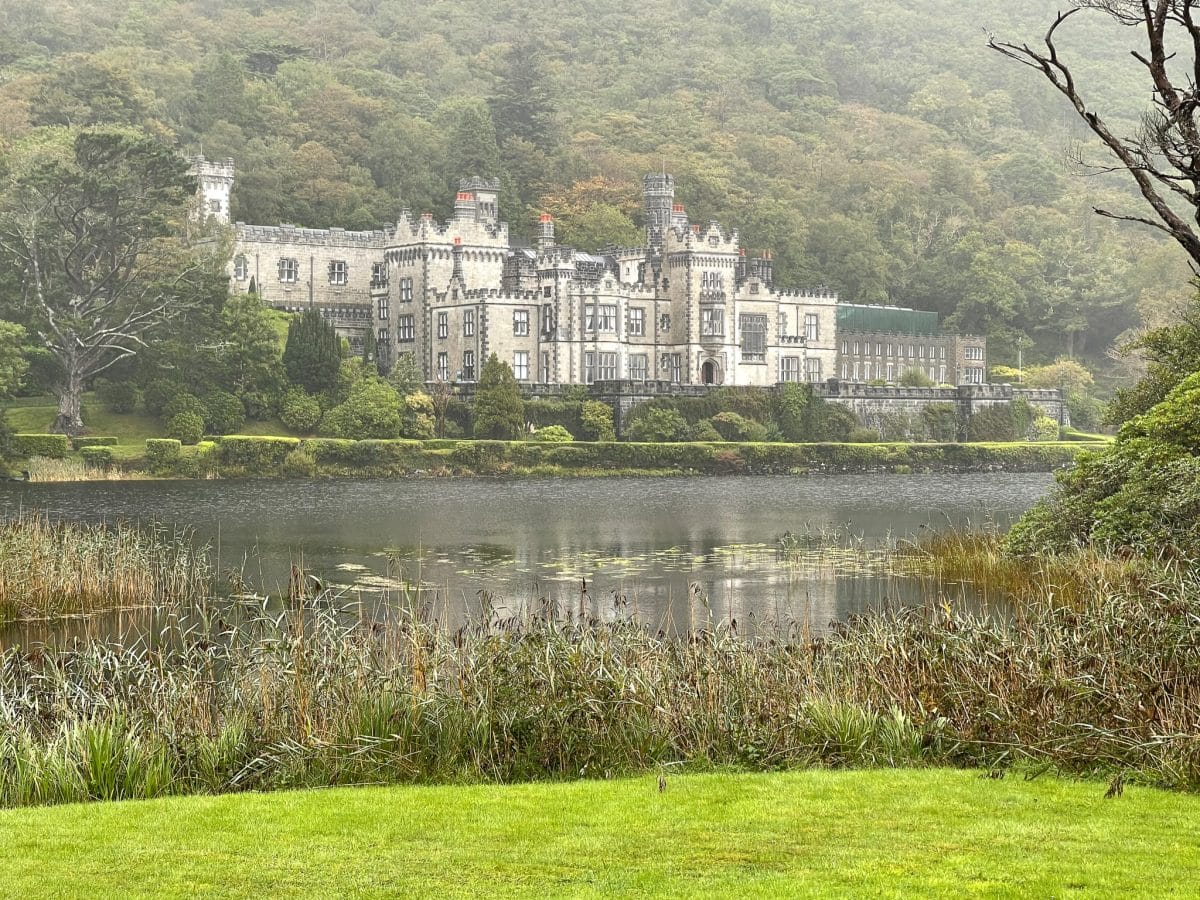 The abbey is a grand castle and monastery that was once a castle owned by Mitchell Henry, a wealthy doctor from London. He used it as his private family home. The castle covers approximately 40,000 square feet and has over 70 rooms. It also has a Gothic church and family mausoleum on the grounds.
Since 1920, it has been a monastery run by Benedictine nuns. The Order originally moved here after fleeing war-torn Belgium during WWI. In 1919, the monastery was opened to the public for tours and for exploring the grounds.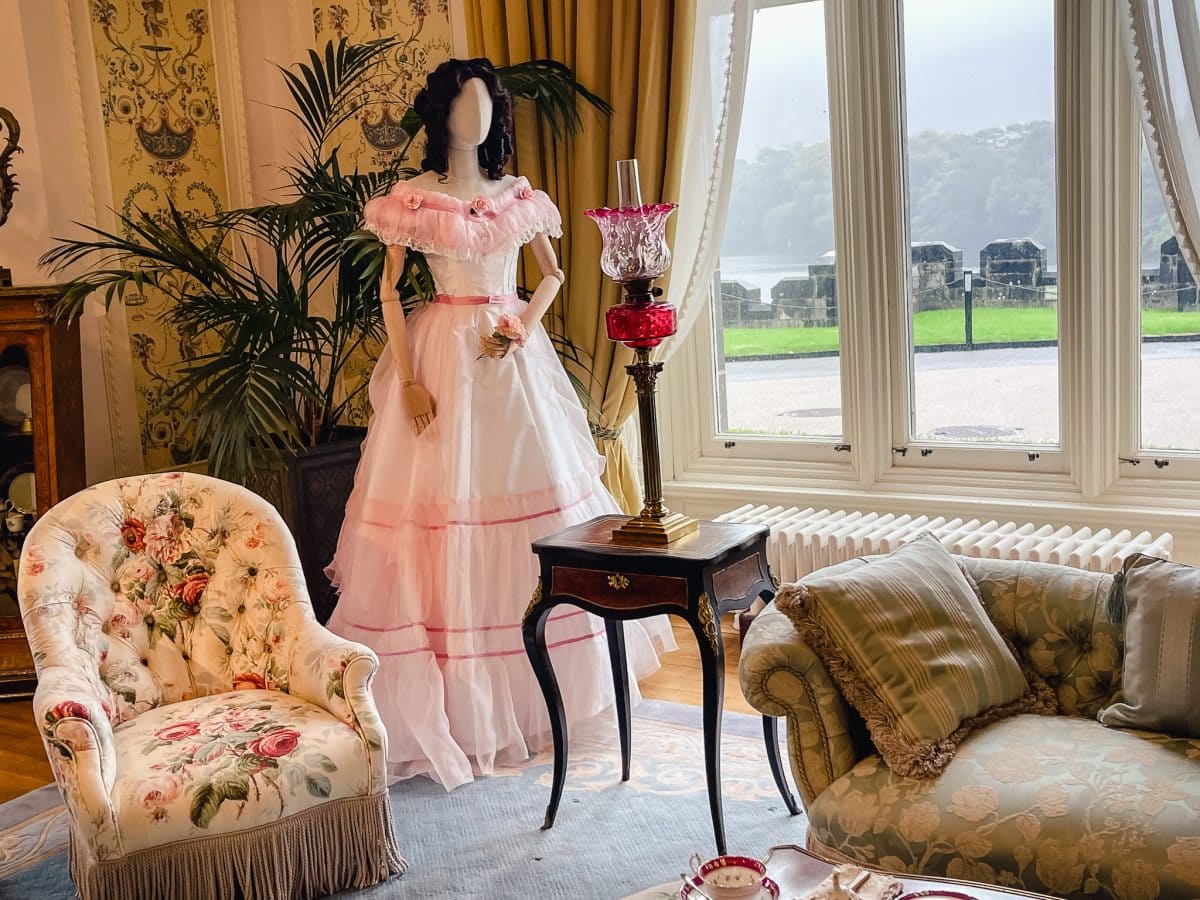 A self-guided tour of the castle provided a glimpse into how the landed gentry lived, and wow – they lived well. Kylemore Abbey is widely visited not only for its magnificent decor and design, but also for its surrounding landscape in the foothills of Connemara National Park and Pollacapall Lough.
After visiting Kilmore Abbey, we headed to Maam Cross, a famous settlement at the crossroads where Connemara and County Galway meet.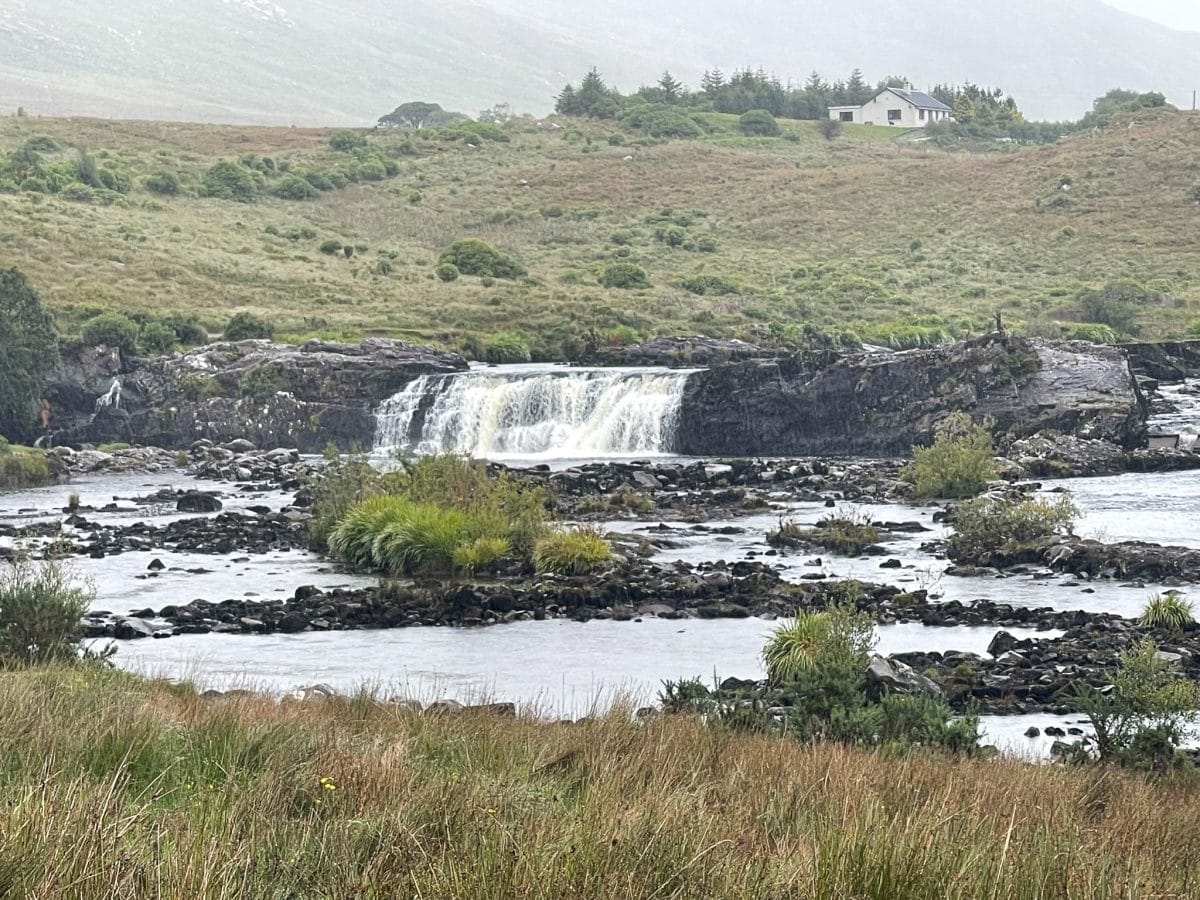 Maam Cross is famous for its boggy landscape, a product of its location surrounded by mountains, lakes, and marshes. It's only a small town (if you can call it that) with a gas station, a small inn, a restaurant, and a gift shop. There's not much else there. Strangely, it hosts a weekly agricultural market where sheep, cattle, and Connemara ponies are sold.
This was a quick stop to take a peek at waterfalls and interesting landscape, before heading on to Galway.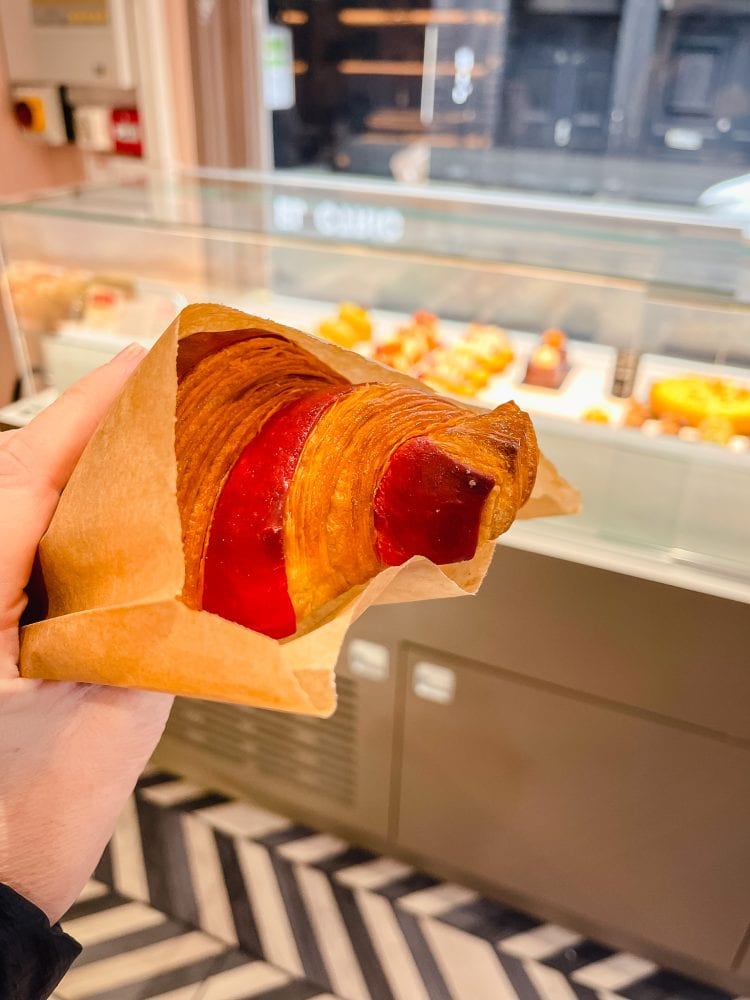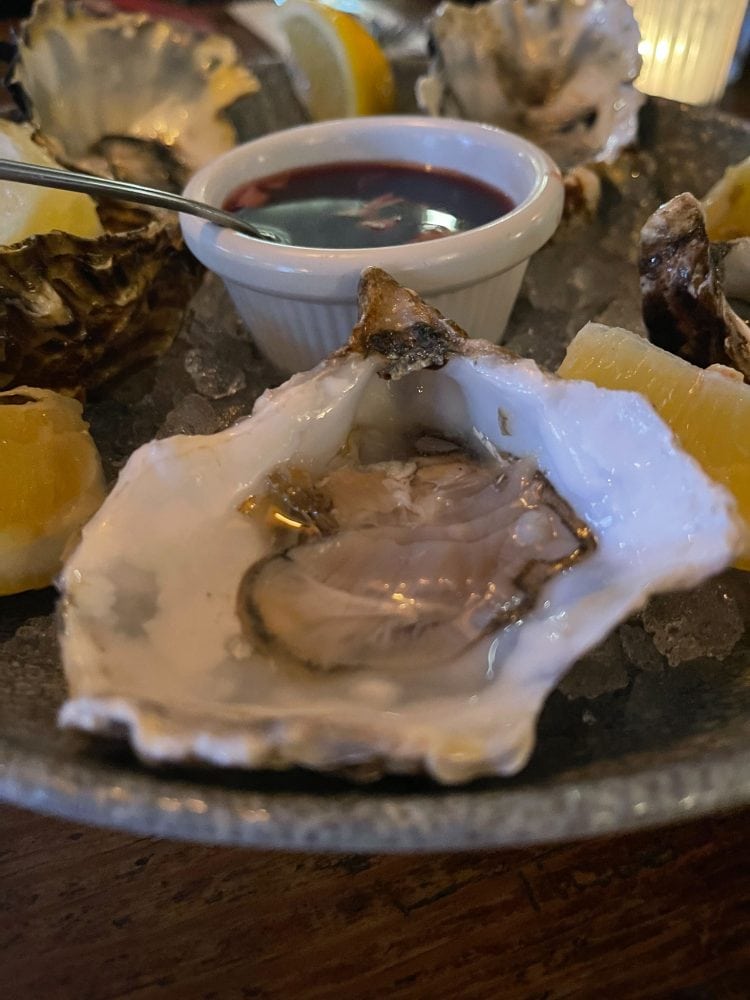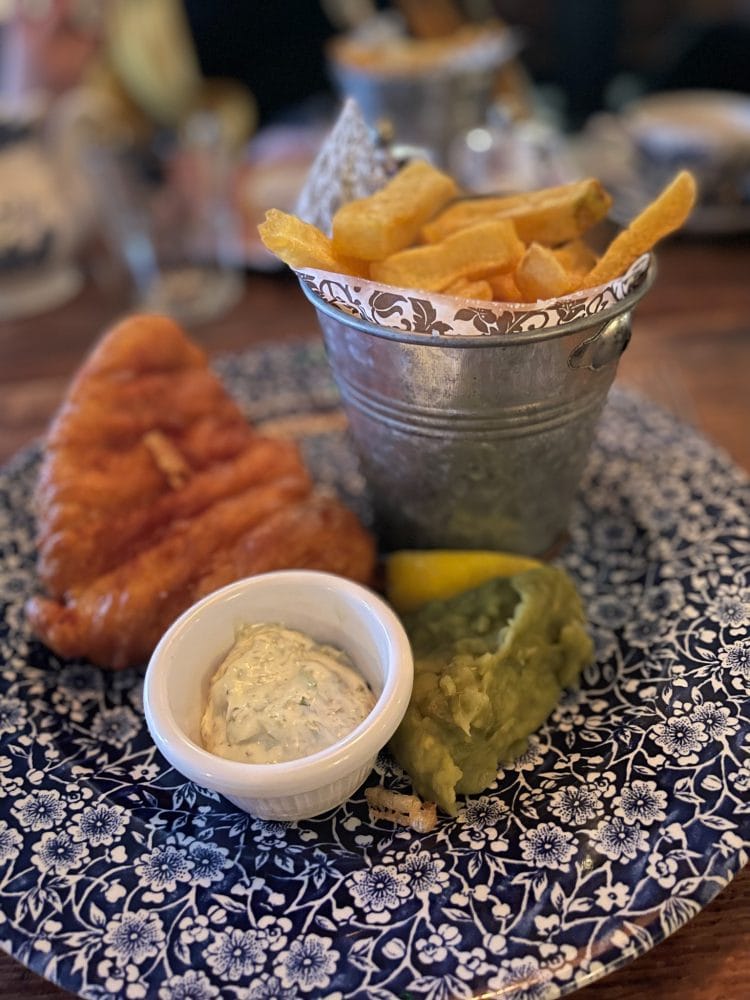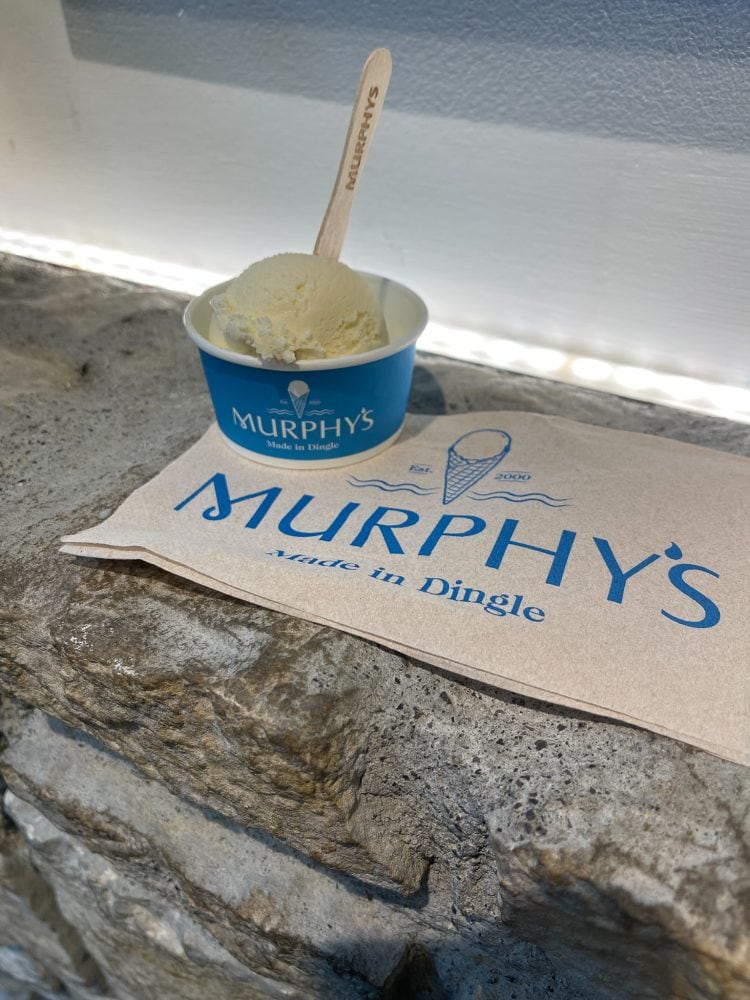 CHOICE TOUR OPTION: A food tour! (You'll probably detect a theme in my touring options.) We met with a local tour guide for a walk around town with a local food tour operator. We made numerous stops for tasty bite representative of Irish cuisine. we had oysters, cheese, pastries, ice cream, and beer. If only I had logged enough steps to burn off all those delicious calories! (The other choice touring option was a walking tour of Galway.)
Day 5: Galway and Aran Islands
Galway was originally founded as a fishing village and lies where the Corrib River flows into the stunning Galway Bay. The original inhabitants were Norman settlers, who came to Ireland in 1169.
Galway is also known as "The City of the Tribes" because it was once home to the Tribes of Galway, 14 merchant families who dominated the commercial, political, and social life of the city from the mid-13th until the late 19th century. The names Skerrett, Darcy, and Blake may not be as well known as the Medici's of Italy, but they were every bit as powerful.
Nowadays, Galway is more famous for its events and festivals. It hosts around 122 festivals and events per year, including fringe festivals, film festivals, and food festivals. No matter when you visit, there's probably a festival going on. Galway is also a UNESCO City of Film.
Just a short ferry ride (about 30 minutes) from Galway is the Aran Islands, three wild, untamed islands known for their rugged landscapes and wildlife. The islands have a small population of just over 1,000 residents. We visited Inishmore, the largest of the islands. This is the place to soak up some true, rural Irish heritage in one of the few communities that still speak Irish Gaelic (though they are also fluent in English).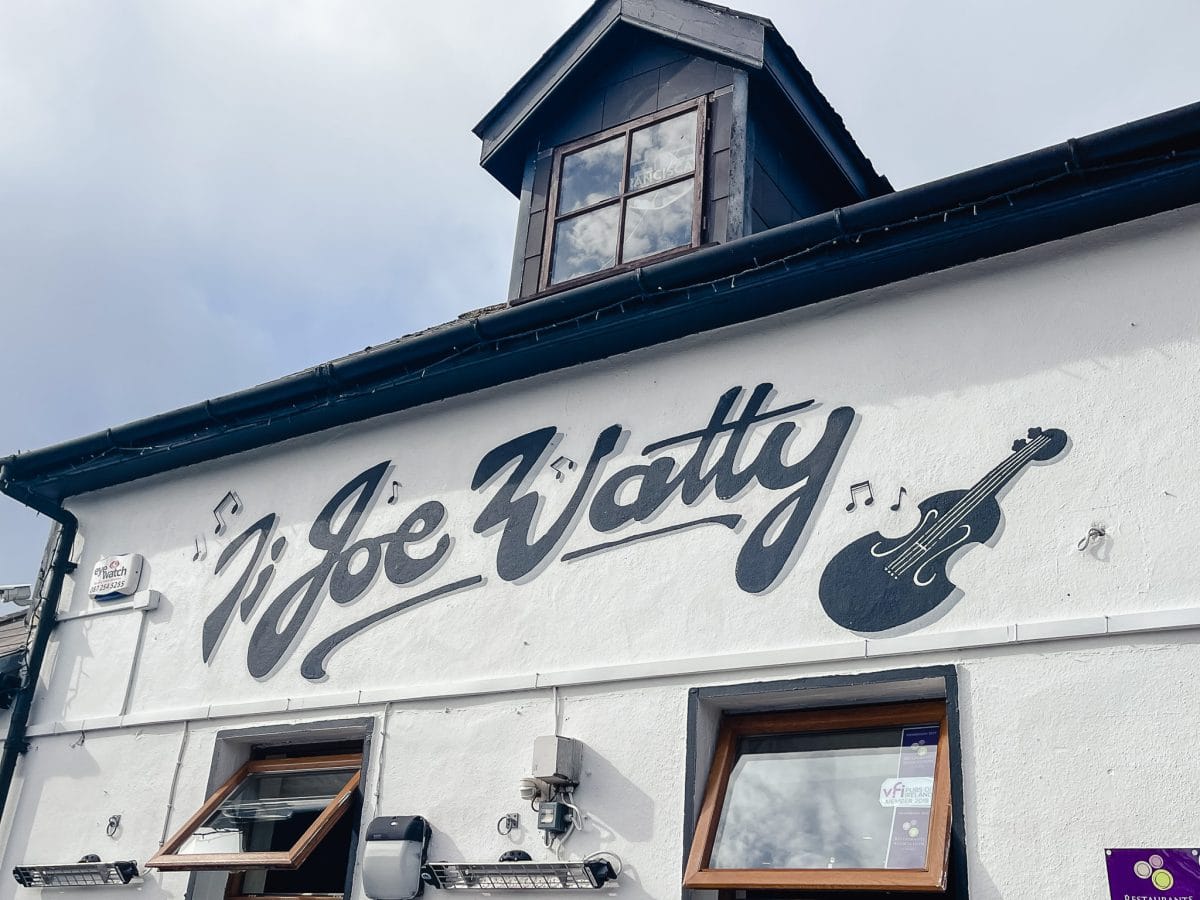 It was a perfect day trip from Galway. We had lunch at Ti Joe Watty's pub, enjoyed some music and storytelling, and then set off to explore.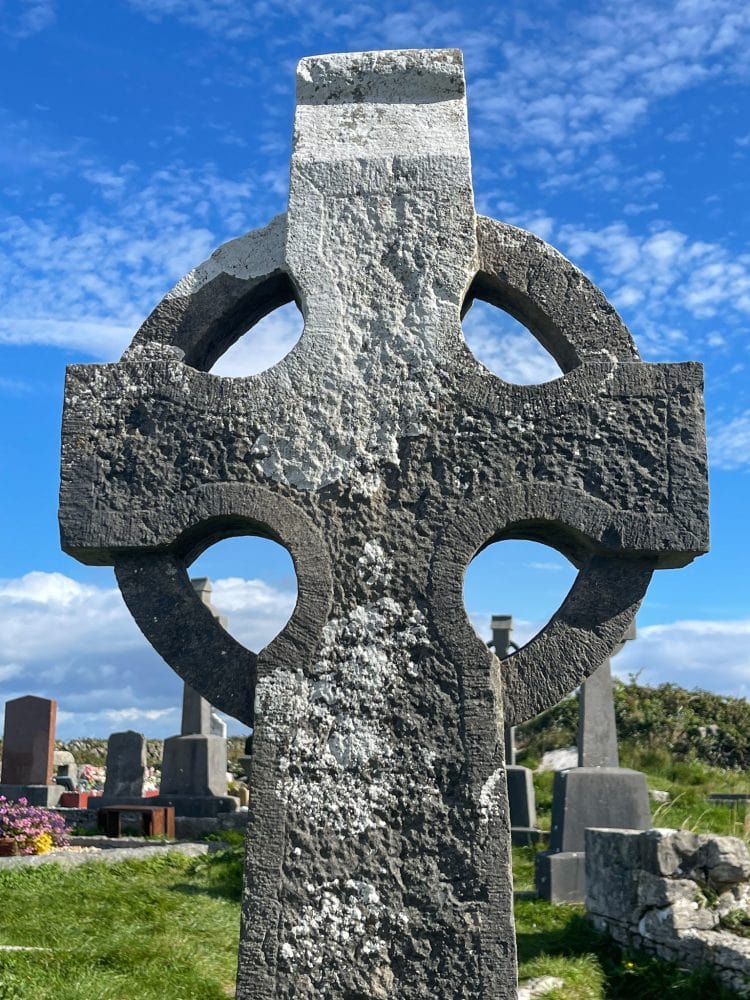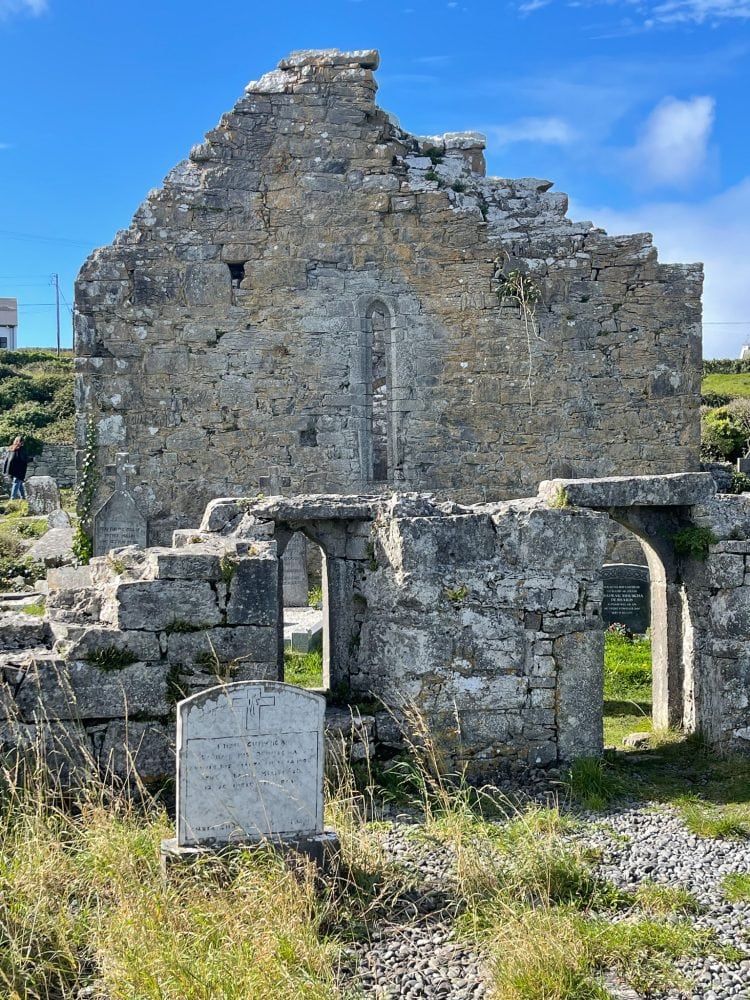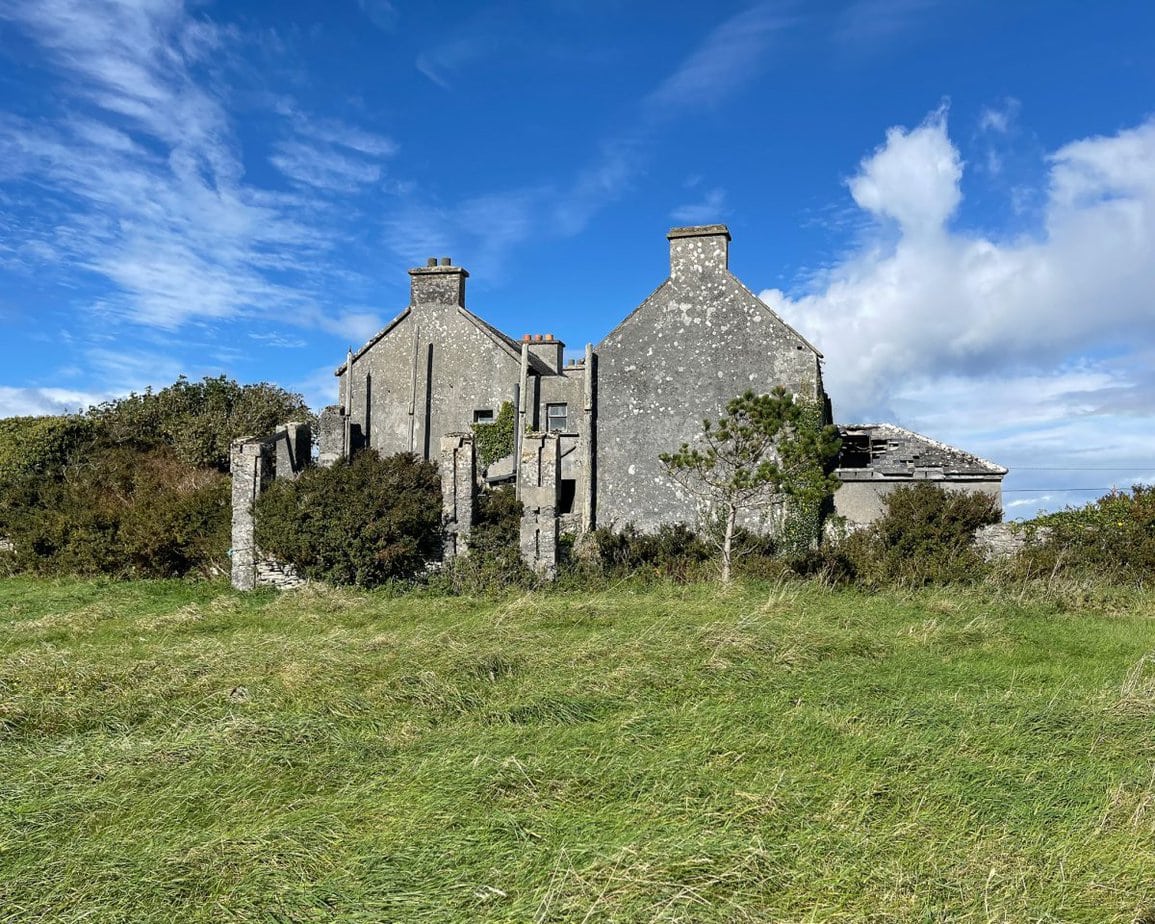 The rocky islands are full of ancient sites, medieval ruins, and natural tidal pools. Time and again, I remarked how much I enjoyed the scenic drive of this Ireland road trip. And how glad I was that I wasn't in a rental car with Tony driving. The twists and turns of the roads, the narrow lanes with steep edges and no shoulder, and my need to conquer my fear of edges, all were banished by the capable hands of our driver. Driving Irish roads, especially rural ones, is not for the faint of heart.
The Aran islands are also well known for their wool. Merino sheep is the most common type of wool used in Aran knitted goods. I did a little shopping, both in the islands and in Galway, and purchased a hat and a hand-knit sweater. These are soft beautiful items, and although hand-knit will always be more expensive than machine-knit, the prices are still reasonable.
Here are my tips for buying an Aran sweater in Ireland.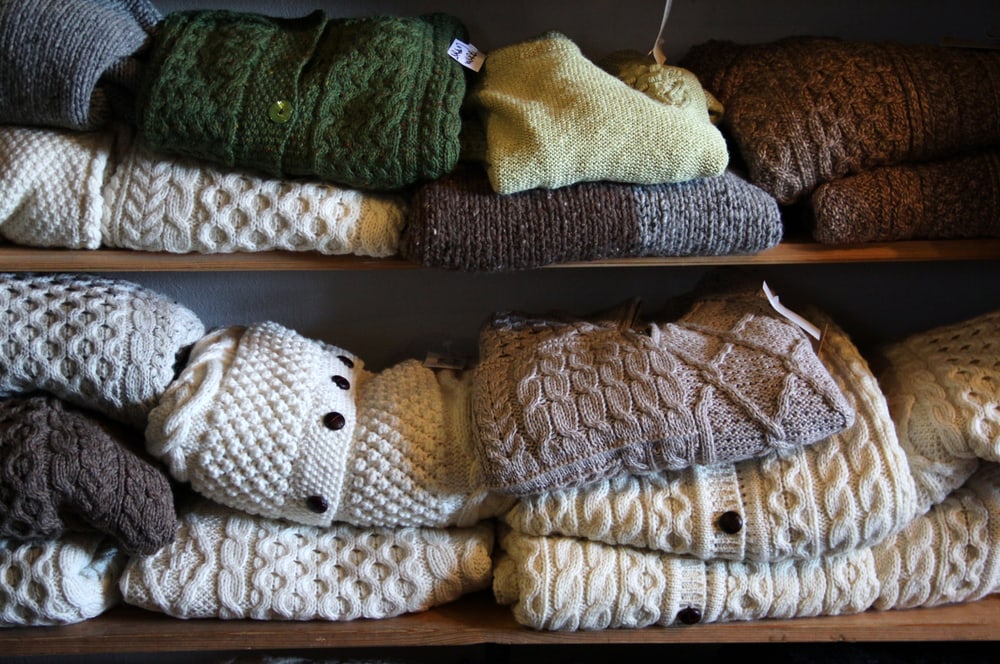 You might be familiar with the classic fisherman's knit sweater – a cable knit pattern of undyed yarn. The patterns range from simple stitching to complex and have more in-depth meaning that just a pretty pattern.
Day 6: Cliffs of Moher, Rathbaun Farm, Dublin
Next up was a visit to one of the top natural attractions in Ireland – the Cliffs of Moher.
You've likely seen the rugged, natural beauty of the Cliffs of Moher in photos of the Ireland countryside. Or, you may have seen them in movie Harry Potter and the Half Blood Prince or Princess Bride. As I was wandering the cliffs, I couldn't help but mutter "inconceivable" under my breath. (That's a Princess Bride reference).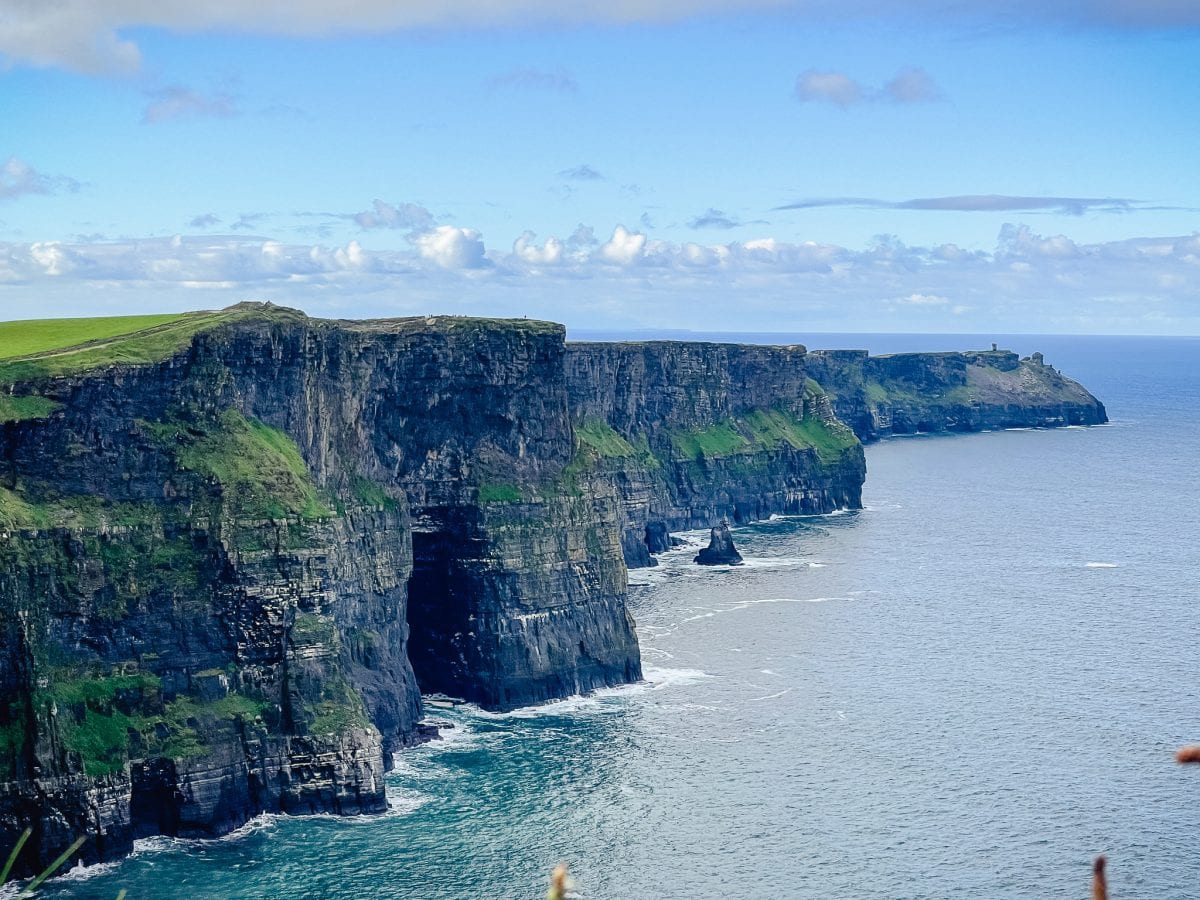 The craggy cliffs are over eight and a half miles long and are approximately 668 feet high, with a steep drop into the wild Atlantic Ocean below. While it was tempting to just stand in awe of Mother Nature, I did head off on the path to more of the cliffs. There are two paved pathways, one creeping a little closer to the edge that some may be comfortable with. Some parts of the paths have steps, others are on a bit of an incline. I didn't find it strenuous (and I'm a middle-aged out-of-shape woman).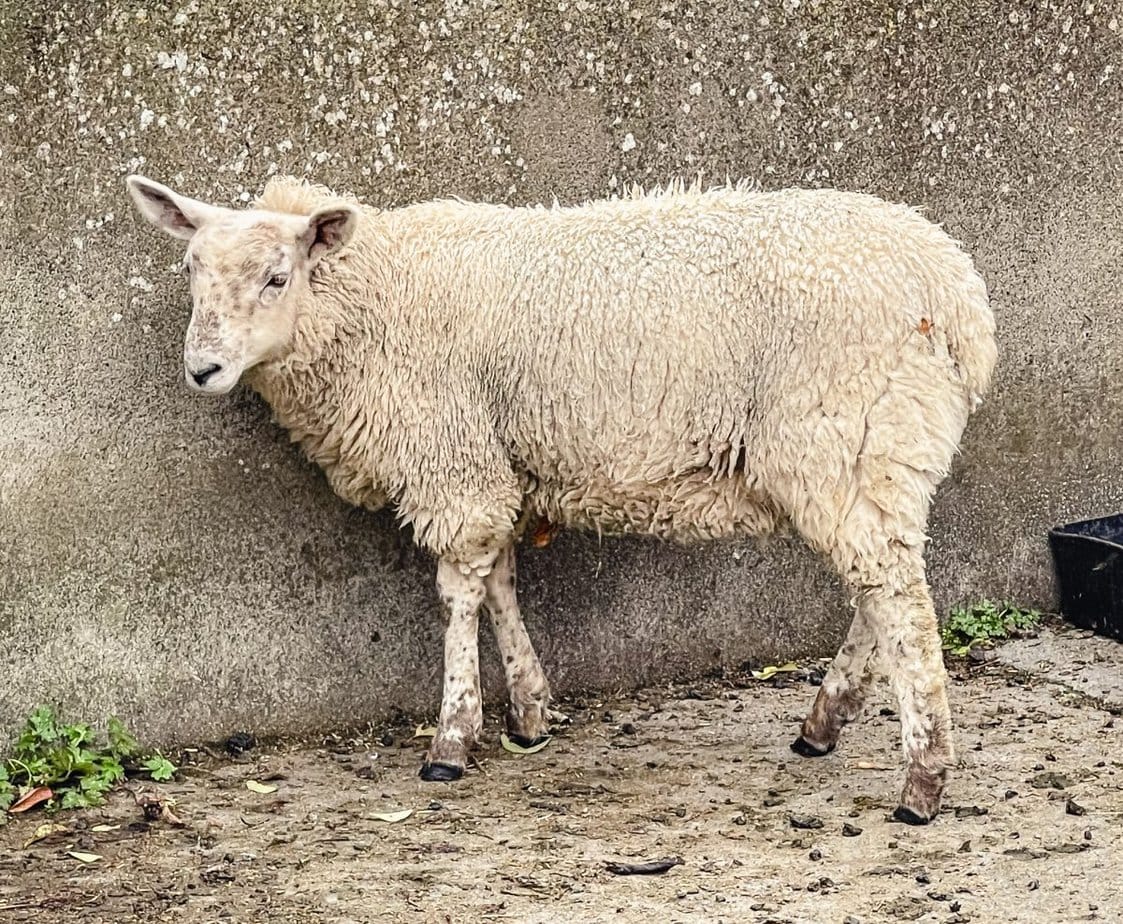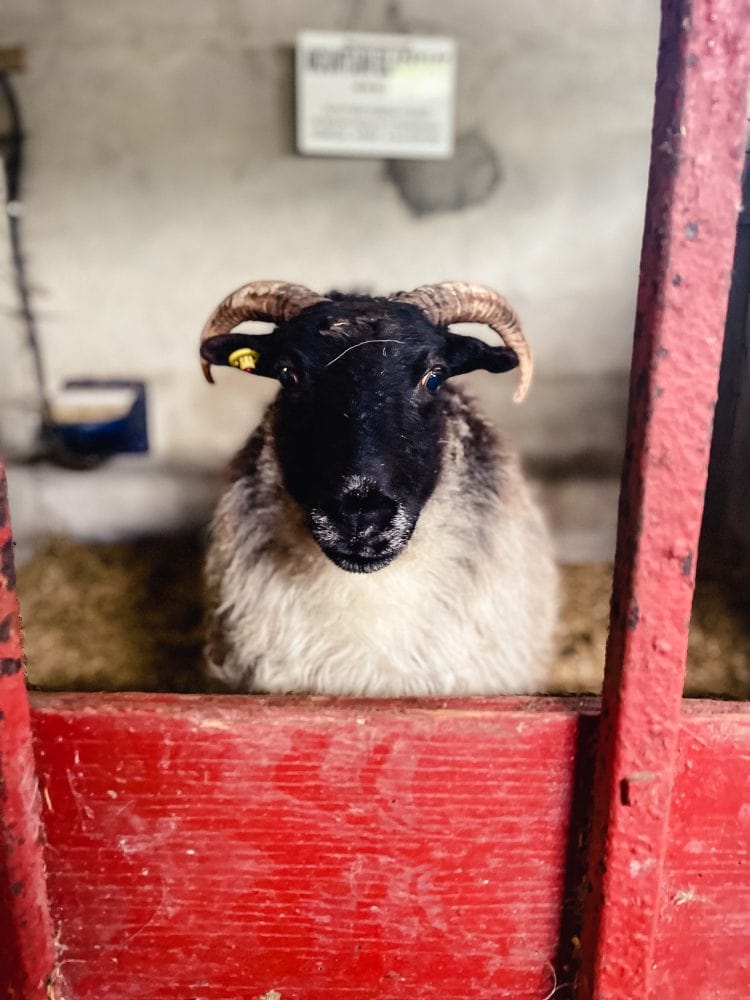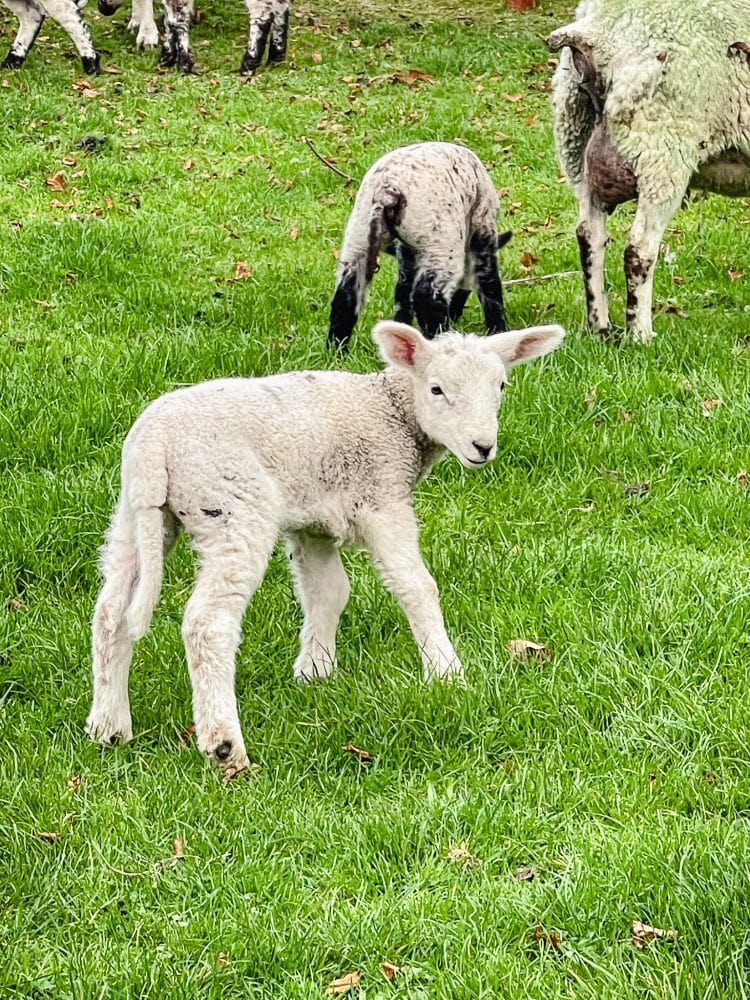 After enjoying the Cliffs of Moher, we headed to Rathbaun Farm, an Irish sheep farm. After a family-style lunch, with many dishes made from products of the farm, we took a short tour and learned about sheep farming traditions in Ireland. We saw a few sheep, including some young ones, and they were adorable. I had a lamb when I was younger, so I have a soft spot in my heart for them. So darn cute!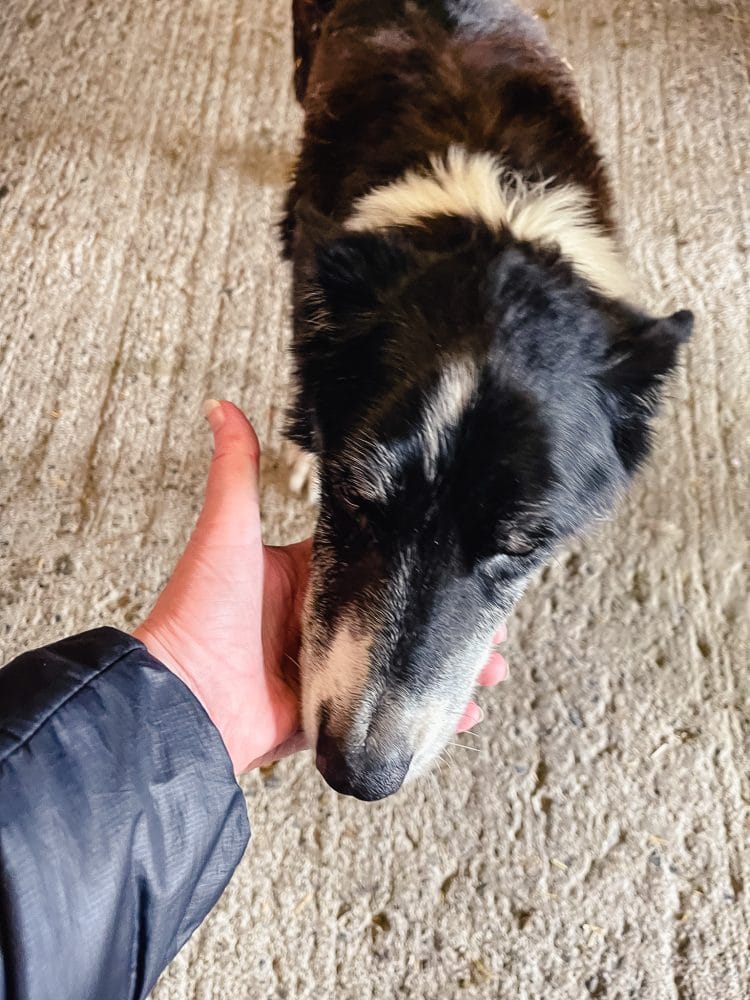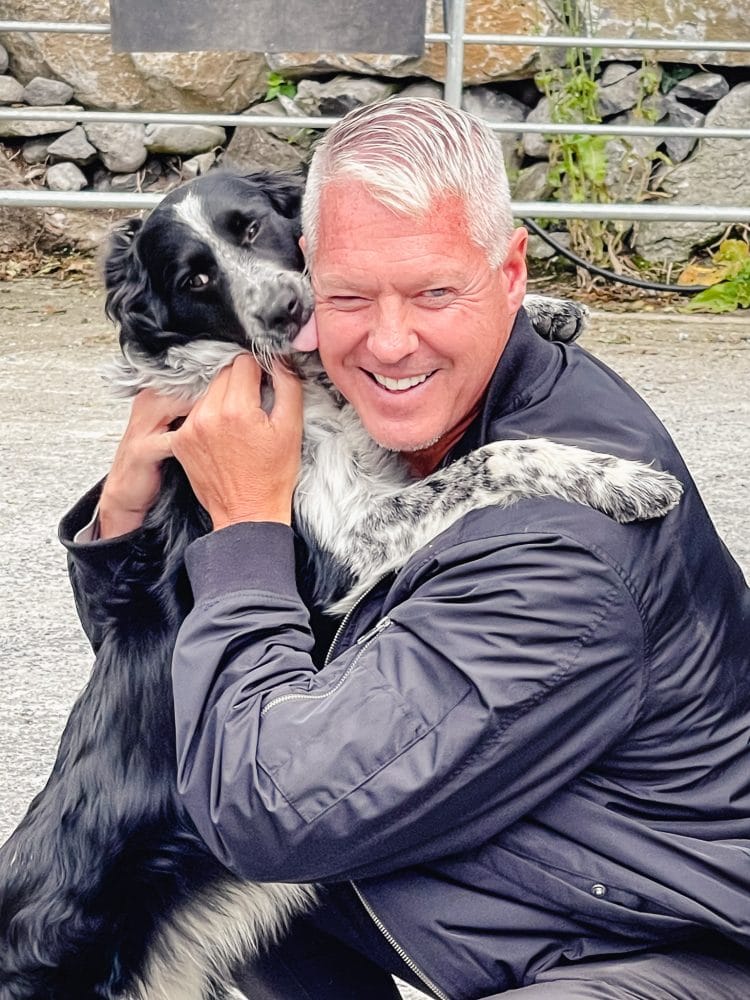 While the sheep were the stars of the farm, the two sheepdogs made strong supporting appearances. While the old man dog is edging into retirement, the young pup is in training and getting set to assume sheep herding responsibilities. Watching the pups go through some of their paces working the sheep emphasizes how important their job is to the well-being and success of the herd. And our visit included enough time to give them lots of pets.
Then it was back to Dublin and an evening of fun.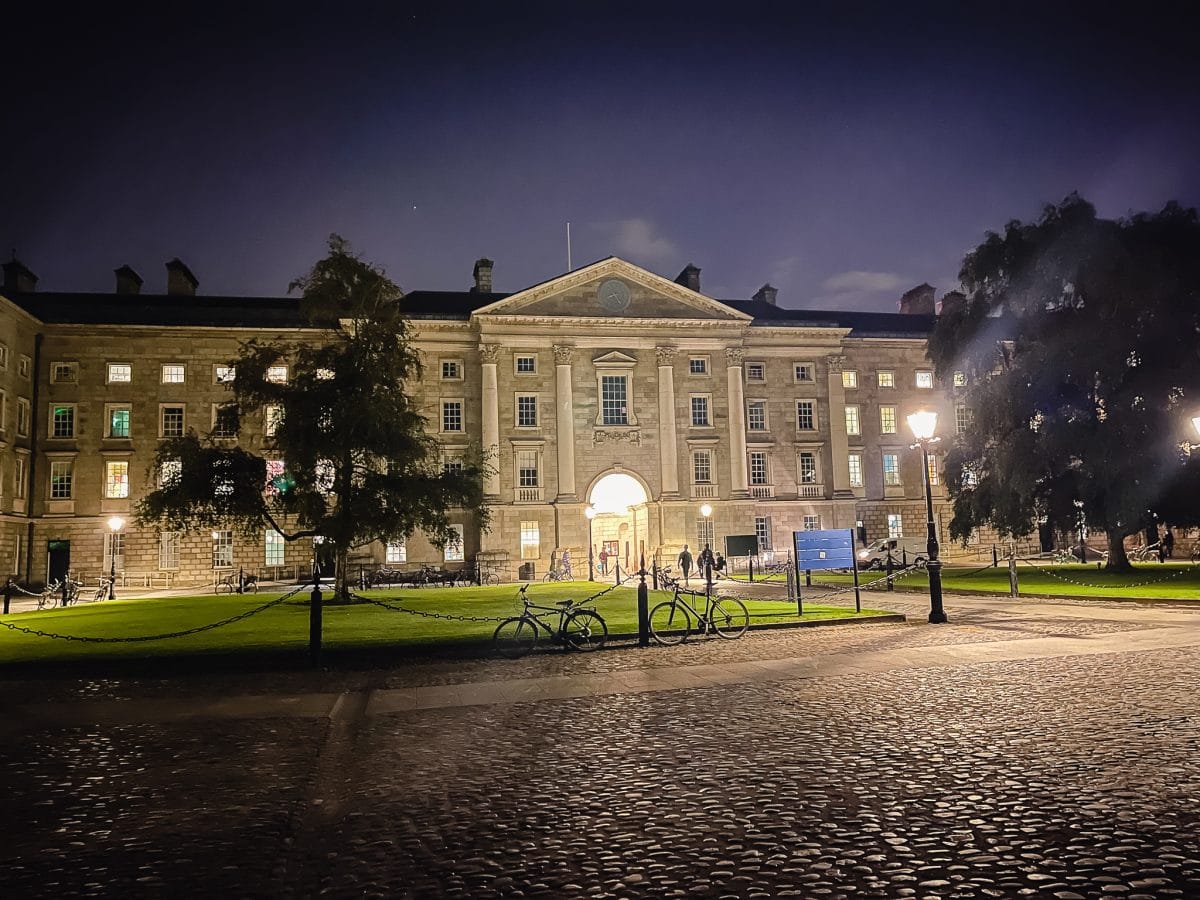 CHOICE TOUR OPTION: A literary pub crawl. Dublin has been home to some of the most influential writers in history, many of whom have helped shape the literary world as we know it today. It's a UNESCO City of Literature, has a number of notable attractions, and has been a center of literary activity for centuries. The literary pub crawl was a fun blend of literary history, local legends, and a pint or two. It was great fun and prompted me to learn more about Irish literature when I returned home.
You can read more about Literary Dublin here. (The other choice touring option was an evening of dinner and Irish song and dance.)
Day 7: Dublin
This was a full day for exploring Dublin. We did a quick tour around town for some of the major attractions and historic sites that included some time at the Guinness Storehouse. This is the most visited tourist attraction in Ireland, and even if you're not a beer drinker, is worth the time. The beer drinkers in our group all agreed, the best place to drink Guinness is in Ireland. Who am I to disagree?!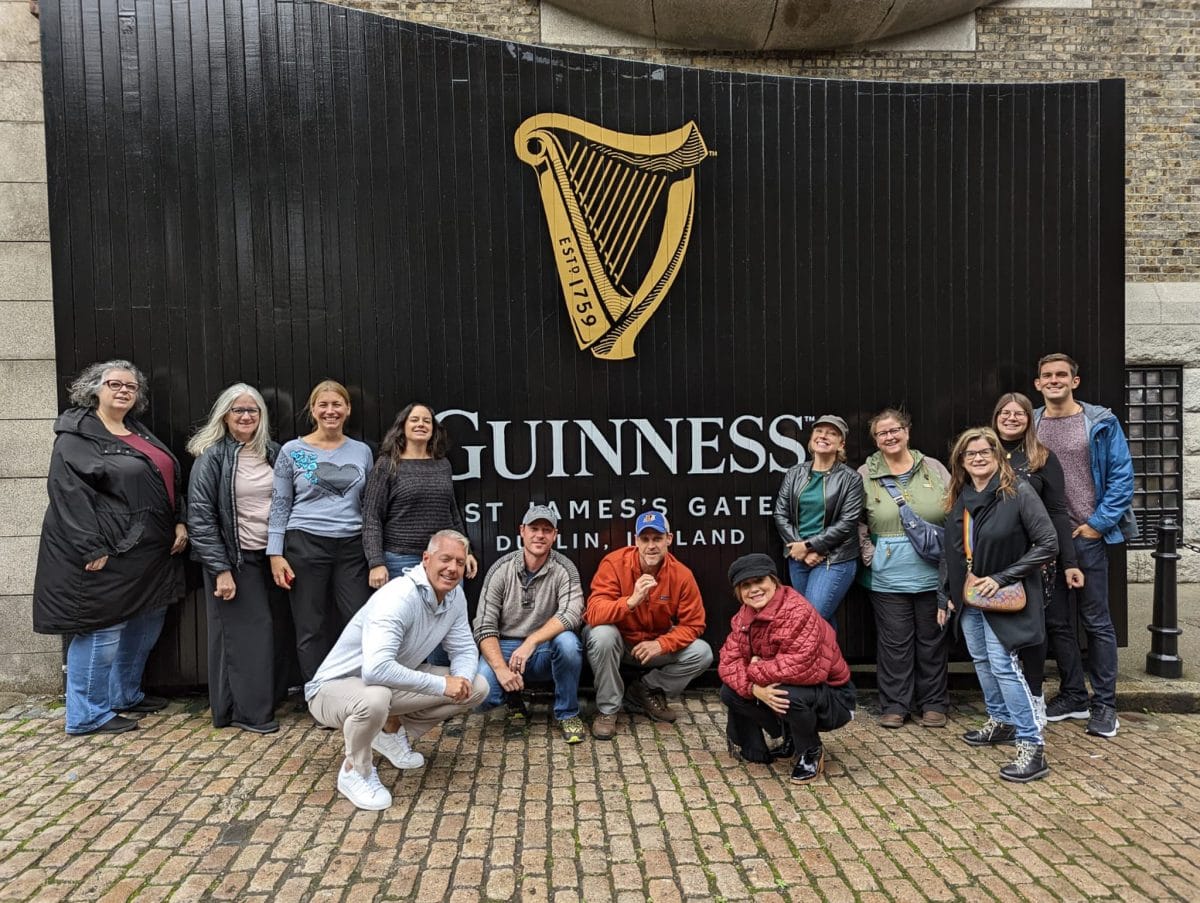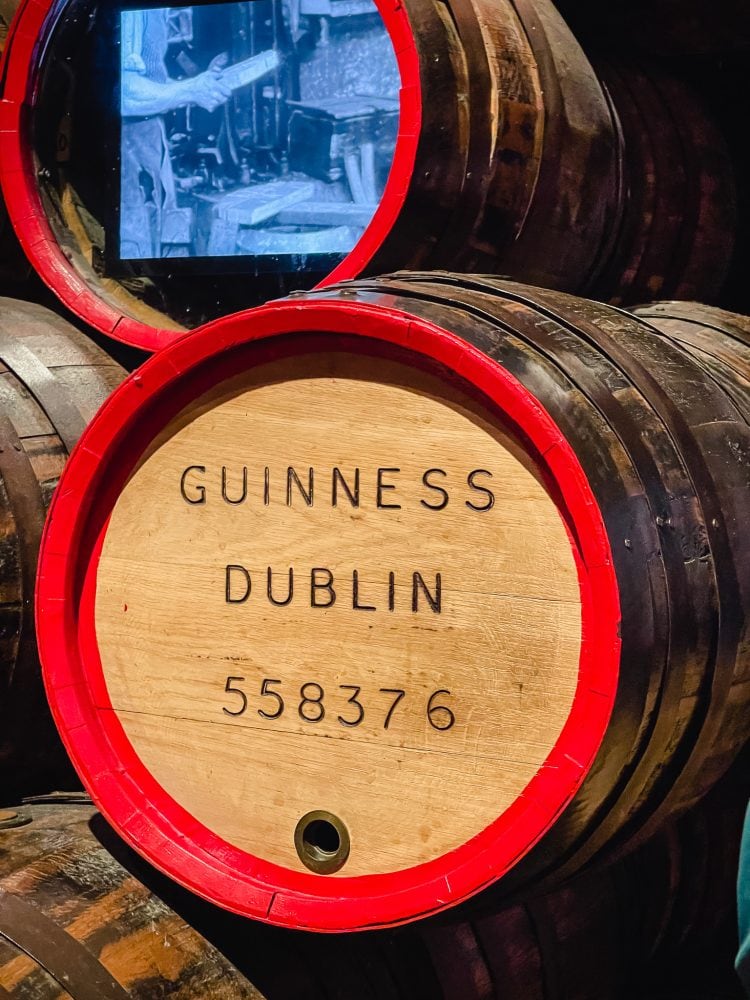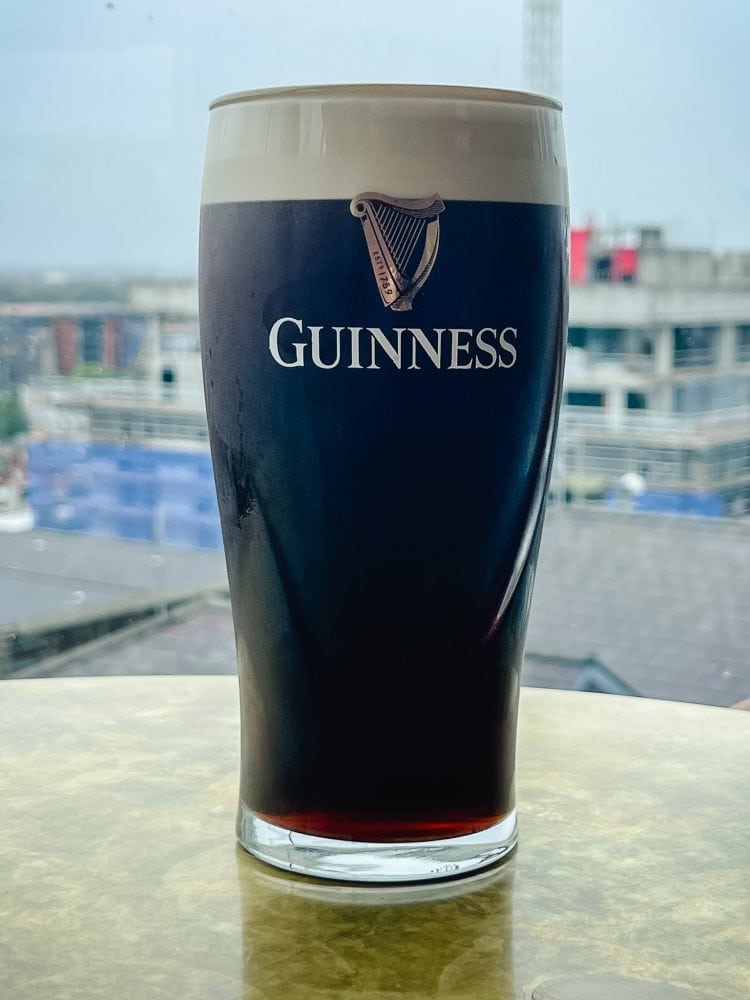 But it's not just about drinking beer. The Storehouse is a museum spanning seven stories, full to the brim of the history of Guinness. Learn about how Guinness is made, its cultural connection with Dublin, and then end your time enjoying a pint at the Gravity Bar on the top floor. It offers 360-degree views of the city. And in case you missed it, the entire building is shaped like a pint of Guinness.
As in our other stops on the tour, free time was built into the schedule. I went to the Trinity College Long Room and viewed the Book of Kells.
Trinity College Dublin is the oldest and most prestigious university in Ireland. About 18,000 students are enrolled in undergraduate and graduate programs spanning the major disciplines. The university has had many notable literary attendees, including Jonathan Swift, Samuel Beckett, Bram Stocker, and Oscar Wilde.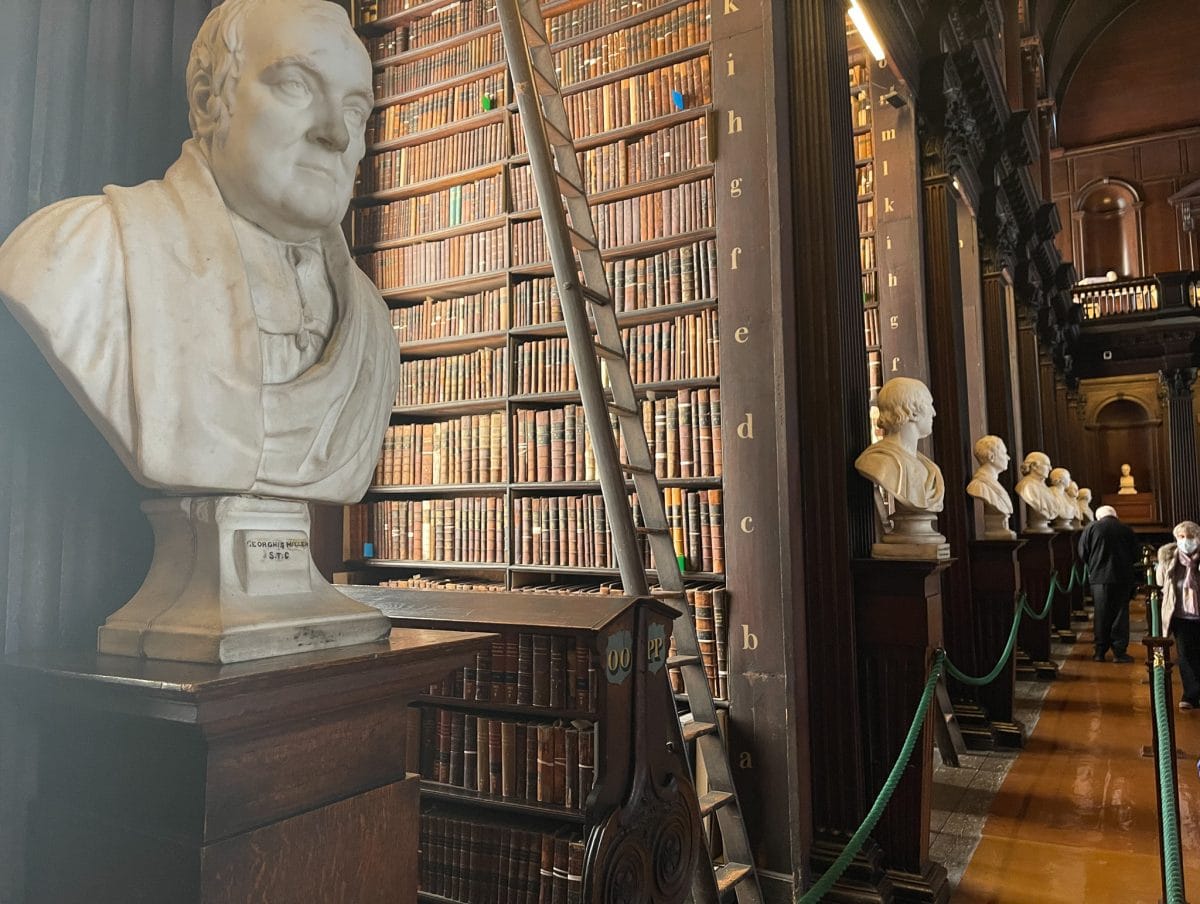 The university's Long Room library houses the largest collection of Ireland's historic manuscripts, early printed texts, and rare books. The entire collection features over five million books, increasing annually by about 100,000 new items.
The Long Room's most famous manuscript is the Book of Kells. The Book of Kells, housed in a special room separate from the Long Room, is a group of manuscripts that contain the four gospels of the New Testament (Matthew, Mark, Luke, and John), and are bound into four volumes (one or two are on display in the library at any one time). It's one of the most celebrated manuscripts in the world and its rich history is full of competing interpretations. Regardless of your religious beliefs (or non-beliefs), you'll likely still be awed by its ornate script and decorations.
We finished the tour off with a group dinner and headed back to the hotel to pack up for home.
Day 8: Departure
All good things must end, and after a week of a great time together, our intrepid group scattered in different directions. Saying goodbye to everyone – fellow tour participants, our tour guide, Helen, and our Globus representatives, Steve and Melanie – was a joyous reminder that one of the best things about travel is the friendships made through shared travel experiences.
Is a Globus Tour Right For You?
While I am primarily an independent traveler, and the person in the family who does ALL the planning, I have come to appreciate – welcome, in fact – the convenience of a group tour. There are times when I just don't want to do it all.
But all group tours are not created equal. I have been on other group tours with Globus (California Dreamin' and Jordan), and this tour in Ireland cemented my opinion of the tours they offer – top notch!
It was so nice just to show up and enjoy. No needless time spent securing attraction tickets, figuring out the best time to visit an attraction, or finding the best deal for the best places, and checking out hotels, and on and on and on. Globus handles all of that, incorporating it into the price, so you can relax and enjoy.
There's just enough structure in the tour days to make sure you see the sights, but it's not so tightly structured that it feels like you are back in school waiting for the bell to ring to go to your next class. Every destination has some free time built in, so you have time to see something in a little more depth. Or stop for a pint or an Irish coffee.
Our tour guide, Helen, added to our experience with her knowledge of Irish history and culture. She had a lively sense of humor, like so many of the Irish people, and made learning about her country fun. Helen added to the experience is an authentic, natural way. If you are curious about the destinations you visit, having a tour guide to provide additional insight, is invaluable.
Price
The Green with Envy Ireland Tour is priced from $2,669 per person. That price includes seven hotel nights, 14 meals, admission to attractions visited, and ground transportation. Airfare can be booked through the travel department at competitive pricing. You can get more info about the prices and tour options for 2023 here.
Getting to Dublin
Dublin Airport (airport code DUB) is the closest airport to the Dublin city center (about four and a half miles away). It is an international airport served from all the major North American and European hubs.
Departures from Dublin are a breeze as Terminal 2 has U.S. immigration pre-clearance. That means that you actually clear U.S. customs in Dublin, not when you get back to the U.S. It's a big time saver. Aer Lingus, American Airlines, United, Delta, and Emirates operate from Terminal 2.
I flew non-stop SEA-DUB-SEA on Aer Lingus. There's only one flight a day out of Seattle, but given the vagaries of travel right now, a non-stop is always the best way to go. Globus booked my flights.
For Pinterest
Save this to your favorite travel Pinterest boards