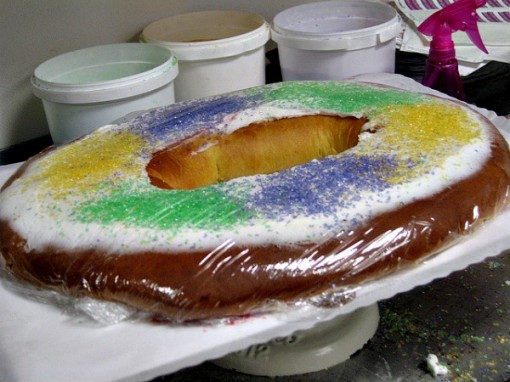 One of the rich traditions of the Mardi Gras season is the King Cake, and with only a couple day left until Fat Tuesday, bakeries are madly trying to fill the last orders before the Lenten season begins.
The history of the King Cake dates back to the celebrations of Epiphany, the 12 days after Christmas.  Epiphany is more widely celebrated in Europe than in the United States, but Louisiana adopted the King Cake and made it a part of its Mardi Gras traditions.  The King Cake is served throughout the Carnival season – Epiphany, or 12th night, until Fat Tuesday, this year February 21st, 2011  – and is a part of this time of celebration, feasting and partying.  During the Mardi Gras season, king cake parties are popular, and date back to the 18th century, but increasingly King Cakes are showing up at festivities all year round.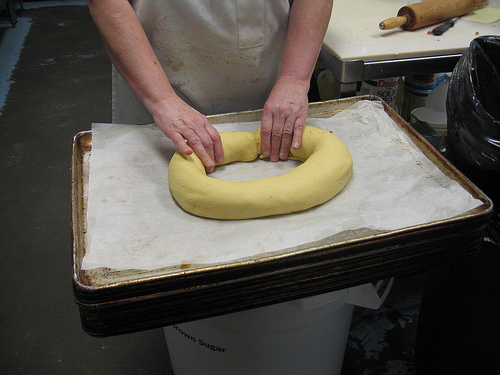 The cake is more of  yeast bread than a cake, and is mixed up, left to rise, kneaded and rolled out, and eventually shaped into a circular ring before baking.  Inside is placed a trinket, usually a small plastic baby, that is baked into the cake.  After baking and cooling, the cake is frosted and decorated, with traditional Mardi Gras colors of purple, green, and gold.  The frosting itself can be tinted in these bright colors, or it may be colored sugar sprinkled into the frosting (as in photo) to give it its pizzazz.  The cake is sliced up for serving, and the person who eats the slice that contains the plastic baby is supposed to host the next party or provide the next King Cake.
I had never tried King Cake until last year when I enjoyed Mardi Gras festivities in Shreveport-Bossier City.  One of our stops was for King Cake at Julie Anne's Bakery and Café where I sampled the pralines and cream filled cake.  One delicious bite and I was hooked.  One slice wasn't enough and I took advantage of Julie Anne's overnight shipping and ordered one for home delivery.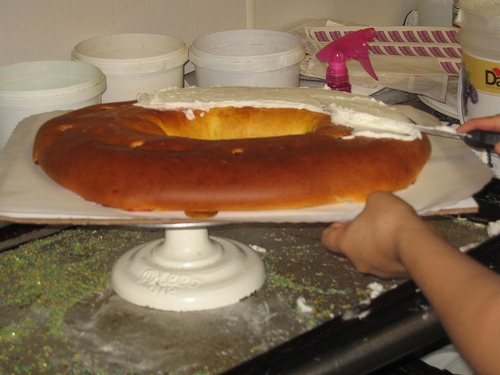 Julie Anne's offers a nice variety of fillings in addition to pralines and cream, including blueberries and cream, chocolate chip and cream, red raspberry, apple, black forest and lots more.  They're made by hand, iced with a buttercream frosting, and then sprinkled with the traditional colored sugar.  The cakes come in three sizes, the regular will serve 8-10, the medium will serve 20-25, and the large will serve 30-35.  The regular and medium sized cakes can be shipped, for an additional charge, and arrive in a decorative box complete with Mardi Gras necklaces, doubloons and decorations.
Julie Anne's makes King Cakes year round, so it's perfect for a special party any time of the year.  I know I'll be placing another order pretty soon.
Location:  Julie Anne's Bakery, 825 Kings Highway, Shreveport
Hours:  6:30 am – 6 pm, Monday through Saturday.  Breakfast and lunch is served, along with other bakery goods.
Prices:  $16.99-20.99 for regular sized king cakes (8-10 servings).  They also serve feature a moderately priced menu for breakfast and lunch.
Photo credits:  From my personal collection
NOTE:  My visit to Shreveport-Bossier City was part of a sponsored press trip.