Famous for its dramatic and bizarre rock formations, known as the tufa towers, Mono Lake is a stunning nature reserve in California. As a haven for outdoor enthusiasts, birdwatchers, and photographers, the lake offers visitors peace and serenity, right along with its unique landscape and outdoor recreation.
If you've spent some time in Yosemite and have been awed by all the impressive natural wonders there, then you'll certainly want to take a quick trip over to Mono County to marvel at the tufa tower formations.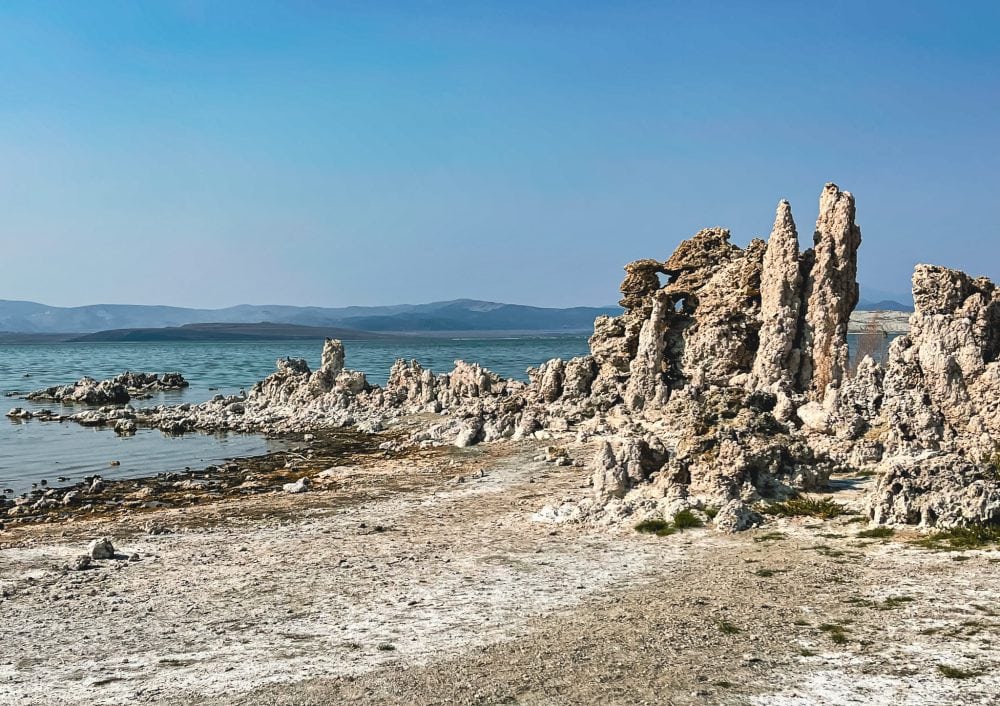 We visited Mono Lake and the tufa towers as part of a paid partnership with Globus Journeys.
I visited Mono Lake as part of a paid partnership project with Globus Journeys and iambassador. Globus offers a new type of group tour – Choice Touring – which has been designed to give participants advantages of a group tour while still allowing for individual independence and flexibility. Our 9-day tour, California Dream': Northern California by Design, started and ended in San Francisco. In between, we visited Sausalito, Sonoma, Sacramento, Lake Tahoe, Mammoth Lakes, and Yosemite National Park, with multiple days in some location
It was a win all the way around as I had the chance to visit places that I might not have tackled on my own. Globus took care of all the transportation, hotels, entrance fees, and luggage. After 33 years as a flight attendant, I can't tell you how nice it is to have someone pick up and deliver my bags to my room as I head off to do my own thing.
I've previously written about our day at Bodie Ghost Town.
The History of Mono Lake
Mono Lake is a 70 square mile saline lake in Mono County, California. It lies on the Eastern border of the Sierra Nevada Range, 22 miles east of Yosemite National Park and about 30 miles from Mammoth Lakes. This convenient location makes it a great place for a day trip from either of those popular vacation destinations.
The lake is said to have been formed more than 760,000 years ago after the Long Valley eruption took place – a huge volcanic eruption that created the dramatic landscape of Mono County that you see today. The eruption was so huge that the volcano emptied its magma chamber, causing the land to collapse and create a caldera – today its known as the Long Valley Caldera.
The pyroclastic flow (a current of hot gas and volcanic matter) burned through much of the western part of North America, drastically changing the landscape in its path, including Mono Lake. Sediments found in the area suggest there was an earlier lake before this eruption, which likely means that Mono Lake is the oldest lake in the western hemisphere.
What makes Mono Lake so unique is that it has no natural river or outlet to the ocean. Because water cannot leave, carbonic minerals remain in the lake and over time have made the lake saline and high in alkaline. It is estimated that the lake contains two to three times more salt than the ocean, which means that if you swim in the lake you will float like a boat.
Not only is the lake one of the oldest lakes in America, but it is home to the dramatic rock formations, known as tufas. The Mono Lake tufas have been growing for centuries but only became visible above and out of the water in the early 1940s. And it's not a good thing.
In 1941, the Los Angeles Department of Water & Power began diverting water from Mono Lake into its tributary streams, sending it 350 miles south to meet the needs of sprawling Los Angeles. This resulted in the lake losing 45 vertical feet of saltwater over 40 years. Eventually, after a legal battle in 1994, the State Water Resources Control Board put a stop to diverting water from the lake and started working towards raising the lake level back to what it was. Unfortunately, the lake is still not where it used to be and further renovation work needs to be done to create a healthy ecosystem. Stay tuned.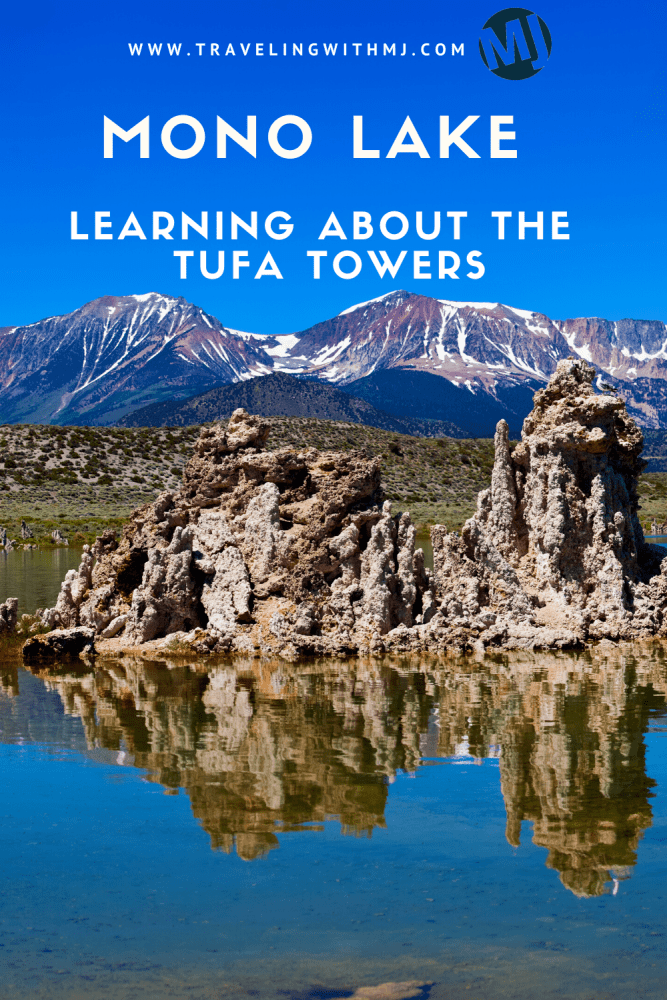 What Are the Tufa Tower Formations?
The tufa towers at Mono Lake are unusual rock formations that appear to be growing out of the shoreline. So, how were the tufa towers formed?
Well, the tufas were all formed underwater. Far beneath the surface of the lake, there is a calcium-rich, freshwater spring that seeps from the bottom of the lake and combines with the saline-rich, carbonic lake water. As the calcium and carbonates from the fresh spring water interact with one another, it creates a chemical reaction that causes limestone (or calcium carbonate, its scientific term). The limestone settles around the spring and over hundreds of years, it solidifies and forms the tufa towers. The tufa will grow larger and larger, as long as the stream continues to empty into the lake.
Alkali flies are also said to be contributing to the formation of the tufas, though their contributions are much smaller. When newborn alkali flies emerge from their underwater eggs, they leave behind a tiny deposit of calcium carbonate which then attaches itself to the tufas.
The towers can grow to over 30 feet underwater, but you can see many of them today coming out of the water as a result of the dramatic drop in water levels since 1941.
While they are stunning to look at, they are also important nesting sites for osprey, owls, and gulls, as well as providing an underwater habitat for alkali flies.
Best Place to See the Tufa Formations
It is possible to see the tufa tower formations from several locations around the lake, but the best place to see the tufa formations is from the Mono Lake South Tufa Reserve. From here, you can take the short 1-mile trail down to where the formations are at their most impressive.
While the Mono Lake South Tufa Reserve is the most popular place to see the tufas, you can also see them close to the shore from the northern side of the lake, just off the Mono Lake County Park boardwalk trail. If you have time, it is worth taking the time to visit the northern shore where it will be less crowded and only take 30-40 minutes to walk the nature trail.
Things to do at Mono Lake
Hiking the Mono Lake Tufa Trail
The Mono Lake Tufa Trail is a short, 1-mile circular loop that takes you down to the south shore of the lake to see the tufa towers. It is an easy hike that will take approximately 30-60 minutes, depending on your pace. And depending on how many times you stop to take photographs! Hiking at sunrise or sunset offers spectacular views across the lake as the sun lights up the tufa towers and reflects the orange skies in the lake – perfect for photographers!
To get to the trailhead, use the entrance at the south shore of Mono Lake. There is. a parking area ($3 feed) and a ranger station to mark the start of the trail. The trail is well marked, so you can easily walk it without assistance
If you have time, you can also visit the Mono Lake County Park boardwalk trail on the northern shore of the lake. This boardwalk is only 0.68 miles and is a very easy out and back trail to the shoreline. It can be found north of the Visitors Center. There is parking at the trailhead and public bathrooms.
Wildlife at Mono Lake
The alkaline lake water makes it impossible for fish to survive in the lake, but that doesn't stop the abundance of migratory birds that flock to Mono Lake each year. One reason for this migration is to feast on the brine shrimp that thrive in the ancient lake. Around 80 species of migratory birds come here, including owls, ospreys, and eared grebes. It is believed that over 50,000 California gulls migrate to the lake in the spring and summer months.
The best time to visit for bird walks is in June when the birds are nesting.
Swimming at Mono Lake
Not many people swim in the lake, but if you want to, you can! The lake has a high salt content and mineral content, so it's like swimming in a large, outdoor spa. Similar to the Dead Sea, it's a buoyant swim and you'll find yourself bobbing around like a floating duck. The water isn't toxic, but it may sting a little if you have cuts and scrapes. You should also try not to dunk your head underwater or get the water in your eyes.
The best place to swim is from Navy Beach in the South Tufa area.
Kayaking, Canoeing, and Boating at Mono Lake
Boating is a great way to experience Mono Lake. If you have a canoe or kayak, you can bring it to the lake and start at Navy Beach. If you have a larger boat, you must take it to the launch ramp near Lee Vining Creek, though this is only suitable for small boats. You can also rent a kayak from Mono Lake Kayak Rentals, located directly across from Tioga Lodge on Highway 395 (3 miles north of Lee Vining). Or, if you're visiting Mono Lake as part of a Globus Choice Tour, you can make that option from your selections.
There are, however, some restrictions to be aware of. These are mostly designed to protect nesting gulls, so they're important to know about. Boating to the islands (Paoha Island and Negit Island are the two largest ones) is off-limits between April 1st and August 1st. Further, boaters should also stay at least 200 yards away from the osprey nesting sites, located offshore from the tufa towers between April 1st through September 1st.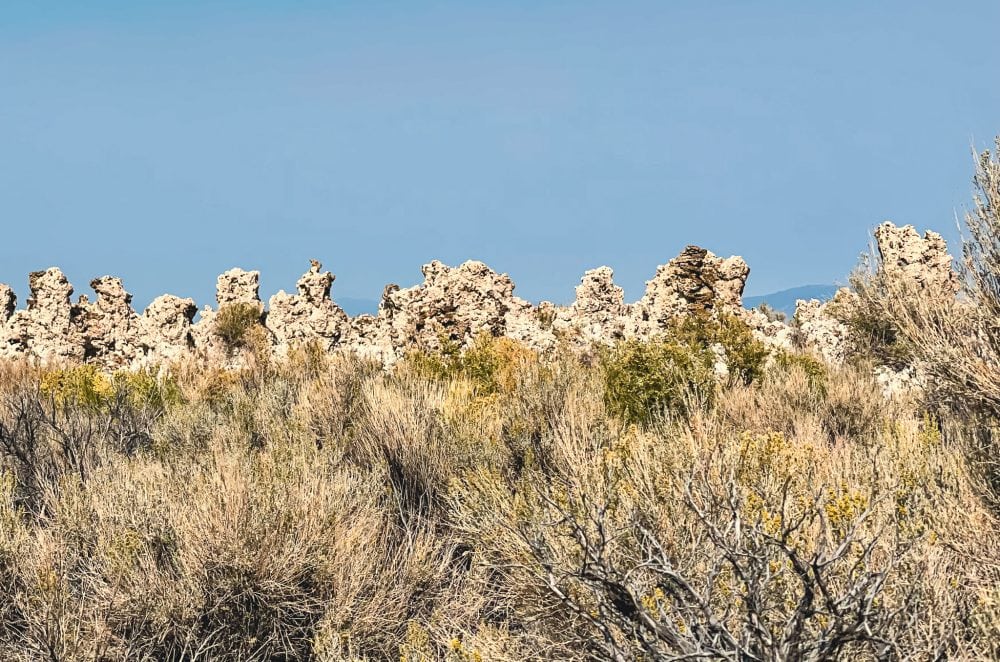 How to Get to Mono Lake State Park
To get to Mono Lake County Park, you'll need to have a car or opt for a tour (as I did). Public transportation isn't really an option, although an Uber is an option if you're staying in the area.
To get to the park, take Highway 395 towards Lee Vining, California. The park is located just a few miles north of Lee Vining and you will see signage from the highway. If you are traveling from Yosemite, the park is just 13 miles east of Yosemite National Park.
Tips for Visiting Mono Lake
Before you pack up your backpacks and jump in the car, here are a few important tips to make sure your trip is as enjoyable as possible.
Make sure you pack your swimwear! There are no changing rooms, but there are public bathrooms available from the parking lot.
Some restrooms are temporarily closed and are not regularly cleaned. Brings soap, hand sanitizer, and towels.
Because of the high altitude (6,383 feet above sea level) and changeable weather, it can get cold. So bring warm clothes with you and layer up. On a sunny day you won't need it, but if the clouds roll in, you'll be glad you have layers.
Bring plenty of water and sunscreen if you are visiting during hot summer days.
If you are visiting in the winter, be aware that it snows in the region. Nearby Mammoth Lakes is a popular snow destination. The snow is magical to see, but it can cause disruptions. The road in South Tufa is kept plowed, allowing access all year round (except after large storms).
It is prohibited to take rocks or obsidian from the park. Leave only footprints, take only photographs.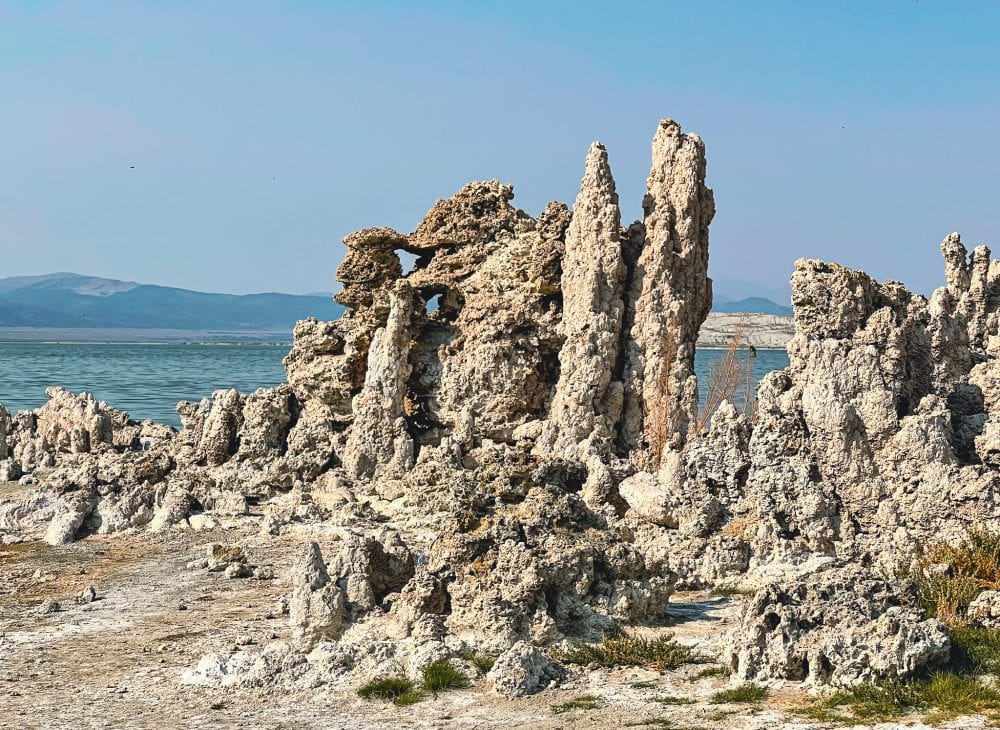 People Always Ask
What's the weather and climate like at Mono Lake?
In the summer, the weather at Mono Lake is warm and mostly clear. In the winter, it can be very cold and wet. Occasionally, you get snow in the winter, which makes for awesome photography.
Is it safe to swim in Mono Lake?
Yes, it is safe to swim. Though because of its high saline content, we don't recommend dunking your head under!
Is Mono Lake dying?
Up until the mid-1990s, the lake was considered a dying lake. However, after a long court battle, the State Water Resources Control Board agreed to raise the water level of the lake. The ecosystem is now healthy again, but it does need constant restoration to stay that way.
Why is Mono Lake so salty?
Mono Lake has few, very small fresh water and underwater streams that supply water to the lake. These streams have traces of minerals that also feed into the lake. However, as there is no exit point to the lake, over the last 760,000 years the water has been able to evaporate but the minerals have nowhere to go, and so the lake became saline.