Situated deep in the Sierra National Forest, and completely surrounded by a wilderness of breathtaking beauty, Tenaya Lodge is less than three miles from the southern park entrance to Yosemite National Park, and less than 16 miles from beautiful Bass Lake.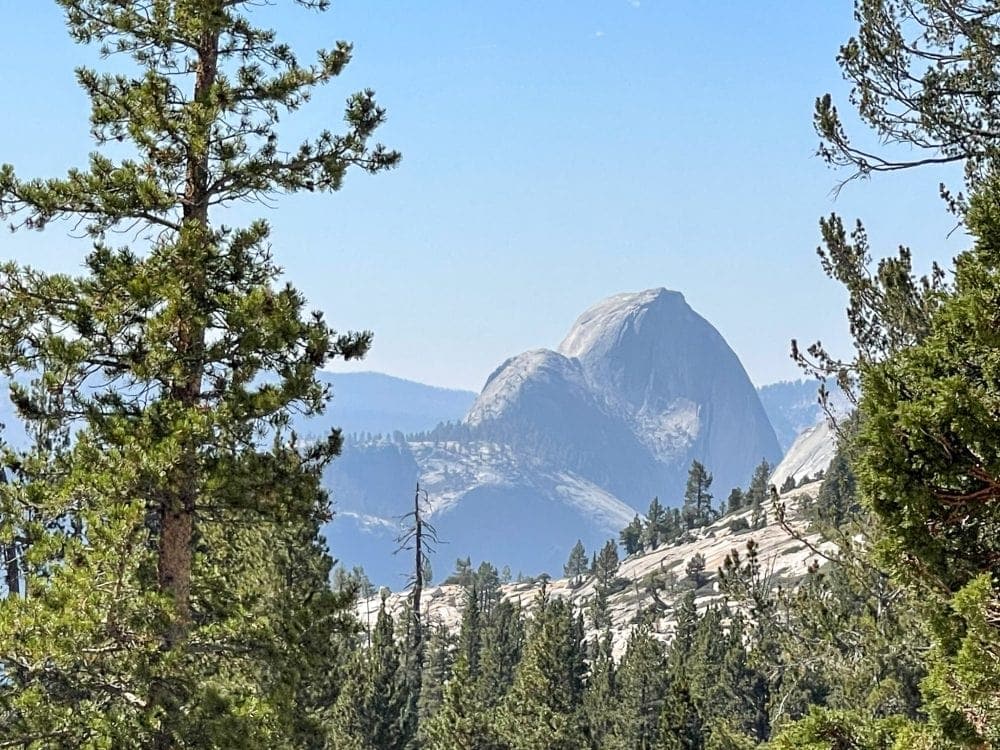 Whether you're into energetic outdoor activities like hiking, mountain biking, horseback riding among ancient giant redwoods, kayaking, ice skating, or prefer something more sedate like taking in the scenery of soaring granite monoliths, spectacular waterfalls, and the deep valleys of the Sierra Nevada Mountain Range, Tenaya Lodge is one of the best hotels for you to stay in. While it has all these activities – and more – it's also perfect if you want to just relax and unwind.
I did a lot of both – activities and relaxation – on a recent tour with Globus Journeys. Note that I visited Yosemite as part of a paid partnership project with Globus Journeys and iambassador.
This balance of activities fits the new type of group tour offered by Globus, Choice Touring. Designed to give tour group participants more control over their day, while still getting the advantages of a group tour, the tour allowed me to choose what I wanted to do when visiting Yosemite. I've always wanted to visit Yosemite, but, let's face it, I have never been able to get organized enough to plan it on my own. From snagging nice hotel rooms to getting Yosemite reservations, I'm always behind where I need to be. The Yosemite area is VERY popular with visitors and things book up fast!
The 9-day, California Dream': Northern California by Design, is a great choice if you want to visit Yosemite. We had three nights at Tenaya which allowed for time exploring the park as well as for relaxing at the lodge and a spa day, the latter scheduled before heading back to the airport for the trip home. The tour, which started and ended in San Francisco, provided time in Sausalito, Sonoma, Sacramento, Lake Tahoe, Mammoth Lakes, and Yosemite National Park. For me, Yosemite was the highlight.
It was a win all the way around as I had the chance to visit places that I might not have tackled on my own, i.e., Yosemite. Globus took care of all the transportation, hotels, entrance fees, and luggage. After 33 years as a flight attendant, I can't tell you how nice it is to have someone pick up and deliver my bags to my room as I head off to enjoy the day.
I've previously written about other experiences on the Globus tour. Check out our day at Bodie Ghost Town and visiting Mono Lake to see the tufa towers. Now, let's take a look at Tenaya, a favorite of the Yosemite hotels.
Accommodations
Having a wide choice of accommodation with all the modern amenities, while still maintaining a traditional lodge vibe, makes Tenaya a popular choice for Yosemite National Park visitors. The 4-star hotel has a great location, is suitable for a family vacation or couples getaway, and is pet-friendly. I spotted several visiting pups when I was there, all appearing to enjoy their time there as much as I was.
Spacious and comfortable rooms and suites are available within the main lodge, and cottage rooms and suites located in the forest (just a short walk away) offer a more tranquil and secluded setting. The cottages each have a fireplace and private outdoor seating area that create a great place for families to spread out or for a romantic evening with a loved one.
Rooms and suites vary from 350 to 550 square feet in size, with various configurations of either one king-size or two queen beds, newly-upgraded bathrooms with shower and tub combinations and granite countertops, loads of extra living and sitting space, work desk with computer data port, individual climate control and private patios or balconies offering stunning scenery of the forest and surrounding mountains. All rooms come with flat-screen TVs, microwaves, coffee machines, mini-fridges, and complimentary Wi-Fi.
Since this was a working trip for me, I had to schedule some computer time during my stay. It's easy to say that all you need is a clean room, but guest rooms that have thoughtful and well laid out space allow travelers to blend work with vacation.
Tenaya Lodge Amenities
Three outdoor pools, including a kids' pool with water features, and a hot tub, provide a relaxing spot to cool off after a day of hiking or exploring in Yosemite. After a morning hike, I grabbed a lounge chair, book, and lunch by the pool before heading off to a spa appointment. Although… I was seriously tempted by the fountains in the kids' pool – I'm still a kid at heart.
If you're in need of a little relaxation and rejuvenation after a strenuous hike into the mountains, or just looking for some pampering, head to the Ascent Spa. Offering a full range of treatments, including various massages, body wraps, facials, and salon options. Or, you can just spend a little time relaxing and unwinding in the sauna or steam room.
I love scheduling a massage at the end of the trip – it somehow feels like the cherry on the top of a vacation sundae. Ascent has a modern rustic feel, still keeping the theme of a mountain lodge, but complete with all the little touches you want and expect at a spa. I opted for a Relaxation Massage, a Swedish-style full-body massage that combines light and medium pressure. I had a few aches and pain, nothing major, just further proof about how out of sh with
Yoga classes are held in the mornings on the Grand Terrace, and a full fitness center with steam room and dry sauna is available for guests.
Dining at Tenaya Lodge
Restaurants at Tenaya, ranging from fine dining to tasty pub snacks to grab and go, offer lots of good choices. Which restaurants are open will depend on seasonality, but the following are currently open.
Jackalope's Bar & Grill is open daily for breakfast, lunch, and dinner and was my primary choice for meals when I was there. They have the usual morning breakfast fare, although I usually tried to stay somewhat healthy with oatmeal and yogurt choice. I tried more diverse options from the dinner menu. A few favorites were the grilled cheese and tomato basil soup, carmelized brussels sprouts (I know, not everyone is a fan of these gems), and they make a great burger. A full cocktail menu is available, but you may want to try their special Tenaya branded brew from Southgate Brewery. Note that some rate plans include a free continental breakfast.
Parkside Deli is great for grab-and-go food choices, whether you want to nibble by the pool, head back to your room (room delivery is not currently available), or take something along with you for a day of exploring Yosemite. If you're not a climber (I'm definitely NOT), but want to
Other restaurants will open again in the spring for peak season.
Outdoor Activities
Yosemite provides a different experience in summer than in winter, although in both seasons the breathtaking scenery is the main draw. so it's hard to recommend the best time to visit Yosemite. My summer visit focused on seeing the highlights of the park, a perfect choice for a first-time visitor. I loved that I didn't have to figure it out, great options were put together by Globus, so I didn't have to master this 1,200 square mile park. If you're a regular park visitor, you'll probably have a list of favorite spots to return to.
Some recommendations: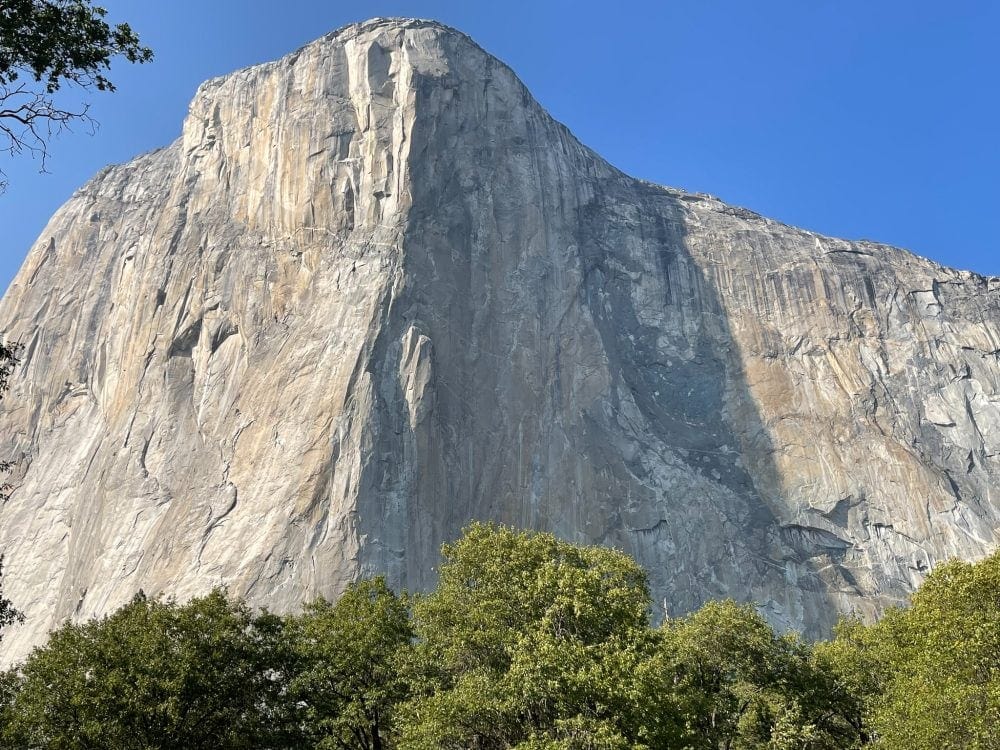 El Capitan is a must-see site. It's an enormous granite monolith with a vertical rise of about 3,000 feet. It's popular with rock climbers, and by using binoculars we were able to see a few climbers slowly ascending the face. If you're not a climber (I'm NOT), but want a sense of the experience, check out the movie Free Solo, the story of Alex Honnold, the first person to ever climb El Capitan free solo – without a rope, partner, or any protective gear. Honnold also wrote a book about his climb, Alone on the Wall.
Half Dome is named for its look – a sheer face on one side, the other three sides are smooth and round – it looks like half of a dome. Its elevation is 4,700. There are several rock climbing routes up to the top of the dome, and there's also a challenging hike up to the top. I was perfectly happy getting photos from several different vantage points.
Waterfalls can be found all over the park. Depending on the time of year and weather conditions, fall can range from mere trickles to gushing water. Some favorites are Bridalveil Falls (a backdrop to several scenes in the movie, Last of the Mohicans), Sentinel Falls, and Horsetail Falls. Horsetail is especially popular in winter as photographers try to capture firefalls – photos of the setting sun and the frozen falls.
Keep your camera out. Valley View and Tunnel View may be the most popular spots with photographers as they offer panoramic views of El Capitan, Half Dome, Bridalveil Falls, and Gates of the Valley, but there are dramatic views of the Sierra Nevada Mountain Range from pretty much everywhere in the park. Friends on our Globus Choice Tour went on an Ansel Adams photography tour. Adams was a landscape photographer known for his black-and-white photography, many taken at Yosemite. Over dinner one evening, we played around editing photos in both color and black-and-white.
My photos were all taken with my iPhone, but you can still see how dramatic the difference is. The photographers in our group had even more stunning examples.
There are hiking trails everywhere you turn, whether within the National Park System or at Tenaya Lodge. I enjoyed a nature hike led by a lodge staff member and not only learned about the flora and fauna, but about the wildfire and wildfire management that has often plagued the area.
Lake Tenaya, often called the Jewel of the High Country, is popular for swimming, boating, and fly fishing.
When snow falls, the park becomes a veritable winter wonderland with winter activities kicking into gear. Snowshoeing replaces hiking, icy streams replace fishing, and guests opt for lodge accommodations rather than tent cabins (although you'll find a few intrepid winter campers). Tenaya Lodge opens its ice rink.
You could spend months in Yosemite and not get to see everything it has to offer. Having all the amenities and luxuries anyone could ever want, and with a location close to this natural beauty, makes Tenaya Lodge one of the best places to stay in Yosemite.
Pin this to your favorite travel and National Parks boards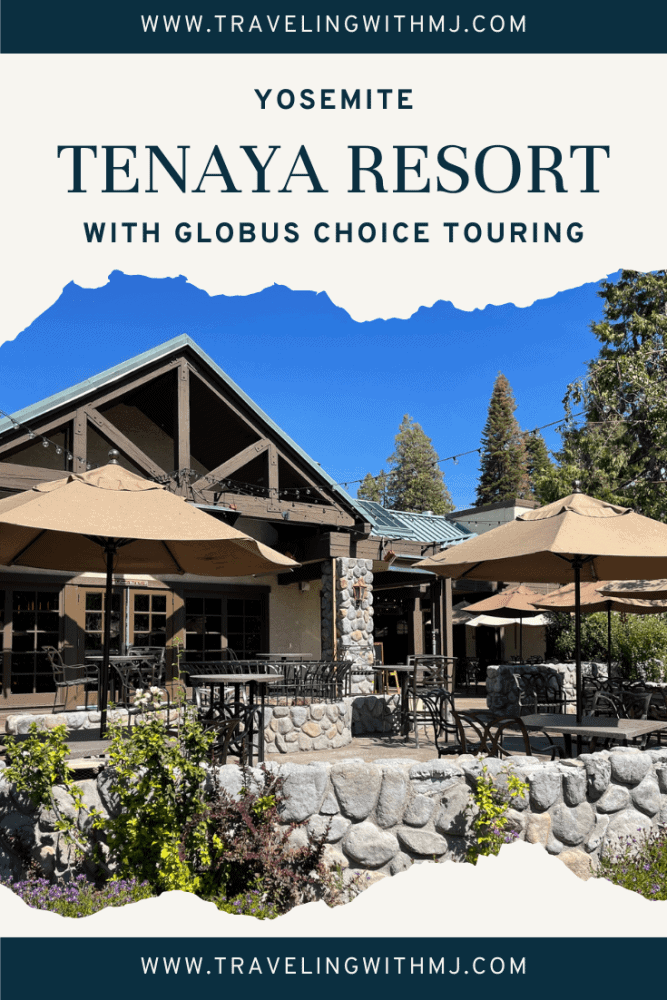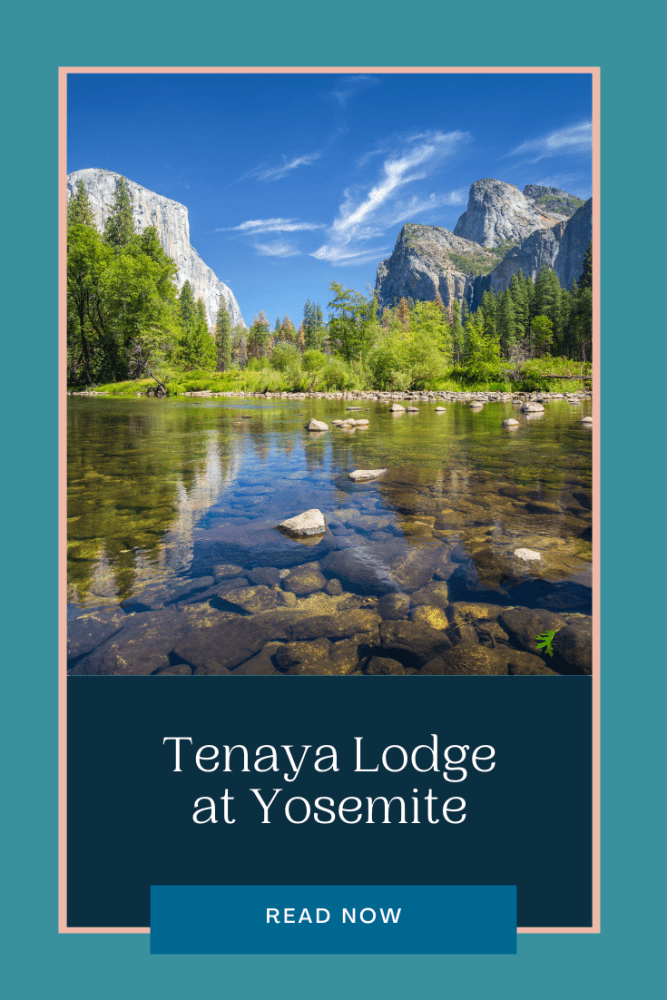 Disclosure: This post was sponsored by Globus. It also contains affiliate links.