If you're thinking of visiting Bodie Ghost Town, you are in for a treat! The town is one of the best-preserved, historic towns from the era of the wild, wild west. Whether you're visiting nearby Mono Lake for a look at the tufa or exploring the world-famous Yosemite National Park, a day trip to Bodie State Historic Park is worth adding to your itinerary.
I visited Bodie as part of a paid partnership project with Globus Journeys. Globus offers a new type of group tour – Choice Touring – which has been designed to give participants the advantages of a group tour while still allowing for individual independence and flexibility. Our 9-day tour, California Dream': Northern California by Design, started and ended in San Francisco. In between, we visited Sausalito, Sonoma, Sacramento, Lake Taho, Mammoth Lakes, and Yosemite National Park, with multiple days in some locations.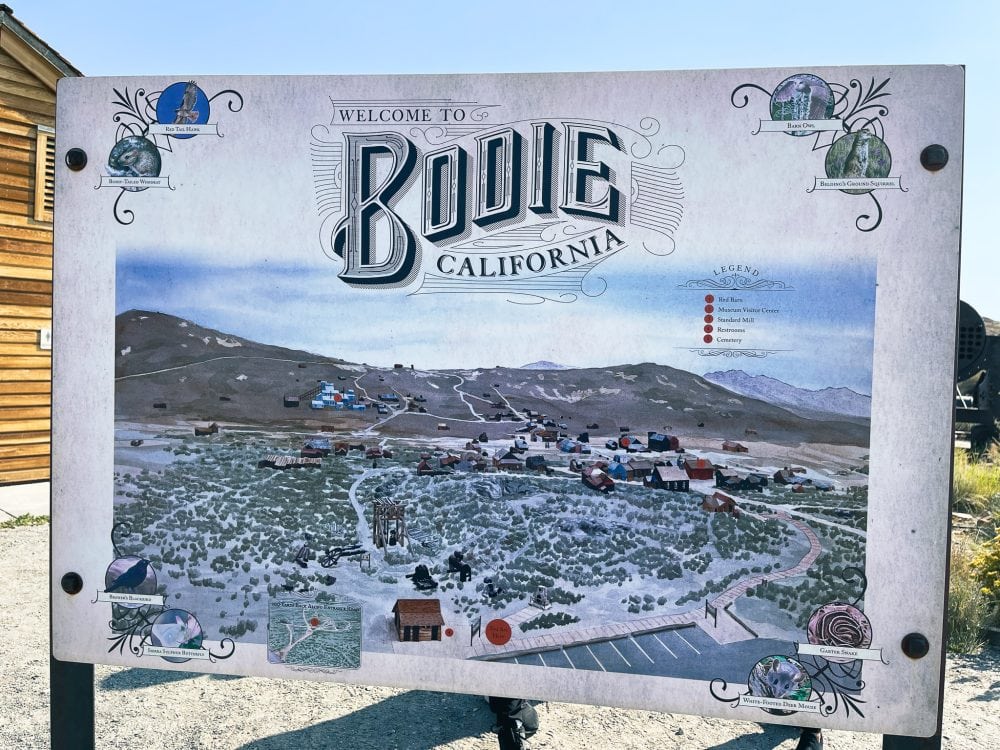 It was a win all the way around as I had the chance to visit places that I might not have tackled on my own – I never seem to be organized enough to make National Park reservations far enough in advance. Globus took care of all the transportation, hotels, entrance fees, and luggage. After 33 years as a flight attendant, I can't tell you how nice it is to have someone pick up and deliver my bags to my room as I head off to do my own thing.
So let's learn more about the legendary ghost town of Bodie, California, and what remains of Bodie today.
The History of Bodie Ghost Town
Bodie was founded towards the end of the California Gold Rush in 1859, by S.W. Bodie, whom the town is named after. Bodie and his prospector friends had found gold, but sadly Bodie died in a blizzard that November and never got to see the wealth the town would eventually create.
It wasn't until 1876 that people started to notice Bodie, or should I say, notice its wealth in gold. By 1879, the population grew to somewhere between 7,000-10,000 people, all wanting to get a piece of that golden cookie. It's said that the town of Bodie brought in over $100 million to Mono county, which in those days, was quite a pretty penny. It's not too shabby by today's standards either.
But as all good things come to an end, so did the popularity of Bodie. As mining opportunities started to pop up all over the States, the unmarried "get rich quick: miners started to leave the town for greener pastures. And like stones in an avalanche, once one rolls others will follow.
By 1910, only 698 stubborn residents remained in Bodie. As more and more workers left, profits in gold decreased and the homes and businesses started to be abandoned. The Bodie Newspaper was the first to go, then the railway station, and then eventually everything else followed. The post office was closed in 1942. The once-thriving mining camp was on its way to becoming a deserted town.
In a futile effort to resurrect the town, in 1914 James S. Cain bought up everything, including the mines. However, too many workers had left and it was not enough to save Bodie. The once vibrant main street, general store, and dance halls went quiet, and Bodie's population continued to dwindle. By 1915, the mining town was officially declared an abandoned ghost town. By 1946, there were only three residents left, one of whom was a caretaker hired by the Cain family to look after what remained of the town.
But it's not all sad news for Bodie. It was recognized as a National Historic Landmark in 1961 and officially became Bodie State Historic Park, a part of the California State Park system.
Although many buildings have been lost over the years due to two great fires, vandalism, and generally battling against the high elevation and extreme weather, there are still 110 buildings left in Bodie. The town has been preserved in a state of arrested decay, which in simple terms, means that there is no attempt made to improve or rehabilitate the site, only steps taken to keep it from deteriorating further. California Department of Parks manages the site which now highlights abandoned buildings and deserted streets of a town that once thrived after the discovery of small amounts of gold.
Bodie has made many TV and movie appearances over the years, including the iconic Swing Out, Sweet Land documentary featuring John Wayne. Most notably though, is the movie Hell's Heroes, a tale of three bandits as they outrun the law. This movie was filmed in 1930 before the second great fire, which is why most people can't even tell that the set of that movie is actually Bodie.
Who is the "Bad Man" From Bodie?
Bodie was a rough-and-tumble kind of place. If you've watched a classic western movie, you'll be familiar with saloon fights and brawls, gunfights, and gambling swindles. Robberies were common, and bandits roamed the surrounding hills. Main Street divided the good side of town from the bad, the affluent families from the opium dens and redlight district.
From this environment, emerged the references to the "bad man from Bodie." Mark Twain referenced it. It appeared in newspapers and countless stories about the town. While a great deal of vagueness surrounds the individual so named, he was tagged with the brutal murder of a man called William P. Renowden.
Some say the story is a myth, others say it's true. We will let you decide.
The Bodie Curse
It is said that anyone who removes a piece of the town, either a rock, stone, piece of wood, etc., will suffer the wrath of the Bodie Curse.
Apparently, once a week, staff receive anonymous letters of apology with a return of items. So, if you believe in that kind of thing, remember to take only photographs and leave only footprints lest the curse of Bodie follow you. No one needs bad luck.
What You Will See at Bodie State Historic Park
What will you see in this genuine California gold-mining ghost town?
There's plenty to discover. Take time to peer into the windows. The buildings look like residents went out the door one day and never returned. And that's exactly what happened. It was usually too expensive to pack up the furniture and household goods when it was time to move on, so people walked out the door and left everything behind. At times it felt like I was wandering around a western movie set. Except this was real.
I've listed the best-preserved sights, in chronological order (oldest to newest), below.
D. V. Cain's house. This was the house of the son of J.S. Cain and is one of the oldest and best-preserved houses in the town. (1873)
Bodie Jail. Built at a cost of just $800, the jail measures just 14 x 18 feet. It's said that that only one prisoner has ever escaped. (1877)
Miners Union Hall (Museum). The hall was used as a place for local minors to congregate or hold parties and events. Today it is the town's museum and houses artifacts that once belonged to residents of Bodie. You'll find fancy dresses and accessories, a funeral coach, and all sorts of bits from everyday Bodie life. Allow plenty of time to look at all the displays; I found them fascinating. This stamp mill processed ore from the Standard Mine Check for availability. (1878)
The DeChambeau Hotel. This is one of the few brick buildings in Bodie and was first used as a post office, before becoming a hotel. After closing its doors as a hotel, it reopened as a bar and cafe. It is said to be one of the last businesses to operate in the town. (1879)
The Boone Store & Warehouse. The town's grocery store. (1879)
The schoolhouse. Originally built as lodging, the schoolhouse is one of the better-looking structures in the park. The original building burnt down after a student accidentally started a fire. Or, maybe it wasn't quite so accidental as the young boy was quite the rapscallion. (1879, rebuilt after a fire)
The Methodist Church. This is one of the first buildings you will see as you enter the park. (1882)
Lottie and Eli Johl's House. The home of the well-to-do family that invested well in the mines, saloons, and other properties around town. After they left, their home became the post office. (1883. post office in 1932)
The Bodie Bank. The bank was owned by J.S. Cain, who ended up owning most of the town. The bank was severely damaged by the second great fire in 1932. (1890)
Horace Swasey's Hotel. This incredible structure (incredible because it's still standing) was once a casino and hotel. (1894)
The fire station. As you can imagine in a town with primarily wooden buildings, fires happen. There used to be four fire stations in Bodie but now there is only one remaining. (Rebuilt in the 1930s)
Standard Mill. The mill is one of the first in the town. Due to its age, the mill is not safe for visitors to explore on their own – you must book a tour to see it. Check on availability and book a tour from the Museum.
Hoover House. Theodore Hoover, brother of President Herbert Hoover, lived in Bodie for three years with his wife. During his time in Bodie, he managed the Standard Mill but was soon offered a job elsewhere.
J. S. Cain House. J.S. Cain moved to Bodie when he was 25 years old and became one of the richest and most influential members of the Bodie community. No trip to Bodie would be complete without taking a stop by his modest lodgings.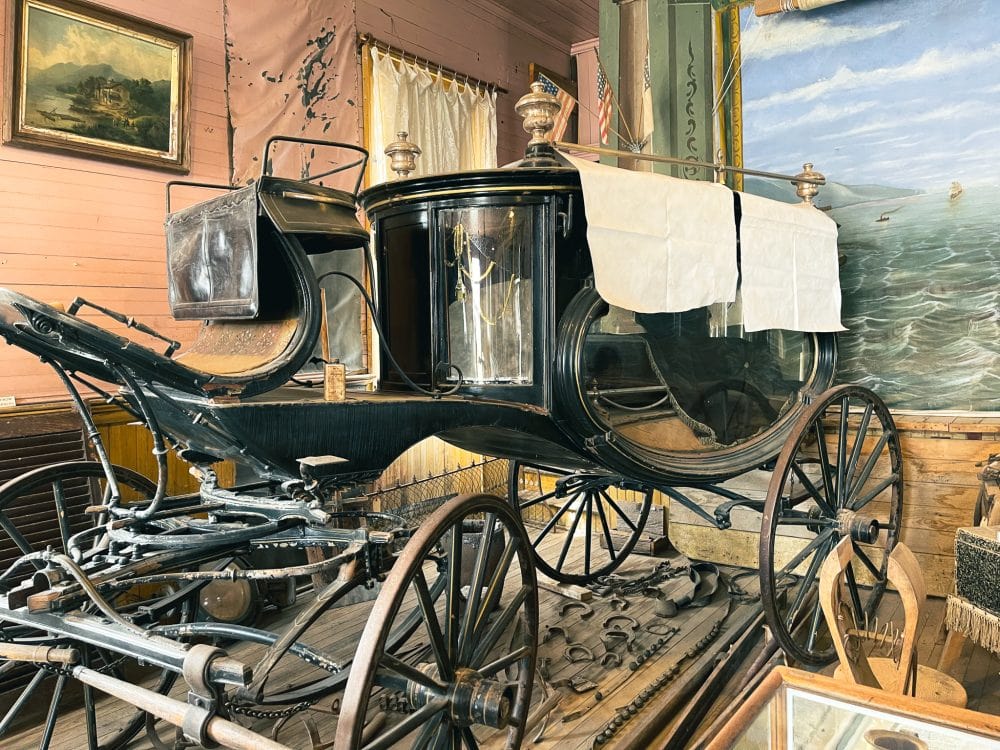 How to Get to Bodie
Full credit to Globus for my trip to Bodie as it was one of the choices I made on our itinerary. I had never heard of Bodie before the trip, but the combination of gold mines, mining companies, a national historic site, and a genuine gold-mining ghost town had me enthusiastic. I could have navigated to Bodie on my own, but I'm glad I didn't have to with all the narrow roads through the Bodie hills. Not my idea of a fun drive when I can be enjoying the scenery instead.
To get to Bodie, follow US Route 395. Just south of Bridgeport, turn onto California State Route 270. This is the main route to Bodie State Historic Park. SR 270 is mostly paved, but the last three miles are on a dusty unsurfaced road. Drive slowly and carefully.
Tips for Visiting Bodie State Historic Park
Whether you're on an organized tour or visiting on your own, there are practical things to keep in mind when visiting Bodie. On a tour, you may have some backup but "be prepared" is still solid advice.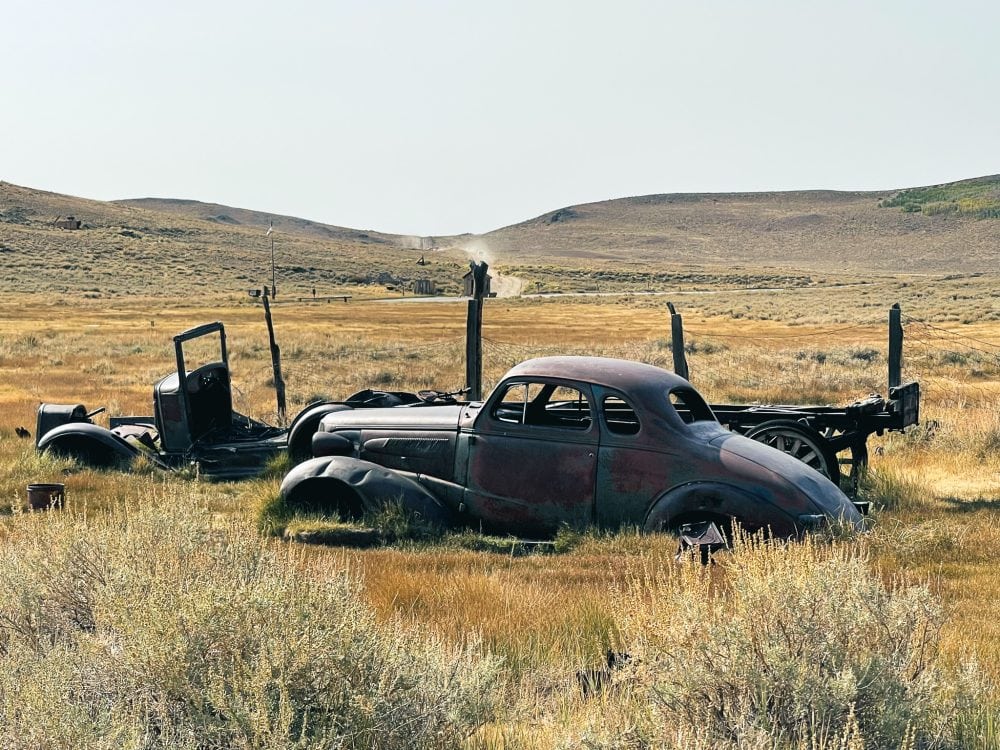 You may not have phone service en route to Bodie. I found that I had it about half the time, and the bus wi-fi wasn't always able to connect. Download maps for use offline, or pick up one of those old-fashioned paper ones, to complement existing signage.
You can wander Bodie on your own or join a ranger-led tour. Three hours is what I'd suggest to explore the park, take a peek into some of the buildings, and spend some time browsing in the museum.
Wear strong UV-protective sunscreen and bring water. The town lacks a lot of shade and can be very hot during the summer months. I visited in mid-late September and it was quite warm. I had lots of water, thank goodness, and I'd recommend stocking up on extra to bring along.
There is a small picnic area if you want to bring along your own food. There are no restaurants or food vending on site.
Wear appropriate footwear. The ground is very dry, dusty, and sometimes rocky, so sturdy shoes will let you comfortably explore more of the area.
Dogs are permitted if on a leash.
FAQs about Bodie Ghost Town
Is it safe to visit the Ghost Town of Bodie?
As far as bandits and thieves go, they are long gone, and Bodie is no longer a lawless town. Bodie is safe to visit, but visitors must take precautions against the weather. Located at 8,379 feet above sea level on the eastern slope of the Sierra Nevada mountains, Bodie can be extremely hot and dry during the day. The terrain is uneven and bumpy, so use care when exploring.
Does anyone live in Bodie State Historic Park?
There are only a handful of residents that live in or nearby the Bodie Ghost Town, including resident state park rangers. There is no lodging available in Bodie, but it's an easy day trip from nearby Mammoth Lakes.
Are there ghosts in Bodie?
The term ghost town refers to a desert town with no or few remaining residents. However, it's claimed that at least one ghost walks the streets of Bodie. Paranormalists say haunted locations include the John S. Cain House, the cemetery, and the mine where the occasional ghost has been detected.
What are the Opening Hours and Admission Fees for Bodie State Historic Park?
Bodie is open seasonally. Summer hours are 9 am – 6 pm. At the time of writing, admission is $8 for adults, $5 for children, free for infants. A self-guided tour book is $3.
Pin to your favorite Pinterest travel boards