In a city as full of museums as Paris, you might think think it tough to choose a favorite.  After a whirlwind week soaking up as much as I possible could, and visiting more than a few museums, there were only a few Paris museums that made a lasting impression.
The Louvre was vast and covered an extensive period of time.   But while I enjoyed it, the art on display – with a few notable exceptions – wasn't really my cup of tea.  The Rodin displayed statuary that was lovely, but it didn't offer the depth to really captivate me.  Although this museum would score a solid second on my list of favorites in large part because of the gardens that surround it.  The Centre Pompidou made me smile with its architecture and exhibits, the Delacroix was nice, the Quai Branly was not what I expected, and the Picasso was closed.
So what was my favorite Paris museum?  The Musée d'Orsay.
Located along the Seine in the 7th arrondissement, the Musée d'Orsay occupies a former railway station.  Although the building had numerous lives before opening at the d'Orsay in 1986, it's hard to imagine that it's soaring glass and iron roof are anything but perfect for this Paris museum.  The museum is open and inviting, full of windows streaming in light, and as you wander around you'll find little touches here and there that will remind you of it's former life as a railway station.
The Musée d'Orsay is probably best known for its Impressionist collection.  Although that collection only makes up about of third of the work you'll find here, it's a style and period that I'm a big fan of, and along with the architecture and décor pushes this Paris museum to the top of my favorite list.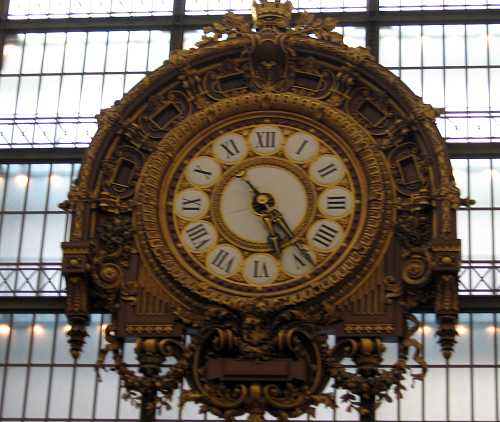 There are a variety of ways to explore the collections – picking your favorites to see, viewing the art chronologically (lower floor, top, then middle), or just wandering to see what catches your eye and that you want to spend more time with.  I adopted a combination of choosing my must-see pieces and wandering.  That process is especially helpful when you're trying to see as much as possible in a short period of time.
Here's how the Musée d'Orsay is laid out:
Lower Level:  Sculptures in the main hallway, pre-Impressionist paintings (Eugene Delacroix and Gustave Courbet), and early works by Monet, Renoir, and Manet in the side galleries.  Be sure to look up and around and appreciate the architecture of the building.  This was my favorite floor!
Middle Level:  The impressive Belle-Époque ballroom takes up much of the floor, and is worth spending time exploring and appreciating its design.  Side galleries are dedicated to Symbolism, Naturalism, and the Nabis School, along with the decorative arts.  On the mezzanine you'll find sculpture, including Rodin's Gates of Hell and Balzac.  The Musée d'Orsay restaurant is located on this level, and even if you're not stopping in for lunch or tea, take a moment to poke your head in and look around.  The enormous windows and sparkling chandeliers are most impressive.
Top Level:  Impressionist and post-Impressionist paintings and sculpture.  Artists represented here include Degas, Renoir and Gauguin.  On this level you'll also find the Café des Hauteurs. a popular place to stop for a quick bite to eat.  It's behind one of the large clocks and overlooks the Seine.  The terrace is open, weather permitting, and offers great views.  We stopped in for a simple lunch, and found it delicious, with excellent service and reasonable prices.  Not a common experience in Paris, in general, and contrary to many experiences I've had when getting food at a museum.  Stopping off for lunch here will allow you a nice resting break before continuing on to view the rest of the galleries.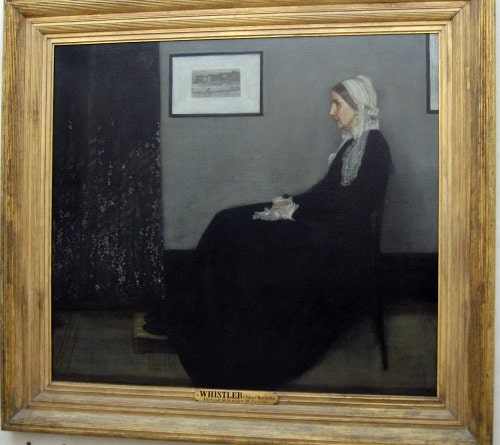 There are plenty of recognizable pieces and artists represented in the Musée d'Orsay, even if you're only a novice at art appreciation.  This is home to Arrangement in Grey and Black: The Artist's Mother (more commonly known as Whistler's Mother), Starry Night Over the Rhone (Van Gogh), Bal au moulin de la Galette, Montmartre (Renoir), and many others.  Even if you don't recognize the name of the work or the name of the artist, chances are you'll find the work itself familiar.
Have you visited the Musée d'Orsay?  Did you enjoy it as much as I did?  Or do you have a different favorite Paris museum?
Location:  1, rue de la Légion d'Honneur (7th arrondissement).  Use Metro stop Solferio (Line 12) or RER station Musee d'Orsay (Line C)
Hours:  9:30 am – 6 pm, open until 9:45 pm on Thursdays.  Closed on Mondays.  If you're visiting during peak summer time, check to see if extended hours are on offer.
Admission:  €9, which covers the permanent collections and exhibitions, with numerous discounted or FREE admissions for students, artists, children, and groups.  Special exhibits subject to additional fee.  The museum is covered by the Paris Museum Pass, which also allows you to proceed directly to the front for admission, and bypass any line.
Photo credits:  all from author's personal collection