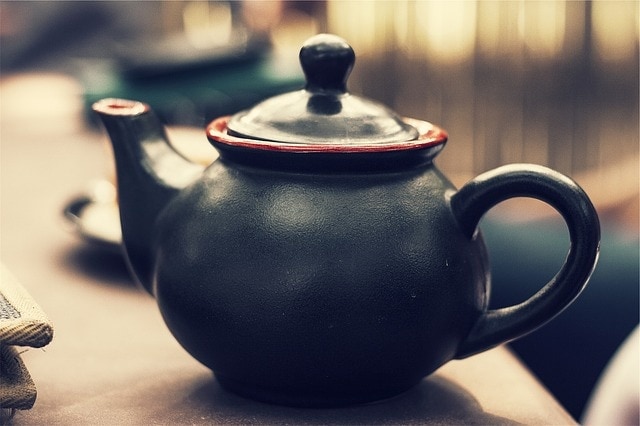 January is hot tea month, a celebration of the second most popular drink in the world (the first is water). Even here in the U.S., where we don't often embrace the many rituals surrounding tea, our consumption is on a rapid increase. I tend to agree with British writer Henry James when he said: "There are few hours in life more agreeable than the hour dedicated to the ceremony known as afternoon tea."
I've asked some of my writer friends to share their tea experiences. From learning about its production to drinking it, from discovering the tea culture to enjoying traditional served high tea, I think you'll enjoy these stories and find your own special way to celebrate hot tea month.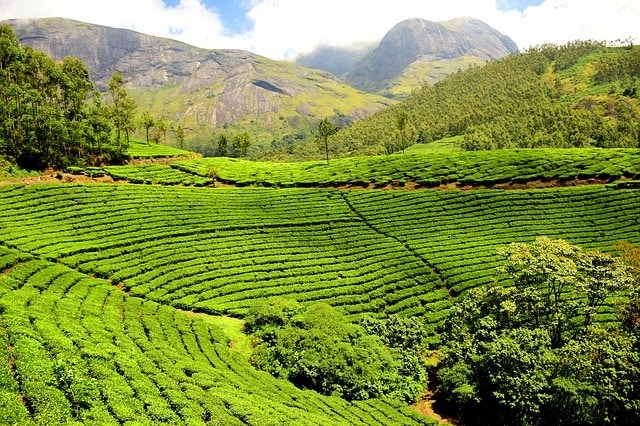 Growing and producing tea:
Boseong Green Tea Fields
Samantha is currently teaching ESL in Namwon, South Korea. She fell in love with the area and wants us to as well, so it's no surprise that her story explains why and how we should visit the fields in Korea.
Wild tea has been cultivated here as far back as the mid-300's BC while green tea was introduced to Korea from China in the 600's AD. An official green tea plantation was developed in the 1930's after the Japanese decided it was the best place to cultivate green tea in the peninsula, and then revived in the late 1950's after WWII by Koreans. As one of the three main areas in Korea to produce green tea, Boseong is responsible for 40% of Korea's tea, and 80% of the plantations still use traditional processing methods.
Read original article here: Boseong Green Tea Fields
Eco tours in Northern Thailand
Noel is a freelance writer, photographer, and artist who divides his time between Hawaii and San Francisco, in addition to traveling the world, of course. He took a biking tour to a tea farm in Thailand.
After passing a few farms and small villages, I notice a well-kept farm filled with clipped hedges that I immediately recognize as the tea-plant or camellia sinensis trees they are identified with. This is part of the Araksa Tea Plantation and the hillside and surrounding areas are filled with these maze-like shrubs going all the way to the tops of the hills and it is an interesting and different pattern to the rice fields and rows of large leafed tropical plants dotting the landscape.
Read original article here: eco tours in Northern Thailand
Azores Edition – Episode: The Tea Factory
Marlene is a journalist with a passion for travel. Her incessant desire to travel and see this world takes her into new adventures, often with a surfboard under her arm.
Amazingly, this factory, which is also a museum, still operates in full and if you visit it during working hours you can come across with the workers in their daily routines. In the rooms, the still original 1840 Marshall machines continue playing their role and bags with the finished tea are still on the ground, waiting to be taken to the next step.
Read original article here: AZORES EDITION – EPISODE II: THE TEA FACTORY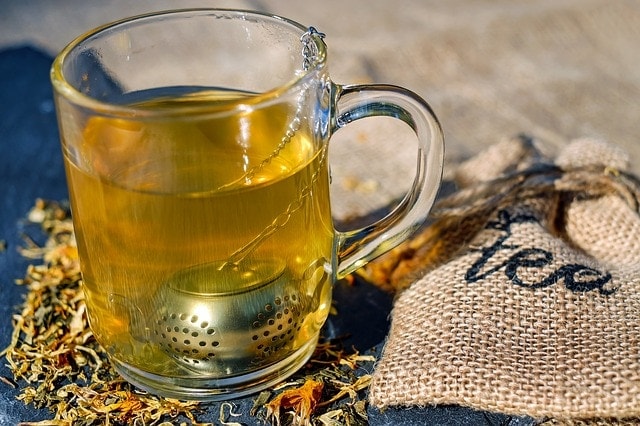 Learning About Tea
Discovering My Love of Tea in Ireland
Lance and Laura make the most of every travel day that they have, balancing careers with their love of seeing the world. Lance didn't think he liked tea, but a trip to Ireland showed him that he was wrong.
For the life of me, I couldn't understand why someone would actually want to drink tea. I thought it was for old people. I thought tea tasted bitter. I thought I wasn't a tea drinker, but it turns out, I was wrong.
Read original article here: Discovering My Love of Tea in Ireland
Tea tasting scams
Nicole is an American Kiwi living in New Zealand and traveling the world whenever she can. She writes about something that I didn't know existed – tea scams.
You should always search for scams in the area you are visiting. Basically, they offer you tea and conversation and then the bill comes and it is 10 times what you would normally pay.
Read original article here: Tea tasting scams
Enjoying a cup of Assam Masala Chai Tea in Kolkata
Siddartha says that as a true blood Indian she like chai as much as she likes coffee. Although she thinks that she makes the best chai anywhere, she shares in photos how a small, nameless shop in Kolkata makes their chai.
With a piece of jalebi in one hand, I took out my camera and clicked a few pictures and here is a photo-story on how Indian chai is made on the streets of the country. What's most interesting was the fact that he served us chai in small mud vessels called kullhad, which is way more sustainable and faster to degrade than plastic cups. Plus, it can be used only once so also more hygienic.
Read original article here: Enjoying a cup of Assam Masala Chai Tea in Kolkata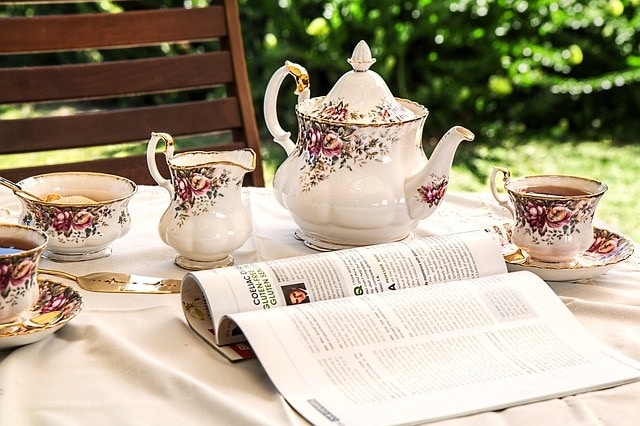 Drinking Tea
Everything you need to know about the Tea Culture in London
Trisha is a writer and full-time traveler who loves exploring different cultures, languages, and food. She gives us a look at why tea is such a predominant culinary theme in London and how it has changed over the years.
London-style tea is no longer what it used to be (wealthy ladies eating sweets and sandwiches, sipping tea, and trading gossip with one another). London has infused it's melting pot of cultures into the beloved tradition of afternoon tea to inspire a truly unique experience for tea lovers.
Read original article here: Everything you need to know about the Tea Culture in London
Our Love Affair With Moroccan Mint Tea
Oksana and Max are location independent travelers who enjoy drinking mint tea. They finally got to taste it in Morocco and give us tips on how to place the perfect order.
We took our first sips of the mint tea, savouring every drop, carefully isolating the flavours that hit our taste buds. It was sweet, too sweet, but the tantalizing mint aroma seemed to balance out the nauseating rush of sweetness. The fresh bunches of mint were floating at the top, releasing more and more flavour into our glasses as we drank. They don't call it Berber Whiskey for nothing. The taste was addicting.
Read original article here: Our Love Affair With Moroccan Mint Tea
Afternoon Tea Fit for Royalty at Palm Court in Auckland
Rhonda is a writer and photographer writing about expat life in New Zealand. She's a home-schooling mom who has traveled on six continents with her husband and daughters.
The choices of traditional and exotic tea and blends have been hand picked by the Master Tea Sommelier. Our server guided us to the perfect selection. While the menu is preset, ours was altered slightly to meet our dietary requirements and served on a traditional three-tiered cake stand.
Read original article here: Afternoon Tea Fit for Royalty at Palm Court in Auckland
Blenheim Palace Afternoon Tea
Daryl and Mindi are foodies and travel the world sharing their culinary experiences. If you're a fan of period-themed shows like Downton Abbey or Upstairs Downstairs, you may want to try this afternoon tea.
Blenheim Palace, built during the 18th century as a reward for one of the British army's great victories, stands as a British monument with a scale that matches some of the great palaces of the world including Versailles in France and Schonbrunn palace in Austria. Our experience at Blenheim Palace was heightened not only by the privilege of walking the expansive Palace grounds in the late afternoon, when many visitors had exited but also by the scrumptious high tea served in Blenheim's stately sunlit tea room.
Read original article here: Blenheim Palace Afternoon Tea
In Photos: The Japanese Tea Garden in Golden Gate Park
Shobha is an American expat living in London with her travel-loving family. Not only is the Japanese tea garden a great destination to connect with nature, but you can enjoy the tea service there as well.
The Japanese Tea Garden started as part of an exhibit for the 1894 World's Fair. After the World Fair ended, a wealthy local Japanese-American landscaper, Makoto Hagiwara, was allowed to create a permanent Japanese garden at the site. Extending the garden to 5 acres, Hagiwara built a home and a Shinto shrine for himself and his family on the property.
Read original article here: In Photos: The Japanese Tea Garden in Golden Gate Park
The Best Afternoon Tea in York
Claire is a British solo traveler whose love for food, drink, and life feed her ever-growing case of wanderlust. She shares tips and recommendations about the quintessential British treat of afternoon tea.
Contrary to popular belief outside the UK, not all English people "take tea" in the afternoon. I don't even drink tea myself, but I'm pretty sure that the most extravagant thing most people have with their cup of tea is a chocolate biscuit. However, when I recently visited York, a beautiful historic city in the North of England, I wanted to see what I was missing out on!
Read original article here: Tales of a Backpacker
High Tea in and Around Perth
Lyn is an Aussie who focuses on couples and culinary travel. She weaves the history of taking tea into her description of one of her favorites places to enjoy it.
The earliest record of taking tea was credited to Queen Victoria's Lady in Waiting, the 7th Duchess of Bedford. In 1865 men's' political lunches resulted in long breaks between meals for women waiting for their men to return home for the evening meal. The Duchess at about four o'clock got that sinking feeling and had her servants sneak her a pot of tea and something light to eat. Adopting the European tea service format, the Duchess invited her friends to join her in the rooms of Belvoir Castle and the taking of tea became fashionable.
Read original article here: High Tea in and Around Perth
Tea for Two – High Tea at the Windsor Arms Hotel in Toronto
Mary is a Canadian travel writer whose blog features travel tips, advice, and recommendations. Her high tea experience reminded her of her childhood teas with stuffed animal friends.
There are a few places in Toronto to have high tea but for the Windsor Arms Hotel, High Tea isn't a trend or a fad it's a tradition that they have done continuously since 1927. In fact, with 2 tea sittings per day (Afternoon and Twilight), I was told that they serve about 600 tea services per week. Tucked down a small side street in the Yorkville area of Toronto, the Windsor Arms Hotel is a bit hidden and on the surface seems out-of-place amongst the glitz and glamour of the high-end stores along Bloor Street.
Read original article here: Tea for Two – High Tea at the Windsor Arms Hotel in Toronto
Pin to your favorite Pinterest board – and remember, hot tea isn't just for January!