Taking a two year old on holiday is always a little daunting, even for the experienced traveler. No matter whether you are staying close to home or going long haul, successful holidays with pre-schoolers take precision planning.
For our first holiday as a family, we decided to push the limits and go long haul, opting for South Africa for a family safari, more specifically, Cape Town, the Garden Route, followed by a few days at a family safari lodge. During the build-up to our safari holiday, we primed our son with the Lion King, Madagascar and all Disney characters that pertained to an African safari, making sure he knew the names of the different animals he might be fortunate enough to see.
We bought all our travel essentials, including perhaps the most useful (in hindsight) a pair of toddler reins, with an incorporated backpack.  The reins meant that not only could my son proudly carry his own teddy, book and drink around Heathrow, but that we could keep hold of him with a simple loop of the wrist, while other hands were free to carry bags, check for passports, push trolleys and generally get ourselves to Cape Town.
With a free upgrade to Business Class under our belt after a debacle of a departure, my son slept the whole flight, waking in Cape Town with fresh eyes and a smile.  What more could a parent ask for?
We stepped out of Cape Town International airport into the morning sun, and instantly relaxed to absorb the friendly atmosphere.  Joseph (our meet and greet) shook our hands, gave us an amazingly warm smile and took all of our bags. An hour or so later as we walked into the reception of the Cape Grace Hotel, my son was shocked into good behavior as he was cheerily greeted by name, given orange juice and a toy as a gift to occupy him while the adults took care of the check in details.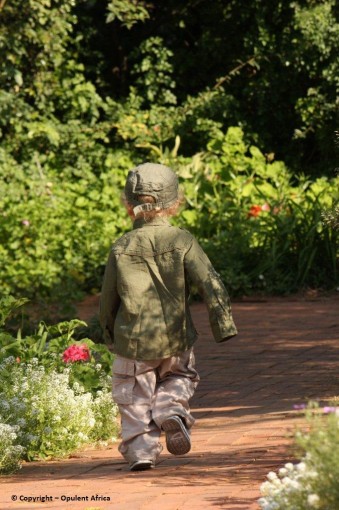 At midday we strode out onto the waterfront and enjoyed a fabulous lunch before wandering the markets and shops and then enjoying an afternoon at the nearby Two Oceans Aquarium. My son's sheer delight was evident as soon as we discovered a large dome full of Angel Fish, or "Nemos" as he gleefully called them.
The next morning we ascended Table Mountain in a revolving cable car that provided fantastic views of Signal Hill, the glistening Waterfront and working harbor. In the afternoon we hopped on and off the open top buses that pottered along the Cape peninsula, stopping off at both sandy and rock pooled beaches, much to the delight of our son.
After a fabulous couple of days in Cape town, we climbed into our rental car and drove along the picturesque Garden Route to the malaria free Kwandwe Game Reserve.  Our goal – to spot as many animals as we could with our excited son.
On arrival at Ecca Lodge we were greeted by our guide Alistair and the staff of Ecca who did a fabulous job at looking after us. The game viewing was, superb. My son's face instantly lit up with delight when he spotted "Dumbo" far in the distance silhouetted against the horizon, only to then be told to look to the other side of the jeep, to see another elephant slightly hidden behind thicket, asleep on its feet just a short ways away. We saw three lion that day, and heard the grunting of hippo in the river as we headed back to the lodge for dinner, with a very sleepy, happy two year old.
With heads full of the adventure that had turned into wonderful memories, we boarded our flight home.
Guest author bio:  Nicola Valentino is a writer for Opulent Africa a luxury safari operator.
Photo credits:  Courtesy of the author and ©Opulent Africa.