While travelers bemoan the loss of the kinder, gentler era of air travel, airline memorabilia fans know that they can enjoy a little retro moment with bags, accessories, and gifts from Pan Am One.  Adorned with the original Pan Am logo, items can also be found at travel stores and air museums.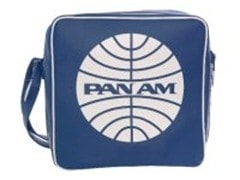 Perhaps you had this classic carry on tote bag.  I know I did, although I'm not sure how I happened to acquire it.  This stylish version from the Originals Collection is in leather rather than plastic, and sells for $71.  The Originals Collection offers a variety of products that you may have received if you flew Pan Am back in the day when airlines gave you something when you chose to do business with them.
My how things have changed.
Photo credit:  Pan Am One