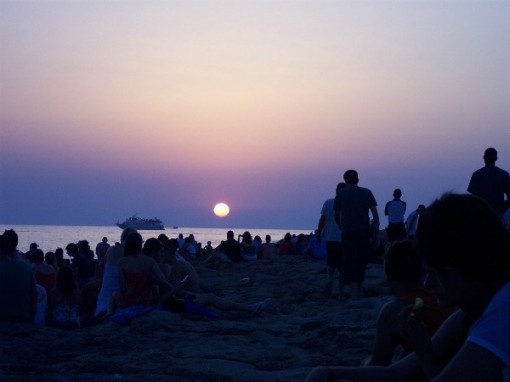 Located in the Mediterranean Sea off the coast of Valencia, Ibiza is one of the Balearic Islands (a regional governmental level in Spain) and is home to a port district that is a UNESCO World Heritage Site.  But, let's face it, what Ibiza is really known for is its party reputation – despite plenty of options for cultural and family travelers – so chances are that you'll be doing plenty of partying during your Ibiza holidays.
The nightlife is generally centered around Ibiza Town in the south, and Sant Antoni in the west.  During the summer, the peak tourist season, top DJs and music producers head to Ibiza to make appearances at the clubs.  Many of the prominent DJ's have a performance circuit around the island, creating a way to present and try out new music.  Music is generally electronic, usually along the lines of house, trance, and techno.
One of the most famous clubs on the island, Café del Mar, has become synonymous with chill-out music, and other popular spots include Space, DC10, Amnesia, Eden, Privilege, and Es Paradis.  For live music entertainment, the summer-long music festival Ibiza Rocks, attracts big crowds.  Live entertainment is featured every Wednesday night at their youth hostel, Ibiza Rocks Hotel.  Club season generally starts in early June, with season opening parties at Space and DC10.  The season closes on the first weekend of October.  And if you can't get to Ibiza for the party, you can catch Ibiza Rocks on BBC Radio.
So what's a party day like in Ibiza?  Chances are you'll be sleeping till noon, either recuperating from the night before or in preparation for the night to come.  Spend the afternoon at the beach, maybe taking a late afternoon nap, grab a late dinner and then head out for a night of clubbing and disco sunrises.  The island government has a regulation that all nightclubs must close no later than 6 am, giving you plenty of time to end your night (or, more appropriately, morning) before heading to bed and starting all over again the next day.
If you're young enough that your have to need to account to a parent about your travels, now would be the time to take in the port district, a UNESCO World Heritage Site.  Or mention that you're spending time taking in the Ibicenco cultural sites like Gods Finger in Benirras Bay.  Or that you're enjoying the rustic beauty of the island as you contemplate the meaning of life.
Whatever – it's all great when you're on island time!
Photo credit:  Steven Straiton via flickr