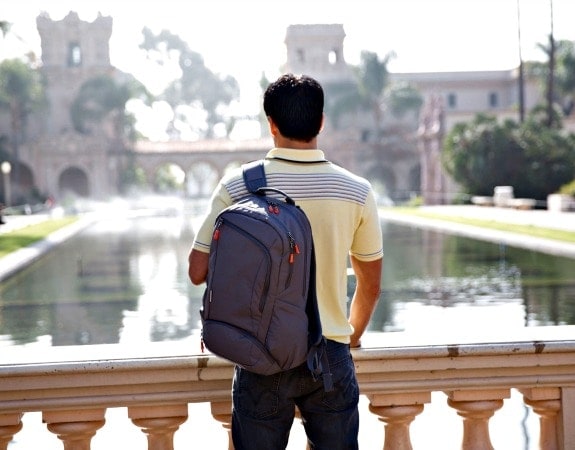 STM Impulse Laptop Backpack
Product:  STM Impulse Medium Laptop Backpack
Features: Designed to fit most 15-inch laptops, this STM bag has a main compartment to protect your laptop and tablet and a secondary pocket for files, paperwork or books. And external front pocket contains organization pockets for keys, wallet, pens, etc. There are small external pockets on each side, perfect for an umbrella, water bottle, or, as I used it, to keep my point and shoot camera easily available. At the front bottom of the backpack is a lower storage pocket; I kept my charging cables, a/c adapter, and power converters. On my trip to Asia, I used that compartment for my bag of 3-1-1 liquids.
There's a pass-through strap so you can thread it over the handle of you roller luggage and stack it on top for easy dashing through the airport.
The bag comes in black with silver tabs and grey with orange tabs.
What I thought:  I'm not a backpacker. You won't see me carrying around all my worldly goods on my back. But, I still want a convenient, safe, and fashionable way to carry around all my gear, whether it's a work day around town or as a carry on for the plane.
What I liked:
Sized right, big enough for my gadgets and gear (and a little more), but not so much that it weighted me down.
Durable fabric, didn't scuff up after dragging it around Europe and Asia for several weeks. I've used it by car, plane, train, and bus. It fit in all the compartments it needed to and help the gear that I needed it to.
Spills beaded up on the fabric and wiped up and off easily.
The main compartment held my laptop, iPad and Kindle, with a tiny bit of left over space. The other pockets could hold the rest of my gear.
And what wasn't quite so great:
Sure, I love black and grey, but a couple of other colors would liven thing up for people who want a little more color in their life.
Deeper zippers. When it came time to go through security, slipping the laptop and iPad out was sometimes difficult. The ability to unzip another couple of inches would have let me take stuff in and out more quickly. It would also have given me a little better use of some of the deep spaces in the pockets.
Who it's for:  Anyone looking for an urban backpack to use for toting around gear or as a day bag will likely love this bag. Its simple sleek lines work would work well in a business environment, and would also work well for a traveler bag without making the user a standout as a target.
Price:  Around $75. Available online from Amazon, eBags, REI, and other retailers. Prices will vary.
Personal Notes:  I put this urban backpack through its paces, and while there are some minor annoyances, they are little, and I'll be using this backpack regularly.
Disclosure:  I received this bag complimentary for purpose of review.