I'm a bag gal.  I love bags of all shapes and sizes.  Special purposes bags, all purpose bags, and those quirky bags that are cute, but I'm not exactly sure how to use them.  When you see and use as many bags as I do, you soon learn that bags are not created equal, and once you realize that, you will never approach using a bag in the same way.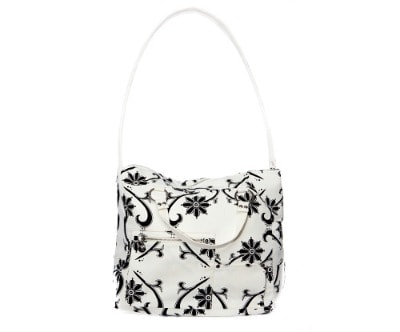 When I read about Lock-a-Bye bags I was intrigued; it seemed to combined fun fashion with practical considerations, resulting in a bag that held lots of promise.  So I welcomed the chance to put it through its paces.
The concept:  A bag with a locking mechanism that allows you the freedom to leave your bag while still keeping the contents safe.  For example, not being able to enjoy the beach because you have to sit with your valuables while everyone else enjoys the water; constantly setting up and taking down your workspace in a public setting because you can't step away for a cup of coffee or to use the bathroom.  It's a problem that Lock-a-Bye sets out to solve.
The company: Three sisters who hung out at the beach with their family, realized that not everyone good enjoy swimming and the other beach activities because someone always had to watch the bags. The idea for a secured bag that could be left unattended seemed like a good idea, but it would need to keep the contents secure, be slash resistant, and bonus points for look good, too.  The Lock-a-Bye was designed to meet this problem, allowing you to lock and leave your personal belongings and giving you greater freedom.
The solution: A patented key-operated dual locking mechanism that is built into the bag, allowing you to lock the zipper to keep the contents secure.  The carry strap is lined with a cable, allowing it to be secured to any stationary object without worrying that it might be slashed.
The bag: Lock-a-Bye sent me the Plumshoe Tote Bag to put through its paces.  The bag was a good-sized tote, with dimensions of 15 1/2 inches in height and 15 inches in width, with a strap that allowed for carrying, over the shoulder or even cross body.  With lots of pockets, inside and out, this is a bag designed for carrying everything you need while still keeping yourself organized.  The fabric is designed to be spot cleaned with a damp cloth and mild detergent, although I have not yet had to address the cleaning issue with my bag.
The test: I put the bag through its paces, using it on a variety of different occasions and in different ways.  I used the bag as an in fight carry on bag for a weekend getaway, as a tote for a day of shopping, in lieu of a briefcase at a conference, as a shopping bag for a quick trip to the market, as a beach bag by the pool, and as a purse for numerous quick outings around town.  I've carried it thousands of miles, shoved it into overhead bins, beneath the seat (where I attached it to the seat legs), and under the table and conferences and at restaurants.  I've used it as a purse with very little inside, and on other occasions have toted by laptop, numerous files, magazines, water bottle and a sweater.  I've carried a picnic lunch in it, complete with a bottle of wine, as well as using it as a simple bag around town.
The good:
Fun attractive patterns on very sturdy fabric that wear well.  I've used the bag plenty, and it shows no wear and tear, and the fabric is just as clean and spotless as when it arrived.
I've crammed the pockets full, and they've stayed in shape with no ripping, fraying, or pulling away.
The bag can be used over the shoulder, across the body, or carried.  I've used it all three ways, depending on the purpose and what I'm packing around.  The versatility is nice.
A zippered wristband pouch will help make sure you don't lose the key to the lock.  (This was something that I worried about.)
The so-so:
The designs are colorful and fun, perfect for casual use.  I'd love to see some more fabrics and colors that would work in a professional environment (there is currently one in black).  Not boring, mind you, just with a little more thought to the suits in the office crowd.
That cool locking system adds weight to the bag, and if you pick it up when empty you'll notice a bit of heft to it.  Add in all the stuff you'll be toting around and that extra weight is not without significance.  Depending on your height and size, and how much you carry around, you may need to play around with how to carry it best.  I've found that when I'm carrying lots of heavy stuff (laptop, books, gadgets, stuff for a conference) that carrying it across the body distributes the weight best and makes it the most comfortable for me to carry.
The not-so-good: Nothing.  And if I couldn't find it after all that testing, then it's a pretty darned good bag!
You can buy the Lock-a-Bye bag online where right now you'll find it sale priced at $149.95, plus shipping.
Intrigued about the concept?  Take a look at this video to get a visual representation of how it works:
Note:  Lock-a-Bye provided be with a complimentary bag for the purposes of this review.  The experiences, results, and opinions expressed herein are solely my own.