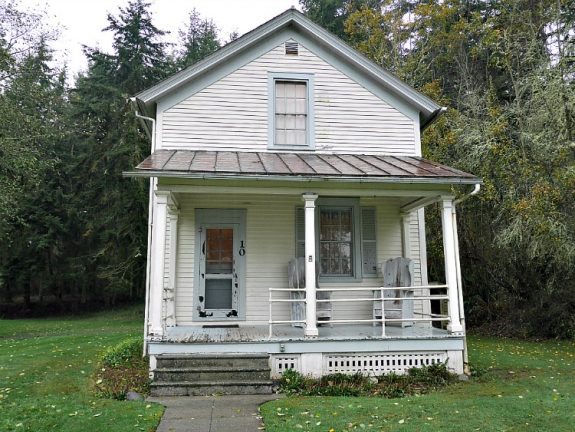 When visitors head to Whidbey Island, they typically think of Langley (at the south end) or Oak Harbor (the naval air station at the north end), but tucked away in the middle part of the island is Coupeville.
Coupeville is the county seat, and with a population under 2,000 is a historic district withing the federal Ebey's Landing National Historical Reserve. The reserve includes farmlands, Fort Ebey State Park, Fort Casey State Park, beaches and shorelines, parks, trails, and 91 locations on the National Register of Historic Places.
For a place to stay in keeping with the town's historic significance, the Fort Casey Inn provides a modern take on officer housing from pre-World War I. The row of historic cottages date back to around 1909 when they served as Non-Commissioned Officers' Quarters for the neighboring defense installation. They have been modernized to current standards, while still maintaining their Georgian Revival style.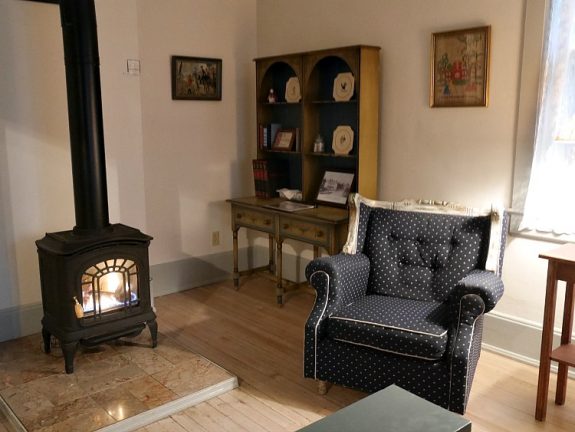 We stayed in the Doctor's House, Unit #10 at the end of the row of cottages. The unit had two bedrooms, both located on the upper floor, along with a bathroom. On the main floor is a fully outfitted kitchen and living room with gas stove. Decor is a mix of patriotic memorabilia, antiques, and replicas, creating a nostalgic feeling with which to overlook Crockett Lake.
There is a large yard in front of the house, and it is not uncommon to see deer or other wildlife there in the morning or evening hours. Crockett Lake, located across the street, is a natural bird sanctuary, so bring your binoculars and Audubon Guide for great bird watching.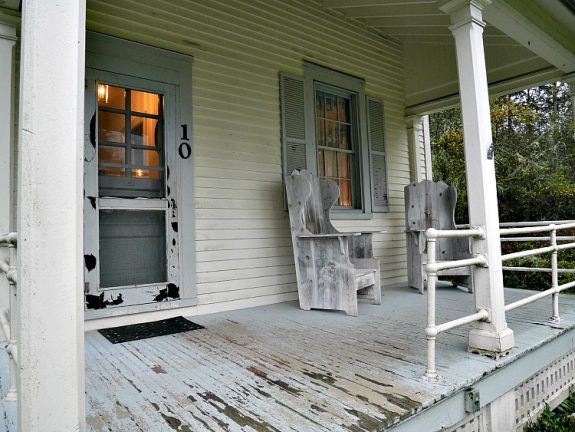 If your visit is during the summer, you can take advantage of picnic tables, a charcoal grill, and even a heated pool (outdoor). Nearby are hiking trails and the beach, generally accessible year round except in extreme weather conditions, and Fort Casey State Park, with its lighthouse, bunkers, public beaches, and trails. Views of the Straits of Juan de Fuca, the Olympic Mountain range, the Cascades, and the San Juan Islands, available from various locations in the area, will impress. This is a beautiful part of Washington State.
Since we were only staying one night, we didn't stock in any food, instead opting to head to Coupeville for breakfast. It's about a five-minute drive, try pastries at the Knead and Feed for breakfast, then wander around the historic town.
The Doctor's House is probably a bit big for one couple. Although we enjoyed time staying there, especially lounging around the gas stove with a glass of wine and a book, the real attraction of a property like this is the comfort and convenience it provides to a family or group. The Doctor's House is perfect for two couples, and with a rollaway bed in one of the bedrooms will accommodate more, but if you have a larger group, consider booking out the entire row of cottages. Perfect for a family reunion or other large gathering, renting out the entire row will accommodate 45 people.
The Fort Casey Inn is located at 127 Engle Road, Coupeville, Washington. The Doctor's House is Unit  #10. Rates start around $155 per night. No pets, no smoking permitted. Read more reviews and get booking information here.
Disclosure:  We received a complimentary night stay at the Fort Casey Inn.
Pin this to your favorite Pinterest boards.