In San Francisco's Pioneer Park (map), atop Telegraph Hill (map), stands the 210-foot tall, art deco, Coit Tower.
The tower was built in 1933 with funds donated by Lillie Hitchcock Coit.  Folklore claims that the tower was designed to look like a fire hose nozzle, and was a tribute to the firefighters of the 1906 earthquake fire.  Although this version is disputed, and it's not clear if it's true or merely urban folklore, the story is widely retold and is consistent with the general quirkiness of the donor.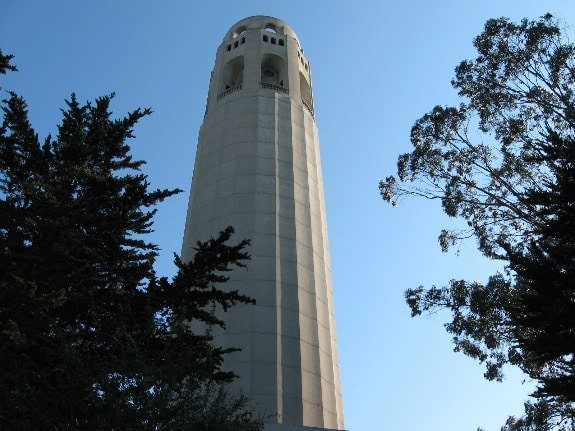 Today, Coit Tower has become as much a part of the San Francisco landscape as the Golden Gate Bridge (map) or the Transamerica Pyramid (map), and is one of the recognizable pieces of architecture in the San Francisco skyline.  It went through a major restoration in 1984, and remains one of popular San Francisco attractions.
On the first floor, are murals considered to be some of the best examples of depression-era art, done by 26 different artists, all in a Diego Riviera style.  The murals depict the daily life of workingmen and women during the depression, and were considered at the time of their painting to be subversive.  For more a more in depth explanation of the mural art, consider reading Painting on the Left: Diego Rivera, Radical Politics, and San Francisco's Public Murals (Ahmanson-Murphy Fine Arts Book).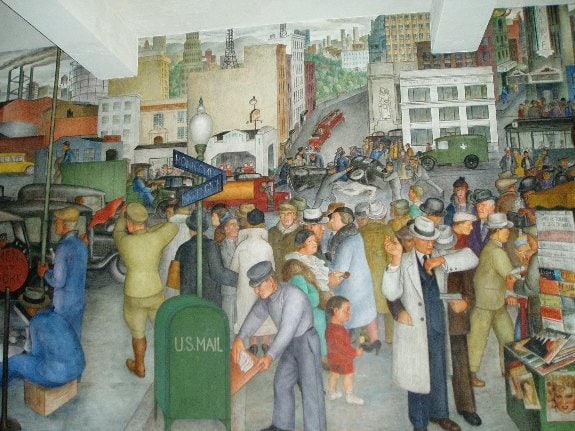 The views of the city, the Golden Gate Bridge, and the Bay are spectacular from the main floor and grounds of the tower, and even more so from the viewing area at the top.  There are lots of spots to enjoy the views, and for photo ops.  A tour of the Tower, and its surrounding grounds, can easily be accomplished in an afternoon.  Allow an hour for the grounds and lower level, another half hour if you're going to go to the top, and longer if you plan to have a picnic of do any photography.
Even if you haven't been to San Francisco you may be familiar with Coit Tower.  It's appeared in a number of movies (The Enforcer, Doctor Dolittle, and Vertigo) and on television (Streets of San Francisco and The Amazing Race).
Location:  1 Telegraph Hill Boulevard, San Francisco (map)

Hours:  Daily from 10 am to 5 pm

Admission:  There is no charge for entrance into the lobby level.  There is a small charge for the elevator to the top.

Parking:  The tower is only accessible by one road, with a small parking lot at the top of the hill.  During the summer, traffic is miserable and parking generally unavailable.  Other options include walking the two steep blocks up Filbert or Greenwich Street (from Grant Avenue), or taking the #39-Coit Muni bus.
Photo credits:  Coit Tower; murals