The greater Palm Springs area has been a popular vacation spot for Hollywood movie stars and California's elite society for decades, and it's no surprise why. Its natural hot springs, 5-star resorts, 90+ golf courses in the surrounding area, and year-round sunny weather. This perfect vacation spot has evolved from a playground for the rich and famous into a year-round destination for everyone.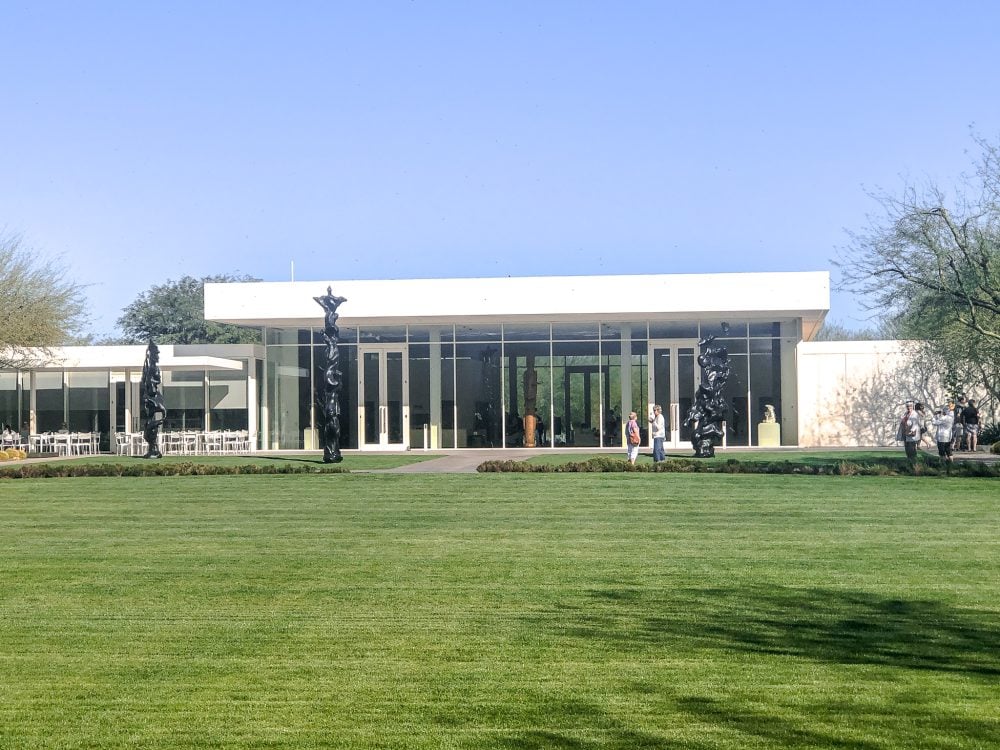 But let's take a little time to explore that old-world Palm Spring era with a stop at Sunnylands in Palm Springs.
History of Sunnylands in Rancho Mirage
Sunnylands is the former estate of Walter and Leonore Annenberg and was built as their winter retreat in Rancho Mirage, California.
Walter and Leonore built a vacation home in the Palm Springs area, like many others, but they wanted their home to be more than just floors and walls. They wanted to build a home where key figures of the United States government, including the President, Secretary of State, and members of the Supreme Court justices could meet with their global counterparts to discuss important issues. These were the people in their circle of friends, so while it might sound lofty and pretentious, it was all about having a home where it was comfortable to entertain friends.
The Annenbergs were business leaders, investors, philanthropists, and diplomats. Walter was best known for his time as the ambassador to the United Kingdom from 1969-to 1974. He also owned a publishing house, Triangle Publications, which published The Philadelphia Inquirer, TV Guide, the Daily Racing Form, and Seventeen Magazine. Leonore was most known for her time as Chief of Protocol of the United States from 1981 to 1982.
Together, they created Sunnylands.
It took three years to build Sunnylands, completed in 1966. The architecturally striking design was the brainchild of University of Southern California professor and architect A.Quincy Jones, who created the 25,000 square-foot mid-century home that became famous for its pink roof. The entire mid-century construction has the main house, a guest quarter, three guest cottages, and a nine-hole golf course. There are also 13 man-made lakes on the grounds. At the time of its completion, it was the largest home in Riverside County in the 1960s.
The Annenbergs hired interior designer and Hollywood actor, William Haines, along with his assistant Ted Graber, to do the interior design of the house.
The main house is the crown jewel of the estate and is where the Annenberg family kept their significant art collection, including works by Picasso, Van Gogh, Andrew Wyeth, and Monet. In their private collection, they had collected around 50 works of art by famous painters from around the world. Many of the paintings were donated to the Metropolitan Museum of Art following Walter Annenberg's death, but a few iconic pieces still remain on the property today.
Since its completion, Sunnylands has welcomed eight U.S. presidents and world leaders, prestigious intellectuals, and celebrities throughout the years. It was the Annenbergs' vision to make Sunnylands the "Camp David of the West "- a place for influential political figures and international leaders to discuss important issues in a relaxed setting.
In 1990, the house was officially established as a historical site.
In 2001, The Annenbergs officially established The Annenberg Foundation Trust at Sunnylands Organization, and since then it has continued to be a place for important figures and world leaders to address serious issues facing the nation and global community.
Walter Annenberg died in 2002, and Leonore passed away in 2009. The home was left to The Annenberg Foundation Trust at Sunnylands in their will. It has since been renovated and has been open to the public since 2012.
Sunnylands is a historic estate and architecturally striking home that is often used as a place for world leaders and foreign dignitaries to discuss world peace, climate change, and other important issues of the day. And to do it in a home that also features museum-quality art exhibits and impressive gardens and grounds.
You and I can visit it, too.
Famous Guests at Sunnylands
The first famous guest to visit Sunnylands was U.S. President, Dwight Eisenhower. Over the years, seven more U.S. presidents have visited Sunnylands, including Presidents Richard Nixon, Gerald Ford, Ronald Reagan, Bill Clinton, George H. W. Bush, George W. Bush Jr, and Barack Obama.
In 1986, President Reagan held his televised New Year greeting message from Sunnylands. He also signed a landmark trade agreement with Canada there in 1988. President George H.W. Bush used Sunnylands to hold a state dinner with Toshiki Kaifi, the former Japanese Prime Minister in 1990.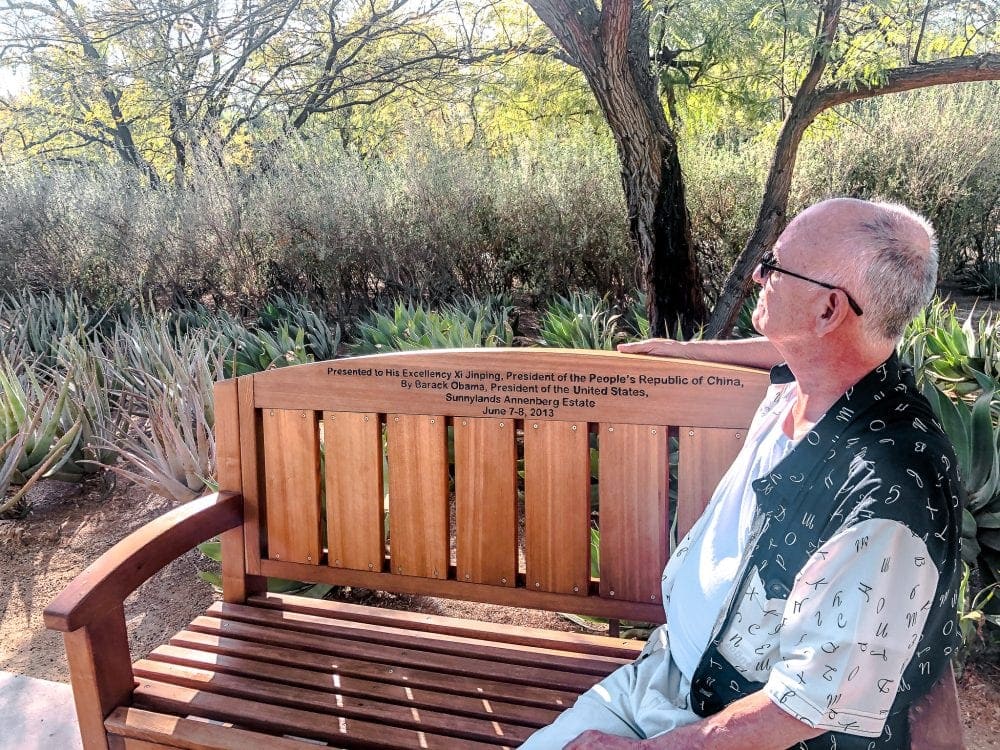 President Obama used Sunnylands on three occasions during his presidency. He held an informal meeting with Chinese President Xi Jinping in 2013, a meeting with His Majesty King Abdullah II of Jordan in 2014, and Sunnylands was home to the historic U.S. ASEAN Summit in 2016.
Other notable figures to visit the estate include the Shah of Iran, who took refuge at the estate following the Revolution in the late 1970s. British Royalty, including Queen Elizabeth II, Prince Philip, and Prince Charles have also visited Sunnylands, as well as former U.K. Prime Ministers Margaret Thatcher and John Major.
It wasn't just politicians who were invited to the Sunnylands. Other celebrities to visit the Annenberg retreat were Arnold Schwarzenegger, Dinah Shore, and Frank Sinatra – who married his wife Barbara there in July 1976.
What to See at Sunnylands
This is an incredible property with interesting architecture and antiques. There are some notable exhibits at Sunnylands that shouldn't be missed.
See the Fine Art Collection in The Annenbergs Historic House
The Annenbergs loved to collect fine art, especially Leonore, and today you can see works by Auguste Rodin, Jean Arp, Yaacov Agam, Pablo Picasso, Etienne Hajdu, and Alberto Giacometti at the estate. They also have a collection of decorative ornaments throughout the property, including works by Tiffany & Co, Meissen and Boehm Porcelain, Steuben glass, and Lalique.
Also in Sunnyland's collection are some important Chinese ceramics, stone, and metalwork, which were some of Leonore's favorite collectible items. It's believed that these pieces date back to the Tang dynasty (618 to 906 A.D). There are also jade figures and Chinese porcelain on display.
Leonore was also a fan of modern art. At Sunnylands today, you can see the In Motion: Agam at Sunnylands exhibit, which is an installation designed to tell the story of how Leonore Annenberg brought Yaacov Agam, an Israeli sculptor and experimental artist, to the Coachella Valley. From 1972 to 1976, Leonore Annenberg was president of the Palm Springs Desert Museum's board of trustees, and her role was to oversee the opening of its E.Stewart Williams building. She was fascinated by Agam's work and bought a sculpture, Square Waves, for the exhibit at the museum.
Since then, she had commissioned Agam to make sculptures and paintings for her home, where she accumulated a wide collection. Agam was known for his kinetic art, and at the time, was pushing boundaries of visual art that has since inspired modern artists around the world.
Explore the Sunnylands Center and Gardens
The Grounds and Gardens were designed by horticultural consultant, Mary Irish. She was inspired by Annenberg's collection of Impressionist and Post-Impressionist paintings and wanted the gardens to mirror this important aspect of their lives. Take a tour through the gardens and see if she succeeded.
The gardens cover 9-acres and feature shaded and quiet areas, as well as natural elements. The garden has 70 species of arid-adapted plants.
The Annenbergs also loved to travel. Among the grounds, you can see a wide collection of statues and monuments that they collected from their trips, including a totem pole by Kwakiutl carver Henry Hunt; a bronze fountain created by the Chávez Morado brothers, and an abstract avian sculpture called Birds of Welcome by Canadian artist, Art Price.
Visiting Sunnylands
Sunnylands is located at 37977 Bob Hope Drive in Rancho Mirage, California. That's not technically IN Palm Springs, but is part of the greater Palm Springs area. It's about a half-hour drive from downtown Palm Springs.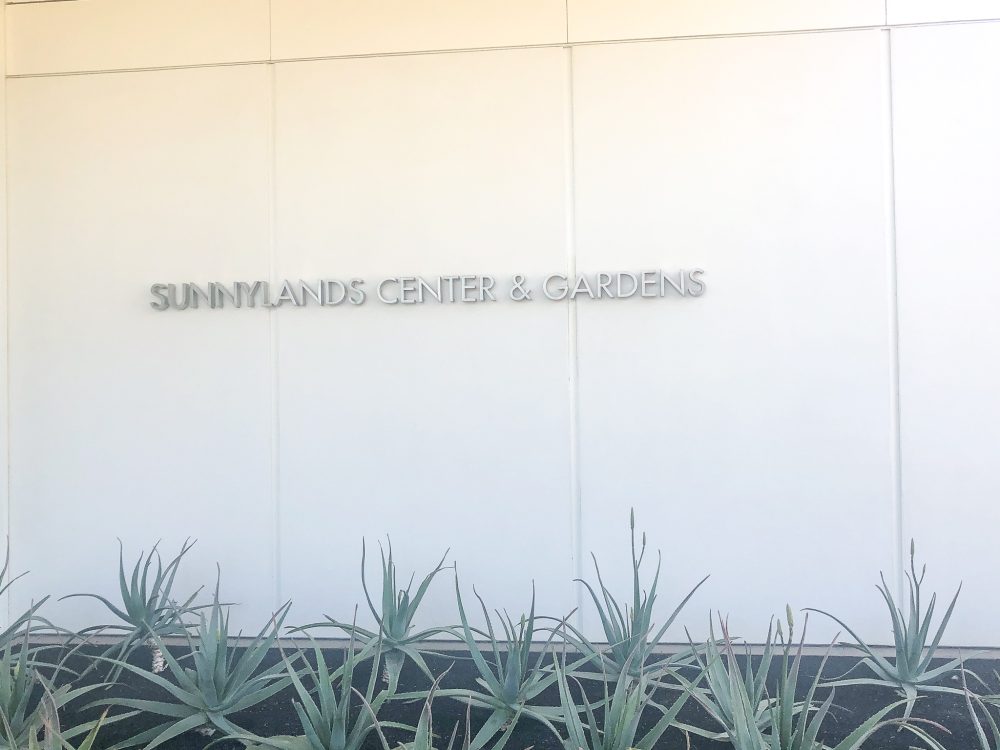 The greater Palm Springs area is difficult to get around without a car, so plan on getting a rental if you are flying in. If you're making it a getaway trip, it's about a two-and-a-half-hour drive from the Los Angelos area.
The estate is open from 8.30 am to 4.00 pm, Wednesday – Sunday.
Visiting the gardens is free. Visitors can wander among the gardens, relax on well-placed benches, and even bring a small picnic lunch (large coolers and chairs are not permitted). A self-guided audio tour of the gardens is available via your personal cell phone. This is the desert, so wear a hat, apply sunscreen, and bring water.
Historic estate tours must be booked in advance, are limited due to Covid precautions, and are currently priced at $25.
Free parking is available on site.
A small gift shop offers an assortment of items that seem to fit the Annenberg aesthetic alongside the traditional baseball caps and t-shirts. There is also a cafe, although it was not open at the time of our visit.
Official website here.
Final Thoughts on Visiting Sunnylands
Whether you're just passing through or taking a long vacation in Palm Springs, Sunnylands is worth adding to any itinerary.
While Sunnylands has been the backdrop for many significant moments over the last five decades and offers a delicious look at how the elite class lived (and still lives). But I was charmed by the simplicity and elegance of the gardens, offering so much plant diversity that it's hard to keep track of everything you're seeing.
Some of my favorites from the Sunnyland gardens were the cactus gardens (so fitting in the desert environment), and the rose garden (always a favorite).
Other Information for Visiting Southern California
Since you're planning a visit to (or are already in) southern California, why not put these locations on your to-visit list.
For Pinterest
Save this to your favorite Pinterest boards and plan your trip to Sunnylands.