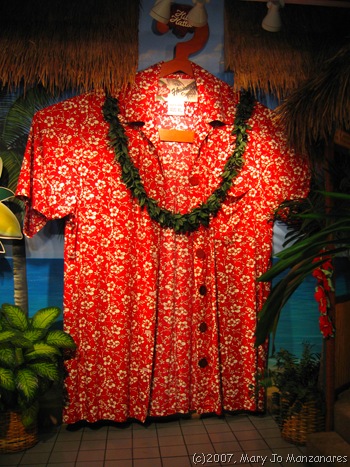 A trip to the islands isn't complete without shopping at Hilo Hattie's.  Some people might call it touristy, but I think of it as one of the rituals of an island visit.
During the 1950-60's, Hilo Hattie was the stage name for a popular Hawaiian entertainer whose real name was Clarissa Haili.  She was originally a teacher, but achieved fame as a singer and dancer, popularizing a comedic hula-style dancing.
In 1963, a Hawaiian store opened for business, naming the store after the very popular Hilo Hattie.  The store aims to provide one-stop shopping for Hawaiian goods and products and is the largest Hawaiian retailer and manufacturer of the same.  In memory of the original Hilo Hattie, who passed away in 1979, the store gives scholarships to University of Hawaii students who are pursuing degrees in Hawaiian studies and music.
From [amazon_textlink asin='B01F4BGN14′ text='Aloha shirts' template='ProductLink' store='travelingwithmj-20′ marketplace='US' link_id='ae9caf36-3cd3-11e8-ab07-89f19fd95d49′] to beachwear and other resort apparel, from traditional muumuus to CD's and DVD's, from food products to tableware and candles, from jewelry to body lotions and fragrances, if you're shopping at Hilo Hattie's, you'll find it all.
Hilo Hattie's operates a free trolley service from various Waikiki hotel locations to its flagship store (700 Nimitz Highway, Honolulu).  The trolley runs approximately every 20 minutes, so you're never too early or late to get to go shopping at Hilo Hattie's. On the return trip, there is also a courtesy drop off at the Ala Moana Shopping Center.
On other islands, check with the front desk of your hotel.  Chances are there's an easy way to get to a store.
There may be cheaper places to buy an Aloha shirt, but you will find a bit more quality at Hilo Hattie's.  It's a shopping experience, with lots of fun souvenir and gift items, food, and there's always a giveaway or two.  Since the shop has become a tourist attraction, with all the fun and annoyances that involves, you'd be wise to know your prices so you're not feeling ripped off on typical souvenir items.  The sales staff is constantly selling, urging you to make a selection, and lately that has become a real turn off.  Politely indicate that you are "just looking" and they'll eventually back away, but since I'm rarely in a hurry to make a purchase, I find this very annoying.
Despite what might sound like negatives, Hilo Hattie's is a good shopping spot.  Cotton  Aloha shirts run around $30, silk running a little more.  There's a big selection to choose from, and I've found the shirts wear and launder well.  There are also lots of fun Hawaiian food products to taste (jams and jellies, seasonings, cooking sauces), body lotions and fragrances in the floral scents of the islands (jasmine, pikaki, plumeria, tuberose) t-shirts and caps, and all sorts of stuff to poke around and look at.  It was a fun way to spend an hour of time.
This store also proudly displays the world's largest Aloha shirt (in the photo above), a size 400XL.  It measures 168 inches (14 feet) around the chest, 161 inches at the waist, and over 60 inches around the neck.  The buttons are made of Koa wood beverage coasters.  The shirt took 26 yards of fabric to create.
There are Hilo Hattie locations on Oahu, Maui, Kauai, and the Big Island. They also offer a variety of products in their online store.