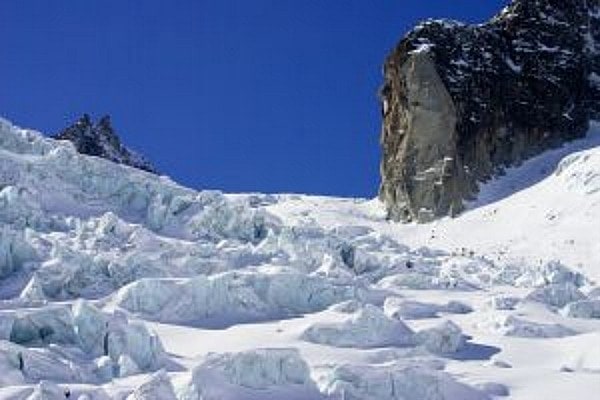 Fans of sports, snow, and the outdoors love Chamonix for the famous resort at the base of Mont Blanc in the French Alps, home to the First Winter Olympic games in 1924.  From snow sports, to natural beauty, to year-round mountaineering, to the nightlife in Chamonix, this is a place that gets under your skin and never lets you go.
What can you expect when you visit?
Snow Sports – Mont Blanc and skiing go hand-in-hand, and this is where you'll find top-notch adrenalin junkies pushing themselves on some of the most challenging and thrilling ski slopes.  Glacier skiing is also popular, and there are plenty of options for snowboarding.  While the resort claims to have skiing for all ability levels, most of the runs are intermediate to advanced.  Popular ski areas include:  White Valley (glacier skiing), Brevent and la Flegere (easily reached from the town), Les Houches (very family friendly), Le Tour (the best beginner runs), and Grand Montets (highest altitude slopes).  James Bond fans may remember Chamonix for the movie The World is Not Enough – the ski chase scene was filmed there.
Mountain Sports – Mont Blanc has snow year round, but there are plenty of things to do besides enjoy winter snow sports.  Hiking, rock climbing, para-gliding, rafting, canyon, mountain biking, and all sorts of other mountaineering make Chamonix a popular year-round destination.  Like the skiing, most of these outdoor options are for experience mountaineers, so beginners will want to choose day hikes carefully.
Natural Beauty – Drop dead gorgeous is one way to characterize the scenery in Chamonix, and it can be viewed close up or from a distance.  Deep crevassed glaciers, majestic peaks, and alpine beauty can be viewed viewed and experience on the mountain, or, for those a little less adventurous, from the comfort of a cable car, a mountain train, or tramway.  No heavy exertion required.
Go Inside – If you need an indoor break, check out the Musee des Cristaux and its impressive collection of crystals.  It's a combination of beauty and science, and a nice way to spend some time if you're not quite the outdoor enthusiast.  Another museum option is the Chamonix Alpine Museum.
Shopping – There are a few options for a little retail therapy, primarily mountaineering and alpine shops.  There are a few other boutiques as well, for when you need a little time away from the mountain.
Entertainment – Chamonix restaurants are top notch, this is France after all.  Cheese lovers will be in heaven, with such delicious choices as fondue, raclette, croute savoyarde, and tartiflette.  Prices can be a bit spendy, as this is a heavily touristed area, but budgeting a splurge or two, among some more everyday meals, will be a vacation treat.
The closest major airport to Chamonix is Geneva, about an hour or so away.  You can rent a car, or opt for private or shared shuttle service.
With beauty and adrenalin this close at hand, it's easy to see why Chamonix is a popular European getaway.
NOTE:  This post was sponsored by My Chamonix.  The opinions expressed are those of the author.
Photo credit:  SXC