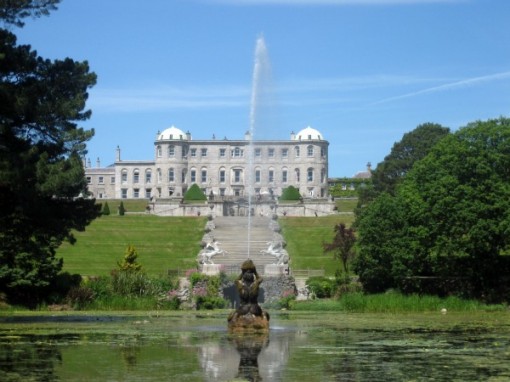 Many first time visitors to Dublin don't know that the 'Garden of Ireland' – County Wicklow – is only 30 minutes south of the city center. No trip to Ireland would be complete without leaving the capital city to see the countryside that the Emerald Isle is so famous for. While there are many destinations worthy of a Dublin daytrip, one of my favorites is the Powerscourt Estate in County Wicklow.
Unlike other destinations outside of Dublin that are on the train line, you will need to rent a car or join a tour to visit Powerscourt. Reaching the estate in a rental car is half the fun – passing through quaint villages and following rickety old signs will give the daytrip an adventurous quality. The estate is famous for being home to the five-star Ritz Carlton Powerscourt and an incredible golf course, but it also has much more to offer.
Nature lovers will want to make the Powerscourt Waterfall their first stop. If you pack a picnic before leaving Dublin, this makes an ideal spot to have lunch while taking in the views. The 400-foot waterfall and its thundering water makes a beautiful backdrop for an afternoon picnic. To keep things particularly Irish, sample local Irish delicacies such as artisan Irish cheese, smoked salmon, and traditional brown soda bread.
Next stop should be the Powerscourt Gardens. Perfect for a post-meal stroll, the gardens have a stunning backdrop of the Sugar Loaf Mountain. Planned centuries ago, it is interesting to think how many generations the walled garden has given pleasure to. Another favorite attraction here is the famous Japanese garden.
Before departing the estate, you can take part in the tradition of afternoon tea. Stop into Avoca Café (located right next door to the entrance of the Gardens) for a scone and pot of tea for a late afternoon pick-me-up. This café also offers a store full of Irish-made products if you want to bring something home for family and friends. Check out the kitchen supplies in quirky colors and cozy woven blankets to take a piece of Avoca home with you.
Travelers looking for a splurge should check out the spa at the Ritz Carlton Powerscourt. After a day of hiking around the estate and exploring the garden, there might be no more relaxing finish to the day than a soothing massage or facial. You might even be enticed to spend the night, and book a table at Gordon Ramsay's Restaurant overlooking the Sugar Loaf Mountain. Hotel guests can also take advantage of free bike rentals for a 2nd day savoring the natural beauty of the Garden of Ireland. The Powerscourt Estate is home to many peaceful hiking and biking paths and the hotel can provide detailed maps.
For an afternoon or a couple days, the Powerscourt Estate offers a chance to see a more serene side of Dublin.
Photo credit:  Amanda Susan Munroe (CC via wikimedia)