Every geographical area seems to do its own special version of a hot dog, and for a tasty dog Hawaiian-style, Puka Dog is the place to go.
What is a Puka Dog?
It's a special bun-sized loaf of bread with a hole at one end, pierced through the length of the bun, forming a hole throughout. Secret-sauces, relishes, or just the usual mustard and catsup, are then poured into this hollowed out bun creating a soft nestling area for a Polish-type sausage. Take a look a the photo to get an idea of what it looks like.
To order a Puka Dog you specify sausage or veggie, followed by your choice of garlic lemon sauce (mild original, spicy jalapeno, hot chili pepper, or hot hot habanero), followed by your choice of relish (mango, pineapple, papaya, coconut, banana, starfruit, or catsup, mustard and sweet pickle relish).
I'll be visiting Hawaii later this year, and can't wait to have a Puka Dog. It's been a long time since I've had one.
Puka Dog is not fine dining. It's an old-fashioned hot dog stand, with Aloha hospitality, and is a great option for a casual meal.
There are two Puka Dog locations:
On Kauai: Poipu Shopping Village (map it), open 11 am – 6 pm daily
On Oahu: Waikiki Town Center (map it), open 10 am – 10 pm daily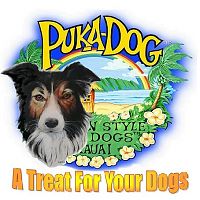 Even your four-legged friends can enjoy Puka Dogs. ,Nothing goes to waste, as the daily left overs are made into dog Biscuits called Puka Dog Treats.
________________________________________________
Technorati Tags: b5media, Flyaway Café, flight attendants, travel, vacation, travel information, travel tips, travel blogs, Hawaii, hot dogs, retaurants