Today I have a guest post on a topic I know very little about – accessible travel.  I take for granted getting up and down stairs, walking down narrow cobblestone streets, and making plans with very little thought.  While not every traveler is as carefree with planning their vacation, accessibility is no longer the barrier to travel that it once was.
Here's what you can expect from accessible London
—-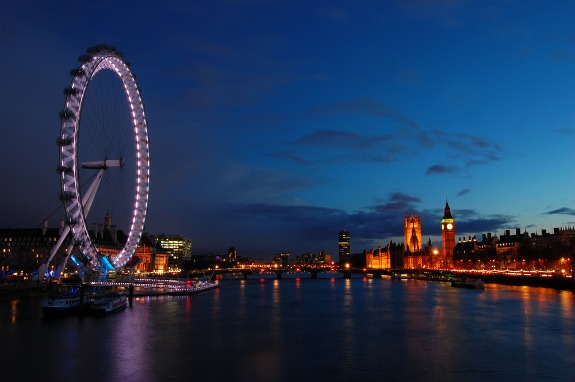 Many of the tourist attractions in London are wheelchair friendly, although some are unfortunately entirely inaccessible.  Here is a list of what I feel are the top ten wheelchair friendly things to do in London, but if you have something else in mind that does not appear on this list, just call ahead to check accessibility or to organize special assistance.  Calling ahead is particularly important if you are travelling as a group of wheelchair users.
The British Library provides excellent wheelchair access in the public galleries and the reading rooms. Disabled toilet facilities are available on every floor and guide dogs are permitted.
The London Eye, one of the most popular tourist attractions in London is fully wheelchair accessible. It is the tallest observation wheel in the world.
Kew Royal Botanic Gardens are fully accessible and disabled toilets are located at the entrance. Guide dogs are allowed in every part of the gardens and if you need to hire a wheelchair it can be booked in advance.
At the London Zoo, many exhibits are displayed at a height which is suitable for people in wheelchairs and most of the zoo will be accessible. Disabled toilets are available. Admission is free for the companion traveler of wheelchair users, but those with guide dogs should know that guide dogs cannot be admitted.  You can make arrangements to have a guide dog looked after while a zoo volunteer guides you around the zoo.
The Cabinet War Rooms, used as headquarters by Winston Churchill in World War II have 21 underground rooms and are a real must-see for any history buff. All rooms are wheelchair accessible, disabled toilets are available and guide dogs are permitted in the museum. There are also some visual and hearing impaired aids available.
Wheelchair users have access to the horror of the London Dungeons as do guide dogs. Disabled toilets are available.
The Tower of London, on the other hand, is largely inaccessible for wheelchair users due to the cobbled steps and narrow corridors. One area which is, however, accessible is the Crown Jewels area and an access guide is provided. Phone Visitor Services in advance to arrange for free assistance from the access guide.
The Gothic architecture and exquisite craftsmanship of Westminster Abbey should not be missed. Steeped in history with the weddings and funerals of famous Monarchs and the 1953 Coronation of Queen Elizabeth, the Abbey has excellent wheelchair access.  Guide dogs are allowed in all parts of the building and visual and hearing resources are also available.
At St. Paul's Cathedral only one part is inaccessible to wheelchair users – the American Chapel. Disabled access is via an elevator and assistance is available should it be required. Guide dogs are welcome and touch and audio provisions are in place for the visual and hearing impaired.
If you want to see some famous but waxy faces at Madame Tussauds it is strongly recommended that you book in advance as the museum has strict health and safety rules and only three wheelchairs are permitted into the museum at one time. Priority admission will be given to wheelchair users who have pre-booked their visit. Entry is free for everyone who holds a valid disability registration card.
Photo credit:  Courtesy of Shutterstock
—-
This guest post was provided by Gowrings Mobility.  Gowrings are leading the way in wheelchair accessible vehicles, with a wide range of new and used mobility cars.